November 15, 2008 / More →
These were snapped on my camera at San Diego this last Summer.
(Matt. Creature from the Black Lagoon.)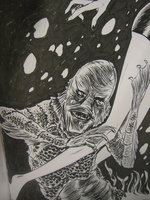 (Matt. Seven Soldiers of Victory.)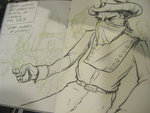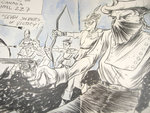 (Matt. Starman.)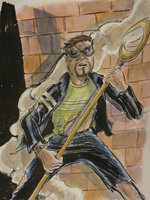 (Matt. Mitch Pistolwhip.)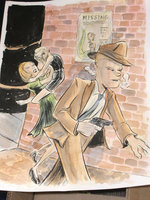 (Matt. The Bride, from Kill Bill.)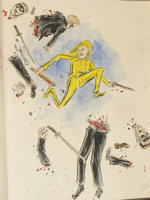 (Matt. Havoc, from The X-Men.)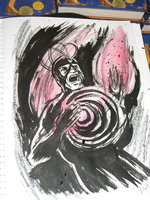 (Jeff. Steeplechase, from The Surrogates.)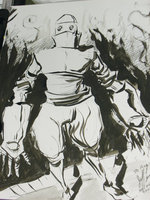 (Jeff. Tin Tin.)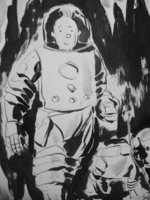 (Jeff. Deadman... Jeff gave me this one! Whoo hoo!)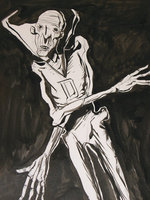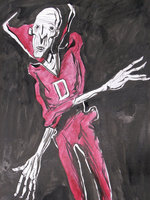 • Bwana Spoons' new Cosmos Killer toy!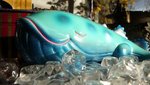 • Max Estes is having a Christmas Sale at his website, Made By Max.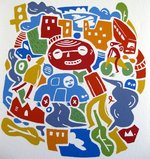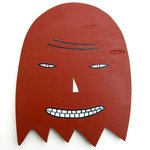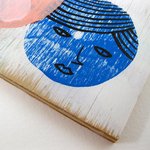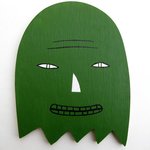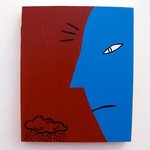 ---
November 11, 2008 / More →
Giant Robot L.A. That's correct y'all.
Little Paintings 3 at GR2
November 15 - December 10
Reception: Saturday, November 15, 6:30 -10:00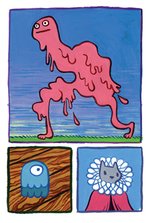 Giant Robot 2. 2062 Sawtelle Blvd. Los Angeles, CA 90025. gr2.net. (310) 445-9276
Indie cartoonist James Kochalka is well known for having a raw, humorous, and powerful style and prolific pace; he draws one diary strip a day for his Web site, and still manages to create an ever-growing catalog of graphic novels. His range extends from the autobiographical (American Elf) to kid-friendly (Johnny Boo) to serious (The Cute Manifesto) to raunchy (SuperF*ckers) to iconic (Monkey vs. Robot). His comix work has won four Ignatz awards and one Harvey award. He is widely regarded as the inventor of the daily-diary comic strip, and has inspired countless younger artists.
The Burlington, VT-based artist has also released several CDs with his band, James Kochalka Superstar. His song "Britney's Silver Can" was named one of the 100 best songs of 2006 by Rolling Stone, and his song "Hockey Monkey" was used as the theme song for the Fox television sitcom The Loop.
For Little Paintings 3, Kochalka is supplementing his acrylic 2" x 2" paintings on 3" x 3" paper with a few that are comparatively large. "There are a few that are 4" x 4" and some that are 6" x 6". Still little compared with the rest of the paintings of the world, but they'll feel giant in the context of my world," he says. Some recurring themes include royal cats, adventurous blobs, and tumors, happy apples, and crazy worms.
The multitude will not be framed but are quite suitable for framing. "I'm kind of against posters. I think people should have real art made by real human hands in their homes" Kochalka says of his small and affordably priced paintings.
A reception from 6:30 to 10:00 on Saturday, November 15 will include a special performance of music composed by the artist on his Game Boy.
• Going back to APE, the weekend before the election (Whoo hoo OBAMA!!!)..., San Francisco was great fun (especially tending bar at Isotope — damn, i got myself pretty hammered),
Here's Wayne Shellabarger and Bill Kelter pimping their amazing new book Veeps.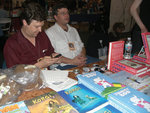 And here's the loot i brought home. (Sadly, no time yet to read most of it.)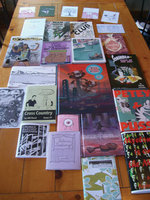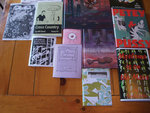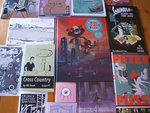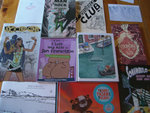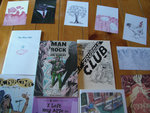 But what made the weekend for me, was my little man Carter, and his Halloween appearance as Batman. This photoset shows his transformation.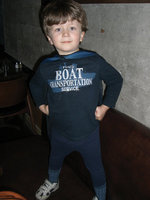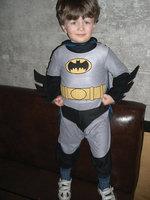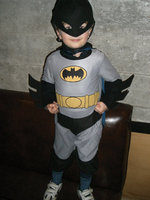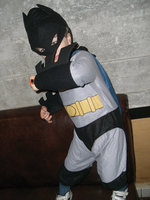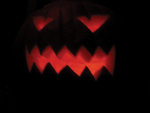 • Meanwhile, this weekend just past Top Shelf exhibited (Leigh manned the table most of the weekend, since i was on Kid Watch) at the annual Portland book fair called Wordstock. A quick observation... Portland is widely (and justifiably) known as a book-loving city. The organizers promoted the heck out of this event. Flyers, posters, and exhibition catalogs have been anywhere and everywhere for the last six weeks. Heck, they even got the likes of John Hodgman, Lynda Barry and Alison Bechdel to come and read. And yet, the place was a ghost town virtually all weekend. Yes, the big-name panels were well attended, but the isles were barren. What gives?
In any case, i had fun in spite of myself. And i FINALLY picked up the stunning Local deluxe hardcover by Brian Wood and Ryan Kelly. I'd read most of the issues as they were (slowly) coming out, but had yet to read the last three. Just finished these tonight after i tucked Carter into bed. Holy crap, this is such a terrific book. From concept, to execution. From content to packaging. Simply magnificent! Highly recommended.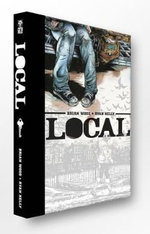 • This is quite possibly the coolest fanboy shit i've EVER seen. (I used to be lead tenor in the high school jazz choir, AND a massive fanboy of all the movies referenced in this video — except for E.T. God, i hate that flick.)
• Finally, more Kochalka. Here is an early rough for James' cover for the 2009 Top Shelf Free Comic Book Day (FCBD) comic book, and then his final. Well done, James!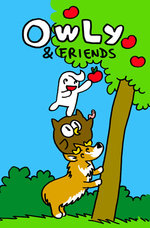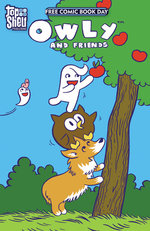 ---
October 31, 2008 / More →
Heading to Alternative Press Expo this weekend? Top Shelf's West Coast dream team, Leigh Walton and Brett Warnock, will be at tables 320-322 all weekend, together with the following creators:
--Jeffrey Brown (SULK #1 starring Bighead & Friends!)
--Renée French (THE TICKING, MICROGRAPHICA)
--Robert Goodin (THE MAN WHO LOVED BREASTS)
--Bill Kelter and Wayne Shellabarger (VEEPS: PROFILES IN INSIGNIFICANCE)
--Nate Powell (SWALLOW ME WHOLE)
--Liz Prince (DELAYED REPLAYS)
And don't forget to come by Isotope on Saturday night for Top Shelf Happy Hour at 8pm, leading into the Isotope Award for Minicomics! Brett Warnock will be shaking up the tasty drinks, while Nate Powell rocks a live art jam with Joshua W. Cotter! You can't miss it!
See you there, everybody!
---
October 28, 2008 / More →
10 Years of his incredibly influential American Elf daily diary strip. Wow, that's freaking cool as hell. Big ups to you, James!
• Jeff Lemire appears on the podcast Comic Geek Speak.
• Occasional Top Shelf freelancer Chris Ross had this to say, regarding his type decision on our awesome new book Veeps:
Veeps is set in a typeface called Adobe Caslon Pro. From my research, I found that Benjamin Franklin, in addition to being a ladykiller drunk, and perennial not-veep, was a printer. He had two favorite typefaces: Baskerville (http://en.wikipedia.org/wiki/Baskerville), which many typesetters of the day called "illegible" and a typeface called Caslon. And it was Caslon that Franklin chose when he typeset the mass-produced "Declaration of Independence." The unique properties in Veeps are the ligatures, which I've jumped up to eleven to reach for the hyperbolic nature of the text. It's noticeable as being archaic and boosie, but once you finish the introduction, you definitely get in on the joke. This specific typeface, Adobe Caslon Pro, is the closest and most complete recreation of the typeface that I could find. When I read Bill's words, and saw Wayne's portraits, and saw what Brett had in mind with the decorative elements, this whimsical voice of you three (plus the specter of Staros) came out, Borg-like. It sounded like Caslon.
• Speaking of Veeps, check out this extensive interview with Bill and Wayne by Tim O'Shea.
• And just to add some color to this post... YAM author Corey Barba does more than cute kid's stuff. He's also done some racy adult entertainment (with the Fantagraphics porn line Eros, for example). Here's a boss little image titled Lipstick Bikini.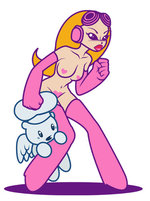 ---
Alex Robinson's video interview with Jonah Weiland is up on Comic Book Resources. I got to attend this interview and suck down some suds on the infamous CBR Party Yacht in the San Diego Marina. Now THAT's the way to do San Diego!
• So, here's a piece by Eric Powell, and two by Jim Rugg, which was supposed to run in a reprinted edition of Doug TenNaple's Top Shelf graphic novel Creature Tech. Oh, but wait, Doug took it away from Top Shelf, in spite of the fact that Chris did a mighty tight job story-editing the book into the kick-ass version it ended up being. Sadly, these images will now never see print. I'm going to have to style Eric and Jim with some Top Shelf swag next time i see them.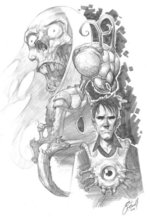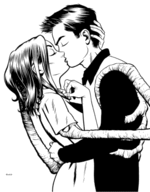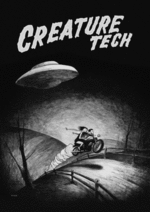 • Nate Powell is interviewed at my favorite podcast, Indie Spinner Rack!
• Nifty new piece by David Chelsea.


• Tom Hart, Matthew Thurber and Lauren Weinstein are in a show of original art together called GODDESS, MOUSE and MAN at the brand new 92nd St Y Tribeca.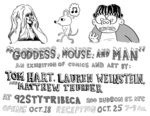 • Finally, i must mention my favorite new comic in a long time. I'd heard some folks talking about this at the San Diego Con, so i picked it up on a whim. Matt Furie's Boys Club might be something of a guys comic, but holy crap, it is awesome. Containing the mostly 1-3 page self-contained adventures (?) of four slacker, 20-something roommates, the first issue was self-published, while the second issue was picked up by Buenaventura Press. On paper this comic shouldn't be anything more than stupid poop jokes. But there's something very real about these characters. At various points in my life i've lived with, or been any one of these cats. Matt uses lots of fun formal techniques to add odd layers to his humor. Ultimately, i'm having a hard time describing this. Needless to say, both issues come highly recommended.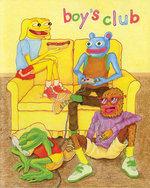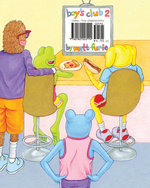 ---
October 14, 2008 / More →
WHAT'S THAT UP IN THE SKY?!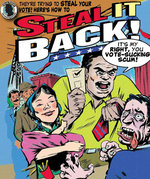 It's Bobby Kennedy and Greg Palast releasing the flaming hot full-color investigative comic book, STEAL BACK YOUR VOTE!
Pow! Zap! No more joking with our rights, Mr. Rove!
Click here and get the 24-page investigative comic book by Greg Palast and Bobby Kennedy: STEAL BACK YOUR VOTE.
With the full story of the investigation you'll soon see in Rolling Stone magazine - illustrated by razor-sharp pencils of Ted Rall, Lukas Ketner and Lloyd Dangle.
SIX ways they're STEALING your vote - and SEVEN ways to STEAL IT BACK.
(C'mon - 'fess up - do you really know what to do if they hand you a 'provisional' ballot?)
Make a $100 tax deductible donation at StealBackYourVote.org and we'll send you 25 to pass out to troublemakers of your choice.
And, for every $100 donation, we will give away another 400 to voters to vulnerable voters in swing states. We just sent eight cases to Santiago Juarez. Santiago's working with young Hispanic voters of New Mexico.
Can you help us send him more? Or donate $75+ and get a half dozen comix plus the DVD (signed), The Election Files, my BBC reports on the vote snatchers.
Pick up 10 copies of the guide for a donation of $50. We send'm right away by priority mail.
Get five hundred copies for your local school or group for a $1000 donation at www.palastinvestigativefund.org/print-copies-of-steal-back-your-vote.
Or give us the donation, we'll send'm to a church designated by our co-sponsor Jesse Jackson's Operation Rainbow/PUSH.
Thanks to your prior generosity, we're offering the printing plates FREE of any fee to us to any magazine or weekly that wants to insert comic. (You want to reproduce the guide on a mass scale - you got it. Contact zach (at) gregpalast.com)
Or you can download the comic for a donation of a penny or more (more, PLEASE), at www.StealBackYourVote.org.
Spread this link! Pow! Zap! Take that, Katherine! Steal Back Your Vote is a project of the not-for-profit non-partisan Palast Investigative Fund.
WHAT'S THAT UP IN THE SKY?! It's our Super Sponsors! Voto Latino, Operation Rainbow Push, Air America Radio, Juan Gonzales of Democracy Now! and other crusaders for Truth, Justice and the American Way.
Contact us at interviews (at) StealBackYourVote.org.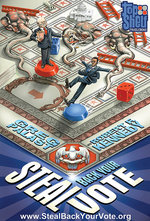 ---
October 10, 2008 / More →
Getting caught up, finally. Even though the change of venue has changed the dynamic of the old locale, this is still one of my favorite comics festivals North America has to offer. Hands down. Special props to my great friend Greg Bennett, who helped pull me out of a special kind of tailspin. I love you, m'man!
Here's a smattering of what i picked up at the show. No time for even bullet reviews... needless to say, i read this stuff at the airport and on two planes back home. In keeping with my tendencies towards dreaded "Team Comics" boosterism, i won't waste my time or yours talking about lame books, instead focusing on the good shit. So if you read about it here, that means it comes recommended.
Inside, by J.P. Coovert. Published by One Percent Press.
Teeny Bikini #5, by Rob Ullman. (Self-published.) Image below is a terrific print he made for the show, titled Stir Crazy.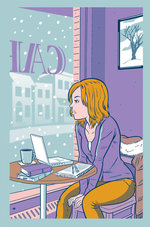 Papercutter #8. Edited by the great Greg Means. Published by Tugboat Press. (Also just finally read Papercutter #7... easily my favorite anthology being published today. Kramers what?)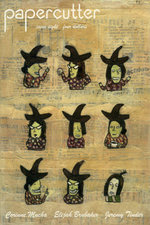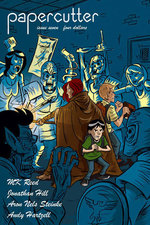 Do Not Disturb My Waking Dream #2, by Laura Park. (Self-published.) It's only a mtter of time until Laura is hailed as one of the greatest cartoonists in the history of the United States. She deserved won the Ignatz Award at the show for Outstanding Artist. Whoo hoo!
The Quest for the Missing Girl, by Jiro Taniguchi. Published by Ponent Mon. STUNNING! (Have i ever mentioned how much i love this author, my favorite manga cartoonist of all time? Oh, i have?) Special thanks to Deb, whom i met for the first time at the show.
:01 First Second: Great Graphic Novels for Everyone. This is a little mini-comic done by Editorial Director Mark Siegel.
The Factoids, by Dan Zettwoch, Ted May, and Kevin Huizenga. Published by U.S.S. Catastrophe?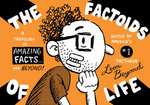 Dharbin #1, by Dustin Harbin. (Self-published.)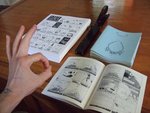 Fight or Run, by Kevin Huizenga. Published by Buenaventura Press.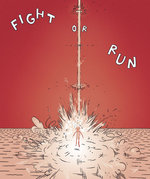 Bets Are Off, by Nate Powell / flipbook / Cakewalk, by Rachel Bormann and Nate Powell. (Self-published.)
Mesmo Delivery, by Rafael Grampa'. Published by AdHouse. (This is so freaking amazing!)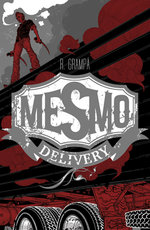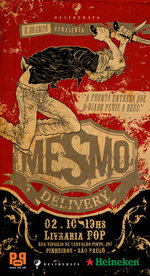 Fierce Ease, by Miriam Libicki. (Self-published.) I'm so into Miriam's incredibly beautiful drawn essays.
• Bwana Spoons has a spectacular new print available at Grass Hut!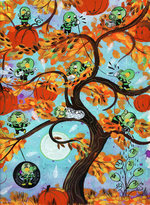 • Here's an early rough by James Kochalka for the 2009 Top Shelf Free Comic Book Day comic.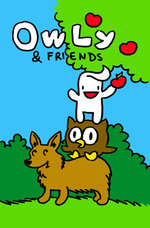 • From the classified dossier on (Veeps authors) Bill Kelter and Wayne Shellabarger, a photo has turned up with them in attendance at the swearing in of LBJ... seriously, these guys are such wonks! (And there's Jackie Kennedy, no less!)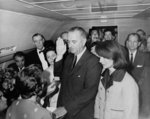 • McCain / Palin? Oh sweet Jesus help us all.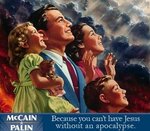 ---
September 29, 2008 / More →
in the new Diamond Previews.
Page 202: Tiger! Tiger! Tiger!, by Scott Morse. Published by AdHouse. The cover here says all you need to know.

Page 292: The Quest for the Missing Girl, by Jiro Taniguchi. Published by Potent / Fanfare. I think Taniguchi is probably the most underrated manga master in North America. The storytelling is sublime, and his art is transcendental.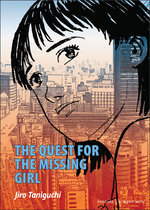 The following message is not a part of Previews. I lifted it from the web, because it is awesome.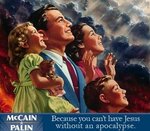 ---
September 26, 2008 / More →
but if was in Portland, i'd check this event, On the Margins, at Floating World Comics out in a heartbeat. Dunja Jankovic's comics are sublime and haunting.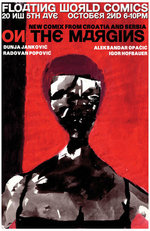 • James Kochalka gets some love at SPX (In Conversation with Heidi MacDonald), even while Top Shelf gets snubbed with not a single Ignatz Award nomination.
• The new Frazetta hardcover, Telling Tales, FINALLY came out... nice package, but oh god, why did they add such horrifically garish colors to Frazetta's insanely delicate and sublime brushwork? (Of which he did far too little.) I haven't read into the text yet, but let's presume two possibilities. The editor had access to high-quality material for a particular strip from which he could scan, and reproduce the artwork. In this case — and it certainly seems this to be the case — the art should have been reproduced in b&w. If on the other hand high-quality material was not on hand, then a far better option would have been to scan the actual comics pages where they ran in the first place. No doubt line quality may be lost, but the undeniably cool look of the page as a lush relic, yellowing pages, and crude-yet-terrific half-tone coloring and all make up for said loss. A great example of this is the Art Spiegleman / Chip Kidd presentation of a choice sampling of work in their book Jack Cole and the Plastic Man. Another fine example of this methodology of archiving used to good effect is in the more recent Sheena: Queen of the Jungle collection, published by Devil's Due. (The star attraction being, for this viewer, of course the contributions of Matt Baker.)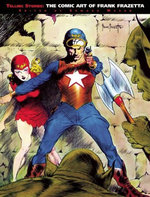 • Nick Cave and the Bad Seeds' new Dig!!! Lazarus Dig!!! is an instant masterpiece. Wow...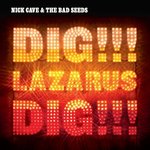 • Also, decidedly NOT comics, and because i can't help it; This Week in Conservatism.
• And finally, more killer art from Max Estes.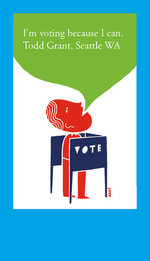 ---
September 17, 2008 / More →
with Brian Heater has wrapped at Daily Cross Hatch.
And speaking of Nate, geez, does this guy ever sleep? He just launched a smashing new website.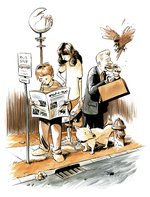 • In the better-late-than-never category, after what seems like years, i've finally found a day to pour over a ton of convention purchases, submissions, and what have you that have been piling up. A book Rex, by Danijel Zezelj was in the mix. I've read some of this guy's short form material in anthologies here and there. I thought it was o.k. but not so much as to live up to the hype. Well this sucker is like a fucking roundhouse kick to the face, pumping with high energy jams. And his art here seems MUCH more nuanced... a better use of grey tones that what i've seen before. Big thanks to publisher Jason Thibault at Optimum Wound comics for the hook-up.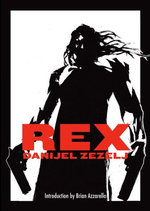 • Our Top Shelf pals at Grass Hut are fishing for an intern. These cats are as cool as it comes, let me tell you. (Two weekends ago i attended a terrific opening for the brilliant L.A. based artist Andrew Brandou. Local Southern-style restaurant Screen Door made waffles peach-foster style... i thought i'd died and gone to heaven.)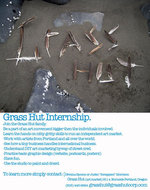 Join the Grass Hut family. Be a part of an art movement bigger then the individuals involved. Learn the hands on nitty gritty skills to run an independent art market.
-Work with artists from Portland and all over the world.
-See how a tiny business handles international business.
-Understand DIY art marketing byway of street cred.
-Practice basic graphic design (website, postcards, posters)
-Have fun.
-Use the studio to paint and drawl.
To learn more simply contact Bwana Spoons or Justin "Scrappers" Morrison. Grass Hut (Art Market). 811 E. Burnside. Portland, Oregon. (503) 445-9924.
Grasshut@grasshutcorp.com
• Max Estes sure is staying busy, and cranking out choice pieces of art. Go. Buy.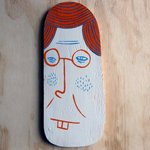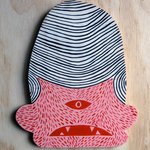 • Veeps gets reviewed in the new issue of webmag, Comics Waiting Room, and at Omnivoracious too.


---
September 11, 2008 / More →
can be read at Comics Should Be Good.
• Nate Powell's book tour for Swallow Me Whole had a couple slight changes. Here are the final tour dates, as well as some boss art he created for this too.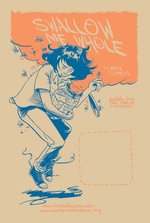 *10/4-5 @ SPX, North Bethesda, MD
*10/7 @ Ada Books, Providence RI. 7pm.
*10/8 @ Million Year Picnic, Cambridge MA. 5pm.
*10/9 @ Giant Robot, New York NY.
*10/10 @ Rocketship Comics, Brooklyn NY.
*10/17 @ Boxcar Books, Bloomington IN.
*10/18 @ Quimby's, Chicago IL.
*10/25 @ Floating World, Portland OR.
*10/26 @ Comics Dungeon, Seattle WA.
*10/29 @ Comic Relief, Berkeley CA. 5-7pm.
*11/1-2 @ APE, San Francisco CA.
*11/1 @ Isotope, San Francisco CA. night time.
*11/13 @ Bizarro Comics, Athens GA. 3-6pm.
*11/22 @ Vintage Phoenix, Bloomington IN.
*11/28 @ Collector's Edition, North Little Rock AR.
• David Chelsea has a beautiful new web site.
Here's some art i nabbed from it.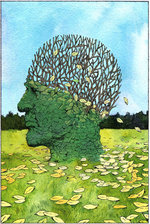 • Steve Lafler has been painting like a fiend! Check it out!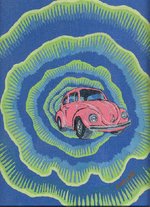 • Here's a nifty little movie from Grass Hut.
• A tip of the hat to Benton Jew (one half of the outstanding and criminally underrated Jew Bros.) for the lead on his blog about the vintage Space Ghost dvd set, which features a documentary on the legendary Alex Toth. The doc isn't perfect by any means (cheesy effects, maudlin music, etc.), but it was a wonderful window into one of comics' masterminds. Well worth watching.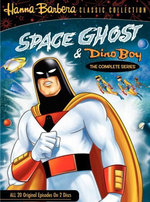 • Previews Picks for the month of September. (If it's not too late to make a difference.)
-Land of the Giants lunchbox. I saw one of these at San Diego, and man are they cool.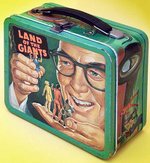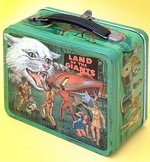 -Vintage illustration lovers (like myself) should be palpitating with the news of two forthcoming hardcovers; monographs for Norman Sounders and Reynold Brown.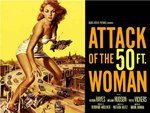 -TwoMorrows continues with two more creator spotlights in their Modern Masters series. And while i only have roughly half of the series thus far, i will indeed be picking up the new ones featuring Mike Ploog and Kyle Baker.
-Sweet! The Adventures of Tintin, Hardcover Boxed Set!
-Stan's Soapbox. Verily, True Believers, all of Stan Lee's hyperbolic editorials from the late 60s and 70's in under one cover! I freaking lapped these up as a kid... Kudos!
-Fuzz & Pluck: Splitsville, by Ted Stearn. (Fantagraphics.)
Well, this series took forever and a day to be completed, but this great book is well worth the wait. Awesome awesome stuff.
-OMFG! The complete Blazing Combat Hardcover! Holy crap, this is great news! Also, from the fine folks at Fantagraphics.
-The Venice Chronicles hardcover, by Enrico Casarosa. (AdHouse Books.) I've had the pleasure of reading this, and it's gorgeous! Buy this book.
-Rejoice!! The second mammoth oversized slipcased hardcover of Kirkman, Adlard, and Rathburn's Walking Dead is coming. One of the greatest comics of all time. Serously.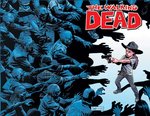 ---
September 4, 2008 / More →
Now that both Obama and McCain have announced their VP picks, the media are stuck on 'em 24/7... but we know a couple of guys who have been Veep-crazy since Sarah Palin was modeling swimwear!
The hilariously cynical Bill Kelter, author of the upcoming Top Shelf book Veeps: Profiles in Insignificance, has been blogging up a storm over at www.veeps.us. Meanwhile his partner in crime, Wayne Shellabarger, has whipped up two more killer portraits in the style of the 46 that appear throughout Veeps, celebrating the nominations of Sarah Palin and Joe Biden. Check 'em out!
Veeps is scheduled to hit in late October... just in time for the election (and 47th Veep)!
---
• Well Bill, Wayne and myself are back from the Denver location shoot on Road to Insignificance, the film about the life & times of Veeps author's Bill Kelter and Wayne Shellabarger. And while we didn't get to attend any actual events, the streets were alive with activity.
With principle shooting wrapped, i'm now totally stoked to see a rough cut of this baby, although editing won't begin until November. We've been playing this close to the vest somewhat, and as a straight documentary, but it's bound to come out sooner than later that while the core of Bill and Wayne's friendship is the real deal, we're straying from the truth in this film. Oh, and i'm the director.
Meanwhile, Bill made yet another guest appearance a few days ago on KPOJ, the Air America affiliate here in Portland. Awesome!
• Top Shelf 2.0 contributor Joe Decie put up this terrific strip on Webcomics Nation.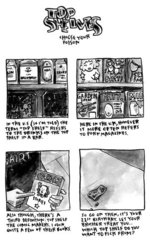 • James Kochalka did this freaky fun Fantastic Four page (issue #9, page 17) on commission.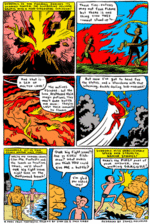 • Peter Kuper is editing the next issue of WW3. I do believe it's a wordless issue. This stunning Eric Drooker cover boggles, as his covers always do.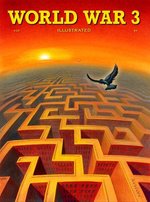 • Rich Koslowski informs me that Top Shelf is well-represented in a new book called 500 Essential Graphic Novels, by old Top Shelf friend Gene Kannenberg, Jr.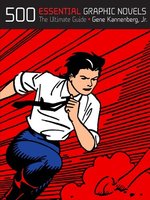 The following Top Shelf books made the cut:
• THREE FINGERS in the "Fantasy" category (Rich Koslowski)
• BOX OFFICE POISON & TRICKED "general fiction" (Alex Robinson)
• GOODBYE CHUNKY RICE "general fiction" & BLANKETS "non-fiction" (Craig Thomspon)
• HEY MISTER "humor" (Pete Sickman-Garner)
• HUTCH OWEN "humor" (Tom Hart)
• LOST GIRLS "general fiction" (Alan Moore and Melinda Gebbie)
• MONKEY VS ROBOT "humor" (James Kochalka)
• OWLY "adventure" (Andy Runton)
• SAME DIFFERENCE "general fiction" (Derek Kirk Kim)
• Besides that his work kicks serious quantities of ass, Nate Powell is every publishers dream. He arranged and schedule the following promotional tout in support of the forthcoming Swallow Me Whole, AND is designing and producing a 2-color screenprinted poster for this as well. Here is his tour schedule, and a rough design for the poster.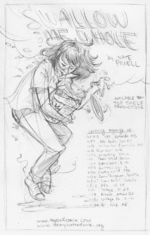 9/26: gallery show, Sweet Hickory, Bloomington IN (featuring pages from SMW and other stuff)
10/4-5: SPX
10/7: Ada Books, Providence RI
10/8: Million Year Picnic, Cambridge MA
10/9: Giant Robot, New York NY
10/10: Rocketship Comics, Brooklyn NY (TBC)
10/11: Desert Island, Brooklyn NY (TBC)
10/18: Quimby's, Chicago IL
10/19: Boxcar Books, Bloomington IN
10/25: Floating World, Portland OR
10/26: Comics Dungeon, Seattle WA
10/30: Comic Relief, Berkeley CA (TBC)
11/1-2: APE
11/1: Isotope, San Francisco CA
11/11: TBA, Savannah GA
11/12 or 13: Bizarro, Athens GA
11/22: Vintage Phoenix, Bloomington IN
11/28: Collector's Edition, North Little Rock AR
---
August 14, 2008 / More →
I've been very VERY busy as of late, so apologies for the long wait between updates. I've been following a documentary film crew around, which is making a film about Bill Kelter and Wayne Shellabarger, the authors of our very own non-fiction history book, Veeps: Profiles in Insignificance. It's been a great deal of fun and i'm having a terrific time, but wow am i exhausted. I have a brand new appreciation for filmmaking, and how hard these crew members work. We'll try and get a teaser and/or trailer for the film up soon. Working title — Road to Insignificance.
And speaking of Bill Kelter, his and Wayne's book just got some more props on nothing less than the uber-wonky Congressional Quarterly!
• Meanwhile, old pal and wonderful cartoonist Josue (Broken Fender) Menjivar got some ink for his more recent work at Pretty Fakes. Check out Josue's site Fresh Brewed Illustration.
• I don't read Spanish, but i did receive an email from an outfit in Spain called Polaqia, i think via an aquaintance name Kike Benlloch. These covers for some new comics sure looks swell though.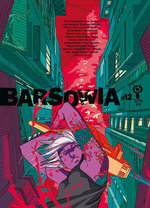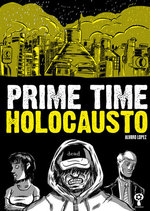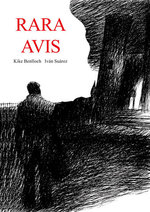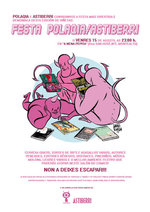 • Marc Mason of Comics Waiting Room interviews Jeff Lemire at ComiCon!
• James Kochalka's nifty new American Elf ad for an upcoming issue of The Comics Journal.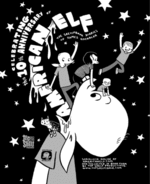 • More Pat Moriarity goodness:
"Here's where you can get the brand new Crustacean Records double DVD featuring my package design, poster, and a 10 minute video featurette about me, plus about 5 HOURS of high quality video footage of killer midwest rock acts. (Bands like MAD TRUCKER GONE MAD, AWESOME SNAKES, THE SKINTONES, DRUNK DRIVERS, LADY BEARD and more.)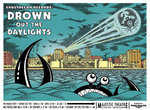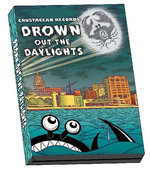 • Scott Campbell is a busy busy man. You can see his work in three different shows. Here. Here. And here.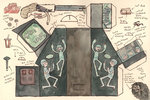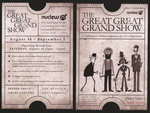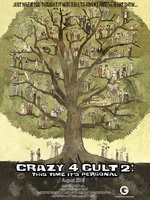 • And finally, i saw that the Swedish anthology we're doing sub-distro for (From the Shadow of Northern Lights) hit stands yesterday. Great stuff. Check it out!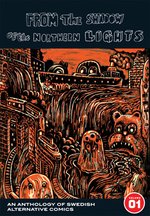 ---
August 1, 2008 / More →
• Veeps writer Bill Kelter scores a piece on the front page of Politico! Sweet!
Then, on the same day he was interviewed on Portland's Progressive Talk Radio, KPOJ with Carl Wolfson.
Shooting starts next week on the documentary being made about Bill and Veeps illustrator Wayne Shellabarger, with (YIKES!) me at the helm. Oh, and speaking of which, Bill's co-worker Bill Lovejoy sent me this image recently. What the fu?@!!!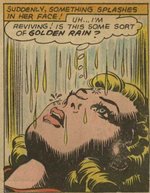 • Tom Spurgeon's 50-Plus thoughts about ComiCon 2008.
• I scored some great shit at San Diego this year, rabid fanboy that i am. Krazy & Ignatz 1935-1944 by Chris Ware, from Fantagraphics. I couldn't find a link to this on their site, nor an image for it, but this is the second mammoth volume of reprints and it's insanely gorgeous. Even more so, however, is the French edition collecting the entirely of the classic crime series Torpedo by Abuli, Bernet and Toth. My French isn't particularly great, but holy crap this is one of the most impressive all-in-one collections i've ever held in my sweaty little paws. Richard Starkings gave me the terrific, lush Art of Ladronn hardcover. His editorial is an inspirational account of how he met Ladronn working together on the (still fun) Cable comic years ago, and ended up giving him free reign to do comics as he sees fit, in his own time. Yes, the timetable has been glacially slow, but as i was then compelled to buy the first two hardcover Hipflask collections of three, the results are sooooooooo worth the wait. Dizzyingly beautiful. I got so much more, which i'll mention soon, but for this update, i also scored two more awesome hardcover art books: Michael Golden's Heroes & Villians, published by Little Eva Ink, and Retroactive: Darwyn Cooke 1998 - 2008, published by BrandStudio Press. Two of my favorite cartoonist. Two bitchin' books. (Now we just need an Art Adams hardcover to round out the list.)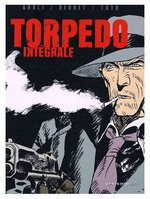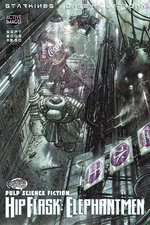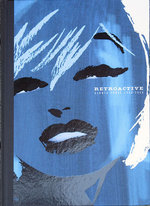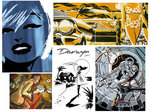 Oh yeah, and one of the inserts in the Con Bags was this funny-as-hell Watchmen parody, courtesy of Mad Magazine.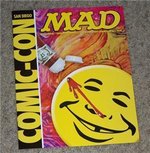 • Jed McGowen's lush strip Ritual of the Savage is now up on Top Shelf 2.0. And it rocks! Meanwhile, here's a piece of fan art Jed received by Teemu Matinlauri. This too shall rock.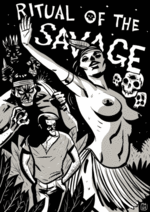 • Indigo Kelleigh, best known as the founder of the Stumptown Comics Fest here in Portland, is also a great cartoonist. He's just launched a new strip called Ms. Ellie Connelly. He rocked my world years ago with his air-tight mini-series Chutney Point, and so far this looks as good or better. Good to see you back, Indy!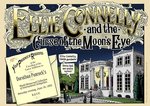 • My longtime friend Dave Vlasaty (we met on the crew team back at University of Oregon back in the day), just road tripped to the tip of Baja with his kick-ass sons Aiden and Angus... oh, and Owly!!!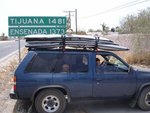 • Last but not least, Calling All Aspiring Animators!... Top Shelf is looking for cheap talent who will work for lots and lost of free comics to help us build some animated trailers for various projects. Must already dig Top Shelf (otherwise, i mean.. what's the point, right?) and be serious and committed. There's no paycheck involved, but really we do take care of our family.
Contact me at brett@topshelfcomix.com if interested. Please though, no attachments. Links to url portfolios ideal.
---