If you're attending the New York Comic Con this weekend, Al "Mad Fold-In" Jaffee will be on the Arf book panel on Sunday, Room IE03 at 3:00. Here's hoping for a good turnout for Al, who at 87 years young is rarely at cons. Also, a reminder that Craig will be signing the few limited number of the new "Arf" book, Comic Arf at the Fantagraphics booth. They're having a few advance copies flown in from China and the signing will be Sat. 11-1, Sun. 1-2:45. Besides Jaffee, Comic Arf has special art done for the book by R. Crumb, Jules Feiffer, Patrick McDonnell, Art Speigelman, Bil Keane, etc
• And if you're in Portland next weekend for the Stumptown Comics Fest, here's some haps you might want to check out, courtesy of Dylan Williams from Sparkplug.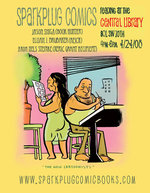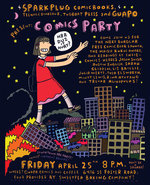 ---
James Kochalka is expanding his American Elf archives in a big way. 2008 marks the 10th Anniversary of James' massive daily diary comic strip undertaking! And while, yes, i'm the publisher of this work, believe me when i tell you, this is some of the most profound comics work anywhere.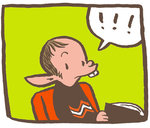 • David Chelsea's most recent 24-Hour comic, titled "Now Open the Box" (and which we'll be posting right here on our revamped webcomics section in a couple weeks or so), is based on a New York Times column for which he provided an illustration, by "Modern Love" author Lori Jakiela.
• Finished reading Comic Foundry #2. (The Spring 2008 issue.) Boy i really really dig this mag. I hope their efforts to gain mainstream newsstand acceptance succeed. The feature interview with Matt Fraction was pretty good. In fact, it made me go back and start over reading the first Iron Fist trade paperback that i'd picked up on good buzz, and honestly couldn't get into. (See review below.)
I do like the staccato nature of the contents — understanding the limited attention span of most Americans — but i'd like to see at least a couple more meatier features; whether that be interviews, series overviews, or what have you.
• Sat down then and read the new Immortal Iron Fist tpb mentioned above, titled "The Last Iron Fist Story." First, what i didn't like AT ALL, and the reason i couldn't get into it on the first attempt; Fractions use of voice-over narrative is not just not good, it's horrible. Especially the way that he starts a sentence at the top of one page, and doesn't finish it until 2 pages later or more. Of course, he's not as bad as Jeff Loeb, who uses this cliched narrative device to horrible affect, but really, this is an old comics convention that i think for the most part has served it's purpose, and — except when truly important to the story at hand — should be left alone. (I wonder if this is part of the advice that Ed Brubaker imparted to Matt, as alluded to in the aforementioned Comic Foundry interview.)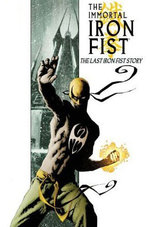 That said, i dove in and suffered through the narration, and i can happily say i'm glad i gave this book a second chance, Because overall it kicks some serious ass. The story itself rocks, and utilizes flashbacks to good effect, while the dialog is snappy and fun. I don't know enough of the Iron Fist backstory to know if this is a major ret-con, but it read so clearly that i didn't care.
And the art by one David Aja is simply amazing. Fluid and stylistic, with clear storytelling (something so many of today's HOT artists are clueless about — and shame on their editors for not correcting this), this is one relative newcomer that i'll totally be keeping my eye on. I read recently that a new writer/artist team is taking over on this book soon; i can only hope that Matt, Ed, and David have a chance to wrap up their storyline with a definitive conclusion. (And that the whole run eventually winds up in one of the bitchin' oversized hardcovers Marvel has been doing with popular books.)
• This sounds cool as heck! I wish i was in Seattle this Thursday.
Thursday evening at 7:00 PM, Fantagraphics Bookstore & Gallery's resident curator Larry Reid will speak at the Frye Art Museum, 704 Terry Avenue in Seattle. Reid will present a slide lecture on the topic "WEIRDOS: Seattle's Alternative Comics Culture in the Context of R. Crumb's Underground." If you have yet to see the phenomenal Crumb exhibition at the Frye, this represents one of the last opportunities to view this comprehensive collection and explore Crumb's considerable influence on comics in the Northwest. Admission is free. Reid assures us that you'll get your money's worth. More info at 206.622.9250.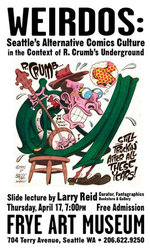 • Finally, here's James Kochalka's brand new cover art for a repriint of his kid's book Pinky & Stinky.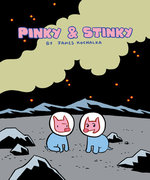 ---
April 14, 2008 / More →
In this case... HELL YEAH! Renee French has jumped into the blogosphere. Thus far it's almost exclusively art. And that's o.k., since her work is truly sublime.
---
longtime pal Steve Ryan sent me a link to a pretty damn disturbing article at Animation World, about a news item that could adversely affect everyone in the comics community. At stake is a piece of pending legislation before Congress about items determined to be "Orphaned Works."
From the article:
"An Orphaned Work is any creative work of art where the artist or copyright owner has released their copyright, whether on purpose, by passage of time, or by lack of proper registration. In the same way that an orphaned child loses the protection of his or her parents, your creative work can become an orphan for others to use without your permission."
Read a specious defense of the issue here.
This debate has even far more ramifications for our industry than the "Net Neutrality" from a couple years ago, except that unlike that situation, there is little affect this would have on civilians, and so there'll probably be little fanfare. Yet one more case of the system working against the cause of the little people, in support of the powerful. Keep your eyes peeled for when this proposed legislation hits the public, true believers, and contact your congressfolks in protest.
• I've been a busy little bee lately, as the Top Shelf convention season brings my production cycle into full swing. Timothy Sievert's That Salty Air has arrived — our first new book of the season — and it's a beauty.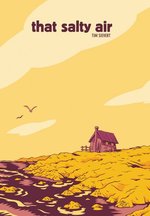 James Kochalka's Johnny Boo is at the printer in China. Our new Seasonal Sampler for 2008 is ready to roll. Liz' Prince's collection of her strips Delayed Replays is at our printer in Montreal. Alex Robinson's Too Cool To Be Forgotten is also in China on press. Corey Barba's YAM is almost ready to be put to bed. Nate Powell's insanely beautiful new book Swallow Me Whole, is almost wrapped up, and my favorite Top Shelf book in years, Veeps, by Bill Kelter and Wayne Shellabarger, is getting it's final touches done by production guru Chris Ross.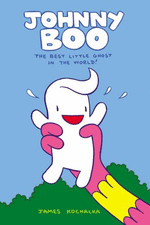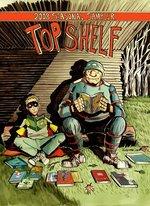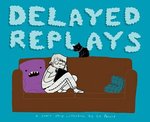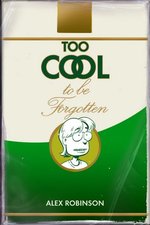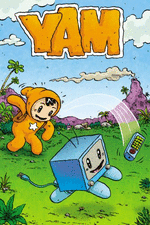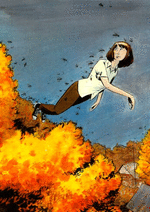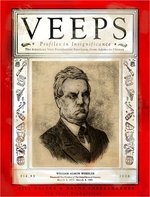 Here's a couple developmental sketches by Nate Powell, for the back cover of Swallow Me Whole.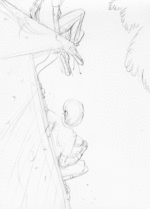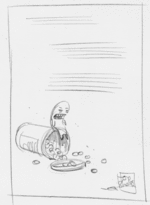 ---
April 3, 2008 / More →
The April issue of Diamond Previews came out last week, and i wanted to point out a few cool books i'll be picking up. There's no Marvel or DC here, but that doesn't mean i won't be picking some spandex books up — just that they don't need a fraction as much support as these folks do. So pester your local retailer to order these for you, and one (at least) for the rack. If they won't budge, then go strait to the source.
Page 202: Kyle Baker's Nat Turner, by (of course) Kyle Baker. (The publisher is Abrams, i think.) One of the few cartoonists who seems to have a magic touch... i can't think of a single book he's done in a decade that i didn't love. One of the most effective storytellers in comics, his work is not to be missed.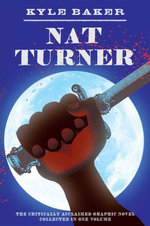 Page 203: Superior Showcase #3, from AdHouse Books. Featuring new work by Jim Rugg (and supposedly his writing partner Brian Maruca, who i think is Jim's alter-ego), Dustin Harbin, and Laura Park. Project Superior is an ideal salve for the conflicted "indy" comics fans who can't let go of their lifelong super-hero proclivities.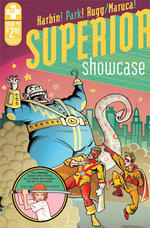 Page 232: Freddie & Me, by Mike Dawson. Published by Bloomsbury. I've been witness to this book in progress for years, and i'm chompin' at the bit to read it in its entirety. Mike can draw like a mo-fo, and it's great to see him realize his first full-length graphic novel, after years of paying his dues with numerous mini-comics and unfinished comics.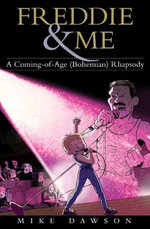 Page 287: A Fantagraphics Feast! Man of Rock: The Biography of Joe Kubert, by Bill Schelly. The Troublemakers, a new hardcover graphic novel by Gilbert Hernandez. And Uptight #3, by Jordan Crane. For dessert, the Comics Journal #291, featuring an interview with Tim Sale. Even though they have a pretty crappy website, they're still the most important publisher in comics. (Don't tell Staros i said that though...)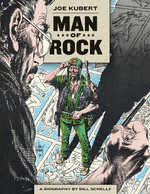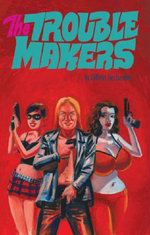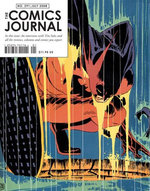 Page 291: Drawing Words & Writing Pictures, by Jessica Able and Matt Madden. Published by First Second. A treatise on the form, by two of our medium's foremost formalists, published by one of the shining new stars in the industry's firmament. You can't lose!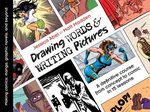 Page 304: Scorchy Smith, by Noel Sickles, published by iDW. Editor Dean Mullaney continues his epic fucking cool series of classic reprints with the MUCH anticipated collection of the complete Sickles strip Scorchy Smith, as well as a plethora of dvd-style extras. Whoo hoo... can't wait to this puppy in my hands.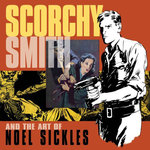 • THIS WEEKEND!! The 24-Comic Challenge!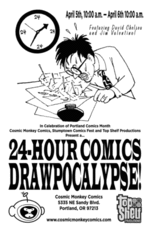 Here's a photo set from an old challenge at Chelsea's pad.
Here are David's storyboards for the short promo made for the event this weekend.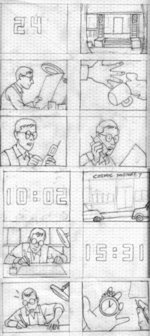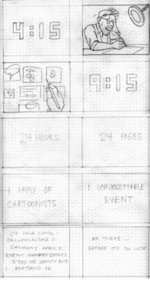 And here's the video up on YouTube.

• Finished reading Mark Evanier's coffee table monograph of the magnificent Jack Kirby, appropriately titled KIRBY: King of Comics! As one of the world's leading Kirby biographers and personal friend of The King, it reads fine, and is accompanied by loads of great oversized art, all wrapped up with quite tasty book design. I will admit however, i was expecting a meatier history of the man. I thought for sure i'd be reading an in-depth biography, containing many gems about Kirby's life i've never heard before. Alas, there's absolutely nothing here that i haven't read in Comic Book Artist, the Comics Journal, the Kirby Collector, or any number of various magazine articles and/or interviews.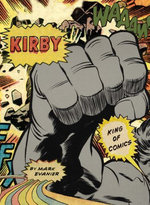 That said, it's still a kick-ass tome, and i highly recommend it. Worthy of any Kirby junky, but particularly useful too for neophytes to the Kirby phenomenon.
---
March 27, 2008 / More →
From the mouth of King Faraday, these words nicely sum up the heart behind my favorite super-hero comic i've read in well over a decade. That's right, i finally spent a few nights riveted by the masterful ideas and storytelling behind Darwyn Cooke's epic New Frontier. I'd mentioned in a previous post how beautiful the "absolute" edition of this book was, and i'm happy to report that it reads as good as it looks.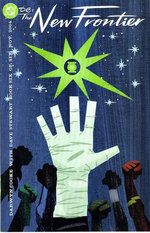 Ostensibly a retelling of the formation of DC's proto super-group The Justice League of America, this book does all that and so much more. (A scathing indictment of current neo-con philosophy and the politics of fear-mongering, for example.)
The plot comes straight out of the Silver Age era from which it sprang... a mysterious alien life form in the guise of a sentient island? Sounds hokey as hell, and well, it is. And that's part of the charm. But what really knocked my socks off was the set-up and execution. Cooke's adventure spans the exact same years that these Silver Age heros developed in continuity, from the post-war mid-forties, into the cold-war and the sixties, and ends at the "birth" of the Justice League.
I've always been more of a Marvel Zombie — though i've got my share of DC spandex in my library — but New Frontier to my mind sets a new bar for meta-continuity narratives, and has leapt to the front of the line for me as THE definitive DC super-hero comic.
Ah geez, and i haven't even mentioned Cooke's art. This is the shit, friends. Some may not have an appreciation for this "animated" style as made popular by the likes of Bruce Timm (though i think it's tops), but one cannot argue that Cooke's storytelling — his ability to tell the story from panel-to-panel and page-to-page — is literally as good as it gets.
And the appendix in the "absolute" edition is phenomenal as well.
Wikipedia has a nice entry on this, and is chock full of tasty links.
Sorry with all the gushing here... i'm just floored by this baby. In fact, so much so i did some googling on Cooke, and realized long after the fact, that he was one of the few lucky ones to have scored an issue of DCs short-lived Solo series. CRAP!! This thing came and went so fast i didn't even know it existed. Of course, i can't find a single copy in all of Portland, or online at Mile High... ARGGHH! I'll pony up a hardcover edition of From Hell for anyone who wants to trade this rare comic with me!!
• Then last night, i hung out with the Joe, James, and Randy from Oni and watched the dvd treatment of the same. It was really enjoyable, i'll say that, but i can't image how good it would be for someone who hasn't already read the graphic novel. Certainly better that most crappy Marvel animated stuff, with some nice animation and voice work, though i'd say it's a case of a movie that can't possibly live up to the standards of the book.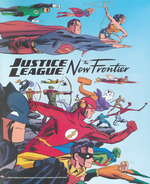 • Also read a REALLY fun comic from Image called Fantastic Comics. Edited by Joe Keatinge, this purports to be a "Next-Issue" concept series, that continues the adventures of copyright free action heroes from long-forgotten comics of the Golden Age. I truly couldn't say if this is true, but no matter, the results are a blast. The whole thing is a romp; from the kick-ass cover by Erik Larsen, and contributions by Joe Casey, Bill Sienkiewicz, Tom Yeates, Andy Kuhn, Tom Scioli, Jim Rugg, Mike Allred, and more.
More, please.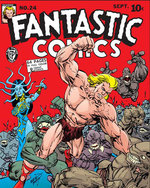 • Finally, RARE are the books i receive in the mail that are ready for Prime Time in idea and execution. Well, this is exactly what i received in my po box, with a graphic novel by Ed Laroche called Almighty. A post-apocalyptic noir crime drama, with art reminiscent of Edwardo Risso, Ed is self-publishing this intense graphic novel series. Very recommended.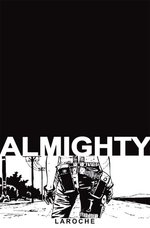 ---
March 21, 2008 / More →
... i have no idea who Pixeloo even is (the blog is anonymous), but this photo will probably spread through the blogosphere like wildfire, and either make her/him rich or else get them sued. Disturbing as f*ck and brilliant!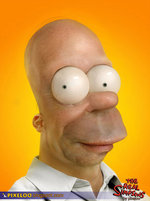 • Meanwhile, i pulled Alec Longstreth's Phase 7 #11 out of my to-read pile. This issue contains the second part of his autobiographical story chronicling his passion for comics, and his desire to become a cartoonist. Painfully honest and brimming with unbridled enthusiasm, this comic book is prescribed for aspiring creators in any medium. Also, it's great to see that Alex's superhuman amounts of sweat equity in his effort is paying a nice dividend. His early cartooning from just a few short years ago did not start out entirely naturalistic, and seemed forced; but here one can see him really coming into his won, showing marked growth and developing an assured grasp of the form.
---
• Digging into my to-read pile, i pulled out some absolute gems. (I'm all for reading critical reviews, but as limited as my time is, i'd rather be a booster for the good stuff... so sue me.)
So i met ink-slinger Shannon Gerard at TCAF (Toronto) this last Summer, and picked up her three issue run of a comic book called Hung. Number one was pretty good, but it seemed fairly developmental; maybe unsure of what it wanted to be.
But by issues 2 & 3 Shannon had developed considerably, and found a style that in my humble opinion is sublime. These two issues are powerful, touching, and painfully human. The photorealistic pencil art is terrific, and formally, she understands how to use a "comics" page to wonderful affect.
These comics come VERY highly recommended, and can be found at Shannon's website, which is a marvel of tasteful design in and of itself.
Oooh, Shannon just responded to my email to her, with this: "...It's so great when someone who knows what he is talking about likes my work!
"And it is always meaningful to me when people connect with the human part of the stories. It's really amazing how many people end up telling me their own stories in return. Sigh.
"Yeah, my goodness but I am embarrassed by Hung 1 now, but I think that is a good thing. Better than never evolving. I have a couple hundred copies of that book that I didn't know what to do with, so I have started screenprinting another story over top of them. It's about older relationships-- some early loves that came along which I just wasn't ready for and blew it-- well the early drawings seemed like a good metaphor for that. And piling up two layers of drawings and writing is working out pretty nicely. Images attached.
"By September I am really hoping to bind the three comics together with the new overprinted #1 serving as a #4. I'll also include some interstitial stories and a nifty hand printed cover and sell the lot as a paperback in a limited edition."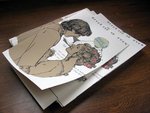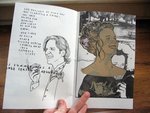 • Bryan Lee O'Malley is a comics god. No, really. Scott Pilgrim #4 kicked my ass, and this is possible one of the greatest comic book series of all time. O'Malley makes an old fart like me (42 years old) not just enjoy & understand a comics narrative using extremely youthful themes and references, but he makes me feel welcome to the party as well. This is serious hard to pull off. Man, i look at "youth" culture today, and for the most part, i just don't give a shit. But in Scott Pilgrim, he taps into universal ideas and human experiences, all the while spinning the craziest yarn. I know there's a lot of comics elite who look down on this comic, and they can all kiss my ass.
Published by my sometimes pals at Oni Press. (Sometimes because they're near-impossible to reach.)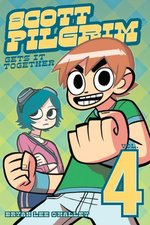 • Hate Annual #7 made its way into my hands from The Pile. Bagge just keeps aging oh so well. I love how Buddy and crew are aging. Besides being just fucking funny as hell and true to character, there's a naturalism at work in the development of the family. I'm looking forward to watching wee Harold grow up, big time! Hate is published by — duh... Fantagraphics.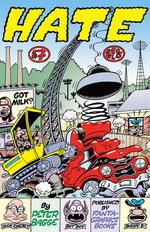 • What is groovy as heck. Beatnik banter. Sexy teen superheroes. Double entendres and erotic visual cues. An patently absurd lot, but remains charming and fun. John F. Kennedy. Alien worlds with pop-art deco on Dali-painted architecture. Fabulous bad-guy mods. Shapeshifters, and an anti-war theme.
Hint: It's written by DC legend Bob Haney. (In fact, i think this was his last published work, but i could be wrong.) Pencils by Jay (Sin) Stevens and inks by Mike (Madman) Allred. And for the icing on the cake, a sweet Nick Cardy cover for dessert.
Why, the Teen Titans Lost Annual of course! Loved this!! Love it love it love it!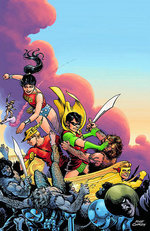 • On the lit front, i've also just finished the first novel i've read since last Summer. Willy Vlautin, lead singer and songwriter for the incredible band Richmond Fontaine, delivers a devastating portrait of a young woman, trying to escape her past, and reinvent herself in his second novel Northline. It's not a new story. What Willy brings to the table though is a gut-wrenching authenticity and a straight forward writing style that gets under the skin. His last book, The Motel Life had a story and characters that to this day stay with me, and Allison from Northline will likely do the same.
The edition have is from his British publisher Faber & Faber, and again, as with The Motel Life, feature superb production and great art from Nate Beaty.The U.S. edition from Harper Perennial is slated for a May release, and also sports of pretty cool cover.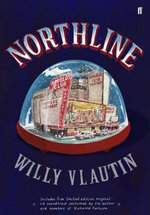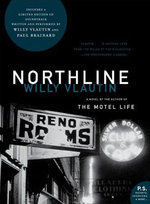 • Here's a nifty how-to page by Corey Barba. His new YAM book has almost been put to bed, and will head to the printer shortly.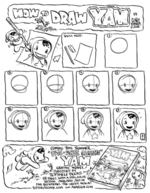 • Oh, and this sounds awesome! I've been wanting to visit Minneapolis for forever and a day. One of these days...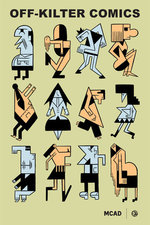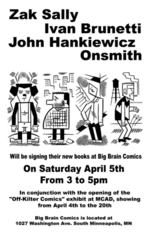 ---
March 13, 2008 / More →
• Here's some terrific Kirby Love, in a pin-up featuring Kamandi, Sandman, OMAC, and The Demon. Thanks for sending this my way, Mr. Jeff Lemire.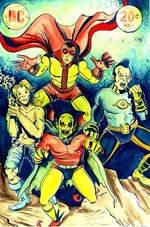 • Wish i could attend this event!
From the desk of Eric Reynolds at Fantagraphics.
"THE FUN NEVER STOPS!" WITH DREW FRIEDMAN:
FANTAGRAPHICS BOOKSTORE & GALLERY IN SEATTLE, OPENING MARCH 27.
"Drew Friedman isn't just a brilliant artist. He takes you to a place. He takes you back in time. He makes you smell the stale cigarettes and cold brisket and you say thank you for the pleasure." — Sarah Silverman
Drew Friedman is among the most notorious illustrators and cartoonists in America. According to Entertainment Weekly, "He holds a marvelously warped lens up to crusty politicians and debauched celebrities. A good-natured misanthrope with an obsessive style and a sardonic tongue, Drew Friedman is one of the country's sharper political artists." Freidman will appear in Seattle for the first time at Fantagraphics Bookstore & Gallery for a book signing and exhibition of his original artwork on Thursday, March 27 from 5:00 to 8:00 PM.
"The Fun Never Stops!" exhibition features 17 portraits meticulously rendered in Friedman's singular style. Included are political figures such as "McCain as Popeye," "John Kerry's Inauguration," and "Really Rich Rudy" as well as pop culture icons like Frank Sinatra, Woody Allen, and Alfred E. Newman. In addition, Fantagraphics Books produced a limited edition silkscreen print featuring George W. Bush as Slim Pickens in the apocalyptic finale to "Dr. Strangelove." Friedman's portraits are alternately savage satires or reverential renderings – and frequently both, as in his series of "Old Jewish Comedians," recently published in two volumes by Fantagraphics Books.
Friedman's illustrious career has included comics work published in Art Spiegelman's RAW, R. Crumb's Weirdo and MAD Magazine, and frequent illustrations in National Lampoon, the New York Times, the New York Observer, among countless other publications. He was the recipient of the 2001 Rueben Award for newspaper illustration. Friedman's work has been collected by Seattle's Fantagraphics Books in The Fun Never Stops!: An Anthology of Comic Art 1991 – 2006, Old Jewish Comedians, MORE Old Jewish Comedians, and Warts and All.
Opening Reception and Book signing
Thursday, March 27, 5:00 – 8:00 PM
Fantagraphics Bookstore & Gallery
1201 S. Vale St. (at Airport Way S.)
Seattle, WA 206.658.0110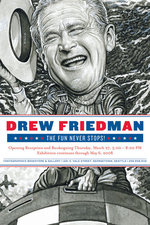 ---
March 5, 2008 / More →
I can smell it outside as the plum trees on my street flood my olfactory senses. Oh baby, i can't wait for some warm weather again.
• Big ups to Pat Moriarity, who just recently won a couple Cartoonist Northwest "TOONIE" awards. I've been a longtime fan of Pat's bigfoot stylings. In fact, produced an amazing wraparound cover for the very first perfect bound book i ever published, Top Shelf #5.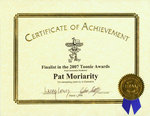 Pat writes, "Unbelievably, I WON, in the category of illustration, and then later that night the big one, the coveted GOLDEN TOONIE, reserved for giants like Berkeley Breathed, Lynne Johnston, Peter Bagge and Jim Woodring.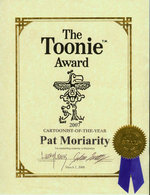 "I believe that all cartoonists crave affirmation, especially from their peers, and I'm no different. So if you are a cartoonist who happened to vote for me, thanks."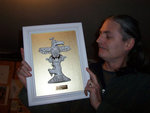 • Here's Jeffrey Brown's killer flyer for the upcoming Emerald City Con in Seattle.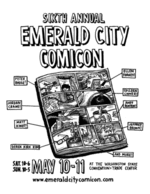 And speaking of Jeffrey Brown, here's a design he made for the character Microwave, from the series of Incredible Change-Bots toys coming out from Devil's Due.
And finally, some sketchbook pages from Jeffrey's Sulk series, which start hitting stores the Fall.
page of deciding how to draw the character 'rabasaku'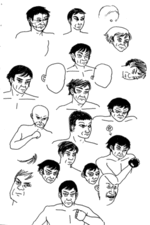 page of random sketches getting into the spirit of the book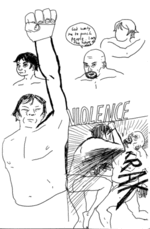 early cover idea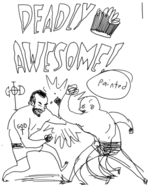 early sketches for the character 'eldark'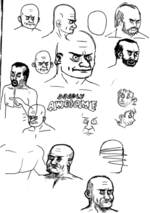 adjusted script for last part of book.(note: I erased the script lines for the section of pages showing how the fight ends...)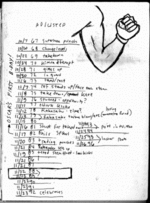 early character design ideas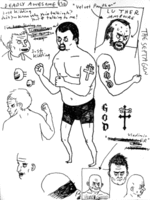 reference page for mixed martial arts moves and positions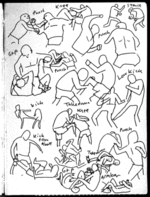 early character design ideas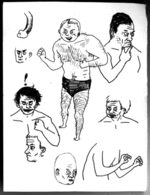 • Some Renee French tasty goodness. First, a random image that showed up in my inbox. No explanation given. None needed. Wow.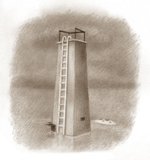 And here is Renee's first draft of the Soap Lady reprint we'll be releasing early in 2009!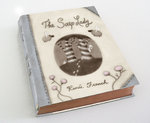 • Ian Lynam (who laid out the Peanuts Tribute section in Top Shelf Asks the Big Questions, and is the designer on the forthcoming Top Shelf art book by Bwana Spoons, titled Welcome to Forest Island), has been working on a coffee table art book, titled Parallel Strokes, for six years. It's now available, and comes highly recommended. Ian is a world-class designer, as well as one of the brightest intellects on art, typography and design i've ever had the pleasure to know.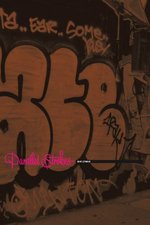 "Parallel Strokes is a collection of interviews with twenty-plus contemporary typeface designers, graffiti writers, and lettering artists around the world. The book is introduced with a comprehensive essay charting the history of graffiti, its relation to type design, and how the two practices relate in the wider context of lettering.
"Interviews within include conversations with pan-European type design collective Underware, Japanese type designer Akira Kobayashi, American graffiti writer and fine artist Barry McGee/Twist, German graffiti writers Daim and Seak, American lettering artist, graphic designer and design educator Ed Fella, among others. Parallel Strokes is an enquiry into the history, context, and development of lettering today, both culturally approved and illicit."
• LOCALS ONLY! If you're in Portland tomorrow nighth (Thursday), check these out! Lots of great events.
• 11:11 Make a Wish: A Clock Exhibition (Via Andrice Arp.)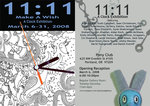 First Thursday, March 6, 6:00 p.m. All clocks will be working, unless they are broken.
There will be clocks by: Andrice Arp, Scott Campbell, Sean Christensen, Chris Cilla, Chowchessna, Jo Dery, Eatcho, Sara Edward-Corbett, Theo Ellsworth, Susie Ghahremani, Jason Graham, Levon Jihanian, Aidan Koch, James McShane, Emily Nilsson, Jennifer Parks, Robert Pellicer, Scrappers, Cin Shepherd, Lance Simmons, Brad Simon, Zack Soto, Brad Strain, Daria Tessler, Alisha Wessler, David Youngblood, and Daniel Zvereff.
Pony Club. 625 NW Everett St #105. Portland OR.
• MEANWHILE...: An Exhibition of Comic Book Art, featuring artists from the Stumptown Comics Fest (Via Garret Izumi)
(Art by Larry Marder)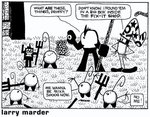 First Thursday, March 6, 6:00 p.m.
PCPA and the Sequential Art Gallery present MEANWHILE...: An Exhibition of Comic Book Art, featuring artists from the Stumptown Comics Fest, a collection of comic book pages, covers and crossover art. Featuring artwork by Ryan Alexander-Tanner, Jon Ascher, Matthew Clark, Paul Guinan, Seamus Heffernan, Garret Izumi, Indigo Kelleigh, Carolyn Main, Kip Manley, Jenn Manley Lee, Larry Marder, Dylan Meconis, Erika Moen, Bill Mudron, Sarah Oleksyk, Jesse Reklaw, Craig Thompson, Jim Valentino and John C. Worsley.
The ArtBar and Bistro inside the Antoinette Hatfield Hall. 1111 SW Broadway at Main St. Portland, OR.
• Mr. T Group Theme Show. (Via Jennifer "Juanita" Kenworth)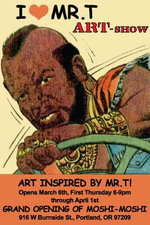 First Thursday, March 6, 6:00 p.m. at Moshi Moshi.
A lot of great people are contributing pieces and a portion of the proceeds will go the Opal Creek Scholarship fund for Buckman Elementary School. This is so some kids that may not otherwise be able to afford it can go on a great field trip to Opal Creek and have a great time while learning something worthwhile.
Moshi Moshi. 916 W Burnside St. Portland, OR.
---
March 1, 2008 / More →
The new Diamond Previews (March, 2008) is out, and i beseech you all to turn your attention to page 203. Under the AdHouse Books banner, please note the title Skyscrapers of the Midwest, by one Josh Cotter. Twisted as a mo-fo, Cotter's comics get under your skin, in the best way. This is a hardcover priced at a mere $20. BUY THIS BOOK. Advance order it from your favorite local retailer. If they can't or won't, then go to the AdHouse website to fulfill your jones.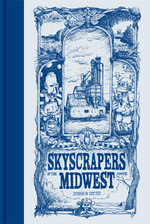 • In the better-late-than-never department, i finally tore myself away from Season Three of Deadwood, and dipped into the ever-growing pile of comics on my office coffee-table, and read Papercutter #5 & 6, from Tugboat Press. Greg Means continues his great anthology in fine fine form.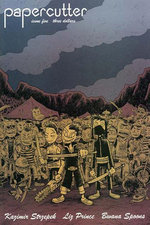 Issue Five sports a sweet cover by the new Kaz (Strzepek), who also leads off in between the covers, with a B-side from his Mourning Star saga. Next up, a tasty slice of pure Liz Prince goodness. Then Bwana Spoons wraps up with a zany strip with an appearance by the heavy metal studs in the band Soft Crusher including Steven the Bat on smashing thunder on the drums. (Images below are different color ways for Bwana's super kick-ass Steven the Bat vinyl.)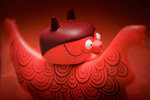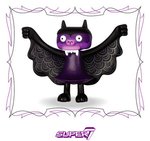 Issue Six sports a terrific cover by the always-improving Alec Longstreth. His lead off strip, "Summer Stock," is i think his best work to date. Ken Dahl (come on, is "Ken Doll" his real name?) throws down with another stellar performance. (His Monsters comic book is one of t he most disturbing yet riveting comics i've read in years.) Finally, Julia (Fart Party) Wertz and Laura Park provide a sweet coming-of-age story called "Public Hair." Both of the crazy chicas have bucketloads of talent.
As with all issues of Papercutter, the inside covers feature sublime artwork by our very own webmaster Nate Beaty.
I think one could safely make the argument that Papercutter is the vanguard of indy comics, and that across the board, we'll be seeing lots more of every single contributing artist involved.
Greg Means, you are my hero.
• Jeremy Tinder has been a busy lad lately. Besides featuring little ol' me a guest in one of his classes (via my first video-conference interview), he's got a solo show up at Rotofugi, and interview at The New Yinzer, and a boss painting in the recent Stan Lee Tribute show.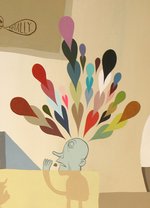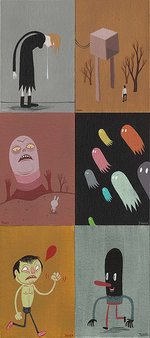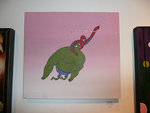 • Picked up Kyle Baker's new The Bakers graphic novel, "Babies & Kittens, and as per usual, does not disappoint. Baker is one of the very rare cartoonists who's entire (creator-owned) oeuvre to date is entirely and completely recommended. Maybe i'm a little biased, being the dad of a 3-year old boy, but these continuing adventures of the Baker Family on one hand, nail the nuances of parenting, while at the same time regaling over-the-top tales that no parent could imagine in their wildest nightmare — a classic Looney Tunes madcap day-in-the-life. Brilliant!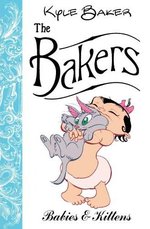 ---
February 19, 2008 / More →
Ezra Clayton Daniles has taken his infamous Comics Art Battle ONLINE!!!
These epic events have always been a hoot live and in the flesh, and the online version kick ass too. Whoo hoo!
•Â Here's the most recent Diamond Previews ad for Top Shelf. After our Winter hiatus, we're starting to get some real nifty books off to the printer. This month, Liz Prince's sophomore effort, Delayed Replays, and David Chelsea's 24x2, which collects two of his NINE 24-Hour comics. They're all very excellent, and hopefully sales on this book will be enough to do more.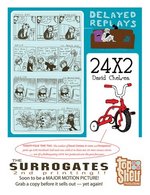 • Alan David Doane has an excellent interview with Robert Scott, from Comickazi Comics in San Diego, at Comic Book Galaxy. Robert is also the head honcho at the CBIA (Comic Book Industry Alliance). The interview provides another considered response to the current debate on pre-selling comics at conventions.
I have an idea about this, that i think (i hope) might work for everybody, but first, one more time i have to take umbrage with one of Robert's comments from the interview.
Scott says, "It really shouldn't be that hard to understand that if they are already struggling so much selling this work in the DM, that pre-selling into that market is going to capture sales that would've been made in DM shops but unfortunately most publishers seem to feel that their need trumps everything and everyone else. I believe this is shortsighted and destructive both to the publisher and retailers, regardless of how much money it brings in the short term because it closes off avenues for growth."
I have never disparaged the job of a direct market retailer. I know scores of retailers personally, most of whom i count as friends and comrades-in-arms in an industry that in the best of times, is difficult to navigate. Until there is at least limited returnability for backlist titles and such, direct market retailers are caught between a rock and a hard spot, literally rolling the proverbial dice on a weekly basis, as a matter of fact, hoping they at least break even on their investment.
I clearly understand, and appreciate this. Now, i can't speak for any other publisher (some, like Fantagraphics claim they operate conventions at a loss), but at Top Shelf, our A-List authors can often sell numbers on a given book, that almost rivals the actual direct market advance purchase order on said book. (That certainly doesn't bode well on the support [in orders] we get from the majority of retailers.)
For us, convention debuts truly are a matter of survival. We've stated publicly many times that roughly a third of our annual income comes from convention sales. And launch books play a significant part in that. This is simply not a practice we can afford to eliminate. Period.
NO retailer could make the claim, that in the case of Top Shelf, we're stealing from our own benefactors, because not even the combined amount of our total direct market retail support (in advance purchase orders) for 90% of the books in our line, come close to break-even. Without decent advance orders, we bleed money, and sell at shows as a matter of survival. We would be out of business if we didn't do otherwise.
I won't comment on the aesthetic value of our own line of comics and graphic novels, but i can say that lots of people besides ourselves have made wads of money from our A-List titles. Is Robert saying he would rather not have ANY Top Shelf books to make money from at all, were we to go out of business? That makes no sense whatsoever. No Blankets, From Hell, or Lost Girls to make handsome profits from?
O.k, enough of the bitch-fest.
I propose a volunteer program along the lines Robert talked about, wherein as much as possible, publishers and the CBIA work together and the publishers give advance notice to the CBIA, when they become reasonably aware that a book might launch at a particular show. It's not always an easy task, though, because the publishers are at the whims of fate, as they wait for copies to arrive directly from the printer … often times from China or Hong Kong. Publishers might only know this information a week or two in many cases (or less).
Moreover, these publishers should build-in to their projected convention inventory needs a modicum of overage dedicated to selling (at wholesale, of course) to retailers in the city of the convention in question. The advance notice would allow for retailers to inform customers to notify their staff and clientele.
The onus on the member publishers would be the need for honesty and transparency concerning debut books. That said, the onus on the CBIA would then be to first contact the member publishers in advance of a show (maybe three or four weeks ahead), and simply ask; "Do you have any debut books at the show? Any attending authors we should know about?" Copies of these launch books would then be available either before the show opens to the public during set-up (why the gods created the mobile phone), or at any point during the show.
Chris Staros and myself have ALWAYS honored a similar system, of not only of selling our debut books to retailers at the show itself, but also at a 60% discount! For my two cents, a system like this wouldn't deviate from our own method of operation much at all. And i'd wager that many or most of my publisher friends would gladly participate.
I absolutely LOVE Robert's ideas. Advance knowledge of an attending creator allowing retailers to build creator-based displays is genius. So is the idea of producing book plates for the retailers only, for their stores.
I believe there can indeed be a middle ground here, folks.
• Michael Golden has an exhibit up at the Society of Illustrators. So if you're in Manhattan this month, and as much of a Golden fanboy as myself, get yer butt on over there and check it out!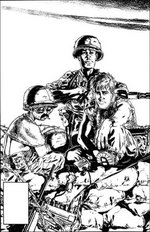 From the press release:
THE paramount club of renowned artists for over a hundred years, and boasting a membership that at various times included such talents as Montgomery Flagg and N.C. Wyeth, the Society of Illustrators has also become the artistic home of many of today's top sequential art illustrators.
A member since 2007, Golden was inducted on the same night as Neal Adams! Michael's artwork is currently being displayed in the third floor gallery, right next to the likes of Rockwell, Lyndecker and Parrish.
The Michael Golden exhibit shows a spectrum of work, and includes a six page sequential segment entitled "The Sniper," which is one of the first appearance of his influential "The 'Nam" characters. In addition, the Golden works include canvas pieces of his X-Men and Jurassic Park pieces and much more.
Here's more fancy art by my favorite comic book artist EVER!!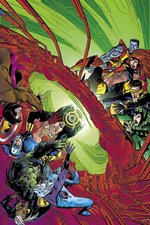 • I blogged about Ed Piskor's book Wizziwig just recently, and now Ed informs me the story can be read at his website. i really really really dig this work, and think it's Ed's best, most ambitious work to date.
Can't wait to see more!!
---
February 13, 2008 / More →
a new update from John Weeks in Cambodia, at his fabulous Comics Lifestyle blog.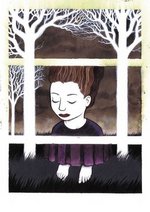 • Craig Thompson hits yet another one out of the park. (Of course.) Here is this year's Stumptown Comics Fest poster. Take note: Stumptown has moved up from it's early Winter time frame, to April 26 and 27, filling the void of APE's Spring engagement.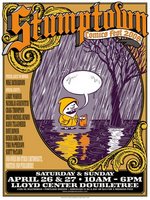 • Here's an insanely cool image i lifted from the Comics Alliance website, drawn by Eric Tan, for a benefit for The Hero Initiative, organized by Golden Apple Comics. All part of an event called Under the Influence: A Tribute to Stan Lee.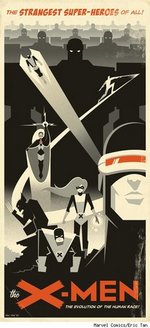 • Sadly, i heard through the grapevine that John Anderson's Comics Alliance website is now defunct. You can find stuff still archived there, and i really hope these stay available. Our little world of comics is so small, that a site like this that contributed a great deal to our community in such a short period of time should live on, at least in archival form. Big ups to John and all the contributors to the site, including Kevin Panetta, Ian Sattler, Greg Bennett, Wayne Beamer, et al.
• Scott Campbell continues to produce astounding work.
Here is his "alternative" cover art for the upcoming dvd release of King of Kong,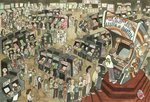 This motherfucker can draw, baby!! Check out his blog for more happenings.
From the same deranged group of killer cartoonists, here is Nathan Stapley's cover for the new issue of the anthology Hickee.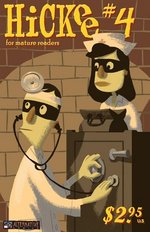 • Issue #3 of Marc Mason's Comics Waiting Room is now live, and worth a visit!
• Tom Hart's Hutch Own comic strip is fucking AWESOME! So much so, i heartily recommend it for nothing less than a Harvey nomination!! Check out this sampler page he made, to see more.


Tom writes, "Here you'll see some recent developments like the Rockabilly Kid, Rebelville, Hutch Owen in France, the Dalai Lama goes commercial and the outsourcing to India and China of the writing of TV shows... And also what is currently running and begins today - a long story about a furry mascot ("The Unpajamable Snowman") that morphs into a couple different types of monsters, then goes and wrecks the white house and... well, that you'll have to read in real time."
Download the Harvey Ballot here.
• Clearing out server space as well as my over-crowded desktop.. more random stuff...
Here's another old Christmas card from Center for Cartoon Studies. I think it's by Rich Tommaso.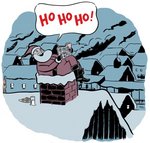 Pencils of an old pin-up (is that Big Barda?) from Dean Haspiel.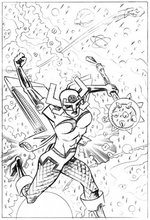 A beautiful cover for a Spanish-language edition of Dylan Horrocks' seminal Hicksville.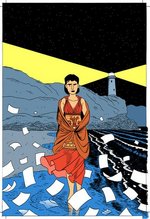 ---
February 6, 2008 / More →
Portland retailer Guapo Comics turns turned two years old on January 29, and they're having a party this Saturday night. Well done, Allie and Jeremy!
• Alan Moore signs Lost Girls at Gosh Comics in London. Cheers to Joel Meadows for the link.
• Renee French rocks! Here's some art from her upcoming book by Picture Box.
Uncle Charles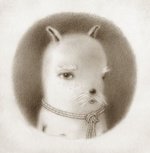 Uncle Henry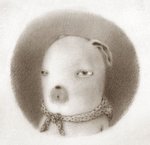 • Charlito and Mr. Phil interviewed inkstud Jeff Lemire in the 107th edition of Indie Spinner Rack! It's awesome.
• Another podcast interview, with Alex Robinson, can be found at Global Comics.
• Lemire also gets interviewed at Tom O'Shea's new website, Talking with Tim.
•Â A beautiful belated greeting from Leela Corman and Tom Hart. Thanks, kids!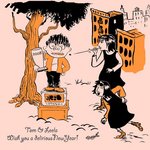 • Matt Kindt interviewed at Steve Duin's blog at Oregon Live.
• Even More bitchin' Michael Golden art... this promoting Golden's "Special Guest" status for the upcoming Atlanta Comics Expo.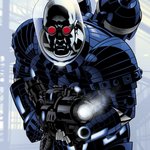 • From the desk of David Yurkovich:
Mantlo: A Life in Comics, Free Download on Wowio
"Here's an excellent chance for YOU to help comics writer Bill Mantlo (who wrote hundreds of comic stories for titles including Spider-Man, Hulk, Human Fly, Micronauts, ROM, Cloak and Dagger), and best of all, it won't cost you a dime!
"David Yurkovich's 2007 career retrospective of Bill (Mantlo: A Life in Comics) is now available as a free download at Wowio.com. Every time the PDF is downloaded, Bill will benefit directly. As you may know, Wowio features banner advertising. The advertisers pay whenever a book is downloaded. It's that simple. All proceeds (100%) are going directly toward Bill's care. It's WIN WIN!
"If you missed the print version of the magazine, here's your chance to obtain the digital edition and at the same time help out Mr. Mantlo.
"Click here to download the magazine. Special thanks to Bill Williams at Lone Star Press for managing the project and making this happen."
•Â Oh, and here's some kick-ass fanboy art (with two of my favorite Marvel characters) by Frank Cho. I think it's a cover for an upcoming issue of Ultimates Vol. 3. (With some ass-covering art added. Natch.) But really, does it matter? It screams (Druuna artist) Serpieri to me. Fucking killer!!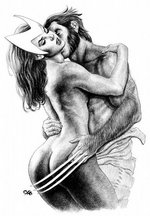 ---
• Here's a sweet new piece by Jeffrey Brown, for a t-shirt design promoting Indie Island at Heroes Con in North Carolina.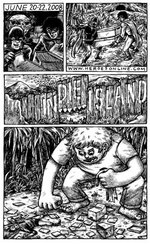 Jeff was also the COVER FEATURE interview subject for the most recent Comics Journal, #287. And there's even a (GASP!) positive review in there for one of our books; none other than Austrian cartoon maestro Nicloas Mahler's delighthful Lone Racer. Whoo hoo!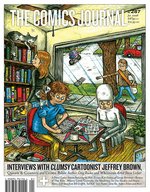 • From the desk of Dylan (Sparkplug) Williams:
"I'm going to be teaching at two workshops on comic books, coming up soon at the Independent Publishing Resource Center. People can come to the first one for free but the second costs (I'll try and make it worth it). Take a look at the IPRC website."
Monday Feb. 4, 7pm
Artist Talk: Jesse Reklaw & Dylan Williams (at IPRC)
Cost: Free, limited space, register
Free presentation from local Portlanders who have made a career out of making the art they love. Each working artist in this series will share his or her own experiences in a specific Creative Field.
Jesse Reklaw is a published weekly comic strip artist (slowwave.com), and Dylan Williams is an art comic book publisher and illustrator (sparkplugcomicbooks.com)
Monday Feb.18, 6:30-9:30pm
Drawing Self-Published Comics (at IPRC)
Cost:$25 members/$40 non-members
This workshop covers the basics of getting your voice out in comic book form, anticipating self-publishing. Learn how to draw with reproduction in mind and many tricks of the trade. The class covers lettering and design specifically as well as basic drawing techniques. We'll be drawing a comic story in the workshop.
Instructor: Dylan Williams
• I may have mentioned this item before. If so, oh well... the new volume of Glomp is out (#9), and it continues to impress. A stunning anthology out of Finland … featuring mostly European cartoonists, as well as American ink-studs Lilli Carre and Anders Nilsen … this little arty anthology that could easily holds its own in this art-brut camp against the likes of old stalwarts NON (which i believe is defunct) and Kramers Ergot, or anything by Picture Box.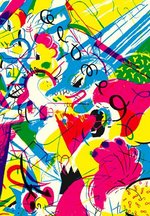 I'm not sure where to buy it in stores, but i do know that we'll have a handful for sale on the convention circuit this year. Get 'em while you can.
• Matt Rota, illustrator extraordinaire, has updated his website. This guys has some delightful chops... worth a look.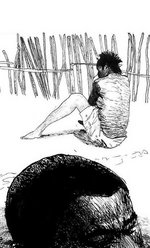 • Lizz Lunney sent me a terrific flip mini-comic called Tofu & Cats/A Dinosaur Tale. I really dig her minimalist (almost Porcellino-like) chops, and her wonderful upbeat stories. I hope we see more of her work.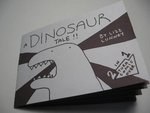 After some googling, i've found that one can order her work from an online distro called Parcell Press.
• Eric Reynolds chimes in as the voice of reason at the Fantagraphics website, on the dubious retailer argument that convention debuts screws them.
• Serbia rocked Aussie Open...
Well, a Serbian won the Australian Open, and while i dig the game of young Novak Djokovic, i was really bummed that his countrywoman Ana Ivanovic couldn't rise to the challenge in her match against Sharapova. Like Novak before her though, i see a superstar on the rise in the beautiful Ana, and predict several Grand Slam titles for her in the years to come.
It was the Men's Final though that had me glued to the television into the wee hours of the morning, on a night no less when i had to get up at the crack of dawn with The Kid. Newcomer and the 38th-ranked Frenchman Jo-Wilfried Tsonga stormed onto the tennis scene with his ace forehand, and an unassuming charm that had the crowd, the announcers, and myself in love with this guy.
Here's a nice piece about Tsonga at the AussieOpen website.
Djokovic was acting kind of like a dick during the match at times, but boy did he regain his own charming form when he accepted his trophy. Well done Novak.
I'm just happy that the killer crusher Federer was NOT present in the Final. This guy has been the undisputed master for several years now, and is rapidly closing in on Sampras for Grand Slam titles... GREAT to see new blood challenging him.
---