a fabulous epic-length interview with alex robinson
September 11, 2008
can be read at Comics Should Be Good.
• Nate Powell's book tour for Swallow Me Whole had a couple slight changes. Here are the final tour dates, as well as some boss art he created for this too.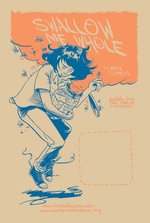 *10/4-5 @ SPX, North Bethesda, MD
*10/7 @ Ada Books, Providence RI. 7pm.
*10/8 @ Million Year Picnic, Cambridge MA. 5pm.
*10/9 @ Giant Robot, New York NY.
*10/10 @ Rocketship Comics, Brooklyn NY.
*10/17 @ Boxcar Books, Bloomington IN.
*10/18 @ Quimby's, Chicago IL.
*10/25 @ Floating World, Portland OR.
*10/26 @ Comics Dungeon, Seattle WA.
*10/29 @ Comic Relief, Berkeley CA. 5-7pm.
*11/1-2 @ APE, San Francisco CA.
*11/1 @ Isotope, San Francisco CA. night time.
*11/13 @ Bizarro Comics, Athens GA. 3-6pm.
*11/22 @ Vintage Phoenix, Bloomington IN.
*11/28 @ Collector's Edition, North Little Rock AR.
• David Chelsea has a beautiful new web site.
Here's some art i nabbed from it.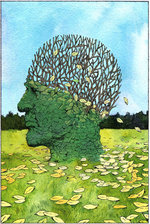 • Steve Lafler has been painting like a fiend! Check it out!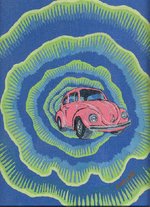 • Here's a nifty little movie from Grass Hut.
• A tip of the hat to Benton Jew (one half of the outstanding and criminally underrated Jew Bros.) for the lead on his blog about the vintage Space Ghost dvd set, which features a documentary on the legendary Alex Toth. The doc isn't perfect by any means (cheesy effects, maudlin music, etc.), but it was a wonderful window into one of comics' masterminds. Well worth watching.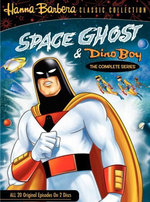 • Previews Picks for the month of September. (If it's not too late to make a difference.)
-Land of the Giants lunchbox. I saw one of these at San Diego, and man are they cool.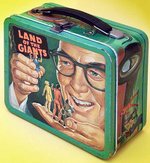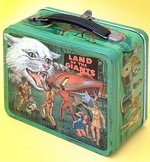 -Vintage illustration lovers (like myself) should be palpitating with the news of two forthcoming hardcovers; monographs for Norman Sounders and Reynold Brown.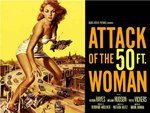 -TwoMorrows continues with two more creator spotlights in their Modern Masters series. And while i only have roughly half of the series thus far, i will indeed be picking up the new ones featuring Mike Ploog and Kyle Baker.
-Sweet! The Adventures of Tintin, Hardcover Boxed Set!
-Stan's Soapbox. Verily, True Believers, all of Stan Lee's hyperbolic editorials from the late 60s and 70's in under one cover! I freaking lapped these up as a kid... Kudos!
-Fuzz & Pluck: Splitsville, by Ted Stearn. (Fantagraphics.)
Well, this series took forever and a day to be completed, but this great book is well worth the wait. Awesome awesome stuff.
-OMFG! The complete Blazing Combat Hardcover! Holy crap, this is great news! Also, from the fine folks at Fantagraphics.
-The Venice Chronicles hardcover, by Enrico Casarosa. (AdHouse Books.) I've had the pleasure of reading this, and it's gorgeous! Buy this book.
-Rejoice!! The second mammoth oversized slipcased hardcover of Kirkman, Adlard, and Rathburn's Walking Dead is coming. One of the greatest comics of all time. Serously.