February 22, 2006 / More →
Too freaking busy to write a real post right now. At any rate, let me at least post a few more sketches that Aaron Renier whipped up for two different postcards. One is a general promotional image for his graphic novel Spiral-Bound, and the other is for our Christmas card, due out in 10 months. These are the final round choices, but i'm not telling which ones are the actual final images.
Thanks, Aaron! I hope you don't mind me showing your work-in-progress: )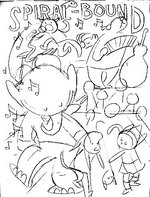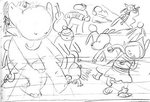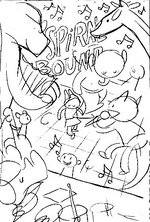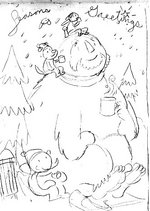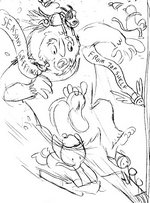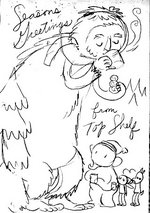 ---
February 18, 2006 / More →
Wow. I have been so pummeled since returning home from San Francisco. (Last of the WonderCon notes to follow.) I thought maybe folks might be interested in knowing exactly what the hell i actually do here at Top Shelf, so i'll make a laundry list of stuff i've done since i woke up Tuesday morning (in addition to being a full-time stay-at-home Dad with a sick kid), or things i am currently wrapping up.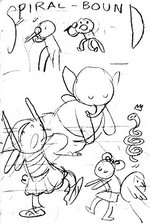 •Â Assembled and emailed out all of Craig Thompson's book covers for the 2007 editions of Novel & Short Story Writer's Market and Artist's & Graphic Designer's Market.
•Â Formatted and emailed Jeffrey Brown's new cover (Every Girl is the End of the World for Me) to Wizard, for inclusion in an upcoming installment of the "Secret Stash" column.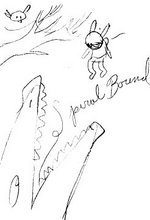 •Â Sent art and cover for Max Estes' Coffee & Donuts to Neil Figuracion, for a review over at Broken Frontier.
• Worked back & forth several times with Rob Venditti, Brett Weldele, and (designer) Jim Titus on finalizing the cover for the trade paperback edition of The Surrogates. (It's gonna be sweet!)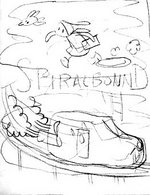 •Â Responded to interview questions from Mark Nevins, for the outstanding Swiss comics magazine, Strapazin.
•Â Formatted and emailed out 10 pages from Alex Robinson's Tricked, for inclusion in the Anne Elizabeth Moore edited Best American Comics anthology.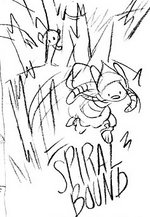 •Â Finalizing details for a big pre-APE signing at Joe Ferrara's Atlantis Fantasy World in Santa Cruz, including Renee French, Alex Robinson, and Jeffrey Brown.
•Â Reviewing and responding to Aaron Renier's preliminary designs for two postcards. One general postcard promoting his book Spiral Bound, and the other, our Christmas card for 2007.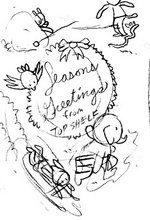 • Brokered a little swap with Arts Editor Natalie Nichols from L.A. City Beat, for a couple copies of their recent all-comics issue.
• Formatted and emailed the inside covers of Derek Kirk Kim's Same Difference and Other Stories to his Italian editor Laureanno Dominguez, at publisher Astiberri.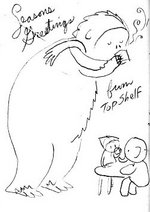 • Putting final touches, writing printers notes, and getting Jeffrey Brown's Every Girl is the End of the World for Me, and Jeremy Tinder's Cry Yourself to Sleep off to our printer Lebonfon in Quebec.
•Â Was invited to Eugene (2 hours south) for a conference featuring art spiegelman at the University of Oregon (my alma mater), and planned for this overnight trip. (Have to clear stuff like this with the wife, after all.)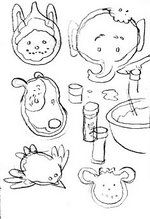 •Â Cried in my beer upon hearing that the Senate Intelligence Committee is trampling our Constitution by rejecting a probe on the "wiretapping" scandal, at the same time that the full Senate voted to re-up the Patriot Act, with it's Orwellian language allowing innocent Americans to be spied on, records searched and the like, for no probable cause.
•Â But then laughed my ass off when i read that Harry Whittington APOLOGIZED to Dick Cheney for the trouble he caused the VP. For, you know, getting shot in the chest, neck and face.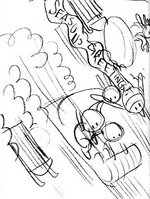 • Working to assemble the new edition of From Hell (AND a new hardcover edition!), and get that sucker back in print.
• Working with my intern Alan on production for Nate Powell's comic Please Release.
• Watched last night's stellar Smallville episode, with the debut of Cyborg. (Which more than made up for last week's super-stinker.)
* Much discussion with Jeffrey Brown and Chris (Staros) on specs for Jeffrey's forthcoming, expanded edition of I Am Going to be Small.
•Â Did several loads of laundry and two shopping trips.
•Â Received and responded to several submissions.
•Â Sending a galley of Jeffrey Brown's Every Girl is the End of the World for Me to Byron Kerman at Playback.
Whew!!!
Wrapping up the WonderCon notes:
Have i mentioned how freaking much i LOVE San Francisco? Well, it's true. That city kicks ass, plain and simple. Better yet, this was the first trip i've ever taken to SF where i didn't use my map once. At the con itself, i was set-up across from Brett at Alias comics. We're two very different publishers, but it was fun comparing notes. Real nice guy. Met new CBLDF hire Greg Thompson on the same night i hung out with a bunch of the cool peeps from Image. Had a REALLY swank dinner, courtesy of my pals Patrick and Jean Guy from Lebonfon. Stayed at my pal Wayne (I'm Totally Helpless) Shellabarger's pad, across the street from Golden Gate Park. (Man, we geeked out big-time on comics. Spent lots of hazy time pouring over that incredible, oversized edition of Windsor McKay's Little Nemo in Slumberland.) Had an amazing BBQ brunch on lower Haight (across from The Toronado.) Met and talked with Swamp Thing scribe Josh Dysart. I can't afford Marvel or DC Comics, so the only issues i have of this run (two of which are written by Will Feiffer) are the ones drawn by Richard Corben. Good stuff.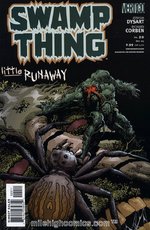 Speaking of not being able to afford Marvel and DC comics, a copy of the deluxe signed & numbered LOST GIRLS by Alan Moore and Melinda Gebbie (as well as comps for ALL our books), to the DC editor who steps up and gets me on their comp list. Schreck? Cavalieri? Dunbier? Any of you guys reading this?
---
February 16, 2006 / More →
... so i can post while i'm away from home. I've certainly lost any momentum i had going on this blog gig. Sorry for the delay, friends.
Back from WonderCon a couple nights ago, only to arrive home to find wee little Carter sicker than a dog, throwing up and, well... that other thing one might encounter when battling a stomach virus.... Yeesh. Poor little guy. Few things are more sad than helplessly watching a 14-month old in this much pain.
So yeah, WonderCon.
The show was certainly well attended. So much so that on Saturday, the Fire Marshall was keeping people from entering at one point. (Rumor was too, that same Fire Marshall was monitoring CO2 levels? What the...? I know comics fans can be geeky as hell, but this wasn't a porn convention!)
That said, for Top Shelf, sales were just o.k. sale. For a company that really relies on convention sales to pay some bills, Friday was a near-disaster. This seemed to be similar for other exhibitors as well. (Of course, the back-issue bin dealers seemed immune to this.)
Saturday was a good day, but it was also a grueling nine hours long. Ouch.
Sunday was looking grim, until i scored some wholesale sales with Last Gasp, Lee's, and Isotope. Love ya!
Theories abound as to why San Francisco comics shows don't seem to generate the kind of sales we see elsewhere. (Even APE -- which you might think would rock for Top Shelf -- is teeming with locals low on the cash flow.) And the truth is, they all have a point to be made. WonderCon in particular though, like San Diego, is as much a multi-media event as it is a consumer comics show. We had Bryan Singer and Brandon (Superman) Routh commanding long lines. (So i heard.) Kevin Smith was on hand, signing... hmmm, i'm not sure what he was signing, but that line sure was long. And on the comics front, the big guns really stole the show, including Grant Morrison, Frank Miller, and Jim Lee. The DC news-machine also seems big at WonderCon.
Another posited explanation for mediocre sales is that San Francisco is still reeling from the post dot.bomb bust a few years back. There's no doubt it hit the local economy square in the jaw, but would it still be this damaging? Any locals have any thoughts on this?
The best theory as i see it, is that the Bay area in general is serviced by no fewer than close to a dozen exceptional comics shops. (Heck, even the book stores kick ass in San Fran. I NEVER make a trip to SF without a visit to Green Apple Books in the Richmond District. Second only to Powell's here in Portland for the selection of new AND used graphic novels.) And so the line goes, that given the availability of not just Top Shelf books, but a wide array of comics overall, any fan of our books will most likely have already picked them up.
This makes sense. It also makes sense when you consider that (oddly) in San Diego, to my knowledge (sorry if i'm mistaken), there's not one single marquee, destination comics shop in the whole of San Diego.
I've got more WonderCon report stuff to cover.... but holy mama i'm so tired. 3:00 a.m... must go... to bed... more on the... flipside.
---
February 8, 2006 / More →
Haven't posted in a few days. My bad. Slammed getting ready for WonderCon (leaving in the morning), down in San Francisco. And unless i find a computer to borror, i might not be able to post yet again for another week or so. We'll see.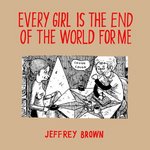 Meanwhile, just put three new books to bed... Jeffrey Brown's epilogue to the Girlfriend Trilogy, called Every Girl is the End of the World for Me. Cry Yourself to Sleep, by Jeremy Tinder. And the long-awaited Tony Consiglio graphic novel, 110Per¢. Damn fine comics, all, if i do say so myself.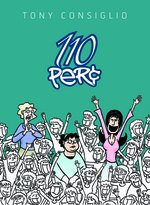 Also, finally finished reading the controversial House of M, and i have to say, i really enjoyed the hell out of this book. I think Bendis "gets it" in a big way. As a LONG-time Marvel Zombie, i think that everything flowed very logically, and as always, his characters were spot on. I can't attest to how this read as a serialized comic, because i don't play that game; but it reads great in trade format.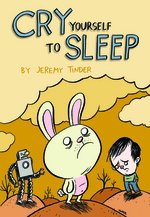 I hear a lot of displeasure in the bloggosphere about this book (and Bendis' New Avengers as well) because he kills characters. Well my friends, in spite of the fact that you don't see it on CNN, people actually die in battle. And with capes like this (Scarlet Witch) who have massively cosmic powers, well... shit happens. That's life. Deal.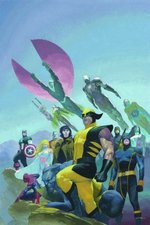 Anyway, after reading this, and reading some of the ideas behind Civil War (HATE that name), i might give that a look see.
---
February 4, 2006 / More →
Super-Spy and Pistolwhip cartoonist Matt Kindt attended Angouleme this year, and has graciously blessed us with a full report, complete with pics. Angoueme (the name of the festival AND the city that hosts it, in the south of France) is the largest and most important comics festival of any sort, in the western world. (I've heard tales of conventions in Japan where the exhibitors alone number in the hundreds of thousands, so i don't think even Angouleme holds a candle to this.) Many thanks to Matt for letting us run his report here at Hey, Bartender.
First, just so y'all know, i have been officially forbidden from writing about politics on this blog. C'est la vie. I'll refrain from rambling on about my loathing at the loss of civic duty in our country, and instead i'll provide a few links to some excellent news-sites and policy-wonk blogs. All i can say is this; stay informed people, contact your congress-person, and vote…it's The People and our very country at stake here.
http://www.talkingpointsmemo.com/
Oh, and for a little insight into the pre-meditated War in Iraq (going back to the mid-nineties), check out the actual website of the neo-con think tank that created it.
http://www.newamericancentury.org/
And now on with the show.
Fun in Angouleme. By Matt Kindt.
It was a 2 hour train ride form Paris to Angouleme. A very cozy small medieval town on a hilltop (untouched by World War II "" I checked the history before we left in case there were any Super Spy ideas waiting to be discovered).
Already, the festival was unlike anything in the US. There wasn't a super-hero t-shirt to be seen and you couldn't tell the comic book fan from the normal citizen. Instead of one big convention hall or center, the publisher and exhibits were spread out in large temporary tents throughout the town. This helped to disperse the crowds a little bit and made it more interesting to walk from tent to tent instead of being stuck in a big smelly convention center all day.
One of the many street paintings in Angouleme.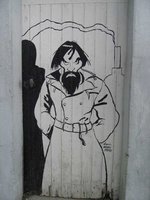 Still a little groggy from the travel and time change I woke up at noon (after dinner till 3am and several episodes of the Indy Spinner Rack podcast to pass the time as I laid there trying to get to sleep).
Street Graffiti in Angouleme.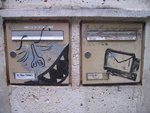 The first thing on the itinerary for the day was a TV interview with the French art channel. The publisher warned me of this ahead of time and I thought, "˜okay, there will be whatever version of a public access channel over there doing interviews'. But is was a legitimate TV station "" Channel 5 which had been on at the hotel earlier and covers all the arts. The journalist (thankfully) spoke English (which isn't always a given) and told me she'd just come from an interview with Jim Lee. This is the first inkling i got that I'd stepped into a bizarro world where comics (and Indy comics) were actually somewhat respected as an art form and of general interest to the public. Strange. The journalist from Channel 5 wasn't just covering a story. She'd been reading (and liked) most of the books she was covering at the festival. She wasn't covering a story about comics "not being just for kids anymore". She was covering adult graphic novels that just happened to be in comics form. After the interview the journalist asked for a sketch (another first). They supplied me with a nice piece of watercolor paper and I sat to draw and the cameraman filmed the entire thing. It was starting to become clear that they loved their comics here.
After the interview it was off to a press conference, which was in a big room in the old historical Hotel DeVille building at the center of town. It was a large ballroom area with tables and chairs. The creators would sit down with their publisher and then wait for interested journalists to sit down as well. Four journalists and a photographer ended up sitting at my table and firing questions at me (in French). Luckily my publisher was there and fielded the questions and translated them for me and then my answers back to them. They sat around the table chain smoking and writing everything down in little dime notepads just like in the old days. They weren't interested in my age or my background or how I got published. They wanted to know my influences. Why was I telling espionage stories? Why were my stories disjointed and told out of sequence. Why weren't there any captions? I mentioned Joseph Heller's Catch 22 as a major influence and I could hear the crickets. Mentioning Tin Tin seemed to make them happy though and I was suddenly happy to have put a few homages to Herge in the Pistolwhip books.
Everyone I talked to and was questioned by really knew comics and what made them work and what didn't. I'd have taken this any day over sitting at a booth across from the Toxic Avenger shouting into a microphone with a crowd gathering around him.
Once I got some free time I started walking around the festival to see what was there. What there wasn't was super-heroes. Anywhere. The large mainstream booths were all the large oversized hardcover full color albums with talking cats, pirates, mysteries, Agatha Christie adaptations, World War II adventure and fantasy. No super-heroes. I guess I knew that going in but seeing a giant booth with thousands of these books made it reality. My publisher would explain to me later that most of those books were crap (like most of everything) but in French you just couldn't tell. All of the artwork and color looked fantastic.
The Indy books were in another long tent that was just packed. On Saturday (the busiest day) you could barely walk through the Indy section. As I walked around there were huge lines as creators sat at tables signing and sketching for fans. I stopped to watch Blutch, a French artist that a friend had recommended. He was doing sketches but these weren't quick doodles and a signature. He had broken out his pastels and his watercolors and his brushes and was doing full-blown illustrations in the front page of his book for everyone in line. We watched for a few minutes and came back at the end of the day and he was still working. Now I understood why my publisher had asked if I minded doing sketches during my signing. I had said "˜sure' since I usually do a little doodle and sign the books anyway, no problem. What they expect from creators in France was a little different.
Okay, this could have just as easily been at Wizard World.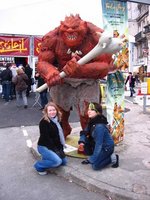 I went out to the art store and bought some nice water color paper and at the signing I did in Paris (a store ironically called Super Heros which carried nothing but Indy books) I spent three hours doing full blown inked and water colored illustrations for the people that came up with books to sign. I was drawing and inking and water coloring faster than I ever had before and I was having a great time. The people expected it but they were just so excited to stand there and watch you draw that it didn't matter. There weren't excited about the toys or movies. They were excited about the comics.
Art from the kids exhibit in Angouleme. The artist that did this page was 10 years old.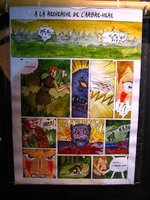 We ended our trip in Angouleme with a trip to the Comic Book Art Museum. It alone is worth a trip to the city. In addition to the rotating exhibits they had a huge archive of original art from the 1800's to the present day. It was amazing. To see the line and brushwork of Charles Burns and Hugo Pratt in person makes all the difference.
Charles Burns Original Art. No mistakes.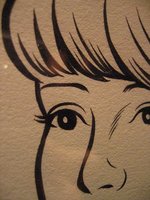 And then walking up to a Hal Foster original Prince Valiant which you've seen forever taking up a few inches of space in the paper since you were a kid. You see page framed on the wall and realize that the original art for those few inches is over three feet long.
Prince Valiant Art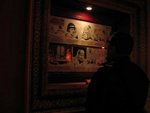 ---
February 2, 2006 / More →
Lot's going on in comics right now. First, my condolences to the family of exquisite cartoonist Seth Fisher. This guy's work was simply astounding; a cross between Moebius and Geof Darrow. Besides the tragic loss for his loved ones, his work will be sorely missed in comics. Read more at Comics Reporter.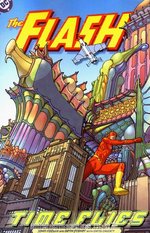 *********
One of my very favorite comics columnists is Steven Grant over at Comic Book Resources. I've mentioned him before already, but i don't mind... the good stuff is worth repeating. I'm not sure what else Steven does for a living, but his Permanent Damage columns are so lengthy, and more importantly, well considered, they are what i would call vital and indispensable comics blogging, and make my blog look like so much luke warm dishwater in comparison. He covers comics, television, film AND politics, all with equal aplomb.
At any rate, this week he talks at length about economic models for comics companies, and comes to a unique conclusion … that growth per se (in the publicly-owned scale, adding gobs of employees sense) is secondary to maintaining a stable sustainability in the long term, especially as it pertains to a unique economic environment like the comics industry. Recommended reading if this sort of business stuff interests you.
Would that Top Shelf had this problem. As i mentioned in a soon-to-be posted interview at the Pulse, for the first several years of Top Shelf, we DOUBLED our gross income every year. This is incredible. Now however, almost ten years later, it seems that we've somewhat grown into what the market can return for us, given our own limitations, and this is where Steven's "long-haul" theory more closely mirrors our own state.
Barring a minor miracle (on par with another Blankets or From Hell, the type of books that come along once in a decade), we're at the point where we've established relationships with the 100-200 stores that reliably stock not just Top Shelf, but a solid range of products in general, and are now making the store-by-store relationships with the rest of the retail market. Those 2,000 - 3,000 rest of the stores, who don't generally buy non-spandex comics, but will if and when we get to know them. Yes, this is crucial, but it's not what you would call a real growth market.
All of which is to say, that perhaps Steven is putting the cart before the horse. Before you can even think about real growth, just surviving in the market is a son-of-a-bitch endeavor that any new publisher needs to consider, before dropping their life's savings into it.
As for the Hollywood dream... i won't lie … we certainly dream about getting a piece of this pie as much as anybody else. (But ALWAYS we think of the comics as an entity unto themselves, as the first priority.) But unless someone has a very large trust fund, and/or other fat stashes of cash in the bank, i'd hardly hold out for movie money as a way to fund your start-up publishing company. The dream would otherwise become a nightmare. Hollywood is a bitch. Ask anyone who's been there.
*********
On a different note, a lot of talk is being made about a venture by some pals of mine, called ACT-I-VATE. A new online comics site by some of the best talent in the biz, including my buddies Dino Hapiel, Josh Neufeld, Nick Bertozzi, and Leland Purvis. I'm not generally a big comics-on-the-web guy (i really MUCH prefer reading a comic in my hands), but this is great stuff.
*********
Lastly, from The Washington Post, here's some news that will certainly further endear Herr Bush to The People. Headline says it all. Budget Cuts Pass By a Slim Margin: Poor, Elderly and Students to Feel Pinch. (God knows that a gazillion dollar defense budget is more important that the health and welfare of the citizens.)
---
February 1, 2006 / More →
• Yeah, State of the Union tonight!! Whoo hoo! Go Team America, Fuck Yeah! Uh... yeah. Well, i won't bore anyone with my thoughts, but if anyone wants a nice run-down of the bullshit contained therein, just check out the smack-downs at Think Progress. (Not sure how long these will stay up, though.)
•Â Meanwhile, Fanboy Alert!! "Indy-only" comics fans pass this up.
So what gives with the recent revelation that the mysterious Ronin character, in Brian Michael Bendis' New Avengers, turns out to be Echo … last seen slappin' around Matt Murdock in Bendis' Daredevil. Echo, the svelte, graceful deaf girl who can mimic any physical movement or fighting style, and had the body-type of a sleek but tough female dancer in that title. Now along comes Ronin, and all of a sudden, in costume she looks like a freaking NFL linebacker. On all of the covers and in the promotional pieces i've seen of Ronin, she/he has buff, Schwartzenegger quads, Shaq shoulders and Popeye forearms. Wha huh?! Isn't this somewhat unlikely?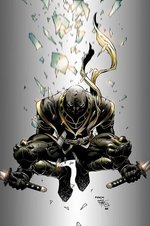 Granted, i haven't read these "reveal" issues yet, but how could he possibly explain this? Fake shoulder pads in the costume, and muscle implants, just to throw people off? I'm a little disappointed.
Be that as it may though, i'm still a HUGE Bendis fan … i've read probably 3/4's of his career output … and i'm willing to give him the benefit of the doubt. Avengers Disassembled was a full-on ass-kickin' super-hero yarn, and i really enjoyed his killer first tpb on New Avengers as well... don't let me down, Brian.
If there are any "indy" comics fans out there who like what's good, not what's just hip; who don't write off super-hero comics as evil by default, but haven't read his work, i highly recommend my two favorite books by Bendis. Read first Daredevil, his already-classic four-year run of which he is now wrapping up, and the ongoing Powers, both from Marvel. Bendis is a master of dialog, and his stories work even having had no familiarity with any company continuity. (They're even better, however, if you are or ever have been a Marvel Zombie.) He makes "spandex" comics human, and infuses all of his work with elements of crime pulp drama, attention to detail, tight characterization and naturalistic dialog.
If you get through those two books and want more, check out Alias, which has very little spandex at all. Excellent material.
(Here's hoping The Brube will be able to keep the flame going when he takes over for Bendis on Daredevil. Rock on, Ed!)
---
January 31, 2006 / More →
Alex Robinson's wife Kristen sent a link to me this morning, to an interview with Alex over at Legion of Doom. It's a fun interview, in which Alex tells that he is indeed at work on his next project. I'd yet to hear this yet myself, so i fired back to see what he was up to.
Alex wrote back, "... it's a diary strip about my life as a naive owl … or at least that's what my robot body looks like. I travel in a series of underground tubes with my talking animal friends as we try to discover if Elvis is still alive."
And now we know. Sounds, uhhh... interesting, Alex.
You read it here first.
---
January 28, 2006 / More →
I realize this isn't exactly breaking news, but in case you didn't hear, Dylan Horrocks been appointed a Literary Fellow at the University of Auckland, in New Zealand.
From the media release:
"Dylan Horrocks, award-winning graphic novelist and comic artist, has been appointed University of Auckland / Creative New Zealand Literary Fellow 2006.
"Mr Horrocks is the author of "Hicksville, an award-winning graphic novel, and many shorter works in comic form that have been published around the world. He has lectured on writing, art and the history of comics, has presented papers at academic conferences around the world, and has written extensively on graphic novels, comics, art and literature for magazines and journals in New Zealand the US."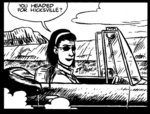 What this means is that Dylan will be freed up financially to spend a year just drawing comics!! And in case you weren't aware, we've had an original graphic novel by Dylan, Venus: the Secret Comics of Arthur Holly, on the Top Shelf docket of future books in our publishing schedule for over five years.
If by chance you're not familiar with Dylan's work, i highly recommend you RUN out and buy his graphic novel, Hicksville. Originally published by Black Eye, and now with Drawn & Quarterly, this graphic novel is widely (and justifiably) regarded as one of the shining stars in the canon of graphic novel greats.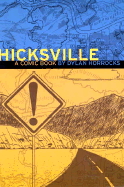 We suggest you support your local retailer and buy this there, but Hicksville is in fact available on this very website, in case said retailer doesn't stock it. http://www.topshelfcomix.com/catalog.php?title=128
As a huge fan of Dylan's brilliant comics, i cannot tell you how fabulous this news is to hear. Welcome back to the fold, Mr. Horrocks. We've missed you.
---
January 27, 2006 / More →
Only a few responses have trickled in to my query on who cares about political discourse, and who doesn't. Maybe i should have included my email address. brett@topshelfcomix.com.
At any rate, my good pal Gary Butler (comics columnist for the horror mag Rue Morgue) wrote back:
"How about a compromise? Hulk vs. Alito in Battle-Suit Luthor armor?"
To which i say, coupled with a Dem filibuster... bring it, Alito!!
Gary also asks why i don't have a comments link-through on my site, where people can post replies. The truth is, i'm too busy to even validate writing a blog itself, let alone managing a comments section. I thought a post might take me 10 or 15 minutes to draft, and so far the average is over an hour per blog. I just don't have the time.
Part of what occupies my waking life is little Carter Grant. (See exhibit A.) As a stay-at-home dad of a 13 month old boy, with no day care whatsoever, plus a household to run while my lovely wife Lisa is at work, plus at least an hour or two spent with the family around dinner time, PLUS the demands of Top Shelf, well, you might guess that i have little to no time to spare.
Exhibit A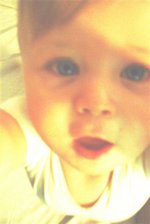 This is why, as much as i love sites like the Warren Ellis ENGINE forum... i simply can't; each time i log in merely to read a handful of threads, i look up and two hours have gone by. I don't understand where people find the time for this. What gives? Clones? Are they blogging on "company time."
---
January 26, 2006 / More →
Barely a week into the blog, and i'm already catching flak for a brief comment on the Supreme Court nomination situation. How sad that we live in a country where any dialog about politics is considered anathema. As if said issues don't affect our daily lives, let alone our very medium/industry. I'm sorry, but as our civil liberties are continually assaulted, who knows when a First Amendment crisis might cause a crippling blow to our industry. The cultural/political climate today smells a lot like the conservative tone of the Wertham days in the early 50's, when comics were branded as the cause de jour of juvenile delinquency, and subsequently turned into so much milk-toast. Seduction of the Innocent. Look out! Comics bad...
I had envisioned this as a personal blog more than a mere Talking Points bulletin for Top Shelf, or a comics newblog, like the indispensable www.comicsreporter.com/. If we live in fear of pissing somebody (anybody) off, then we also lose our passion, our reason, our voice. We're no more than autotrons. All the same i'd really be curious what anyone thinks about this. A small Top Shelf care package to anyone who emails me back with any sort of considered critical response. If i find that, really, nobody wants to hear my thoughts on politics, then i'll reconsider doing so. I'm not particular suited to it in the same capacity of the great policy-wonk bloggers anyway.
For political discourse, i'm a regular reader of the news dump http://www.truthout.org/ and the daily blog http://www.dailykos.com/. In the comics fold, i appreciate Steven Grant's thoughtful political ramblings in his regular Permanent Damage column at http://www.comicbookresources.com/. (His moniker for Bush is "The Handpuppet!" Damn i love that.)
So then, who's stronger, the Hulk or the Thing? Gamma radiation or mere cosmic radiation?
Oh, i know! Since i now feel compelled to talk comics, i have to say i was quite sad to see Pa Kent bite it tonight on Smallville. And on the eve of his State Senatorial election victory! That sucks. I mean, come on, Pa Kent was a stud. A real stand-up guy. It was Ma Kent who was the annoying parent; but i still wouldn't have wanted to see her take a dirt nap. I was rooting for Lionel Luther to go... what an asshole. And clearly they couldn't eliminate the wonderfully complex Lex. Even Wizard mag had ace reporter Chloe Sullivan pegged most likely to go, at 5:1, since she's not even really part of the comics Supes mythos.
Ah well, the funeral scene was nicely done, very austere and surreal. Tension abounds as Clark -- rocked by his dad's death -- also loses Lana, after going back in time to save her, and she drifts closer towards his (future) arch-enemy Lex Luthor. Ha! Awesome!
(However, tonight we saw a serious pet peeve of mine in television and film; and that is when a heart attack victim has the misfortune of receiving truly inept CPR on the scene. Even worse, on Smallville tonight, Clark and Ma didn't even make an attempt to resuscitate Pa!! What the fuck? They don't teach CPR in Kansas?)
---
January 25, 2006 / More →
I've been following the Supreme Court nomination process for Alito for several weeks, and it's been a disturbing ride. This guy's record is a laundry list of judgments in favor of powerful interests, at the expense of the common person. Almost certainly he'll pass the Senate vote.
Watching C-Span right now, and listening to some of his judgments is downright frightful. Really, some freaky decisions. Do some googling on it... scary. This guy will certainly tip the balance on the Supreme Court heavily to the right, and the sad thing is that very few people in this country are even paying attention.
Too bad the Dems are such wussies, and don't have the cajones to do anything about it but whine. No filibuster. Spineless chumps. The current incarnation of the GOP is pure evil, they are riddled with scandal, leaving wide openings to the Dems to swoop in and provide an alternative, but... they suck. (Man, i'm glad my wife is an Australian citizen. I scolded friends for threatening to leave the country after the '04 elections, but if things keep getting worse, i might think they're onto something.)
My main concern is Alito's support of expanded Presidential powers. Hello Big Brother, good-bye civil liberties.
Bummer.
---
January 24, 2006 / More →
Yes, people, it's that time of year. The air miles start piling up. The long road-trips on the odometer. The junk food. The drunkenness. Rabble rousing with the peers. Laughing at the ponytailed mullets and full-length, black leather trench coats. I LOVE convention season!
Oh, and there's the comics. Between Chris Staros, Rob Venditti, and myself we'll be hitting upwards of 20 conventions this year. Chris and Rob do the bulk... since they live in Atlanta, they can hit up all the east coast shows, most of which they drive to.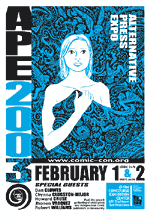 Smaller shows we can separate out one man at a time to represent Top Shelf, while others … big guns like Chicago, San Diego, SPX, and MoCCA … demand a staff. We're a few shows down from some previous years, but we've whittled them down to the one's that are either "must-attend" shows, because of their history, and/or conventions that can turn a profit. (Comics conventions do take in almost a third of our gross income, after all.)
We hear a lot of grief from some in the retailer community who claim that we're "stealing" money from them by attending conventions, more specifically by launching new books at them. Forgive me, but i beg to differ. The truth is that if Chris and myself had not been attending these trade shows so aggressively since the minute we started publishing (even before we teamed up to form what is now Top Shelf) … meeting the fans, making the connections, and pimping our wares… we literally wouldn't today have any books of whatever value for the retail community to sell. We simply would not have survived as long as we have, the cons are so key to us.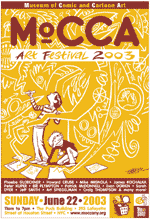 Moreover, for each one of the world-class retailers we have in this biz (to whom i'm eternally grateful and most of whom i'm pals with), there are fifty who have never even heard of Top Shelf, let alone ordered any of our books. These are the people who think that Neil Gaiman's Sandman is "alternative comics." And it's because we don't get the volume of support on our advance orders to often times even cover the print run on a given book, that we are obligated to launch certain books at conventions. This not only helps cover up-front costs, but i would posit that it ultimately helps retailers by building buzz around certain books. Buzz that might turn a one-time sale into a perennial seller.
To the retailers who know from good comics, i salute you. You know who you are. If you're scratching your head, wondering "who the hell is Top Shelf?," then i invite you to swing by our booth at any one of the following conventions and talk shop. We've got some pretty good stuff. And we're always makin' deals.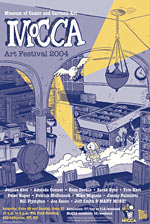 Here's a list of all the shows we plan on attending in 2006. topshelfcomix.com/news.php?type=2
Meanwhile, i'm gearing up for the first of two 10-hour drives i'll be making from Portland to San Francisco this year, for WonderCon, February 10-12. comic-con.org/wc/
I'm looking forward to this show. Last time i went was pretty fun. I got to meet Robbie Robbins at iDW, a swell guy, a hoops fan, and a heck of a designer. (Although i do believe recently he's been promoted.) Also, i shared a room with, and partied my ass off with, Charles Brownstein, the main man at the Comic Book Legal Defense Fund. Charles knows all the haunts, and is a tour guide supreme. cbldf.org/
After WonderCon i'll be driving up to Seattle for the Emerald City Con (April 1 & 2), then the following weekend (April 8 & 9) i'm driving back down to San Fran for APE. (Which i've been to since APE II, way back in 1996.) Said road trips behind me, i'll be flying to MoCCA, San Diego, Book Expo, and SPX. Last on the slate is the Stumptown Comics Fest, right here in Portland, sometime in October.
A great link to info you might need for almost any convention you can imagine:
comicbookconventions.com/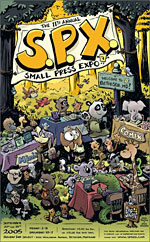 ---
January 22, 2006 / More →
After several years Ivan Brunetti returns with a fabulous new issue of his comic Schizo. This fourth issue has been a long time coming, and i'm here to tell you it is well worth the wait.
The cover here is a reprint of a strip Brunetti did in appreciation of one of his heroes, Charles Schulz, after Schultz announced his retirement. No coincidence either, i would imagine, since, while Schulz was never as nihilistic as Brunetti, both share many of the same themes throughout their work. As Brunetti puts it in the strip in question, "The hurt, the depression, the loneliness, the rejection... Schulz has generously laid his psyche bare."
Not since Crumb has an alternative cartoonist put it all on the line like Brunetti has is in oeuvre. The encouraging thing about this fourth issue for is, specifically that Brunetti has Gasp!, found his soul. There is a decided attempt to grow as a man, to reach for and realize who and what he is.
Indeed, the inside cover relates what seems to be a typical day for Ivan. Near the end we see him sitting in Buddhist prayer, followed in the last panel by a shot of him walking down a rainy street with a smile on his face. In a strip called "You Wanna Fight Me?" we see Brunetti assisting a group of kids who have lost their ball, after which he says to himself, "I want to be filled with boundless love for all things living. (I'm working on it.)" Bravo, Ivan!!
And while the self-loathing is still here, the seething raging hate for all of mankind seems to be on the want. Gone are the knives, guns, and assorted weapons of torture. Brunetti seems to be somewhat at peace with his fellow man, or at least quite a bit more tolerant. No more casting down on humanity, or the sadistic maiming, killing and/or torturing.
Also of note is a newfound appreciation and noticeable externalization of themes in a series of strips dedicated to the lives and work of various (in)famous literary greats, philosophers, and artists, as well as a handful of strips featuring nondescript painters and their process (whose muse seems more often than not to be a result of unrequited love), all of which reflect Brunetti's own worldview. It's this externalization which leads this reader to believe that Ivan seems to have made a great leap not just as a cartoonist, but as a man.
Last, Brunetti's line has taken on a new style in this more recent work... a thinner wispy line, reminiscent of his contemporary, the great Steven (Ribs!) Weissman. All very very good stuff.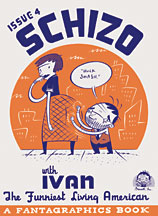 This oversized book is hard to miss, if a given retailer chooses to stock. Do yourself a favor and pick it up. If your retailer doesn't have it, ask him to get it for you. Otherwise, go to the source at Fantagraphics. www.fantagraphics.com
---
January 20, 2006 / More →
Oh man... did anyone see the best West Coast rivalry in basketball tonight in the Lakers / Kings game. Stellar performance by many (Kobe with 51 points? This guy cannot be stopped, damnit!), but crucial to the Sacramento was the play of Kenny Thomas.
L.A. is up by SIX with 35 seconds to go, badly timed errors by L.A. followed however, then Bibby and Miller drain threes to tie it up at the end of regulation, and kicked L.A.'s ass in O.T. First career triple double for Kenny Thomas (who i really like playing on this team... wasn't he in Philly forever?). Nice to see signs of life in Sacto... i've been a fan of theirs for years.
Gotta dig the hoops.
---