September 4, 2008
• Well Bill, Wayne and myself are back from the Denver location shoot on Road to Insignificance, the film about the life & times of Veeps author's Bill Kelter and Wayne Shellabarger. And while we didn't get to attend any actual events, the streets were alive with activity.
With principle shooting wrapped, i'm now totally stoked to see a rough cut of this baby, although editing won't begin until November. We've been playing this close to the vest somewhat, and as a straight documentary, but it's bound to come out sooner than later that while the core of Bill and Wayne's friendship is the real deal, we're straying from the truth in this film. Oh, and i'm the director.
Meanwhile, Bill made yet another guest appearance a few days ago on KPOJ, the Air America affiliate here in Portland. Awesome!
• Top Shelf 2.0 contributor Joe Decie put up this terrific strip on Webcomics Nation.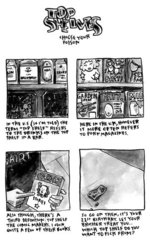 • James Kochalka did this freaky fun Fantastic Four page (issue #9, page 17) on commission.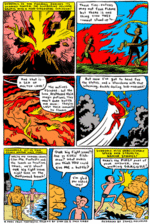 • Peter Kuper is editing the next issue of WW3. I do believe it's a wordless issue. This stunning Eric Drooker cover boggles, as his covers always do.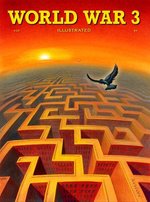 • Rich Koslowski informs me that Top Shelf is well-represented in a new book called 500 Essential Graphic Novels, by old Top Shelf friend Gene Kannenberg, Jr.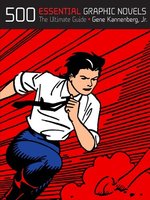 The following Top Shelf books made the cut:
• THREE FINGERS in the "Fantasy" category (Rich Koslowski)
• BOX OFFICE POISON & TRICKED "general fiction" (Alex Robinson)
• GOODBYE CHUNKY RICE "general fiction" & BLANKETS "non-fiction" (Craig Thomspon)
• HEY MISTER "humor" (Pete Sickman-Garner)
• HUTCH OWEN "humor" (Tom Hart)
• LOST GIRLS "general fiction" (Alan Moore and Melinda Gebbie)
• MONKEY VS ROBOT "humor" (James Kochalka)
• OWLY "adventure" (Andy Runton)
• SAME DIFFERENCE "general fiction" (Derek Kirk Kim)
• Besides that his work kicks serious quantities of ass, Nate Powell is every publishers dream. He arranged and schedule the following promotional tout in support of the forthcoming Swallow Me Whole, AND is designing and producing a 2-color screenprinted poster for this as well. Here is his tour schedule, and a rough design for the poster.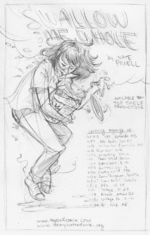 9/26: gallery show, Sweet Hickory, Bloomington IN (featuring pages from SMW and other stuff)
10/4-5: SPX
10/7: Ada Books, Providence RI
10/8: Million Year Picnic, Cambridge MA
10/9: Giant Robot, New York NY
10/10: Rocketship Comics, Brooklyn NY (TBC)
10/11: Desert Island, Brooklyn NY (TBC)
10/18: Quimby's, Chicago IL
10/19: Boxcar Books, Bloomington IN
10/25: Floating World, Portland OR
10/26: Comics Dungeon, Seattle WA
10/30: Comic Relief, Berkeley CA (TBC)
11/1-2: APE
11/1: Isotope, San Francisco CA
11/11: TBA, Savannah GA
11/12 or 13: Bizarro, Athens GA
11/22: Vintage Phoenix, Bloomington IN
11/28: Collector's Edition, North Little Rock AR