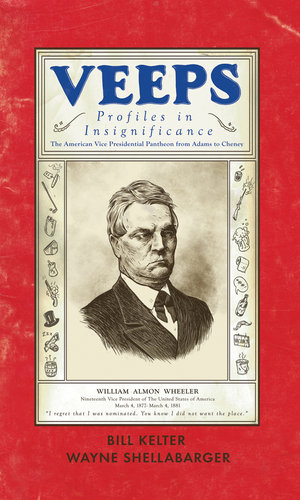 "I never thought there was anything funny about our vice-presidents, until I read Veeps, a welcome, often hilarious respite from the tedium of national politics." —Howard Zinn, author of A People's History of the United States
"Here's the weird skinny on the Little Guys waiting for the Big Guys to sneeze. But jeepers creepers, who are these Veepers? Here's everything you were afraid to know about the most powerful men in the world (almost)." —Greg Palast, author of Armed Madhouse and The Best Democracy Money Can Buy
"Holy cow, did I ever enjoy reading Veeps." —Cory Doctorow, New York Times bestselling author of Little Brother
"One of the funniest political books you may ever read, and educational as well! Veeps is the perfect election companion." —Scott Thill, Wired
"A quirky book, but full of fascinating detail ... Kelter sure is an expert when it comes to our vice presidents—wow, will readers learn a lot here! — but he's also a smart aleck ... the book is recommended with appreciation of Kelter's deep knowledge and of Shellabarger's pen-and-ink portraits of each VP, marvelously evocative of 19th-century copperplates." —Library Journal
"[Kelter and Shellabarger] emphasize how much the history of American leadership has been about administrative drudgery, political expediency, and plain dumb luck." —The AV Club
It's a tired but true cliché that every American Vice President is just a heartbeat away from the most powerful job in the world … a job they've often never really interviewed for. Who are these people? We all know about the one who shot his hunting partner in the face, but how about the tavern owner who once married one of his slaves and then sold her at auction when she tried to leave him? Or the one whose President went to his death regretting that he hadn't had his Vice President hanged? Or the one who was too frequently inebriated to serve out the whole of his term?
Over more than 200 years, the American voters have sent a platoon of rogues, cowards, drunks, featherweights, doddering geriatrics, bigots, and atrocious spellers to Washington D.C. to sit one bullet, cerebral hemorrhage, or case of pneumonia away from the highest office in the land. Veeps tells the sordid, head-scratching, perversely-entertaining stories of these men we've chosen to ride shotgun in the biggest rig in democracy, without ever seriously considering the possibility that they might have to take the wheel. -- 296-Page Illustrated Hardcover (Non-Fiction), 5 5/8" x 8 1/2", Diamond: JUL084291



And be sure to check out the Veeps Homepage and Veeps Blog as well.
Reviews