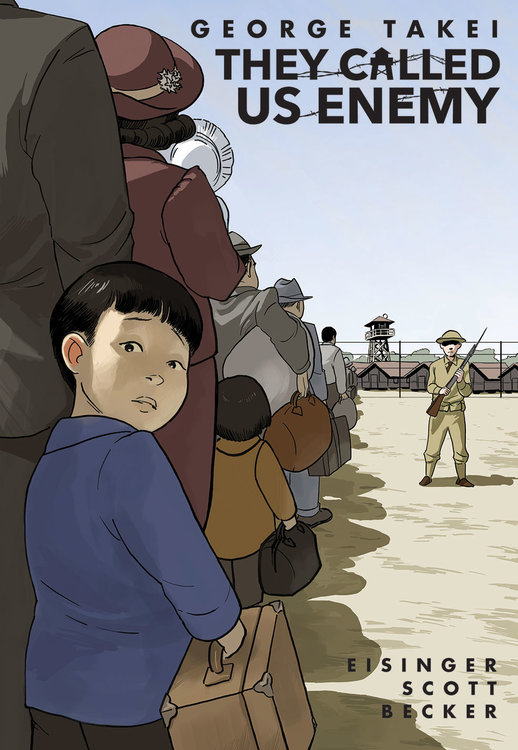 A New York Times Bestseller!
An ALA Notable Children's Book for Older Readers!
Winner of the Will Eisner Award for Best Reality-Based Work!
Winner of the Asian/Pacific American Award for Young Adult Literature!
Winner of the American Book Award!
Winner of the National Cartoonists Society Award for Excellence in Graphic Novels!
Winner of the Dwayne McDuffie Award for Diversity in Comics!
Winner of the Mike Wieringo Award for Best Non-Fiction Comic Work!
Winner of the BookPal "Outstanding Work of Literature" Award for Biography & Memoir!
One of YALSA's Top 10 Great Graphic Novels for Teens!
Featured in the Texas Library Association's Maverick, Topaz, and Tayshas Reading Lists!
Nominated for Arkansas' Teen Book Award, Illinois' Abraham Lincoln Award, Indiana's Eliot Rosewater Award, Maine's North Star Award, and Rhode Island's Teen Book Award!
Named one of the Best Books of the Year by Amazon, NPR, New York Public Library, School Library Journal, Publishers Weekly, Kirkus Reviews, IGN, and Forbes!
Selected by many community reading programs, including the LA Times Book Club — check out their discussion guide!
Download the official Teacher's Guide developed by the Japanese American National Museum!
In a stunning graphic memoir, actor/author/activist George Takei revisits his haunting childhood in American concentration camps, as one of 120,000 Japanese Americans imprisoned by the U.S. government during World War II. Experience the forces that shaped an American icon — and America itself — in this gripping tale of courage, country, loyalty, and love.
"Moving and layered... Takei challenges Americans to look to how past humanitarian injustices speak to current political debates. Giving a personal view into difficult history, [They Called Us Enemy] is a testament to hope and tenacity in the face of adversity." — Publishers Weekly (starred review)
"A compelling blend of nostalgia and outrage... this approachable, well-wrought graphic memoir is important reading, particularly in today's political climate. Pair with John Lewis' acclaimed March series for a thought-provoking, critical look at the history of racism in American policies and culture." — Booklist (starred review)
"This evocative memoir shares stories of the nation's past, draws heartbreaking parallels to the present, and serves as a cautionary tale for the future. For all readers old enough to understand the importance of our collective history." — School Library Journal (starred review)
"Emotionally staggering... They Called Us Enemy also inspires readers to engage through democracy to insist that we treat fellow human beings with fairness and dignity." — Amazon Best Books of the Month
"Riveting... Takei has evolved into an increasingly powerful voice for oppressed communities, and They Called Us Enemy finds him at peak moral clarity — an unflinching force in these divisive times." — The Washington Post
"A detailed, wrenching account... They Called Us Enemy should prove the most potent introduction for younger readers to this ignoble chapter in our history." — The New York Times
"Powerful, moving and relevant." — Los Angeles Times
"A tale of triumph over adversity." — BBC America
"A highly readable graphic novel treatment of the internment of Japanese Americans, giving a new generation of young readers a striking example of what the United States is capable of, told from the perspective of someone who personally suffered from that injustice... in a more vivid, first-person account than textbooks and lectures can ever achieve." — The Comics Journal
George Takei has captured hearts and minds worldwide with his captivating stage presence and outspoken commitment to equal rights. But long before he braved new frontiers in Star Trek, he woke up as a four-year-old boy to find his own birth country at war with his father's — and their entire family forced from their home into an uncertain future.
In 1942, at the order of President Franklin D. Roosevelt, every person of Japanese descent on the west coast was rounded up and shipped to one of ten "relocation centers," hundreds or thousands of miles from home, where they would be held for years under armed guard.
They Called Us Enemy is Takei's firsthand account of those years behind barbed wire, the joys and terrors of growing up under legalized racism, his mother's hard choices, his father's faith in democracy, and the way those experiences planted the seeds for his astonishing future.
What does it mean to be American? Who gets to decide? When the world is against you, what can one person do? To answer these questions, George Takei joins co-writers Justin Eisinger & Steven Scott and artist Harmony Becker for the journey of a lifetime. -- a 208-page, softcover graphic novel with 3" French flaps (B&W interiors), 6.5" x 9"
More Praise for They Called Us Enemy:
"They Called Us Enemy is truly beautiful — moving, thoughtful, important, engaging, and stunningly rendered. I am so excited to see this book's impact on the world." — Jacqueline Woodson, National Ambassador for Young People's Literature and National Book Award-winning author of Brown Girl Dreaming
"George Takei's story reveals the important lessons of the WWII Japanese American Incarceration that still need to be learned today. They Called Us Enemy is a compelling must-read for all ages." — Karen Korematsu, Founder and Executive Director, Fred T. Korematsu Institute
"This amazing graphic novel captures virtually the entirety of Japanese American incarceration experience during World War II with humor, drama, vivid drawings and a remarkable balance of childlike wonder, honesty and adult outrage which is quintessential George Takei. It is powerful, touching and captivating. A must read for every American and should be in every school's library." —Dale Minami, lead attorney in overturning the Korematsu case
"They Called Us Enemy is George Takei's living testament to a painful episode in our history that's still within the memories of generations of today's Americans. It's a chapter that must never be lost to history. These are lessons that resonate all the more vividly today, right now. Graphic novels have the ability to distill, to vivify, and to bring abstract ideas to life. They Called Us Enemy is a perfect realization of that promise. He tells his story through the innocence of a child's eyes, embodied with the wisdom of experience and reflection. His story, and his life, are infused with examples of courage, of patriotism, of loyalty, and of love. George Takei's faith in the promise of American democracy shines through to us as a beacon, in a way that is both humbling, and beckoning, to us all." — Patrick Leahy, US Senator (Vermont)
"They Called Us Enemy is an extraordinarily personal and compelling narrative about one of the darkest moments of the Roosevelt era — the imprisonment of American civilians of Japanese ancestry. Bringing this story to a new and younger audience is vitally important to prevent it from ever happening again." — Paul M. Sparrow, Director, Franklin D. Roosevelt Presidential Library & Museum, Hyde Park, NY
"George Takei shares his personal story to illustrate the Japanese American experience of WWII incarceration in a way that is intellectually stimulating for older readers, but accessible to even the youngest of readers. As a parent, this was an excellent book to engage my own children in discussion about Japanese American history and what a young boy like George might have been feeling." —David Inoue, Executive Director, Japanese American Citizens League
Reviews
---
Related Titles