top shelf is a sort-of sponsor for Greg Palast's terrific Steal Back Your Vote comic:
October 14, 2008
WHAT'S THAT UP IN THE SKY?!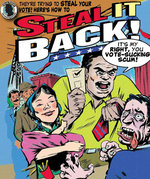 It's Bobby Kennedy and Greg Palast releasing the flaming hot full-color investigative comic book, STEAL BACK YOUR VOTE!
Pow! Zap! No more joking with our rights, Mr. Rove!
Click here and get the 24-page investigative comic book by Greg Palast and Bobby Kennedy: STEAL BACK YOUR VOTE.
With the full story of the investigation you'll soon see in Rolling Stone magazine - illustrated by razor-sharp pencils of Ted Rall, Lukas Ketner and Lloyd Dangle.
SIX ways they're STEALING your vote - and SEVEN ways to STEAL IT BACK.
(C'mon - 'fess up - do you really know what to do if they hand you a 'provisional' ballot?)
Make a $100 tax deductible donation at StealBackYourVote.org and we'll send you 25 to pass out to troublemakers of your choice.
And, for every $100 donation, we will give away another 400 to voters to vulnerable voters in swing states. We just sent eight cases to Santiago Juarez. Santiago's working with young Hispanic voters of New Mexico.
Can you help us send him more? Or donate $75+ and get a half dozen comix plus the DVD (signed), The Election Files, my BBC reports on the vote snatchers.
Pick up 10 copies of the guide for a donation of $50. We send'm right away by priority mail.
Get five hundred copies for your local school or group for a $1000 donation at www.palastinvestigativefund.org/print-copies-of-steal-back-your-vote.
Or give us the donation, we'll send'm to a church designated by our co-sponsor Jesse Jackson's Operation Rainbow/PUSH.
Thanks to your prior generosity, we're offering the printing plates FREE of any fee to us to any magazine or weekly that wants to insert comic. (You want to reproduce the guide on a mass scale - you got it. Contact zach (at) gregpalast.com)
Or you can download the comic for a donation of a penny or more (more, PLEASE), at www.StealBackYourVote.org.
Spread this link! Pow! Zap! Take that, Katherine! Steal Back Your Vote is a project of the not-for-profit non-partisan Palast Investigative Fund.
WHAT'S THAT UP IN THE SKY?! It's our Super Sponsors! Voto Latino, Operation Rainbow Push, Air America Radio, Juan Gonzales of Democracy Now! and other crusaders for Truth, Justice and the American Way.
Contact us at interviews (at) StealBackYourVote.org.