leaving for Bethesda a week from today, so i'll be missing this,
September 26, 2008
but if was in Portland, i'd check this event, On the Margins, at Floating World Comics out in a heartbeat. Dunja Jankovic's comics are sublime and haunting.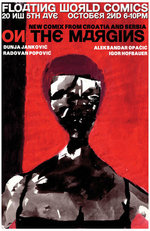 • James Kochalka gets some love at SPX (In Conversation with Heidi MacDonald), even while Top Shelf gets snubbed with not a single Ignatz Award nomination.
• The new Frazetta hardcover, Telling Tales, FINALLY came out... nice package, but oh god, why did they add such horrifically garish colors to Frazetta's insanely delicate and sublime brushwork? (Of which he did far too little.) I haven't read into the text yet, but let's presume two possibilities. The editor had access to high-quality material for a particular strip from which he could scan, and reproduce the artwork. In this case — and it certainly seems this to be the case — the art should have been reproduced in b&w. If on the other hand high-quality material was not on hand, then a far better option would have been to scan the actual comics pages where they ran in the first place. No doubt line quality may be lost, but the undeniably cool look of the page as a lush relic, yellowing pages, and crude-yet-terrific half-tone coloring and all make up for said loss. A great example of this is the Art Spiegleman / Chip Kidd presentation of a choice sampling of work in their book Jack Cole and the Plastic Man. Another fine example of this methodology of archiving used to good effect is in the more recent Sheena: Queen of the Jungle collection, published by Devil's Due. (The star attraction being, for this viewer, of course the contributions of Matt Baker.)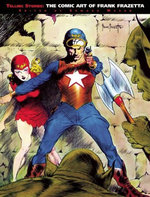 • Nick Cave and the Bad Seeds' new Dig!!! Lazarus Dig!!! is an instant masterpiece. Wow...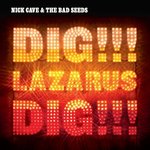 • Also, decidedly NOT comics, and because i can't help it; This Week in Conservatism.
• And finally, more killer art from Max Estes.