post-san diego crush... so much to do.
August 1, 2008
• Veeps writer Bill Kelter scores a piece on the front page of Politico! Sweet!
Then, on the same day he was interviewed on Portland's Progressive Talk Radio, KPOJ with Carl Wolfson.
Shooting starts next week on the documentary being made about Bill and Veeps illustrator Wayne Shellabarger, with (YIKES!) me at the helm. Oh, and speaking of which, Bill's co-worker Bill Lovejoy sent me this image recently. What the fu?@!!!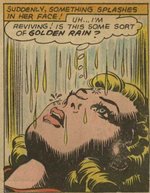 • Tom Spurgeon's 50-Plus thoughts about ComiCon 2008.
• I scored some great shit at San Diego this year, rabid fanboy that i am. Krazy & Ignatz 1935-1944 by Chris Ware, from Fantagraphics. I couldn't find a link to this on their site, nor an image for it, but this is the second mammoth volume of reprints and it's insanely gorgeous. Even more so, however, is the French edition collecting the entirely of the classic crime series Torpedo by Abuli, Bernet and Toth. My French isn't particularly great, but holy crap this is one of the most impressive all-in-one collections i've ever held in my sweaty little paws. Richard Starkings gave me the terrific, lush Art of Ladronn hardcover. His editorial is an inspirational account of how he met Ladronn working together on the (still fun) Cable comic years ago, and ended up giving him free reign to do comics as he sees fit, in his own time. Yes, the timetable has been glacially slow, but as i was then compelled to buy the first two hardcover Hipflask collections of three, the results are sooooooooo worth the wait. Dizzyingly beautiful. I got so much more, which i'll mention soon, but for this update, i also scored two more awesome hardcover art books: Michael Golden's Heroes & Villians, published by Little Eva Ink, and Retroactive: Darwyn Cooke 1998 - 2008, published by BrandStudio Press. Two of my favorite cartoonist. Two bitchin' books. (Now we just need an Art Adams hardcover to round out the list.)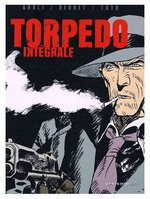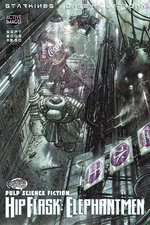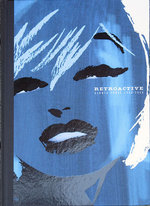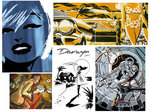 Oh yeah, and one of the inserts in the Con Bags was this funny-as-hell Watchmen parody, courtesy of Mad Magazine.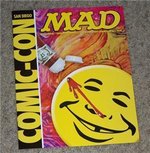 • Jed McGowen's lush strip Ritual of the Savage is now up on Top Shelf 2.0. And it rocks! Meanwhile, here's a piece of fan art Jed received by Teemu Matinlauri. This too shall rock.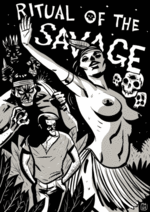 • Indigo Kelleigh, best known as the founder of the Stumptown Comics Fest here in Portland, is also a great cartoonist. He's just launched a new strip called Ms. Ellie Connelly. He rocked my world years ago with his air-tight mini-series Chutney Point, and so far this looks as good or better. Good to see you back, Indy!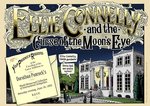 • My longtime friend Dave Vlasaty (we met on the crew team back at University of Oregon back in the day), just road tripped to the tip of Baja with his kick-ass sons Aiden and Angus... oh, and Owly!!!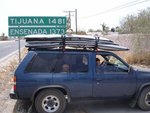 • Last but not least, Calling All Aspiring Animators!... Top Shelf is looking for cheap talent who will work for lots and lost of free comics to help us build some animated trailers for various projects. Must already dig Top Shelf (otherwise, i mean.. what's the point, right?) and be serious and committed. There's no paycheck involved, but really we do take care of our family.
Contact me at brett@topshelfcomix.com if interested. Please though, no attachments. Links to url portfolios ideal.