this just in... james kochalka at
November 11, 2008
Giant Robot L.A. That's correct y'all.
Little Paintings 3 at GR2
November 15 - December 10
Reception: Saturday, November 15, 6:30 -10:00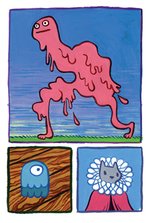 Giant Robot 2. 2062 Sawtelle Blvd. Los Angeles, CA 90025. gr2.net. (310) 445-9276
Indie cartoonist James Kochalka is well known for having a raw, humorous, and powerful style and prolific pace; he draws one diary strip a day for his Web site, and still manages to create an ever-growing catalog of graphic novels. His range extends from the autobiographical (American Elf) to kid-friendly (Johnny Boo) to serious (The Cute Manifesto) to raunchy (SuperF*ckers) to iconic (Monkey vs. Robot). His comix work has won four Ignatz awards and one Harvey award. He is widely regarded as the inventor of the daily-diary comic strip, and has inspired countless younger artists.
The Burlington, VT-based artist has also released several CDs with his band, James Kochalka Superstar. His song "Britney's Silver Can" was named one of the 100 best songs of 2006 by Rolling Stone, and his song "Hockey Monkey" was used as the theme song for the Fox television sitcom The Loop.
For Little Paintings 3, Kochalka is supplementing his acrylic 2" x 2" paintings on 3" x 3" paper with a few that are comparatively large. "There are a few that are 4" x 4" and some that are 6" x 6". Still little compared with the rest of the paintings of the world, but they'll feel giant in the context of my world," he says. Some recurring themes include royal cats, adventurous blobs, and tumors, happy apples, and crazy worms.
The multitude will not be framed but are quite suitable for framing. "I'm kind of against posters. I think people should have real art made by real human hands in their homes" Kochalka says of his small and affordably priced paintings.
A reception from 6:30 to 10:00 on Saturday, November 15 will include a special performance of music composed by the artist on his Game Boy.
• Going back to APE, the weekend before the election (Whoo hoo OBAMA!!!)..., San Francisco was great fun (especially tending bar at Isotope — damn, i got myself pretty hammered),
Here's Wayne Shellabarger and Bill Kelter pimping their amazing new book Veeps.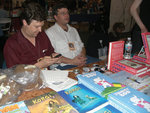 And here's the loot i brought home. (Sadly, no time yet to read most of it.)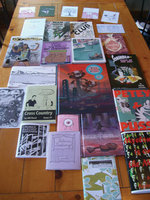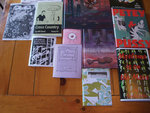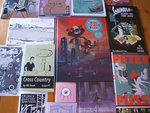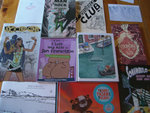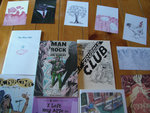 But what made the weekend for me, was my little man Carter, and his Halloween appearance as Batman. This photoset shows his transformation.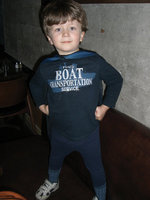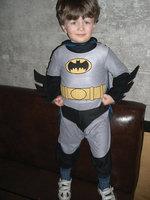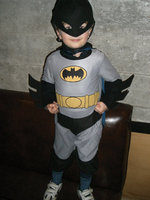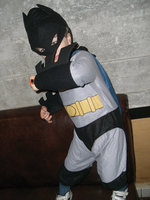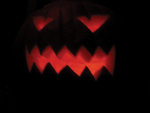 • Meanwhile, this weekend just past Top Shelf exhibited (Leigh manned the table most of the weekend, since i was on Kid Watch) at the annual Portland book fair called Wordstock. A quick observation... Portland is widely (and justifiably) known as a book-loving city. The organizers promoted the heck out of this event. Flyers, posters, and exhibition catalogs have been anywhere and everywhere for the last six weeks. Heck, they even got the likes of John Hodgman, Lynda Barry and Alison Bechdel to come and read. And yet, the place was a ghost town virtually all weekend. Yes, the big-name panels were well attended, but the isles were barren. What gives?
In any case, i had fun in spite of myself. And i FINALLY picked up the stunning Local deluxe hardcover by Brian Wood and Ryan Kelly. I'd read most of the issues as they were (slowly) coming out, but had yet to read the last three. Just finished these tonight after i tucked Carter into bed. Holy crap, this is such a terrific book. From concept, to execution. From content to packaging. Simply magnificent! Highly recommended.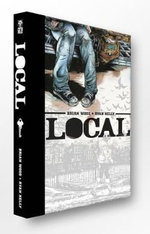 • This is quite possibly the coolest fanboy shit i've EVER seen. (I used to be lead tenor in the high school jazz choir, AND a massive fanboy of all the movies referenced in this video — except for E.T. God, i hate that flick.)
• Finally, more Kochalka. Here is an early rough for James' cover for the 2009 Top Shelf Free Comic Book Day (FCBD) comic book, and then his final. Well done, James!