January 24, 2008 / More →
i've picked up, or been given, some real gems of late.
• The new Strapazin arrived via post today. The theme is boats/ships/the ocean. Can't read German, but holy god, it so does not matter with this magazine. Ostensibly a mixed-bag anthology of original comics content and comics reviews, when you get down to it, it's an Art Book, a gallery, a veritable potpourri of stunning art, comics, and illustration. To be sure, i really have no idea to get this in the U.S. If any retailers out there stock this, let me know and maybe i can get you some sales.
The cover design and illustration by Laura Jurt is terrific.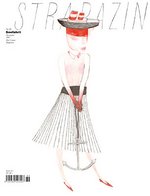 • Steve Rude: Art in Motion. I've been a giant fan of Steve "The Dude" Rude since he crashed the comics scene with a bang, with his and Mike Baron's great Nexus back in the day. He's so good and so committed, that almost across the board, anything he touches is gold. I was wary when i first saw this book on the shelf. As often as not, many of these sort of monographs can turn out lame, or worse, butt ugly. I'm happy to say, this book rocks. Dude fans keep for eyes peeled for this baby.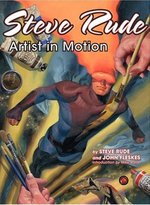 • Olle Eksell: Swedish Graphic Designer. Wow. Wow, wow, wow. Beautiful. I nicked this cover image from a fellow blogger. (See link.) Check out this link at Happy Mundane for a series of digital snaps from this wonderful design art book.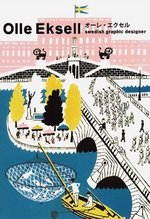 • Street Sketch Book, edited by Tristan Manco. I'll be up front about this; while i've never had any beef of any sort with it, neither have i had any real interest in Street Art (re: graffiti). I admire the context and lifestyle of the bulk of the practitioners, but the work itself doesn't float my boat. Then along comes this book, "Inside the Journals of International Street and Graffiti Artists" to rock my world. A visual cocktail for any fan of contemporary art. (Yet one more feather in the cap for Chronicle Books.)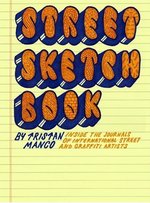 • And big ups to legendary local retailer Reading Frenzy, for stocking these last two items. From the ashes of the once vibrant print zine scene in the pre-blogosphere 90s, RF has been in an ongoing evolution, constantly redefining itself to stay alive in an ever decreasing world of print media. The last few years have had ups and downs, but in the last year or two, i'm happy to report that they again have created an eclectic, interesting, and auteur-friendly shopping experience.
• Fabulous new interview with James Kochalka by Gabe Bullard over at the Playback website.
• Former intern Brendan Wright interviews, why ME on his blog The Wright Opinion.
• • • NOT COMICS • • •
• Chalmers Johnson throws down at TomDispatch with some sobering statistics about the ongoing War/Defense Economy and it's crippling long-term affect on the our nation. (This is a bleak assessment, and in a just world is exactly the kind of stuff that should be plainly spelled out to all citizens.)
(Example: our military spending is more than the rest of the world combined.)
• On a lighter, and much more hopeful note, Ana Ivanovic from Serbia has made it to the Australian Open Finals, matching up against the Russian Maria Sharapova. This should be a great match. Sharapova is so annoying with her on-court demeaner, but she's playing with fire. Ivanovic, on the other hand, is a goddess. Beautiful and deadly. I think i'm in love.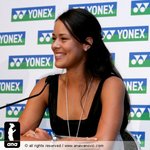 On the men's side, i predict Djokovic (Serbia) and Federer (Switzerland) in the Final. Djokovic might win two sets, but if he makes it to the fifth set, Federer will pounce on him for the kill, without mercy. Oh, and boy would i love to be wrong about this. Love Federer's play, but i loathe dynasties in any sport. Djokovic has a huge game and is so much fun on the court.
Tennis fans should be pleased, no matter the outcome. I say Go Serbia!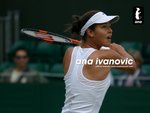 ---
January 19, 2008 / More →
...had a small role in this killer music video by a band called Scrabble. James wrote:
"Last time I was in San Francisco, I ended up drawing this diary comic strip about a guy I met. Well, it turned out he was in a rock band, and the rock band is pretty awesome and they made a video and now my diary strip is in the video. The song is "Emily, I" and the band is Scrabbel. Here's the video on YouTube."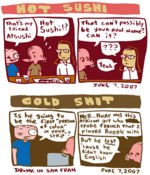 • More sweet art from Michael Golden. This is promoting the Phoenix Comic Con, January 25-27.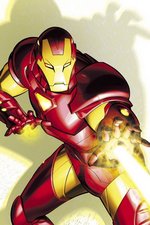 • An excellent review of Tom Hart's beautiful, understated masterpiece Banks/Eubanks can be read here at Comic Book Bin.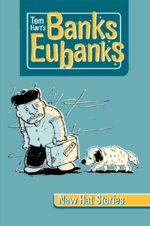 Tom is hands-down one of the single most under-rated North American cartoonists in our field. If you're not familiar with his work, then you've no right to call yourself anything close to being part of the comics cognoscenti.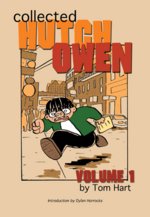 • From the desk of Comics Historian Craig Yoe:
"Starting Friday January 17 there will be a new feature on the Arf Lovers Blog...THE FLYING FLICK! Not only that, but this new weekly segment will be hosted by an exciting new superhero...THE FLYING FLICK! Every Friday there will be weird and wonderful flicks, i.e. incredible videos related to the history of comics and cartoons. And quirky and quickie flicks that are plain nutty FUN!
"What Doll Man is to Mondays, D.J. David B. is to Tuesdays and Wacky Wonder Woman is to Wednesday THE FLYING FLICK will be to Fridays!
"Marvel and DC are rumored to have a rule that the word "FLICK" can't be used in their comic book scripts. They're worried that it might be misread as a dirty word. I have no such morals or sense of responsibility. :)"
---
At the Onion website. Oh. My. God. Jimmy Carter on FIRE!!
•Â Steve Lafler has posted a fun piece called "Is Print Dead, or Does it Just Smell Funny?" on his blog. It features myself, Jesse Recklaw, and Dylan Williams among others. The piece is slated to run in the multi cultural arts/music mag out of Chicago, ALARM.
• From the desk of Eric Reynolds:
"Don't miss "REBEL VISIONS: The Underground Comix Revolution" opening this Saturday, January 12 from 11:30 to 8:00 PM at Fantagraphics Bookstore & Gallery in Seattle. This colorful art show will complement "R. Crumb's Underground" exhibition opening January 26 at the Frye Art Museum in Seattle.
"Organized by comix historian, author and archivist Patrick Rosenkranz, in association with Fantagraphics resident curator Larry Reid, "REBEL VISIONS" features original artwork, artifacts and relix from masters of the underground era. Highlights include a previously unseen original drawing by Rick Griffin, recently discovered by L. A. collector Greg Escalante; rarely viewed original art by feral genius S. Clay Wilson; and locally created original artwork by the legendary Greg Irons, who followed his underground work with a prolific career as a tattoo artist working at the storied Seattle Tattoo Emporium prior to his untimely death in 1984."
For more info (store locations, etc.), head to the Fantagraphics website.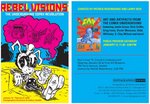 ---
January 8, 2008 / More →
Yeah, The Spurg is back, and Comics Reporter is online again!! I've really missed this blog … easily a favorite, and my only "must-read daily" comics website. Lot's of stuff to catch up on, including great interviews with cartoonist Frank Santoro, Eric (Fantagraphics) Reynolds, Chris (AdHouse) Pitzer, Karen (Vertigo) Berger, and pop-culture writer and bon vivant Sean T. Collins.
• Jeff Lemire's wife Lesley Anne made this fabulous "action figure" of his character Lester, from the graphic novel Tales from the Farm. Killer!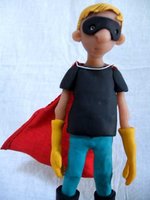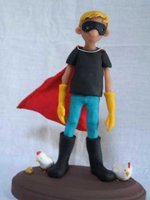 Jeff has also drawn this beautiful cover for our annual Top Shelf Sampler, this year's 2008 edition.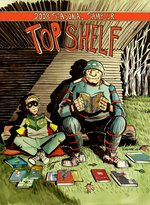 • Some neat art by web comix contributor Lode Devroe.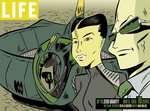 • Dash Shaw's new strip is now being serialized on a weekly schedule on his website. Dash is one of the most engaging cartoonists to come around the pike in a long while, and certainly one of the few who challenges the formal limits of the medium.
• Got this in an email from Wayne Shellabarger. Great stuff.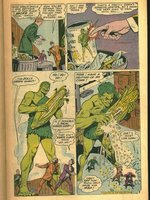 "Here's a provocative Jimmy Olsen page that I've wrestled with for years. Like a Marcel Duchamp, an 11 minute Bob Dylan song, or a comon dollar bill, it's "right there" on the surface but impossible to reduce to one singular meaning. The mystic power of ancient rituals and symbols collide with crass mass produced images working in tandem solely to bail Jimmy out of a minor back-alley scrape with cheap, maize-phobic hoods. Product placement? Did the writer have a giant bowl of canned corn at 2am, later waking on the floor near his bed with terrifying rarebit-like visions of fantastic terror? Truly revolutionary in its pop-culture vest, any serious analysis dead-ended by a maddeningly deflective Warhol-like non-response in the Jimmy's Pen-Pals page."
• Bill's Kelter's new VEEPS website/blog kicks ass! (Ostensibly created to promote Bill and Wayne's upcoming masterpiece VEEPS, this blogs plans to be an evolving commentary on all things political that catch their fancy.)
• How much does Nate Duke, a fan working right now at the McMurdo Station in Antarctica as a power plant operator, supplying power for the 1000+ people there (and a part of the National Science Foundation), love Top Shelf? Check it out. We're representing on all seven continents now!! (Thanks to Chris Staros for the info... Chris' first contribution to the Top Shelf blog!!)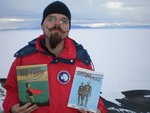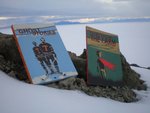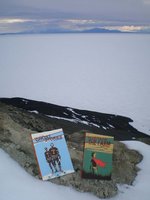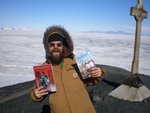 ---
January 1, 2008 / More →
2008 is upon us. Just in time for me to get a cold.
I've been doing so much family stuff, that i don't have much fodder for the blog. So i think i'll continue to run some of the nice art i've been receiving throughout the years.
From Ulf K.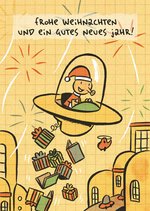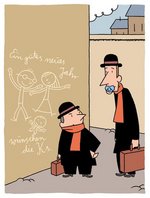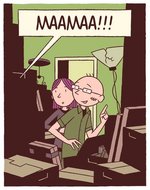 Jean Bourguignon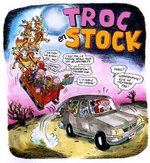 ---
December 26, 2007 / More →
I have to say, i really do love Christmas. It must have been my Mom who gave me the bug, but for a pagan/agnostic guy like myself, there's an almost magical something that hangs in the air, which no other Holiday does for me.
Here in Portland we had flurries of snow for a few hours this afternoon, but alas, none of it stuck to the ground. Hope all of you readers out there are enjoying this festive day.
• Some dude from Brisbane, Australia (where the gentleman raconteur Eddie Campbell also lives), who goes under the moniker Snoogans, has a bitching tattoo of and drawn by James Kochalka. Kick ass!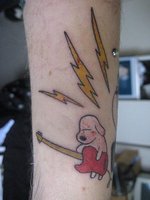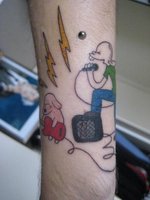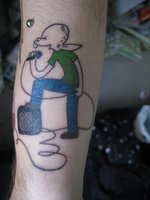 • January is Top Shelf Month at the Comic Book Bin! This is great news. So bookmark this page and head back there soon. They're also having some Top Shelf fun at their Facebook page. (Something this old man has never seen.)
• I love the back-matter in Ed Brubaker and Sean Phillips' brilliant series Criminal. (Along with Walking Dead, the ONLY comics i buy knowing that i'll also pick up the trade paperback later on down the road.)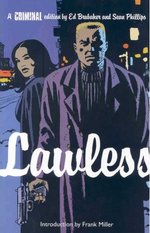 I haven't even read this second arch of the series yet, but i've devoured the stuff in the back, and on Ed's recommendation i picked up and watched Scott Frank's superb neo-noir, psychological thriller / bank-heist flick called The Lookout.
Starring Joseph Gordon-Levitt, in the follow-up film to his breakout roll in Brick, The Lookout hits all the right notes. It's criminal (no pun intended) that this film didn't make more of a splash upon its release. If you're looking for slam-bang action, stay away; but if you like excellent acting, taught scripts, and an engaging crime story, be advised to check this out. A great review can be read here at Dvd Talk.
• Finally, here is a new Christmas e-card from Gregory Benton, and the last of my archival Christmas jpegs from years past.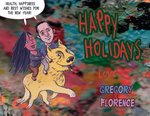 (Not exactly sure, but this looks like Joseph Lambert)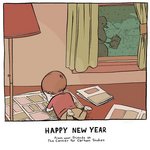 ---
December 22, 2007 / More →
ITEM! It's not too often i run straight press releases, but when the event warrants i've got no problem at all doing so. This one, for my great friend Bwana Spoons, one of the world's nicest guys, and most amazing creative minds.
Bwana Spoons Art Show at Giant Robot New York
HOW TO DIG A HOLE
December 8, 2007 - January 9, 2008
Reception: Saturday, December 8, 6:30 pm - 10:00 pm
437 East 9th Street
New York NY 10009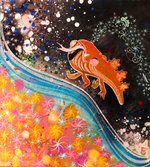 Spoons is a Portland-based artist whose freewheeling style was developed under the influence of underground comics, '60s rock posters, and Japanese rubber monster movies. Starting out with stapled-and-folded zines like My Friend the Micronaut and Ain't Nothing Like Fuckin' Moonshine in the early '90s, Spoons has become a regular in the Northwest street art and indie music scene. Endangered animals caught in mid-thought, kung-fu wizards with gravity-defying eyebrows, and swirling psychedelic backgrounds are only some of the elements found in the well-composed anarchy of his paintings and sculpture. He is also involved in the Grass Hut art collective and gallery.
Although the show is called "How to Dig a Hole," the new paintings, illustrations, and sculptures by Spoons actually address how to get out of one. "What do I fill it with?" he asks. "Blood, guts, tears, dirt, love, and paint."
Giant Robot has been promoting new art and artists since 1994, first with a magazine and then in galleries. The publication celebrated its 50th issue in 2007 with an art show at the Japanese American National Museum in Los Angeles. Currently it presents art shows on a monthly basis in its L.A., San Francisco, and New York City locations.
A reception for Spoons will be held from 6:30 to 10:00 on Saturday, January 12. For more information about the artist, GRNY, or Giant Robot magazine, please contact:
Eric Nakamura
Giant Robot Owner/Publisher
eric@giantrobot.com
•Â Also, here's some pics from a few months back. Brendan Wright, who was interning at the time, helped package up this promotion for Renee French's work. This is all a learning process for us (even ten years in), but this package did indeed generate some good response.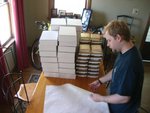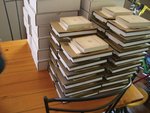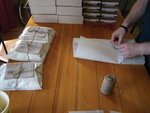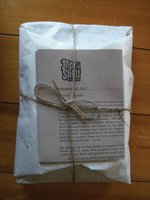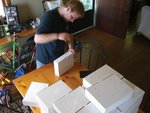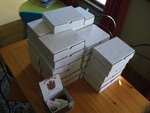 ---
December 20, 2007 / More →
Mr. Grinch!
The kid LOVES this movie right now. In fact, he loves all the Christmas movies he's seen thus far. Ah, Christmas.
•Â Van Jensen declares Jeff Lemire Best Artist of 2007 at Graphic Fiction!
Congratulations, man.
There's also a nod that Top Shelf (blush blush) is Publisher of the Year! And i think Van said that Super Spy by Matt Kindt gets the nod for Graphic Novel of the Year! Whoo hoo!
• Andy Runton is featured over at Broken Frontier.
• Beautiful new Christmas jpeg from Dino Haspiel.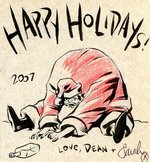 • And one from the Center for Cartoon Studies, drawn by Dane Martin.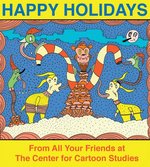 • Tom Spurgeon interviews the ever-affable Tom Devlin at Comics Reporter.
(Cover of Coober Skeeber #2 (The Marvel Benefit Issue), the book that put Devlin, and his Highwater Books label, on the map.)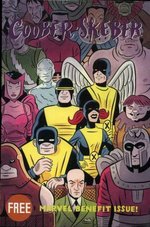 ---
December 17, 2007 / More →
• Marc Mason has posted a fun Year-In-Review over at The Comics Waiting Room.
• Shawn Crystal drew one of the most bitchin' Fourth World pieces i've EVER seen. (For my Kirby's Fourth World sketchbook, natch.)
DC Comics … what is wrong with you? Current DCU Infinite/Countdown/52 uber-continuity is convoluted and lame. How about teaming up Shawn here with, oh... Grant Morrison or Warren Ellis on some Fourth World action. Big idea guys. Mark Millar (on a good day) or possibly even Peter Milligan. Ditch the frikkin' angst, and make some fun comics again.
Oh well, a fanboy can dream.
• Another gorgeous Holiday card in my in-box, from Michael Golden and Renee Witterstaetter. Golden has been my absolute favorite comics artist forever, beating even (Gasp!) Byrne in his prime. It's boss to see him back in the mix. You can read a fabulous interview with Michael and Renee, by the late great Daniel Robert Epstein, archived at Newsarama.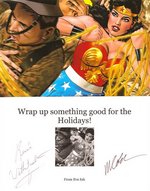 For the love of God, feast on page 35 of the Avengers Annual #10, arguably Golden's masterpiece. Features some sweet inks by Armando Gil.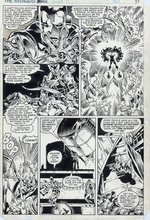 • Finally, some more holiday art from my own archives.
Dean Haspiel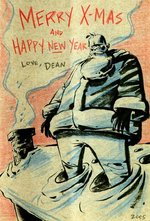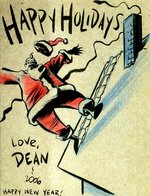 ---
December 13, 2007 / More →
How bat-shit nutty is THIS... Craig Thompson nominated for a Grammy Award!!
• Diana Schutz has me on her comp list, for which i'll owe her my second-born child. (Except that, i'll never have a second child...)
Anyway, this time i received the magnificent coffee table tome, The Art of Matt Wagner's Grendel.
I really can't think of an icon in the vast world of creator-owned characters, to have received such an impressive, deluxe treatment. Big ups to Matt, Diana, and designer Steve Birch on this expansive treasure trove.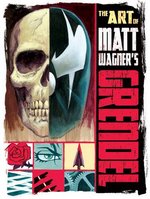 Between this, the Hellboy book (edited by Scott Allie), the Eisner Sketchbook (edited by Diana) and the Art of Bone (also edited by Diana), The Horse has produced arguably the most impressive line of creator-focused art books in the industry.
• RELEASE PARTY FOR WORLD WAR 3 ILLUSTRATED # 38: FACTS ON THE GROUND' ISSUE
Featuring multi-media presentations by: FLY, SETH TOBOCMAN, MAC McGILL, PETER KUPER, CHRISTOPHER CARDINALE.. NYC Cyclists Memorials, REBECCA MIGDAL, PENNY ALLEN
Friday December 14th, 7:30 pm: at the Time's Up ! space. 49 East Houston between Mott and Mulberry - Broadway-Lafayette Stop on B,D,F and V trains. Admission is free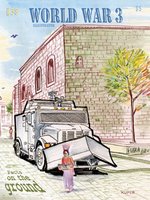 • John Porcellino continues to produce one of the longest running series in the world of alternative comics, with King-Cat #68. This comic is a pure artistic bravura performance. A diamond in the rough. A nugget of comics goodness that is perfectly priced as a stocking stuffer. Hint, hint. (Especially good for indoctrinating new comics readers into the fold.)
If you enjoy life's simple pleasures, and love naturalist writing or riveting first-person storytelling, then King-Cat is for you. John's delicate line and seemingly simplistic stylings, hide a deeply complex connection to the rhythms of life, nature, and the human condition.
There's more heart in John's hand-lettered introduction to this 68th issue, than in 98% of the naval-gazing auto-bio comics being cranked out in any given year. Browse his catalog and support this modern master.
John Porcellino is an American original, and his importance to the medium of comics is giant.
• Old Eugene buddy Matt Haley did this fab little ditty, riffing on the old Shaft poster, which is also up at the Wizard website.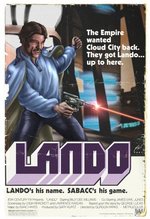 • If anyone ever questioned whether there were any great mainstream comics coming out anymore, they need look no further than Mark Millar and Bryan Hitch's in-your-face The Ultimates, the second oversized volume of which was released yesterday. Many people complain that this comic has strayed to far from the charming and harmless kiddie fare of yesteryear. That's it's too cynical and mean. Well in case you haven't noticed, the world is a cesspool right now, what with the polar ice-caps about to melt away, genocide, wars, and least but not least, the most corrupt administration the country has ever known.
I LOVED the first volume of this, and can't wait to dive into the finale. Moreover, Marvel is the undisputed KING of great hardcover treatments, chock full of extras and bonus goodies. Besides the requisite items like the covers from the floppies, there's a creator commentary, scripts, pencil art, how-to cover designs, and so much more. I'll be the first to admit that this is decidedly NOT for little kids, but if you have a friend who disses comics, but loves genre action films, James Bond, or action movies with lots of explosions, this will make them a believer. Seriously.
Here is an 8-PAGE! spread from the last issue. Feast your eyes on this, then go buy the book.


(To see a REALLY huge version of this, click HERE.)
• Why would i call this the most corrupt administration in American history. Well, i think Lloyd Dangle, creator of the smash-hit cartoon Troubletown, sums it up nicely.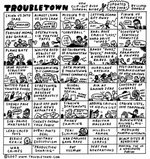 • James Kochalka has revamped the American Elf website, and now all the archives are free! From James' press release:
"In 1998 I began drawing a daily diary comic strip. (Every day I draw a little strip about something that happened to me that day.) In 2002 I began serializing the diary on my website, AmericanElf.com. On the website, only the most recent strip was available for free and to read the archives you had to subscribe for $1.95 a month. This did pretty well for me, bringing in about $600 a month, net. However... over the years I noticed my readership dropping lower and lower, even as the strip won industry award after industry award. (Three Ignatz awards and a Harvey award). My subscription base remained about the same, but less and less people were reading the strip, even as it became more critically acclaimed.
"I figure this was because a subscription based comic is a bit of an oddity in internet-land. Most web comics are free. Most people who came to my site were probably dumbfounded by the fact that I was asking for money to read the archives. Not to mention that my strip actually sort of sucks in small doses. It's not until you read many strips in a row that you start to understand how good it really is. But unless you were already a subscriber you couldn't read more than one strip at a time. So potential new readers who came to the site by word of mouth, or who followed links, probably turned away rather quickly.
"In the last few months, as the birth of our second child approached, I began to grow more and more restless about the status quo of my website. I didn't really want to give up the subscription money... as little as it is, every little bit helps when you're trying to scrape together a living as an indy cult cartoonist. But I desperately wanted more readers! So with the help of some of my readers and some of my webcomics friends I came up with a plan. Make the archives free, but offer bonus content for subscribers.
"And now here's the even better news. On Thanksgiving, our second son, Oliver Jonco Kochalka was born. Exactly two weeks later on the evening of Thursday, Dec 6, we launched the redesign of American Elf. The news of the change spread. My readership went from about 270 unique users on Wednesday... to about 200,000 or so on Friday. Page views were well in excess of 700,000!
"Life is good! A beautiful crazy baby, and people are actually reading my strip."
• Finally, here are some email holiday attachments i've received in years past:
Two from Ulf K.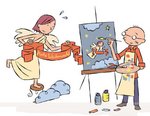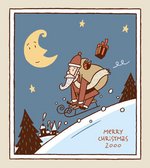 One from Gregory Benton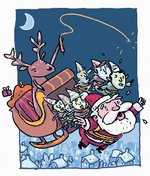 One from Chris Watson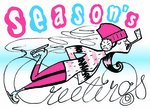 (I'll put some more up next time.)
• Oh yeah... in case no one noticed in the catalog section, here is the cover for Alex Robinson's next graphic novel, Too Cool To Be Forgotten, as designed by Merry Matt Kindt.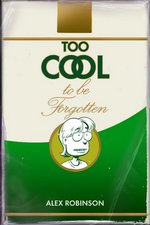 ---
December 6, 2007 / More →
Fans of Jeffrey Brown, and his bitchin' Incredible Change-Bots really must see this, the official Fan Club swag Jeffrey Brown is sending out for a mere $20. An exclusive mini-comic; a laminated Club Member Card; and a piece of original art, of your favorite Change-Bot.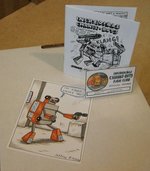 • I just finally watched Chris Brandt's new comics documentary, Independents: A Guide for the Creative Spirit. Loved it! There's a plethora of familiar faces in there, and together paint an interesting and fun … if by no means complete … picture of the state of indie comics, and their collective history. Good stuff.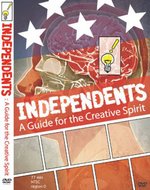 My only quibble with it is that it seems much more catered to an insider, and not so much something that a non-initiate would be able to watch, and then grok on the medium and the industry. I think this is more likely than not by design; i just wish there were more docs out there that could work as ambassadors for this still young medium, and bring more new readers into the fold.
Still, kudos Chris! Nice work.
• Here is a TRULY superb interview with Brian Wood, conducted by Tom Spurgeon at the Comics Reporter.
• Master letterer and designer Todd Klein has published a spiffy print titled Alphabets of Desire; a poem by Alan Moore and lettered by Todd. Looks beautiful.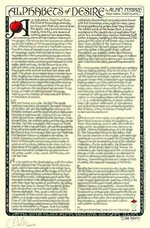 • The EC sets have been sold. The first person to respond, a benefactor who swooped in and bought the whole lot. Thanks, you know who. As it happens a great friend as well, so not only do i find comfort in their new home, but i can revisit them when i visit my friend. Sweet.
---
December 1, 2007 / More →
Meanwhile, life happens. You know what i mean? I remember almost ten years ago, the day that my Dad died, and all i could think was,"Stop the world!! Doesn't everyone see what just happened?!!!" But the world rambled on, not even a bump in the road.
Here and now, besides the loss of a childhood hero in Evel Knievel, events have transpired that have turned my own personal life entirely upside-down. My apologies for the long long delay. Details are irrelevant really, but let's just say that my monthly household income is now greatly reduced, while the bills keep piling on.
I'm in a financial bind because of my current situation, and so i'm going to sell many of my Russ Cochran, oversized, b&w EC sets. I've done some research online as for pricing, and have priced the books based on the overall average of each set for sale. I'd prefer to receive payment in the form of a check. All prices will include shipping. Contact me at brett@topshelfcomix.com if anyone has any interest.
If PayPal payment is preferred, i'll have you send funds to chris@topshelfcomix.com. But please contact me first to confirm i still have the set on hand. All sets are in very good / excellent condition.
Two-Fisted Tales: $300.
Frontline Combat: $375.
Haunt of Fear: $600.
Shock Suspenstories: $225.
Vault of Horror: (I can't find this ANYWHERE online, so i'm pricing it as $600.)
Weird Science: $200.
Tales From The Crypt: $150.
Meanwhile...
• How cool is THIS!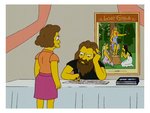 • Continuing with the ROM: Space Knight art theme by Top Shelf cartoonists, here is a KILLER piece by Jeff Lemire.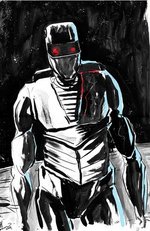 • Wordstock, the annual Portland book fair, was a few weeks ago. While it doesn't generate the same sort of ducats that a traditional comics show does, the intangible benefits make it worth our while to attend. Leigh manned the table most of the time, and we got to schmooze and meet lots of people outside of the world of comics. The importance of this sort of outreach is hugely important, as the very business models of selling graphic novels is morphing before our very eyes.
I picked up some cool swag at the show...
My Hunger for Venison by Gary Baseman, published by Baby Tattoo Books. I've LONG been a fan of Baseman's work, but to be honest, for the last several years he's been fairly redundant. This book landed in my hands courtesy of Bob at Baby Tattoo, and wow! What a left turn, and one i highly recommend.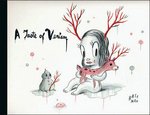 I had some swell neighbors at the festival. Right across the isle was Eric Reynolds of world-renowned Fantagraphics. As was Portland based publisher Hawthorne Books, and talking with Rhonda Hughes was great fun. Next door was Matt Love of Nestucca Spit Press, who published the fabulous basketball book Red Hot and Rollin', about the 1976-77 Championship Season of the Portland Trailblazers. I was ten or eleven when the Blazers won the championship, and man what a wild ride that was. I can't wait to dive into this book.
McSweeney's had a presence at the show as well, and as i'm occasionally known to do, i picked up a book SOLEY because it had an incredibly designed cover. (Well, and it IS a McSweeney's book, after all.) In this case, the debut novel Bowl of Cherries, by Millard Kaufman.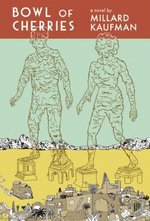 • Brett Weldele continues to produce mind-blowingly cool posters for the annual Portland-based Grindhouse Filmfest. Here's his newest from the fest a couple weeks ago, plus another look at posters he's done in years past. (Congrats too to Brett, for the BIG NEWS about the Surrogate movie news!)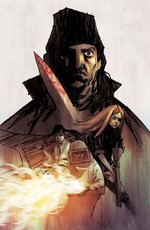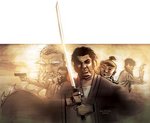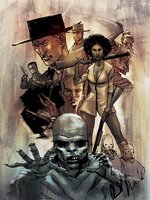 • Matt Kindt … who's book Super Spy has just been declared Indie Book of the Year by Wizard magazine … has a bitchin' new Flash comic up online.
• Here's a swell new drawing by Aleksander Zograf for an Italian glam-rocker.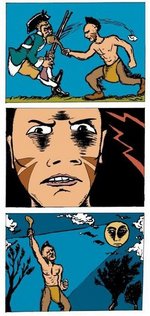 • Max Estes has a new website. This cat sure can draw!
• Been listening to some old records of mine, what with all the change going on around here, reflecting, and all that sort of stuff. Popped in a record i wasn't sure held the stood of time, All Shook Up, by Cheap trick. Released in 1980 (when i was a sophomore in high school) and produced by the legendary Beatles producer George Martin, not only does this stand up, it rocks better and harder than most of the crap the kids call rock & roll today. Fuckin' A!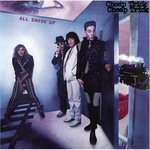 • Finally, in honor of the great one, check out this killer YouTube clip my pal Gregor Benton sent to me this morning, and enjoy this eulogy my friend Wayne Shellabarger wrote:
Today we mourn a great American hero, hell, just a great American. Evel Knievel, may your sky-cycle carry you safe and true, high over those pearly gates and St. Peter and his big golden book where your name may or may not appear. "Shoulda built the fence higher, St. Peter motherfucker!" There's a brand new skeleton and a fresh liver waiting for you there, where you'll amaze the angels as you jump over all the dead rock stars jammin' with Jimi Hendrix. I can't wait for all the specials and tributes. Maybe a biopic starring Matthew McConaghey! Until then i'll settle for my $4.98 DVD starring George Hamilton as Evel and my treasured DVD of Evel's greatest jumps.
• Thanks for listen, people. I'm back now, and updates will be frequent.
---
Alex Robinson has a short interview at Spike.
• Another killer couple a shows at Floating World Comics.
FLOATING WORLD COMICS
20 NW 5TH AVE #101
PORTLAND, OR
Tonight:
"A Day of the Dead art celebration with local artist Farel Dalrymple and Seattle artist Kazimir Strzepek. Farel made a big splash in the indy comics scene with his debut Pop Gun War and his acclaimed Meathaus anthologies. Last month he made his Marvel comics debut with Omega the Unknown written by novelist Jonthan Lethem. Kazimir is a relative newcomer to the indy comics world, but his debut The Mourning Star won an Ignatz award for Outstanding Series!"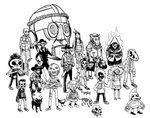 Then, on December 6:
SPACENIGHT - ROM TRIBUTE SHOW
A Collection Of Digital Prints & Original Art To Benefit Bill Mantlo
Floating World proprietor Jason Leivian writes:
"The first comic I ever read was ROM Spaceknight, a silver cyborg fighting evil monsters throughout the universe. I collected every issue until the series was cancelled at #75 (when I asked the comic clerk why it was cancelled he kindly replied, 'Well, they just ran out of stories to tell.'). I didn't know it at the time, but the artist of that first issue was Steve Ditko, who would later become one of my all time favorites.
"Years later I learned that all of these incredible stories were written by one man, Bill Mantlo. At the same time I learned that he had been injured in a terrible hit and run accident in 1992. Due to the severe injuries, Bill currently resides in a Brain Injury Rehabilitation Nursing Home, and will probably do so for the rest of his life.
"This show will serve as a fundraiser and celebration of the stories Bill has given us. All of the artwork and more will be compiled in a tribute comic next year that will be sold as a non-profitbenefit book for Bill's brother/caregiver, Mike Mantlo, to provide funding to enable Bill to enjoy somewhat of a quality of life."
Dig this awesome art by Jeffrey Brown.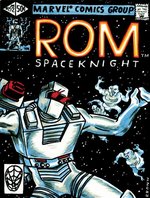 • Here's a cover in progress, for Nate Powell's forthcoming Swallow Me Whole. Dig!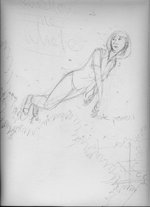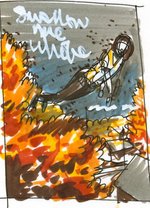 ---
max estes is trying to get his fiancé over to America from her home in Norway, and is selling a bunch of new paintings to defray the big costs of doing so.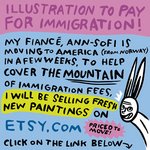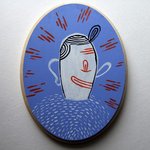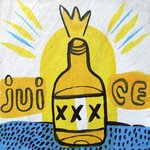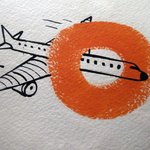 • Wow. I love it when one of our books gets the "I hate this book so much i'm going to devote three hours of my life and 20,000 words dissecting it" treatment. Fer fuck's sake, you could draw an entire mini-comic in the amount of time it took to write this vitriolic review. Someone named "Abhay" (does this guy/girl freelance for the Comics Journal?) over at The Savage Critic takes Jeremy Tinder's Cry Yourself To Sleep to task and all i can say is, i think someone has some Mommy/Daddy issues. I mean, i'm all for a good critical drubbing, provided it's actually, well, you know... critically minded. I almost never point out negative reviews of our books, but this is actually laughably funny. I think someone here needs to find a good therapist.
• He's a video blog featuring an interview with Jeffrey Brown at Bif! Bam! Pow! Wow!.
• More short video interviews over at Express, courtesy of Scott Rosenberg and Christopher Porter.
This one with Matt Kindt, and this one with Jeffrey Brown.
• Mike Bonanno was a guest of my pal Doug from Oni at my pre-Stumptown cocktail party, and he just sent me this great Flickr set of pics he took.
My god, how cute is my kid. That's him giving "respect knuckles." Chuck BB in the background. (Carter's favorite album right now, by the way, is Van Halen 1!! You should hear him sing "Jamie's Cryin'.")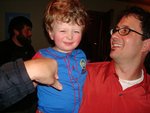 • Jesse Reklaw recently threw down with an amazing, dense mini-comic called Bluefuzz, and i'm here to tell you, this is some of Jesse's best work to date. The titular hero Bluefuzz's existential journey in 48 pages is a freewheeling beautiful ride. Featuring a small handful of full-color painted pages too.
I picked this up at Stumptown from the Sparkplug table. Sadly, i can't find any info online about this fine little comic.
• Tom Spurgeon interviews my old buddy, CBLDF Director Charles Brownstein at The Comics Reporter.
• JP Coovert gave me his new comic Adrift at SPX, and it's wonderful. My favorite book of his ever. Maybe autobiographical, maybe not; the narrative uses oceanic creature metaphors to beautiful effect. Well done, JP! It's not available yet at One Percent Press, but i presume it will be soon, and worth tracking down.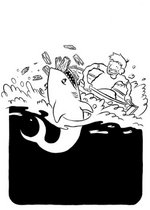 • One of my scores from TCAF in August is a mini-comics sketchbook by one Michael Cho, called Papercut. I'd never heard of this guy before nor had i seen his work, but mark my words people, we ALL will sooner than later. This guy is an AMAZING illustrator and cartoonist. (He drew THE most kick-ass Iron Man in my Avengers/Kirby's 4th World Sketchbook.) Check out his website and be prepared for some luscious art.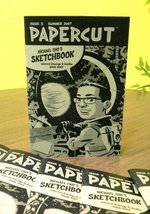 • Steve Lafler has a new online comic, called Diva Funnies. Yay!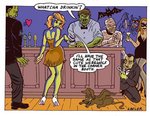 ---
SPX 2007 is come and gone now and it was fun fun fun. I've been attending this show since 1996, when David Lasky and myself were the only attendees from the West Coast. There are plenty of anecdotes about how awesome it was in the olden days, when Chris Oarr buried a pig in his backyard and we drunkenly swung at a pinata (this is the same house party at which i met for the first time folks like Greg Bennett of Big Planet Comics, Jeff Smith, and Shannon Wheeler), then into the years where attendance rose and Sunday became a giant picnic. When the show relocated last year i was one of those who bemoaned the lack of Sunday in the September sun... time to kick back reflect with ones peers and what have you. Well now that the show has moved to October, the weather isn't as nice, and besides which, the new hotel is so vast and comfortable, that i didn't really miss the picnic so much. Life is all about change, yes?
Check out this fun little SPX interview with Chris Staros by Scott Rosenberg and Christopher Porter at Read Express.
• Lots of stuff read from the show while traveling back home. This is only a smattering. I also have some photos i took, but i still need to load them.
• While i don't think there was a single "buzz book" that stood out from the crowd, i was given a handful of minis by a creator i might dub the "buzz cartoonist" of the show, at least for me since i'm not familiar with his work. I don't recall meeting him, but i ended up with a handful of mini-comics by self-publisher Joseph Lambert. His art and stories are wide-ranging in style, but man can this guy draw! My favorite was hands down a mini called Turtle Keep it Real. The other books were Thin Bear Loves His Brother and The Bait & Switch. Wonderful stuff.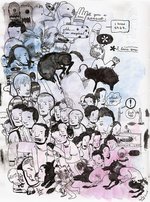 • Tub Flub, by Brad McGinty, published by Wide Awake Press, Drawn in a bigfoot style ala Renn & Stimpy. Very funny.
• Our own Rob Venditti continues to surprise with a prose chapbook titled Dads, also published by Wide Awake Press. This is a short and delightfully fictional account about growing up and the differences between a "real" dad and a "step-dad." Insightful and extremely well written. Visit the Wide Awake Press website and buy this now, please.
• The anthology Eats is the third and final entry from Wide Awake Press. It's not as good as their previous anthology 666, but it has a couple nuggets of greatness making it fully worth your while. With an (obvious) food theme, Ben Towle's Hush Puppies story was terrific. Rob Ullman privided a nifty story called "Crustacean Frustration" which, besides being a heartwarming tale of forgiveness and redemption, is a real fun cartoony departure from his more well-known proclivity towards drawing smoking hot young women (see below). Big ups to J. Chris Campbell. (Who, by the way received the award for seeming even as remotely drunk as i was on Friday night. Good god, i suffered a two-day hangover after that bender.)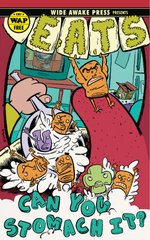 Illustration below by Rob Ullman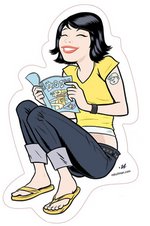 • After gearing many good things i finally kicked down some cash at the CCS booth for Ken Dahl's two issue of his series called Monsters, a (loosely?) autobiographical story about contracting herpes. It doesn't sound like it could possibly be one of my favorite books of the year, just from this description, but it's fucking amazing. I'm hooked... can't wait for the next issue! I couldn't find a website for him, but he has a section at I Know Joe Kimple.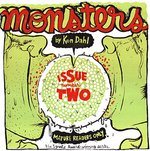 • Aaron Renier returns to comics, taking a break from his kid's book, and gives us the first chapter in a riveting detective thriller The Karaoke Encryption. A story about a tomato gumshoe named Thomas "Guns" Atillo (aka tomatillo!!), this little gem is as layered and textured as Spiral-Bound, his Top Shelf masterpiece. An amazing little comic... More! More! More!
• Next up, another comics narrative by a young Jewish cartoonist looking to return to their roots. Sarah Glidden handed me issue #1 of her ongoing story "How to Understand Israel in Sixty Days or Less," and i must say it's a fine effort. Her art style is loose and expressive while maintaining a balanced realism that helps the somewhat intense subject matter. Nice work. I hope she finishes this and finds a publisher for it. We need more stuff like this in the marketplace.
• Drew Weing brings his magic touch to the Fluke 2007 anthology, proving that not only is he one of the most imaginative cartoonists in recent years, but his eye for bring other high-level creators into the mix is also genius. Since this is "just" a convention-based comic it's likely that this superb anthology will be over-looked, which is criminal. Stand-outs include contributions by Shawn Cheng, Patrick Dean, Joseph Lambert (THAT guy again!), Mike Laughead, Dorothy Gambrell, Joey Weiser, Eleanor Davis (of course), Ben Constantine, Matt Wiegle, Michele Chidester, and Chris Wright. The ace in the hole goes, not surprisingly, to Drew himself with the magnificent "Algernon Lamb: Aesthetic Detective," a tight little masterpiece... in fact, i officially nominate this for Best Short Story of 2007, it's that well crafted.
If you like a good indy anthology comic, this is really as good as it gets.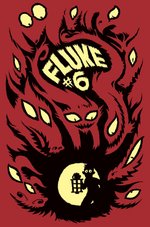 • James Hindle keeps making great little mini-comics, and they get better every time. He gave me a copy of Folded Paper Assembly #3 and i loved it, especially the lead story "Broken Necks." Like a fun mix of Steven (Ribs!) Weissman and early-era Adrian Tomine. I'm really enjoying James' comics more and more.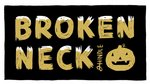 • Mr Phil of the incredible Indie Spinner Rack was on hand pimping the debut volume of the awesome anthology Awesome, edited and produced by Mr Phil and his cohort Charlito. Chock full of great comics, it was notable for me particularly for introducing me to excellent new talent (for me at least) like Alexis Frederick-Frost and Phil Jackson. Oh, and there's ANOTHER super rad comic in there by Joseph Lambert. Awesome.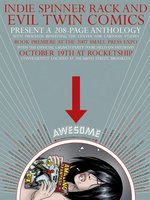 • Monster Island Three, edited by Billy Mavreas jumped out at me from Bodega's table. In the art-zinecamp, this artsy fartsy book from Conundrum Press is a fine edition to a welcome new category. It's not perfect but it has a ton of great art and a sweet essay, "In Defense of our Galaxy: On the publishing history of Jack Kirby's Captain Victory and the Galactic Rangers," AND a new comic by Bernie Mireault (who also has a new strip in the aforementioned Awesome anthology).
• Steve Hamaker kindly gave me his last copy of the new Shazam!: the Monster Society of Evil hardcover, written and drawn by Jeff Smith and colored by Steve himself. Wow! A choice entry in the much underrepresented all-ages category (especially from Marvel and DC), this is the first comic from one of the Big Two i've read in years, where i felt a reader didn't need a masters degree in mainstream continuity to enjoy it. A perfect example of how the big publishers can and should be making comics, if they ever hope to have a chance in hell in finding and developing new young readers. More please.
(Steve, i really owe you one. And thanks for the props on your own blog, eh?)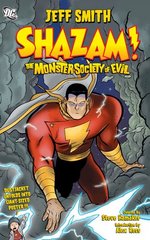 • My favorite book of the trip probably wouldn't even register to most comics readers here in the ol' U.S. A retrospective of the life and output of the highly regarded French publisher Editions Cornelius. Focused more on the art than the history, Cornelius: ou l'art de la mouscaille et du pinaillage is the sort of dreamy book that makes my heart all aflutter. The only similar book i can think of in this category is the also wonderful book, 25 Years of Kitchen Sink, which came out a long time ago.
Cornelius publishes some of the world's greatest authors, and has published the definitive editions of David Mazzuchelli's ground-breaking stories from the seminal three volume Rubber Blanket series. And to prove how great publishing minds think alike, compare the gorgeous Crumb cover to this crazy cool tome, to our own Seasonal Sampler, art directed by myself and drawn by Jeffrey Brown. I swear on my Mom's grave i never saw this before we completed the Sampler.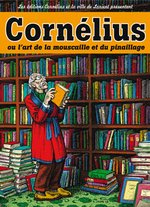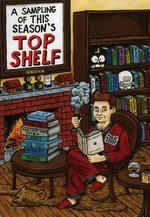 ---