you're a mean one...
December 20, 2007
Mr. Grinch!
The kid LOVES this movie right now. In fact, he loves all the Christmas movies he's seen thus far. Ah, Christmas.
•Â Van Jensen declares Jeff Lemire Best Artist of 2007 at Graphic Fiction!
Congratulations, man.
There's also a nod that Top Shelf (blush blush) is Publisher of the Year! And i think Van said that Super Spy by Matt Kindt gets the nod for Graphic Novel of the Year! Whoo hoo!
• Andy Runton is featured over at Broken Frontier.
• Beautiful new Christmas jpeg from Dino Haspiel.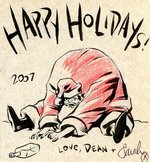 • And one from the Center for Cartoon Studies, drawn by Dane Martin.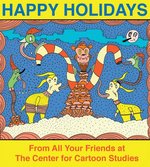 • Tom Spurgeon interviews the ever-affable Tom Devlin at Comics Reporter.
(Cover of Coober Skeeber #2 (The Marvel Benefit Issue), the book that put Devlin, and his Highwater Books label, on the map.)