r.i.p. evel knievel
December 1, 2007
Meanwhile, life happens. You know what i mean? I remember almost ten years ago, the day that my Dad died, and all i could think was,"Stop the world!! Doesn't everyone see what just happened?!!!" But the world rambled on, not even a bump in the road.
Here and now, besides the loss of a childhood hero in Evel Knievel, events have transpired that have turned my own personal life entirely upside-down. My apologies for the long long delay. Details are irrelevant really, but let's just say that my monthly household income is now greatly reduced, while the bills keep piling on.
I'm in a financial bind because of my current situation, and so i'm going to sell many of my Russ Cochran, oversized, b&w EC sets. I've done some research online as for pricing, and have priced the books based on the overall average of each set for sale. I'd prefer to receive payment in the form of a check. All prices will include shipping. Contact me at brett@topshelfcomix.com if anyone has any interest.
If PayPal payment is preferred, i'll have you send funds to chris@topshelfcomix.com. But please contact me first to confirm i still have the set on hand. All sets are in very good / excellent condition.
Two-Fisted Tales: $300.
Frontline Combat: $375.
Haunt of Fear: $600.
Shock Suspenstories: $225.
Vault of Horror: (I can't find this ANYWHERE online, so i'm pricing it as $600.)
Weird Science: $200.
Tales From The Crypt: $150.
Meanwhile...
• How cool is THIS!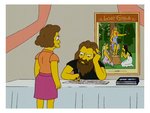 • Continuing with the ROM: Space Knight art theme by Top Shelf cartoonists, here is a KILLER piece by Jeff Lemire.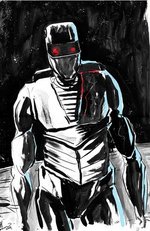 • Wordstock, the annual Portland book fair, was a few weeks ago. While it doesn't generate the same sort of ducats that a traditional comics show does, the intangible benefits make it worth our while to attend. Leigh manned the table most of the time, and we got to schmooze and meet lots of people outside of the world of comics. The importance of this sort of outreach is hugely important, as the very business models of selling graphic novels is morphing before our very eyes.
I picked up some cool swag at the show...
My Hunger for Venison by Gary Baseman, published by Baby Tattoo Books. I've LONG been a fan of Baseman's work, but to be honest, for the last several years he's been fairly redundant. This book landed in my hands courtesy of Bob at Baby Tattoo, and wow! What a left turn, and one i highly recommend.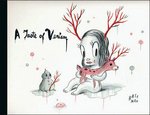 I had some swell neighbors at the festival. Right across the isle was Eric Reynolds of world-renowned Fantagraphics. As was Portland based publisher Hawthorne Books, and talking with Rhonda Hughes was great fun. Next door was Matt Love of Nestucca Spit Press, who published the fabulous basketball book Red Hot and Rollin', about the 1976-77 Championship Season of the Portland Trailblazers. I was ten or eleven when the Blazers won the championship, and man what a wild ride that was. I can't wait to dive into this book.
McSweeney's had a presence at the show as well, and as i'm occasionally known to do, i picked up a book SOLEY because it had an incredibly designed cover. (Well, and it IS a McSweeney's book, after all.) In this case, the debut novel Bowl of Cherries, by Millard Kaufman.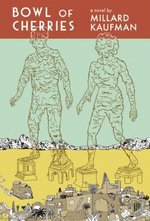 • Brett Weldele continues to produce mind-blowingly cool posters for the annual Portland-based Grindhouse Filmfest. Here's his newest from the fest a couple weeks ago, plus another look at posters he's done in years past. (Congrats too to Brett, for the BIG NEWS about the Surrogate movie news!)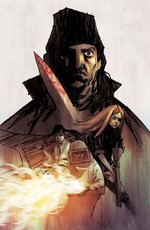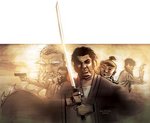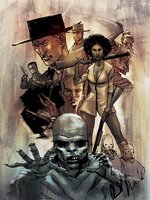 • Matt Kindt … who's book Super Spy has just been declared Indie Book of the Year by Wizard magazine … has a bitchin' new Flash comic up online.
• Here's a swell new drawing by Aleksander Zograf for an Italian glam-rocker.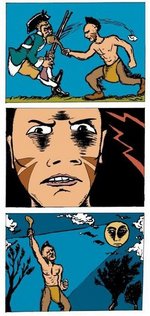 • Max Estes has a new website. This cat sure can draw!
• Been listening to some old records of mine, what with all the change going on around here, reflecting, and all that sort of stuff. Popped in a record i wasn't sure held the stood of time, All Shook Up, by Cheap trick. Released in 1980 (when i was a sophomore in high school) and produced by the legendary Beatles producer George Martin, not only does this stand up, it rocks better and harder than most of the crap the kids call rock & roll today. Fuckin' A!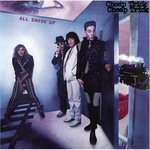 • Finally, in honor of the great one, check out this killer YouTube clip my pal Gregor Benton sent to me this morning, and enjoy this eulogy my friend Wayne Shellabarger wrote:
Today we mourn a great American hero, hell, just a great American. Evel Knievel, may your sky-cycle carry you safe and true, high over those pearly gates and St. Peter and his big golden book where your name may or may not appear. "Shoulda built the fence higher, St. Peter motherfucker!" There's a brand new skeleton and a fresh liver waiting for you there, where you'll amaze the angels as you jump over all the dead rock stars jammin' with Jimi Hendrix. I can't wait for all the specials and tributes. Maybe a biopic starring Matthew McConaghey! Until then i'll settle for my $4.98 DVD starring George Hamilton as Evel and my treasured DVD of Evel's greatest jumps.
• Thanks for listen, people. I'm back now, and updates will be frequent.