October 8, 2007 / More →
THINGS I LIKED RECENTLY:
• The MAD War on Bush. A collection of strips from the last several years of the worst presidency in the history of the USA. VERY funny stuff. I laughed and i cried too, because some of the mock-able shenanigans of the administration are more frightening than funny. Picked this up at Samurai Comics in Phoenix when i was down there visiting family this last week.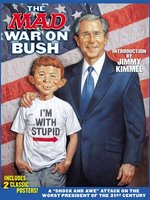 • Pinwheel, by Mike Bertino. Given to me at the Stumptown Comics Fest last weekend by my pals at Tender Loving Empire, this little comic is a formal tour-de-force, and oh so good. Mike was doing mini-comics way back in the day (most notably his ambitious 4-issue mini-series Trigger), then sort of disappeared to go to school. Well now he's back, and the world is a better place for it. Worth tracking down. It's a little spendy at $10 plus shipping, but it's got a trick screenprinted cover and is limited to 250 copies.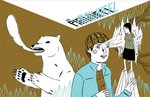 Mike's website is also chock full of tasty art.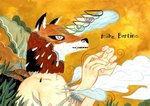 • Tripwire Annual 2007. This reboot follows a four year hiatus, and it's excellent. The previous run was really hit or miss, leaning more often towards the miss side for my tastes. The new ish is a huge leap forward, and if it wasn't for the weak comics section near the back, would be one of my favorites of the year. The bitchin' Hellboy cover by Duncan Fegredo is almost worth the cover price alone.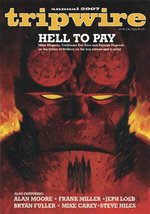 • Comic Foundry #1. Love it! Love it! Love it! I've raved about this many times in the past. Three words. Buy. This. Magazine.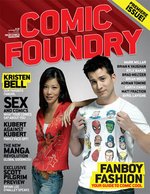 • I wrote before how much i loved the art of Laura Park with her comic Do Not Disturb My Waking Dream. Well, since i gave my copy to Gregory Benton for letting me crash it his pad during MoCCA, i finally finagled a swap with Laura for a new copy of my own. I read it. Fucking amazing! Arguably my favorite new indy cartoonist to come along in ages.
Laura, do you wanna do a book together?
• Speaking of Stumptown... this was yet another year besting the previous one. I dig the new location and hope it stays. Had fun. But i still can't believe that a town that is arguably the freaking MECCA for comics in North America doesn't burn down the house with rockin' success. What gives? I had way more business at my table at TCAF in Toronto several weeks ago.
Still, BIG BIG props to all involved. It was a breeze to work, the staff and volunteers were great. This was really the first year that gave me hope that this will eventual evolve into a real and truly vital comics show.
Michael Ring of the excellent retail store Bridge City Comics took this snap. God i look like a dork. (It only makes sense.)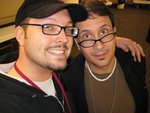 •Â So i did a HUGE music purge recently (loading lots and lots of partial albums into my iTunes), and picked up some new records in trade, all recommended. Four On The Floor, by Juliette Lewis & The Licks; Revival, by John Fogerty; Magic, by Bruce Springsteen; Sounds of Mass Destruction, by Annie Lennox; and a nice (used) reissue, Jimmy & Wes: the Dynamic Duo, by Jimmy Smith and Wes Montgomery on Verve Records. It's amazing to think of the cumulative music making experience behind Annie, Bruce, and John. What, a century and a half almost? Three people. And they're still kicking out killer new projects. I picked up the Juliette Lewis one on a hunch, having seen and liked her on the tube on stuff like VH1's I Love the 70's show and whatnot. I'm glad i did. It rocks seriously hard! The band is tight and Juliette is on fire. Pure power pop at its finest.
• Meanwhile, here's a series of drawings my a very short-lived intern i had this Summer named Andy Kettler. The kid can draw! This was a series of rounds of drafts he did for a poster i'm going to have another intern poster around Portland.
---
John Weeks sent out an email update for his excellent site Comics Lifestyle. I notice he's done a fine revamp of said site as well. I really dig this vintage-style header!


• Bill Barnes and Gene Ambaum of the wildly successful library-based comic strip Unshelved, have served up anouther fine comics-review of Alex Robinson's Box Office Poison. Thanks for the props, guys.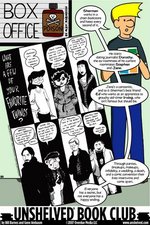 • Kevin Moore is back on the editorial cartoon bandwagon with his strip called In Contempt, and man he's funny as shit! Welcome back to the political fold, Kevin!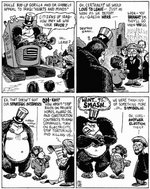 • Jen Contino interviewed Alex Robinson back on teh 17th at The Pulse, regarding his new comic Lower Regions. Check it out.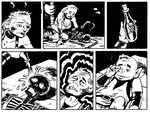 • Matt Kindt has a new blog and a newly designed Super Spy page as well. The man is a fucking genius!!!
• Issue #3 of C'est Bon is out (sporting a cover by the great great James Jean), and this humble Eurocentric anthology continues to impress. A vital new voice in international comics available to the North American audience, on the same level as the likes of Papercutter, Mome, and You Ain't No Dancer. Highly recommended.
• Tom Hart is at it again:
"I've teamed up with the terrific folks at The Panelist, a website about investing ethically, to start a new weekly strip, The Money Warrior!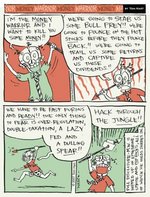 "The Money Warrior's on the hunt! He's current, direct, ruthless and primal! The Money Warrior wants to kill you some money!
You can keep up by checking www.thepanelist.com or www.themoneywarrior.com once a week.
"The Money Warrior started as a bit of a parody of Jim Cramer of Mad Money, and in fact I created the first iteration for my Metro strips. But those strips reminded me that in the end, I dislike parody and that I'd rather invent my own creations, something new from a starting point of parody. The folks at the Panelist recognized a similar traveler in the Money Warrior, and asked for more."
•Â I've been cleaning up my desktop and archiving lots of "stuff" lately. Some great offbeat/rare art most of which were jpeg email attachments, which i plan to slowly start running here at Hey Bartender!.
Here are two stunning cover paintings that Scott Morse created for a book he may or may not do some day for us called Lyrical Whales. I'm keeping my fingers crossed.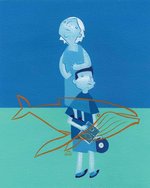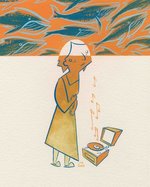 And here's a nifty coaster design by Max Estes.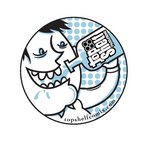 ---
2 of the guys with the coolest names ever … Bwana Spoons and Justin Scrappers … are currently exhibiting an art show at Bwana's fabulous gallery space / hipster boutique store Grass Hut. It's fucking amazing. If you are in Portland anytime soon, you really should check this out.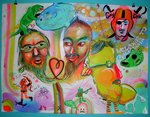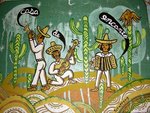 • Punk rock cartoonist extraordinaire Fly is conducting a DIY Comix & Zine-Making Workshop through MoCCA. It's a 6 week course, every Thursday 6:30 - 8:30 p.m. from September 20 - October 25. Class is limited to 15 so sign up today!
Sept 20 - Introduction - developing story ideas & scripting with guest Abby Denson
Sept 27 - Page Design - thumbnail sketches & research with guest Edowyn Vazkez
October 4 - Final Pencils & Inking Techniques - with guest Sabrina Jones
October 11 - Extra work week - to catch up & get help with any problems - with Fly
October 18 - Production - "paste-up" - copying & distro - with guest John Holmstrom
October 25 - COMIX & ZINE-TRADING PARTY!! - open to the public! - free for MoCCA students & members - $5 for everyone else - OR - bring some zines to trade & get in FREE!!!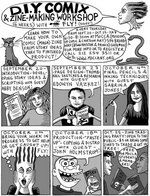 • Here's an interview with James Kochalka's editor at Random House, Nick Eliopulos. It's pretty interesting actually.
(Random House published James' most recent kid's book, Squirrely Gray.)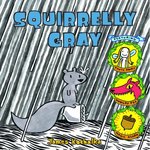 • John Malloy is having a solo show at the Gspot: Audio/Visual Playground in Baltimore next weekend.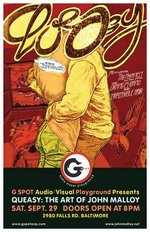 • o.k. who amongst you doesn't love dolphins?
Or whales? Anyone? I didn't think so. Let's talk about life on Planet Earth. If you read this blog for the comics, then skip this one.
Here's a very disturbing news article i read last week that brought me to tears. Most readers of Hey Bartender know that i'm big big big on marine life and the oceans. (I've been glued to my television and staying up waaay past bedtime lately watching the BBC produced Blue Planet. Highly recommended.)
In a nutshell, an appeals court overturned a ban on the US navy's use of sonar in upcoming training exercises off California that was aimed at protecting whales disturbed by the subsea emissions. How utterly depressing.
Here is a petition with singer James Taylor attached to it, directed to the Secretary of the Navy.
Most of my letter-writing is directed to our Congress-people and Senators, but in this case, the situation is out of their prerogative, so i used this petition to make my voice heard.
---
Sorry for the long wait, folks. I've been up to my eyeballs with work work work. Good thing i absolutely love what i freaking do, eh?
That said, three stellar new books are now finally off to the printer: Jeff Lemire's long-awaited second entry in the Essex County trilogy, Ghost Stories; Chris Staros' Yearbook Stories (with art by Bo Hampton and Rich Tommaso); and Alex Robinson's fabulous love-letter to Dungeons & Dragons, Lower Regions.
• Meanwhile, The Stumptown Comics Fest is a mere three weeks away, and i'm getting fired up. We'll be co-hosting a bitchin' after-party on Saturday at the Tonic Lounge with Fantagraphics, featuring The Morals, Fox Hollow, and Tractor Operator (for a record release no less!). Saturday, September 29th, $6, doors at 9:15, 21 & over. We'll have a typical merch table setup like at any rock show, so come out and kick ass!
That same night Cosmic Monkey (now residing ONLY at the Sandy Blvd location), is hosting the first annual Stumptown Trophy Awards. Not much available info on that yet.... stay tuned.
Stumptown poster by Sarah Oleksyk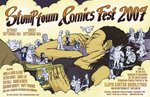 • Steve Lieber sent this out, worth noting. Formerly Mercury now Periscope Studios is a serious hot spot in the comics world.
"When our studio changed its name from Mercury to Periscope, I thought we were sort of stuck with our old blog URL. I was happy to stumble upon a button in the blogspot dashboard that enables you to move your content to a new blogspot URL, (subject to availability) and I used it. Bang! All of our content was now available at periscopestudio.blogspot.com . Boy was that easy, and it It didn't offer up any sort of warning, so I assumed that the mercurystudio.blogspot.com address would keep the old content.
"Hoo boy, no. Within minutes a spammer took possession of our old URL and pasted viagra and porn ads into a google cache of our site's template. I've written blogspot's support, but their help forum is full of people complaining about never getting any reply from blogspot support. I'm not expecting much help there. In the meantime, we're writing to you, our friends in comics, asking you to change your Mercury Studio links to this."
• From our good friends at Stripcore... if you happen to be in Finland next weekend.
This year, the Helsinki comics festival, the biggest event of this kind in Finland and whole Northern Europe, will host Stripburger for the second time. It happened for the first time in 1999 and now your favourite Slovenian comics magazine is back to the scene of crime with the Honey Talks exhibition to present comics based on painted beehive panels to the Finnish and international audience. In the past (this year is the festival's 22nd time) the festival already hosted celebrities such as Moebius, Enki Bilal and Will Eisner among this year's guests are Christophe Blain, Yvan Alagbe, (France), Keitaro Arima (Japan), Olivier Schrauwen (Belgium) and Gunnar Lundkvist (Sweden) and Helge Reumann (Switzerland) in a joint project. There'll be 14 exhibitions in all (the Stripburger's one will take place from Sept. 12th to 30th in "Jangva" contemporary art gallery), and the main programme will take place September 15th and 16th in the "Gloria" cultural arena.
• I have been reading stuff periodically. Most recent novel was the new edition of Jack Kerouac's Darma Bums, with the nifty cover by cartoonists Jason. Stellar novel. Totally inspiring.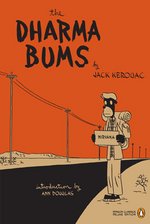 The bedside table kept hostage a book i picked up waaaay back at MoCCA from old friend Ria Schulpen (Bries distribution) the second volume of her anthology Hic Sunt Leones ("Here be Lions") featuring all Flemish artists. It's entirely in English … in fact my pal Mark Nevins was one of two translation editors. It's in full luscious color and a visual explosion. As per anthology rules it has its hits & misses, but here even the misses are incredibly illustrated. There's a great review here at the Forbidden Planet website, as well as some nice background info on Ria.
Cheers, Ria!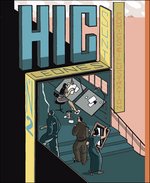 Just picked up and immediately devoured Brian Wood & Ryan Kelly's outstanding Oni Press book Local #12... the Austin TX issue. Brian's formal conceit with this series is great, and this issue is really out of nowhere, and yet one of the most powerful comics ever, revolving around the life and fate of a young man who grew up with one big ass-hole of a dad. Tragic and all too common sadly. This is great great stuff. Each issue is self-contained, but the cumulative experience of reading this (GASP!) serialized is wonderful. Brian did similar work with Becky Cloonan on Demo which i also recommend. There are very very few comics i prefer over the trade, and these are two of them.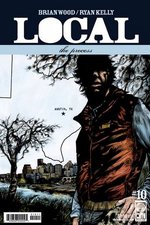 Will Dinski gave gave me a wildly killer very rare hardcover comic, either at MoCCA, San Diego, or TCAF... man, i don't recall. In any case, "Beautiful, Cool and Irreplaceable," the story in Habitual Entertainment #4 is awesome. The twisted sordid tale of rarified Hollyweird freaks, hell-bent on self-image, power and ego really gets under the skin. His art reminds me lots of vintage Pete (Hey, Mister) Sickman-Garner, and his black black humor actually does too. Wicked good comics, also recommended.
Will is doing some excellent comics. Check out this strip on the comix section of our own website, and if you like, for god's sake find more.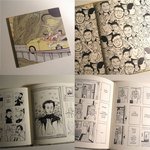 • Just In... NEWS from Dave K. Comics:
"I designed a T-shirt and it goes on sale this Monday, September 10 for only ten dollars. After Monday, the shirt will be available for a week at the price of $15. WOOT features a new t-shirt everyday and this is the first one I designed for them. It's a funky rollerrink logo silkscreened on an orange T-shirt. Available in a variety of sizes."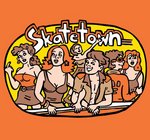 ---
August 30, 2007 / More →
My friend Gary Butler who writes the comics column Blood in Four Colors for the horror magazine Rue Morgue) wrote this to me last week regarding Matt Kindt's new book Super Spy:
"Good god, man, what a masterpiece. I already sensed the absolute brilliance of a writer/artist at the top of his game when I read (and loved) the advance pdf version but !!WOW!! what a difference a physical book makes. The hell with espionage…Super Spy is quite simply a note-perfect argument for why print must not die.
"To the story/art: I reread the book last night (first 'physical' reading, though) and ONCE AGAIN tonight. This has shit-all to do with our friendship…this is about top-level comics that demand extra attention without draping themselves in pretentiousness.
"No doubt, I didn't 'get' the whole story on the first read (well, nor the second; I ain't as sharp as I once was, and I've probably been pistol-whipped a few times more than I care to admit), but the best part about Super Spy is that Klindt neither wants nor NEEDS readers to 'get' it completely on the first pass. Other (lesser) creators brimming in pretense want (in fact NEED) the same thing, but it's all about self-validation for them, which is the wrong reason, even if it's subconscious. Klindt wants…yes, NEEDS…nothing more than for the reader to have as much fun as he's having; what a saint.
"As to my point about the 'physical': RAMMED home within the first few pages, the minute the 'distress' treatment kicked in. Sure, it was there on the pdf, but there's no comparison. What a superb idea, making each individual reader feel a part of the spy network by putting pages-that-have-been-through-hell in their hands. They must know someone connected to get so far! Seriously: a beyond-effective, subtle touch.
"Where does this book need to get reviewed in order to be considered Eisner-worthy? (Don't tell me them judges make up their minds sans media credit.) You should targeting the big guns with this one, because the second read made me realize that it wasn't just brilliant fun…it was just brilliant."
• Dave K has some new comics up on his website. Please note the new URL:
www.davekiersh.com
• From Fantagraphics:
Friday (Aug. 31) from 6:00 to 8:00 PM at Fantagraphics Bookstore & Gallery in welcoming two of the country's most celebrated cartoonists: Kim Deitch and Megan Kelso.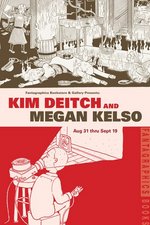 • James Kochalka's book, Squirrelly Gray, was just released by Random House. He made an animated "trailer" for the book, with his own voice doing the narration and voices. (And a little piece of instrumental music from his old rock opera Carrot Boy the Beautiful as the background music.)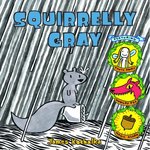 • Jason Hall has some new books from Dark Horse to pimp, Clone Wars Adventures Vol. 10 and Hellboy Animated Vol. 3: The Menagerie.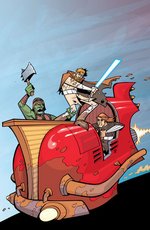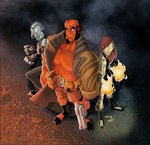 •Â Finally, you saw them here first, the next two covers in Christian Slade's gorgeous Korgi series.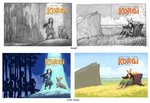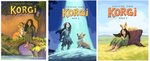 ---
August 25, 2007 / More →
• Oh, and did i mention how much TCAF rocks the f*cking house! I met so many cool people, partied my ass off, and had a successful business trip. Kudos to ALL involved, especially superman Chris Butcher, who makes it all happen. I met J Bone, Michael Cho (Holy Mary Jesus Buddha this guy can draw like a MoFo), Willow Dawson (see below), volunteer Caryle (hit by a car while riding his bike during the convention), who ended up being something of an assistant throughout the weekend, and girl-duo supreme Amanda & Victoria, two hilarious volunteers who had me in tears. So much more... great dinners with Jeffrey Brown and Jeff Lemire and Jeff's delightful wife, much late-nite geeking out on super-heroes and music and politics and scotch with my pal Gary Butler. Besides dropping some of the weekend's take at The Beguling (the best comics shop i've ever been to) i also checked out a pretty new store called The Labyrinth (on Mike Huddleston's recommendation), which specializes in books on Animation, Illustration, Anime Art, Graffiti, Life Drawing, Sketchbooks, French Bandes Dessine, Concept Art, etc... fine shop. Good stuff, and they have a blog too. Who else did i talk with over the weekend?... Jim Rugg, Paul Gravett, Dan & Katie from Green Brain Comics and so many more.
I still had unread piles of comics, mini-comics and graphic novels from San Diego before i left for Toronto and now i'm treading water while my basement office fills with yet-to-read books. Yeesh. (Content for future blog updates, i suppose, eh?)
• Met a guy there named Aaron Navrady who did this fabulous hockey page.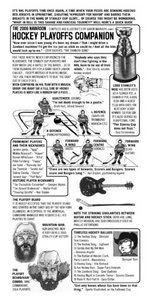 • Also met Willow Dawson, who gave me the Find Of The Show for me. It's a small, folded, painted full-color booklet, and it's a gem. Really really wonderful work, and an big empowerment ride for girls.
• Meanwhile, there's yet more new comics on our website, this one by Felix Tannenbaum. Check it out.
• Top Shelf alum Max Estes has a new online daily strip, called My Life as a Bunny. It's beautiful and fun. Also worth a look.


• Another Top Shelf alum, Josue Menjivar has a new book out, Everyday Things. You can learn more about it at his website, Fresh Brewed Illustration.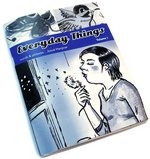 • And yet another Top Shelf alum, Josh Simmons has an art show coming up at David Youngblood's tiny but tight gallery, The Pony Club.
"STEAK & BEER: 10 Years of Comics, Paintings, Music and Porn by Josh Simmons
The Pony Club Gallery is proud to present a retrospective of comics and art from alternative cartoonist and journeyman, though currently Portland based, Josh Simmons. While comic centric, the show includes paintings, photography and video ranging from the viciously satirical to the embarrassingly autobiographical to the sickening pornographic and to the gut-fuckingly hilarious. Starting 10 years ago with the early, long out of print mini-comics, Lick and Twitch-Happy. Traveling on, to the Top Self publications Cirkus New Orleans and the mini-series Happy, which documents his time performing with a sex circus, the End Of The World Cirkus/Know Nothing Family Zirkus Sideshow. And onto the current horror graphic novella, House, published by the prestigious Fantagraphics Books. Dotted throughout with a smattering of his cartoons-fucking-flesh-people from the ten-issue photo comic, All About Fucking and the bootleg Batman comic, which DC Comics would most likely never care to see the light of day. Drawings and comic pages will hang side by side with other works that reflect the artist's life during his many travels and experiences."
First Thursday, September 6, 2007 6:00-10:00pm. Pony Club. 625 NW Everett St #105. Portland, OR 97209. (503) 334-7658. The show runs through October 2, 2007.
• Joe Keatinge from Image scored me a most excellent and unexpected book, called Intersections, that may have slipped under the radar. It's a back & forth jam book by Duncan Fegredo and Sean Philips, two MASTERS in contemporary comics. A visual and conceptual tour de force.
• Hey, Bartender reader Domen Finzar from Slovenia sent me this fun link; an ongoing project featuring alternative cartoonists doing interpretations of Spider-Man. He's looking for contributions folks.
• David Yurkovich has created a great new web-page for Death by Chocolate.
•Â Finally, here's some miscellaneous images i've had on queue to post.
Old Man Briefcase, by Tom K. (Who i also chatted up at TCAF, in addition to his table-mate, the affable Jon Lewis.) Tom graciously gifted this original art to me, after i'd been drooling over it back during APE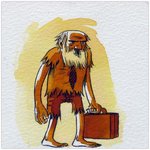 Wolverine, also by Tom K. (So cool!)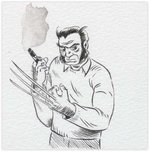 Bunny Shaker by Jeremy Tinder. A spot illustration made for a small cocktail party i hosted when he was in town for his show at Floating World.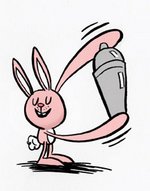 ---
August 16, 2007 / More →
The new issue of Clutter magazine is out, and it has a beautiful 3-page feature spread on our good pal Bwana Spoons, of Grass Hut. Bwana's work is positively dreamy, and it's wonderful to see him finally starting to get the props he deserves. Whoo hoo!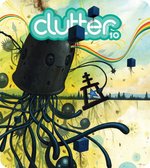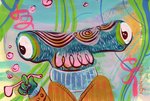 • i received an excellent, unsolicited comic book in my po box a few weeks ago, called Into the Dust. It's issue #1 of a 12-issue, full-color series, and it's excellent. You can learn more at Into the Dust.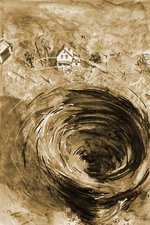 • I've been remiss as of late in updating this thing... and if there are any readers out there waiting with baited breath, my apologies. That said, there are countless blogs far superior to this one that update daily or close to.
• There's so many nifty comics and books i've picked up as late. I'm still catching up from some of the items i picked up at MoCCA, let alone San Diego. And now i'm leaving on Friday for TCAF (Toronto) where it's certain i'll be getting even more cool swag. As i've said before, i simply don't have time to write lengthy reviews. Needless to say, if you read it hear on Hey, Bartender, unless otherwise noted, it means i really dig it, and endorse seeking it out.
- The Art of Luca Tieri: a beautiful sketchbook by the self-titled Italian cartoonist, published by The Department of Art and Power. Gorgeous stuff in the now-ubiquitous "animated" style popularized in recent times by the likes of Bruce Timm. The content skews less towards men-in-tights though, and more towards indy culture. Great stuff.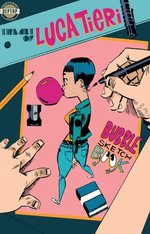 - Everybody Takes a Turn, by Vincent (King Mini) Stall. Yet another superior "mini" comic, stock with a separate screenprinted case, this story is like a dreamy mushroom trip … a little hard to follow at times, but the ride is the important thing, not the destination. And like the rest of the known world, he has a killer new blog, always worth a peek.
Vincent's shit rocks the house. He's been promising a book for us since the 80s!... Vinnie?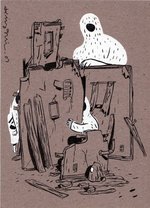 - Injury, by Ted May. Hopefully but the first of many many more issues by one of today's most criminally underappreciated cartoonists of my generation. Ted May's work might not provide insightful observations on the human condition, and that's o.k. Because what he does provide is pure F.U.N. Published by Buenaventura Press.
I absolutely love Ted's comics, and cannot recommend them enough.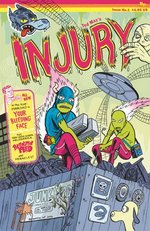 - Ratatouille: Little Golden Book. I still have yet to see this film (heck, i just in the last several weeks watched Cars for the first time... and Cfunk LOVES that one), but Scott Morse scored this for me from the Pixar studios, and it's a gem. Those folks at Pixar well and truly "get it." I'm not sure how many stores carry this little treasure, but i found it at Amazon.
Thanks, Scott!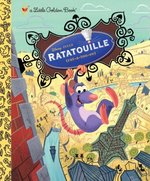 - Multiple Warheads, by Brandon Graham. Holy good lord in heaven above, this is one stunning book. I'll be honest, Brandon's early work was, well... developmental. But this sucker … published by Oni Press … is outstanding. If i had to define it, i'd call it a cross between new kid (and Brandon's pal) Corey Lewis and old-school ink-stud Paul Pope. And like both mentioned cartoonists, where plot and story may be lacking, the shear vision and execution more than makes up for this. In a word, "WOW!"
Oh, and by the way, in researching this post, i just discovered that Oni has recently updated their website. Tres chic, oui!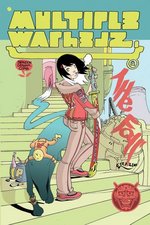 - Amelia's Magazine #7. This British hipster/lifestyle publication rivals any and all of my favorite domestic mags (such as Flaunt, Mass Appeal, Swindle, Giant Robot, Beautiful Decay, Vapors, etc.). I can't tell you whether it's widely available here in the U.S., but i've been finding it at my local Barnes & Nobel.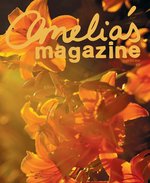 (Hey, i'd buy it at a local independent bookseller, but truth be known, they in Portland simply don't have the wherewithal to carry it... a real bitch of mine these days. You always hear about the indies complaining about the chains, and yet i rarely see the indies stocking anything but the most common books on the market, instead of those offbeat rare oddities that readers will not find at the chains.)
• "THE LAND OF BROKEN HEARTS": A RARE EXHIBITION OF ARTWORK BY AL COLUMBIA
Floating World Comics presents a rare and exclusive opportunity to view new work by the acclaimed and elusive artist Al Columbia. September's first Thursday will see the debut of "THE LAND OF BROKEN HEARTS," marking the first public exhibition and appearance by the enigmatic artist in over a decade. The exhibition will feature a large collection of limited edition prints, original artwork, handmade books, and other ephemera from his Orange Sunshine Company, much of it created especially for this show. The artist will also participate in an informal Q&A during the event.
"THE LAND OF BROKEN HEARTS" is a new series of illustrations that serves as a preview for a new collection of work that Columbia will release in 2008 from Seattle's Fantagraphics Books. Floating World will have all of Columbia's published works to date on hand at the event, including The Biologic Show, Blab!, Mome, and Zero Zero.
The opening night reception will be documented on film by Kevin Belli, a Boston filmmaker who has been creating the documentary "Whatever Happened to Al Columbia?" over the last four years.
Floating World Comics
20 NW 5th Ave #101, Portland, OR 97209
Store hours: Tuesday - Sunday 11-7pm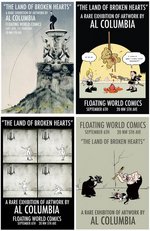 • And i'm off to Toronto for TCAF. Lordy i'm looking forward to this show. If it's half as much fun as the one two years ago, i'm in for a blast! I'm staying with my good buddy Gary Butler, the comics columnist (Blood in Four Colors) for the seminal horror magazine Rue Morgue.
---
---
August 9, 2007 / More →
Holy god, a couple nights ago i was surfing through cable tv for some background noise laying out Jeff Lemire's new book, when i stumbled across some young blond woman on PBS, on-stage playing guitar and singing up a storm. I was instantly impressed with this girl's pipes. And her song-writing as well. So i jumped online to find out who this was, and lo and behold it's Jewel.
I suppose that shows my age, maybe? I'd heard this name for years, naive and without a clue who it was. In fact, my presumption was that this was more likely than not just another poseur, hand-created by some slimy producer. But no, whether you like her or not, Jewel is the real deal. The last few songs of her set were with a small orchestra, her singing a cappella, and i literally had shivers running down my spine. Wow. Wow. Wow.
A quick search reveals that the television program was called Soundstage, and this episode was Jewel From the Rialto Square Theatre.
• Newsarama has a short interview with Nikki Cook … tres fabu artist of the Brian Wood-penned, forthcoming graphic novel, Dogs Day End.
Whoo hoo!
• We finally have some new comics up on our website, and they are awesome. In a more realistic manner we have the fine stylings and deep subject matter of Gabriel Frizzera, with the story "Heavy Metal Heart." Then on the opposite end of the spectrum stylistically, yet no less incredible, are some surreal comics in the art-brut school by Bart (Aardbart) Johnson.
Bart Johnson: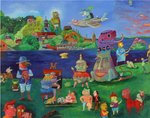 • Here's a pic of me sandwiched by my two of oldest pals in comics, Garret Izumi and Steve Lafler. We were out for cocktails that night (me…drinking mango mojitos), followed up by some activity out behind, well... never mind. (Photo by Garret!)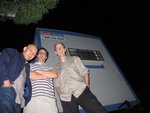 • Some cool books i picked up at San Diego. (Who knows when i'll have the time to read 'em... but even at a glance they look sweet.)
- Chance in Hell, by Gilbert Hernandez (Fantagraphics)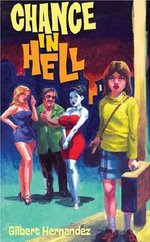 - Percy Gloom, by Cathy Malkasian (Fantagraphics)

Mean, by Steven Weissman, reprinting his earliest awesome self-published comic books (Fantagraphics) This is one of very very few comics, where the sheer delightful energy of Ribs!' self-published floppies are so damn cool, i'll keep both the original comics as well as the trade paperback collecting them.
Scrap Mettle, an art book about Scott Morse, designed by Chris Pitzer. Thanks, Scott! (Image) Wow! What an amazing collection of work by Mr Morse. Pen & ink, color work, washes, etc.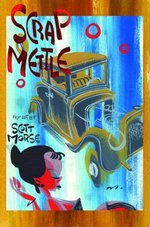 - Kent Williams, a stunning monograph, gifted to me…thanks Johnnie! (ASFA) Brilliant. The guy is a master.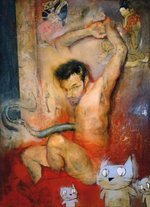 Comic Art #9, edited by Todd Hignite, designed by Jonathan Bennett (Buenaventura) This deluxe magazine is so good that it rivals Craig Yoe's seminal ARF! Chock full of high-carb comics calories, with fabulous contributors, contents, and a seriously lush design sensibility... kudos to Mr Hignite and Mr Bennett, and thanks to Mr Buenaventura for publishing it.
Pulphope, by Paul Pope and Chris Pitzer (AdHouse) I picked this baby up at Floating World here in Portland. Two words come to mind. Eye. Candy. This is a real gem, and the world is a much better place with this book now in print. Get one while you can.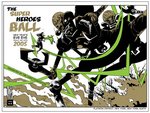 - The Ride Home, by Joey Weiser (AdHouse) A wonderful story, drawn with aplomb.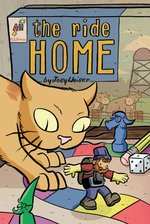 - Fleet Street Scandal, by Kevin Dart and Chris Turnham (self-published) Easily some of the most exciting new talent for me in years. While they each have very unique styles and concerns, they are at the same time very compatible as a team. I love the mix of sweet design skills and luscious chops. These are two to watch out for.
Kevin Dart: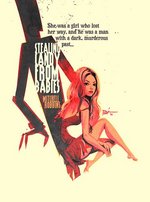 Chris Turnham: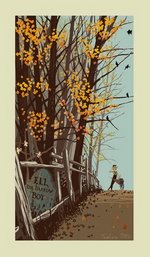 ---
August 5, 2007 / More →
Shark Week is wrapping up on The Discovery Channel, and all i can mutter is "whew!!" If this were Shark Month, or god forbid, Shark Year, my life would effectively be over. Done. I can't get enough of these magnificent animals.
If you dig sharks…and even if you think you don't…some of the programs i've been attached to this last several days have been insanely, impossibly amazing to watch. Hello, have you EVER seen the Great Whites in Southern Africa BREACH when they snatch seals from the surface?! Wow. There's lots of great clips on YouTube.
(This is from Amos Nachoum at Big Animals.)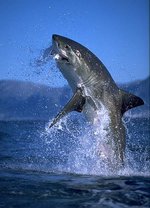 Check out this link (made of still photos), at Eric Cheng's Journal.
Or how about the two different guys who were getting snuggly with Great Whites and Tiger Sharks? One of whom was putting Tiger Sharks in a state of "tonic immobility," effectively rendering the shark nicknamed "Man-eater" completely homeless. The other one free-swimming (sans scuba gear) with both Tigers and Whites.
Too cool for words. Sharks have been tragically misunderstood, and are being killed off at a staggering pace. This type of mind-bending research is integral a better understanding of these perfect predators, and their effective conservation.
•Â And just so there's some comics content, here's a few beautiful watercolors by my ComicCon roommate, and creator of Korgi, Christian Slade. He made these during his trip to San Diego.
Thanks, Christian!
This one he did looking out the 7th floor window of the Embassy Suites, on Eddie Campbell's bed, looking out on the harbor.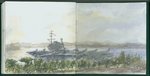 ---
August 3, 2007 / More →
• Hey Top Shelfers (Shelf Toppers? Shelfheads?), here's a post from the battlefield a few days ago, courtesy of New Guy Leigh Walton...
I'm blogging to you now from sunny San Diego, where the weather is gorgeous, the crowds are endless, and the costumes are uncomfortable (Gorgo
from 300? Really?). And, of course, there's comics everywhere. Yes, it's the comic world's Christmas, Vegas, and Senior Prom all in one, the San Diego Comic Con International.
Top Shelf's booth is an island of sanity in the sea of madness. It's my first time at the show, and I'm staying here in the Top Shelf Zone as much as possible. As much as the big story seems to be the convention's immense size (this year being even bigger than usual), I've been glad to discover that it's not overwhelming. We've got a constant stream of folks coming by the booth, so I never lack for new folks to talk to -- but that's just it; the traffic in this part of the hall is mild enough that I can actually carry on a conversation with everyone who comes by. Over in the big TV/movie/game/sculpture pavilions, good luck finding space to breathe, let alone get to know somebody.
That's been the real treat for me -- the interaction. I've never been in such a great social environment as this, with a never-ending army of happy and excited con-goers coming up to me and asking about these books that I love. And these aren't smelly basement-dwellers in bulging Klingon armor; they are, without exception, bright, friendly, very cool folks of all shapes and sizes who love stories and pictures and that magical picture/story Reese's cup we call comics. Some of them are long-term Top Shelf fans eager to pick up the latest wave of books from this season; others have never read our stuff but have heard good things about us or are simply drawn to the style of one book or another. We've passed out countless copies of our huge FREE sampler book and then watched those same folks come back the next day, eager to buy! Top Shelf has always been about creating a genuine relationship with our fans, and I think we've made a bunch of new friends this week, the same way we always do -- one at a time.
But Top Shelf is not the only game in town! Behold, I have been to the San Diego Comic Con, and I have seen great wonders:
I have seen a grown man changing the diaper on a baby in a Wookiee costume (the baby, not the man). I have concluded that the Sci-Fi Channel has soaked their promotional flyers in LSD, because they sure did spend a million dollars on a several-acre amorphous blob of silver plastic illuminated by fifty computer-guided party lasers -- it helpfully curves up from the floor to form nooks in which to lie back and gaze at the psychedelic display.
I have seen guys in white robes walking around wearing backpacks which emitted both hip-hop tunes and videoscreens on poles. I have seen a movie display several dozen feet tall where the name of the movie was conveniently obscured by the giant sign saying "PROMOTIONAL GIVEAWAY TOKENS REDEEMED HERE." I once found my path blocked by a mob of a hundred people, who (I soon realized) had gathered to stare at an amputee booth babe with an M-16 for a leg. Meanwhile I was able to walk right up to Tom Scioli's table and tell him how much his artwork blows me away on the incomparable GØDLAND. Then I turned around and bumped into a dude staring at a painting of Jean-Luc Picard that was so reverent that I think Leo III rolled over in his grave complaining of idolatry.
Update: the Sci-Fi Space Rave theory is confirmed - a staffer just came around and distributed ring pops.
Check back later for a panel report from "The Many Faces of the Graphic Novel," including FOUR different Top Shelf creators!
Peace, love, and visual narrative,
Leigh
---
August 2, 2007 / More →
It's so nice to sleep more than six hours in a night, in my own bed, and not wake up hung over to the gods. It's over... San Diego ComicCon was, as ever, an overwhelming morass of comics geeks, costumed freaks, star-fuckers and pop-culture thrill seekers. And while i was perpetually exhausted, i loved every minute of it.
For some very odd reason i can't pinpoint, the floor seemed less crowded than in years past, and yet our gross receipts reflected much more. Also, i felt like the vibe amongst the like-minded vendors in our little corner of the floor was overall fabulous. I heard much lip-service to the problems inherent in this show, but smiling faces belied the disgruntlement.
Intern Leigh Walton impressed my partners Chris and Rob. So much so in fact, that we hired him on the spot. Leigh will start part-time doing publicity and marketing. (Look for an official press release soon.) He's also doing a guest-blog on "Hey, Bartender" later tonight.
The Eisners were less painful than in years past, even though we didn't win any awards. (Renee French was awarded last weekend however, with an Inkpot Award for achievement in comics.)
I love seeing so many old friends, and meeting new ones, although it's hard to get in more than a short conversation here or there.
The CBLDF party was my favorite party this year, hands down.
My intern from last year, Jacquelene Cohen, who now works at Dark Horse, was assigned to be the "handler" for Joss Whedon!! ARRGGGHHH!! I'm so jealous! I'm a total Whedon-head. Moreover, I'M the one who turned Jacq onto Buffy and Firefly!! Anyway, kudos to Jacq.
I haven't had time to read many con reports, but i really enjoyed Steven Grant's "Permanent Damage" column over at CBR, and of course, the phenomenal reporting and commentary by Tom Spurgeon at The Comics Reporter.
Brain is still fried...
• First Thursday is back tonight at Floating World Comics here in Portland, featuring spaz-rock cartoonists Corey Lewis and Brandon Graham. 20 NW 5th Avenue, (downtown, right off of Burnside), from 6 - 10:00 p.m. Should be fun. These guys can draw like muthas.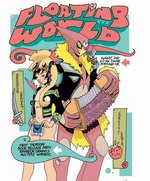 • Jeff Lemire is a cool guy. I love his comics and i love his terrific blog! How awesome are these drawings he made for San Diego!

• Chris Duffy, the mastermind bending the minds of our youth with the work of indy cartoonists in the Nickelodeon Magazine's Comics section, is the subject of an interview with Brian Heater over at The Daily Cross Hatch.
• I picked up a boatload of fanboy items at the show, including a couple back issues of the great great in-house fanzine, The Amazing World of DC Comics, an old old issue of Rocket Blast Comics Collector (which Scott McCloud informed included on his second ever published work, in an article written by Kurt Busiek), a super-funny issue of the wonderful (Fred) Hembeck comic magazine, and the newest issue of revived EC fanzine, Squa Tront.
I'll make a more comprehensive list of neat stuff as soon as i'm a little more caught up.
---
July 24, 2007 / More →
So i just received a package with the BRAND NEW Fall 2007 Season of books from First Second (thanks, Gina!!) and it's a doozy! An amazing line-up featuring Johann Sfar, Lat, Sarah Varon, Gipi, and the long-awaited Laika, by Nick Abadzis. WOW!
They'll be set up at booth 1635 in San Diego. All of these books are worth picking up. This has to be there most solid season to date. Under the sharp editorial guidance of Mark Siegel, First Second continues to impress. Kudos.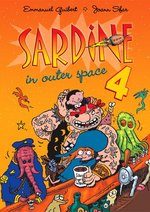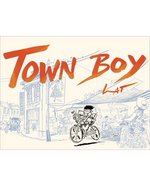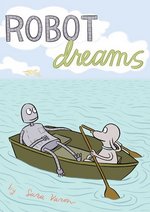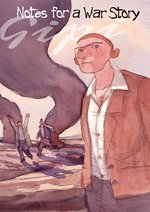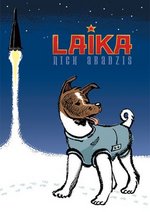 Meanwhile, Top Shelf will also be pimping our wares at San Diego in full-force. Chris and myself will continue our 10th Anniversary Celebration with a dozen cartoonists in attendance … all available to sign their new releases. Also, Renee French is no less than an honored guest of the con, and will be appearing on two panels.
Drop by the booth, meet the whole gang, and pick up a free 10th Anniversary Poster and Seasonal Sampler while you're there!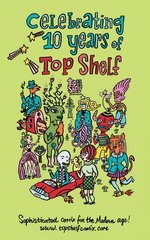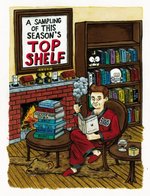 On Thursday from 12:30 - 2:00 Renee will be on the panel titled The Many Faces of the Graphic Novel, along with fellow Top Shelfers Andy Runton and Jeffrey Brown. Saturday, from 1:30 - 2:30 p.m. is the Renee French Spotlight panel, in a conversation with Dan Nadel of Picture Box Inc.
Featured authors this year include:
Jeffrey Brown (Incredible Change-Bots)
Renee French (Micrographica)
Matt Kindt (Super Spy)
Jeff Lemire (Tales from the Farm)
Andy Hartzell (Fox Bunny Funny)
Jeremy Tinder (Black Ghost Apple Factory)
Christian Slade (Korgi)
Andy Runton (Owly)
Robert Venditti (The Surrogates)
David Yurkovich (Death by Chocolate)
Jose Villarrubia (The Mirror of Love)
& last but definitely not least:
Eddie Campbell (Fate of the Artist)
---
July 19, 2007 / More →
• O.k. so i saw Spider-Man 3 a couple nights ago, and while i seem to be bucking the trend here, i'm going to come out and say that i LOVED it!! I won't argue about some of the details that were critically reviewed … where DID the Venom alien come from?; the Flint Marko character could have used more devolpment; yeah, "dark" Peter Parker was pretty freaking dorky; maybe there were too many storylines... But i feel that the genius of Sam Raimi and the heart of the story were right in harmony with my own personal Spider-Man. Slice out the song & dance routine (even though the story WAS being told marvelously here), and you've got one hell of a kick-ass action flick.
And i'm a guy no less, who always HATED Venom. It was so way far after my time. (Same with Big Wheels AND Transformers.) But as a vehicle to bring out the Dark Side of the Force in Petey, it served its purpose deftly.
So sue me! Viva Spidey!!
• James Kochalka:
"Here's some paintings I did while I was at Monhegan Island in Maine. You can't go anywhere without running into someone doing 'plein air' painting, so I joined in the fun. It's been an artist's colony for over a century I believe, and most of the important early american landscape painters worked there."
Beautiful work, James!
• My good friend Steve Ryan did the color painting of Alex Robinson's cover drawing for his forthcoming fantasy book, Lower Regions. Steve has been featured now in four issues of Heavy Metal, and i KNEW he'd be perfect for this gig. My inner fanboy is absolutely in love with this artwork!

• Jason Little and Myla Goldberg have made an addition to the family, along with little Zelie... introducing Kestrel Xesca Goldberg Little.
• The Spurge interviews Graham Annabel at The Comics Reporter. Good stuff.
• Sarah Morean reviews Jeremy Tinder's new mini-comic at The Daily Cross-Hatch.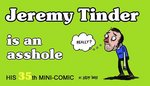 • The new Funbook is ready! The release party will be the 8th of August at Holocene. Show Me the Pink is headlining (their last show ever!). Old Growth, Here Comes a Big Black Cloud, and Mustaphamond will also be playing. There will be giant posters to color with crayons galore. It will be also serve as a fundraiser for the genocide intervention fund.
The Portland Funbook #2 is 80 pages of coloring & activities from over 60 of Portland's best artists. Each issue will contain: an 80 page book with contributions from 60+ local artists, a 7" vinyl record with 12 one-minute songs from local musicians, 4 stickers, 1 temporary tattoo, and two 1" buttons and. Each book costs $5. $1 from each purchase will go to The Genocide Intervention Network.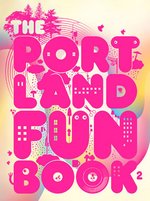 • Finally, though i simply don't have the time to give these a proper review, the following new books in the collection come highly recommended.
The Rise and Fall of Yip the Wonder Dog, by Andy (Fox Bunny Funny) Hartzell. I found this at local comics & coffee shop Guapo. It's a delightful, wordless mini-comic with a tasty screenprinted cover, and published by Global Hobo.
Breaking Up, illustrated by Christine Norrie. Admittedly, i've yet to read this book yet (written by Aimee Friedman, published by the Scholastic imprint Graphix), but Christine's artwork is literally stunning! Wow. In the league of today's best female cartoonists, like Carla Speed McNeil and Colleen Coover, Christine is really really really one to watch.
Strapazin #87. The new issue of the brilliant Swiss comics magazine Strapazin arrived in my po box last week. I'd give my left pinky finger for this to be released (in English) to a wider North American audience. if you've ever wondered what the rest of the world's comics look like at their best, look no further than this.
The Chronicles of Conan volume 12. To a 14 year old, wimpy-assed Brett, coming off of his "fat" years, discovering first the pulpy paperbacks and then the Marvel comics featuring Conan the Barbarian, this escapist fantasy was a salve on my tender ego. Dark Horse has been reprinting the entire Marvel run, beginning with the early Barry Windsor-Smith issues, and up through the brilliant John Buscema stuff. For my tastes, Buscema is as much THE Conan artist as Frazetta. His work on this title was sublime. And with this 12th volume, they bring my nostalgic run to a close, since after the epic Belit: Queen of the Black Coast saga, the comic's quality control quickly plummeted. But holy shit, these 12 books Dark Horse has done are sweet. The coloring is as good as it gets, and as far as i'm concerned (no offense to any of the creators involved), the new Conan comics don't hold a candle to this stuff. Thanks to Jeremy Barlow at Dark Horse for hooking me up.
The Art of BONE. Wow. Wow. Wow. Wow. I really didn't imagine that the "art of" book for Bone would be anything special. Especially help up to the incredible Art of Hellboy and Art of Will Eisner books, also helmed by Diana Schutz (and designed by Cary Grazzini) at Dark Horse. I was so wrong. This is a masterpiece edition, and the perfect coda to the sweeping saga of Bone. Simply outstanding. Diana, i really owe you one.
---
July 14, 2007 / More →
is a total stud. I just watched tonight's episode of Bill Moyer's Journal on PBS, and it was an inspiration. At issue, "Tough Talk on Impeachment." Guests were Bruce Fein, a nationally and internationally recognized expert on Constitutional law, and John Nichols, author and political journalist who's been writing the "Online Beat" for The Nation magazine since 1999.
Consider, a host of attacks on the very constitution itself, from executive privilege and signing statements to extraordinary rendition, from the Plame leak to the suspension of Habeas Corpus and unwarranted SPYING on U.S citizens!!
THINK about just this short list of transgressions (and there are many MANY more), and the implications they hold. By Bush's self-proclaimed rule, he could, for reasons of his own, label YOU an enemy combatant, kidnap you from your home, spirit you away with a hood over your head to an unknown secret location on the other side of the globe, with no communication to or from anyone else … let alone a lawyer … and then set about torturing you.
THIS is constitutional? What gives? Or how about Bush's recent commutation of Scooter Libby followed by his subsequent order to Harriet Myers to spurn congress and NOT respond to a congressional subpoena, because he declares the authority not to? Our Founding Fathers are rolling in their graves. Hello, impeachment!
I worry about what kind of neo-fascist state my almost 3-year old kid might grown up in, if this behavior doesn't change... it truly frightens me. John Nichols said it well, when comparing the people of the U.S. to those of the Roman Empire and its state of mind which led to its collapse, by pointing out the difference between those who CHOOSE to live like good little subjects, not paying attention to the matters of state, letting themselves be entertained to death, with those who choose to live with a strong sense of civic duty, and demand responsibility of their elected leaders. Man, what's going on right now burns me so much! Too bad the corporate owned media refuse to fulfill their obligation as the Fourth Estate, and to hold our leaders accountable for their actions in the press, else more citizens might be as peeved as i am.
It's been at least a few months since i last wrote to my Congressman and my Senators... tonight's the night, baby!
It's been i think over a year, when the Republican-controlled Congress fuc*ed over PBS and Bill Moyer's brilliant program called NOW was cut in half, since he left the show itself and the spotlight, seemingly dispirited. Well Bill is back, and it's a better world for it. Check out the weblink for this particular episode and educate yourself. Then call or write your congressional leaders and demand action, that they uphold their duty and protect our laws and Constitution from a derelict Executive branch, as they were sworn into office to do.
• O.k., now that i'm down from the soapbox, here's some not so uplifting news making the rounds on the blogosphere... Comics are broken! No, comics aren't broken at all … the BUSINESS of comics is broken. This is the sentiment with the recent announcement that Cold Cut Distributors are selling their company. This does indeed suck. I've known and worked with Mark Thompson for over a decade. He will be missed.
And, like Slave Labor publisher Dan Vado (as read on The Comics Reporter), i have to admit to being somewhat cynical about all the hoopla and hype that the new graphic novel model in the book trade, coupled with a "healthier" direct market are indicators of stability across the board. When in fact my experience would seem to indicate that the glut of Marvel and DC titles currently flooding the market, as well as an overabundance of weak comics everywhere else has created a situation where it's really very difficult to get much support from the retail community for indy comics, except for only the biggest A-List books in a given season. (And certainly not entirely via the fault of the retailers themselves, what with non-returnable sales [in the direct market] understandably inhibiting a willingness to take risks on new titles, creators, or publishers.)
Granted, there are more excellent comics coming out now than maybe in the history of the medium, at least in North America. But with so many hundreds of books in print, the ratio against the good stuff is by orders or magnitude.
Yeah, a precarious state we find ourselves in. I wish there were some answers. Clearly there needs to be more efficient methods of both retail and distribution. I love what i do, so i want a healthy marketplace. And God only knows, i'm NOT a believer in comics' sole future domain being online. I want to hold a book in my hands, feeling its pulpy goodness, the smell of ink on my fingers. And those are the kind of books i want to publish.
• Dean Haspiel has a new website dedicated to none other than his alter-ego, the beatnik super-hero Billy Dogma!
Rock!
• JULY SUPER SPY!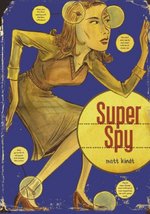 Tonight was the Super Secret Spy Art Exhibit at Subterranean Books. Wish i could have been there.
Matt Kindt's newest art show ENIGMA MACHINE opened tonight … and was also a book release party to celebrate the release of his new book Super Spy. The show will run through September 9th.
Here's what early reviews of Super Spy are saying:
"...one of the best comics I've read."
"...invokes the feelings after reading Speigelman's MAUS."
"These spy stories are filled with pathos and longing -- Amelié meets Alfred Hitchcock in comics form. It transcends traditional spy fiction."
• I've got a bunch of nifty books i want to mention, but i'd rather get even this short update uploaded. So stay tuned for some really cool books.
---