July 23, 2008 / More →
• This showed up in my po box a while back, and i just got around to reading it... what a stunner. Clearly a loving Frankenstein homage with nods to comics of old and stuff like Warren's Monster's of Filmland, this oversized comic is a real formal masterpiece. The art is multi-media collage pasted up on newspapers. The look feels gritty and intense, and the narrative is a wild pop-culture tour de force. Great stuff.


• Mr. Max Estes has some cool new stuff available at Made by Max.




• Heads-up from Vancouver cartoonist, and Top Shelf 2.0 contributor Don King, who tipped me off to a terrific sounding show in Vancouver, B.C.


• Had this terrific submission-envelope art hanging in my workshop for forever... figured i show it to the world.


• I've been dipping into my enormous to-read pile a little lately. Standouts include:

Eschew #1 (mini-comic), by Robert Sergel. Apparently this guy has been making comics for a long long time, yet i'd never heard of him until he sent me this mini. And it's really solid. Using a "clear-line" style, the work i've read is of the shorter, poetic style, more than long narratives. In any case, one could spend days reading the plethora of comics he has on his website. So get to it, people!

I lifted this comic from his website.


Nerd Burglar (comic), Free Comic Book Day book by Tugboat Press, Teenage Dinosaur, and Sparkplug Comics. A potpourri of comics fun, this puppy feature's an awesome twisted story by legendary punk cartoonist Bobby Madness and an appearance by the always-good-to-see and sadly underrated ink stud Chris Cilla. What really rocked me though, was a strip called "Fifteen Variations on The First Day We Met," by Sarah Oleksyk, which plays with formalism to wonderful effect. Too hard to describe, i recommend you just order this book. It costs one penny, plus postage, cheap-wads!!


• From comics cognoscenti Craig Yoe:
"Yo, Comix Fan!

"I'm joining the San Diego Zoo, i.e. the San Diego ComicCon. I'll be signing my new books Clean Cartoonists' Dirty Drawings and Comic Arf, and I'll be on some panels."

Last Gasp
July 24th, 1:30-2:30
Clean Cartoonists' Dirty Drawings book signing at Last Gasp booth 1616.

Fantagraphics
July 24th, 6:00-7:00
Comic Arf book signing at Fantagraphics booth 1716

Drawing Demo: Spotlight on Dean Yeagle
July 25, 3:30-4:30
Room 30CDE
I will be the panel moderator.

Fantagraphics
July 25th, 5:00-6:00
Comic Arf book signing at Fantagraphics booth 1716

Fantagraphics
July 26th, 11:00-12:00
Comic Arf book signing at Fantagraphics booth 1716

Last Gasp
July 26th, 1:30-2:30
Clean Cartoonists' Dirty Drawings book signing at Last Gasp booth 1616.

The Launch of Abrams ComicArts
July 26th, 3:00-4:00
Craig's book will be announced!

• And once again, because i can... here's Cfunk doing his Happy Dance.



---
July 18, 2008 / More →
Hey LEAGUE fans!
The new issue of Entertainment Weekly just hit the stands. It looks like THIS:
And inside is the FIRST-EVER look at THE LEAGUE OF EXTRAORDINARY GENTLEMEN (VOL. III): CENTURY (published by Top Shelf in 2009)!
Here's a tiny version -- for a better look, you gotta buy the mag!
---
July 15, 2008 / More →
It's been years since i last updated here. My bad. Catching up.
• First, Slovenian-produced anthology Stripburger #47 arrived in my po box last week, and it's a beauty. While many of the essays are in the native language, the comics themselves are all in English, and they are ample. The whole affair kicks off with a stunning wraparoud cover and lead feature and interview with French cartoonist Matthias Lehmann. Other standouts include Filipe Abranches (Portugal), Marcelo D'Salete (Brazil), Bendik Kaltenborn (Norway)Thomas Vielle (France), Mawil (Germany), and Gunnar Lundkvist (Sweden).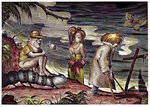 One of their best issues in a long while, this issue is really worth tracking down. Ostensibly Top Shelf is the North American distributor, but i just looked, and i don't see anything on our site. I'll look into this and get back.
• Merry Mike Dawson (Freddie and Me) sent me a link to a terrific new strip, title "Max, Get Out of My Room!" What happens when super-powered tween brothers get in a fight? Read on...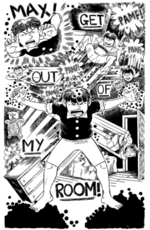 • Strange and Stranger: The World of Steve Ditko. Wow wow wow wow!!!! Author Blake Bell actually pitched this book to Top Shelf several years ago, and i just couldn't get Chris (Staros) interested in backing me in my desire to pick it up. I was bummed, but that is the nature of our partnership, so i let it go. Having ravenously devoured this book, and reading the author's notes on the evolution of it's development, this is probably a good thing. The content and narrative thrust changed radically. Moreover, the design by Fantagraphics designer Adam Grano is astonishing.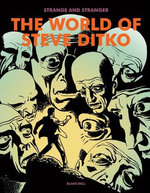 It's a wonderful companion volume to the recent Kirby! coffee-table art book. Except that where that book mostly regurgitated information about Kirby and his work that has been around for years, the wealth of information regarding Ditko's background and the analysis of his life's work, in Bell's book, make for an engaging and riveting read, covering ground virtually unknown heretofore. I want to pull it off the shelf and start reading it over again already.
I will state right now, that this book will easily end the calendar year 2008 in my Top Five books of the year, if not Number One. Very highly recommended.
• How cool is this cover art for our (as yet unannounced) one-shot by Top Shelf 2.0 contributor Brecht Evens. The book is titled Night Animals. More on this soon.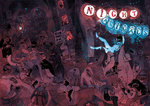 • Totally not comics, but incredibly cool. I was tipped off to an amazing video of (from the website) "world-renowned kayakers following the banks of Africa's White Nile River with one mission: to discover uncharted whitewater."
A spine-tingling short film, made by the writer of the article Aaron Retting, can be linked to at Flux magazine. (A student magazine of my alma mater, University of Oregon.)
---
Ink-stud extraordinaire Steve Lafler writes:
"Just a heads up -- my new book TRANNY: Boys Will Be Girls is in the current Diamond Previews catalog on Page 330 (listed with Sparkplug Comic books). Now is the time to pester your favorite comics retailer to order the book!"
• Things i scored at MoCCA and am just now getting around to dive into:
Love/Pain by the artist named Ephameron, published by Bries. Not comics, but rather, wonderful and beautiful drawings, photos, portraits and what have you, in a terrific hardcover package. Sublime. The artist was actually working the Bries table (in place of our old pal Ria Schulpen, who wasn't there for the first time in many years), so i got a wonderful drawing inside as well.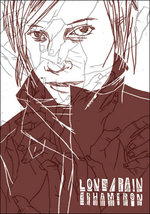 - Skyscrapers of the Midwest, collected hardcover, by Josh Cotter. Published by AdHouse.
Awesome. I have to admit that black humor in comics is pretty hit or miss for me. Some of the more misanthropic ones are just plain juvenile or creepy as fuck. On the other hand, in the hands of some — like Ivan Brunetti — self-loathing has never been more raging with humanity. Enlightenment through hitting rock bottom and rolling in the muck.
Josh Cotter is something different altogether. Dark as it gets, but the humor is wacky and dare i say, joyous in it's affection. I'm not sure what scares me more, Josh's comics themselves, or the fact that on the surface this guy seems like a "normal" human being, when clearly this is not the case. No matter, this book rocks. Many thanks to Chris Pitzer and Josh Cotter. I owe you one, kids.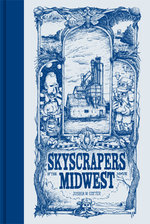 - While i was in Montreal on the way to New York, we stopped by a bitchin' store called Planète BD, which blew my mind. No other North American store has this much French Bandes Dessinee. (French comics, mostly as oversized albums, or new format graphic novels.)
Anyway, i picked up two volumes of a crime story called RG written by Pierre Dragon (who was a special agent himself, before becoming a writer) and drawn by the incredible Swiss inkstud Frederik Peeters. (Peeters is most known here for his book Blue Pills, published by Houghton Mifflin.)
GREAT looking stuff.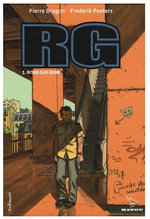 - And down the street (in Montreal) i picked up a gorgeous new Blutch graphic novel, C'était le BonheurC'était le Bonheur. Stunning comics. I'm reminded here of Jules Feiffer's older Village Voice strips stylistically. It's pretty depressing that no one's really made any inroads getting his material into print here in the U.S. Ah well, c'est la vie.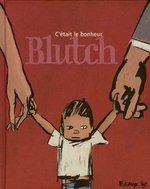 - Last BD i picked up was Daniel Blancou's delightful Le Roi de la Savane, a terrific athrpomorphic treat.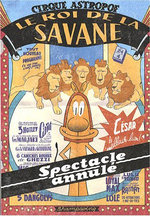 • Charles Hatfield and his cohort Craig at Though Balloonists give careful consideration of Eddie Campbell's Alec graphic novel, How to Be An Artist. Good reading to prepare the world for the mammoth all-in-one Top Shelf Complete Alec tome next year.
---
Wow! Jeremy Eaton's new "Cartoon Jumbles" are awesome!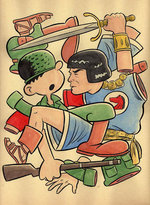 • From the desk of Eric Reynolds:
"Rhea and I returned home late last night with a new little member of our family, after spending the weekend in the hospital. Clementine Bean Reynolds was born Saturday afternoon (June 21) at 3:15 PM in Ballard's Swedish Hospital. She weighed 7lbs, 2 oz, and is 20 inches long. Rhea and Clem are both doing great and we're overwhelmed but happier than we could have imagined. Clem has strawberry blonde hair and a prodigious appetite, and a birthday one day before her daddy's, which is likely for the best since it means she's a gemini instead of a crabby cancer like her pop."
Big congrats, kids. Now get some sleep!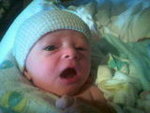 • Cool video podcast at "The Stack" (at Newsarama) featuring an interview with Alex Robinson, talking about his bitchin' new book Too Cool to Be Forgotten.
• Here's a nifty little strip Noah Van Sciver did, an interview he conducted with Jeffrey Brown.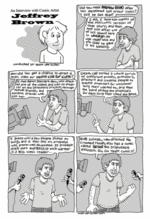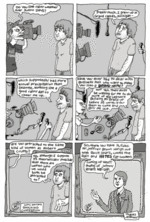 • The incredibly talented Ulana Zahajkewycz has a new blog. Yah!!!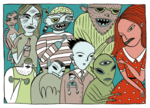 • Finally, here's a sweet promo postcard Rob Goodin whipped up for his forthcoming Top Shelf comic book called, appropriately, The Man Who Loved Breasts.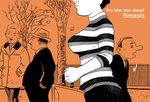 ---
June 14, 2008. Email from Jeff Lemire:
"Just got back from the Schuster awards ceremony, and I won Best Canadian Writer/Artist! It was the nights "big" end of the night award and I was up against Darwyn Cooke, Brian Lee O'Malley and Julie Doucet! It is a gorgeous award, and I'll likely get some print in the local newspapers on Monday. Anyways, I thanked all of you and gave my props to Top Shelf...so way to go team! See y'all soon."
Whoo hoo!
On Lemire's Shuster Award, good pal Gary Butler (Quill & Quire, Rue Morgue) said, "A well-deserved win for a brilliant talent." And the subject header for the same email read: The Lemire the Lemerrier. Ha! Love it! Thanks, G.!
• The new Strapazin arrived in the mail. Whoo hoo!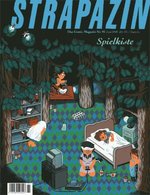 • Alex Robinson's new Too Cool to be Forgotten scores HIGH in New York Mag's "The Approval Matrix." In the "Brilliant/Lowbrow" category there is the cover of Too Cool!!! The text says: "Alex Robinson's endearingly uplifting graphic novel Too Cool to be Forgotten." He shoots, he scores!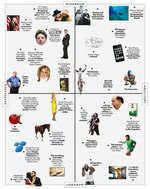 • Top Shelf alum Max Estes' online comic strip My Life as a Bunny is being published in Spain! Congrats, Max!
• Big props to Top Shelfers Matt Kindt, Jeff Lemire, and Christian Slade on their 2008 HARVEY AWARD NOMINATIONS!!!
SPECIAL AWARD FOR EXCELLENCE IN PRESENTATION
Super Spy, Matt Kindt
BEST COLORIST
Matt Kindt, Super Spy
BEST NEW TALENT
Jeff Lemire, Essex County
Christian Slade, Korgi #1: Sprouting Wings
• It's no secret i love Wizard mag, and they love us right back! The newest issue (#201) has FOUR Top Shelf plugs! Page 20 had Five Questions with Robert Venditti (for The Surrogates); Matt (Super Spy) Kindt shows up in the "Future Superstars" section on page 79; Alex Robinson's new Too Cool To Be Forgotten, on page 101, is a recommended Summer Read; and it's all good words about James Kochalka's Johnny Boo Volume 1 on page 106.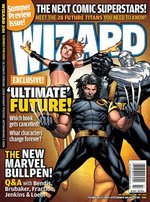 ---
MoCCA kicked ass, like it always does, even though i came down with a cold, and it was as hot as sin in The City. After three nights in Montreal, living la Vida Loca with mon ami Patrick Jodoin, i stayed at Gregory Benton's swanky new studio loft on Flatbush in Brooklyn.
-Christine Norrie gave me three tiny little piece of printed ephemera that are just exquisite. They are garment tags, with subtle yellow, stamped text, and gorgeous illustrations by Christine printed in red ink. One each for bra, panties, and slip. The style reminds me of a classic line-art style circa 1965 fashion ads. (Or if memory serves, like the packaging that came with sew-your-own fashion patterns like my mom used to make.)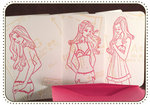 -Will Dinski continues to be a leader in the oft-ignored field of mini-comics, with two new books i was given: Errand Service, a re-packaged clever little ditty about the service-provider who does the minutiae of everyday life and so much more, as work for hire, and a super-mini held together by a metal fastener, called Shift. I'm going to keep singing this guy's praises until he becomes a household name, damnit all!!
-Lilli Carre gave me her exquisite new mini Dorado Park. Lilli is emerging into one of the next generation's brightest stars.
-Good friend Jose Villarrubia introduced me to two of his illustration students whose work literally boggles. Check this shit out!
Kali Ciesmier. Both do amazing work, and i'll be very surprised if i don't start seeing there work all over the place soon. Kali also handed me a delightful little mini-comics titled Paige Turner and the Midnight Curiosity, which amply displays here ability to tell a sequential narrative in pictures as well.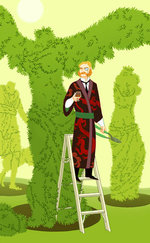 -On the way home (flying over the majestic Rocky Mountains) i had a chance to read How to Love, the new anthology by Israeli ink-studs, Actus. I've known all of them for upwards of a decade now, and have always been a fan, and with this latest, they continue to impress. Greg McElhatton has a review posted here at Read About Comics. This is a book you can order right here from yours truly, if your local retailer can't or won't stock it.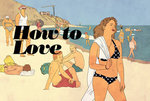 -Sam Henderson gave me the new Magic Whistle (Number 11), also which had me laughing out loud on the flight home. Thanks, Sam!!
-Picked up Danny Hellman's new anthology Typhon. Some great stuff can be found therein, including two strips by Gregory Benton, some nice new work by the likes of Dalton Webb, Pat Moriarity, Chris Cilla, Pshaw, Grant Reynolds, and geez, so many more. All wrapped up in a sweet cover by R. Sikoryak.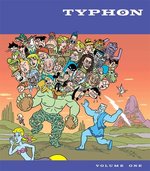 -I did get more stuff from MoCCA, but i left it in the hands of Rob Venditti, to ship back to me from Atlanta... stay tuned.
• Jeremy Eaton has a link to three and a half years of his weekly editorial cartoon, A Drawn Perspective. Great stuff!
• Top Shelf 2.0 contributor Lizz Lunney has a terrific new comic out titled I Love Dinosaurs and They Love Me.
• This is not about comics. Read on ONLY if the idea of Challenging the Militarization of US Energy Policy grabs your interest. Good stuff.
---
June 4, 2008 / More →
Off to Montreal to visit my friend Patrick — and also to flirt with the bevy of cute French-speaking girls — on route to New York for MoCCA. Y'all won't hear from me for at least a week (not uncommon, sadly), so i wanted to throw out my picks from the current Diamond Previews. (I think for items shipping in December.) In order of appearance:
DARK HORSE
Bernie Wrightson's Frankenstein (new hardcover edition!!)
Dean Motter's Mr. X Archives. Fun old stuff. Style over substance, but beautiful all the same. Come on... early Jaime Hernandez and Seth?
Hellboy Library Edition vol. 2. Volume one is drop dead gorgeous. These are as good as it gets.
DC COMICS
-DC Universe Illustrated by Neal Adams. His shit still rocks.
-Teen Titans Archives vol. 4. Part of my Holy Trinity. Starfire was as big a crush as any "real" girls up to that point in my teens. And probably as available to Mr. Nerd.
-Y: the Last Man Deluxe Edition vol. 1. I loved the first few trades, and if the package is as tight as the new Starman Deluxe books, i am all over this.
MARVEL
Criminal #6. As always.
Marvel Masterworks: Amazing Spider-man vol. 10. I know this is sacrilegious to many, but i'm actually a bigger fan of Romita's Spidey than Ditko. (Of course, Ditko is a god, but Romita's Mary Jane... are you KIDDING me?!!!)
Immortal Iron Fist tpb vol. 2 (The Brube, Fraction, etc.) The first volume in this series surprised me how much i enjoyed it.
BODEGA
- Dave K.'s Neverland. Almost everything Dave touches is gold. He's like the best teen drama tv show as imagined by John Porcellino.
DEVIL'S DUE
- Oh yeah!!! Jeffrey Brown's Incredible Chabge-Bots character "Balls" action figure!! I can't handle how cool this is... it actually TRANSFORMS!!
DRAWN & QUARTERLY
- Against Pain, by Ron Rege Jr. Another member of the circa mid-90s generation whose work is always worth reading.
FIRST SECOND
- Eddie Campbell's The Amazing Monsieur Leotard. Eddie makes comics. The world rejoices. 'Nuff said.
GEMSTONE
- EC Archives: Haunt of Fear vol. 1. The best reprint project going on currently, alongside Terry and the Pirates.
iDW
- Complete Dick Tracy vol. 5. Choice vintage comics. We truly are in a Golden Age of reprints.
ONI
Local hardcover edition. Brian Wood works magic on the page. And coupled with Ryan Kelly's insanely good art on this series, i've devoured every issue to date.
Love the Way You Love (Jamie Rich and Marc Ellerby). I've yet to read this, but i dig Jamie's stuff.
Sharknife vol. 2: Double Z. Corey Lewis' manic fucking madness. Over the top, ADD, and high octane.
VERTICAL INC
- Tezuka's Dororo vol. 3. Tezuka, duh...
And there's more in the book section, including a collection of Frazetta comics, a collection of Will Eisner's PS Magazine, and a series of toys of the old Rankin & Bass characters classic, Rudolph the Red-Nosed Reindeer. I showed this to Carter this last December, and he flipped his wig.
• Boo Ya! Charlito and Mr. Phil are hosting an Indie Spinner Rack party this Saturday night, ladies and gents. Yahoo! Me loves me a good party, and these cats are as cool as cucumbers.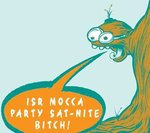 FREE DOOR PRIZES, DJ WACKY WACK, FREE LOVE & Perhaps Mr. Phil will take his shirt off!
Swing by the ISR booth to get your Raffle ticket NO CHARGE. FREE.
OFFICIAL IZZER MOCCA PARTY
Saturday June 7th
9pm START TIME....who knows how long.
BAR M-15!
• Pat Moriarity made this awesome poster for the Horror film Paper Dolls. It will be showing in Seattle for the STIFF Film Festival, Tuesday, June 10th. 8:00. Jewel Box Theater. Nice work, Pat!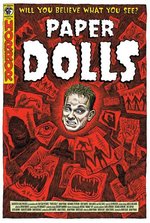 ---
June 1, 2008 / More →
Guest blog by our man Rob Venditti, writer of the graphic novel The Surrogates:
"This past week, Chris Staros, Brett Weldele, and I were invited to visit the set of the upcoming SURROGATES movie, currently filming in Boston. It was a trip for the ages, and I left having learned a lot about what goes into the making of a big-budget film. What surprised me more than anything else was the sheer enormity of the production, which involves hundreds of cast and crewmembers, as well as multiple sets scattered around the metro area.
"I was equally surprised at how much they went out of their way to make us feel welcome. I expected us to spend the two-day visit scrambling to stay out of everyone's way and keep our nuisance quotient at the lowest possible level, but the people we met were genuinely interested in showing us what's in store for the film adaptation. On the first day, the location scouts took us on a tour through the various sets in downtown Worcester—it's crazy what the set dressers are able to accomplish in a relatively short time, taking a run-down room in an abandoned building and turning it into a fully realized space. I couldn't see for certain who the artists were, but some of the local concert posters hanging on the wall in one set smacked heavily of the Fort Thunder crowd.
"On the second day we visited the main production office in Woburn, where the production designers were bent over their drafting tables, sketching out concepts for sets and props that are yet to be built. The level of detail they're going into is beyond reason—one of the particularly impressive props we saw was about the size of a phone booth. I stepped closer for a better look and saw a small sticker, maybe twice the size of a business card, on which were typed the user instructions, as though the prop were a real mechanism and not something created for a film set. I can't imagine that it'll be filmed close enough to actually read the instructions or even notice them, but they're there anyway. That's just one example of how carefully the designers are thinking this thing through.
"We spent a good amount of time watching the actual filming as well. We saw Bruce Willis do dialogue. We saw him do action. Even better, we saw him do the quiet moments where it's just him and the camera as he pieces together the film's mystery. Everything we saw only reinforced what I've said from the beginning—Willis is THE guy to play Greer.
"To the slater who let me work the 'sticks,' thank you. To craft services, who kept us in cookies, pizza bagels, and bottled water, thank you. To the lunch caterers—I went in expecting chicken strips and tater tots, and you gave me shrimp scampi and shepherd's pie—thank you. To everyone who took the time to show us around, thank you. Our visit was every bit as enjoyable and informative as a school field trip, except instead of visiting the planetarium, we, you know, saw our story getting turned into a feature film.
"The question I've been asked more than any other over the past year is: 'Does it feel like this is really happening?' Hollywood is always in such a state of flux that it's hard to ever know definitively where things stand. So it never really felt real—not after seeing the screenplay, or even after hearing that Bruce Willis had been cast in the lead. But when I was on set and saw the slate, on which were the words SURROGATES and beneath that DIRECTED BY JONATHAN MOSTOW, PHOTOGRAPHED BY OLIVER WOOD, that was a different story. Now it feels real."
Robert Venditti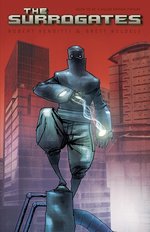 (And here's the cover for the upcoming sequel graphic novel, Surrogates: Flesh and Bone.)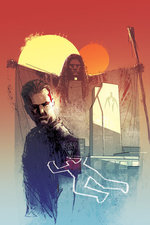 • RELEASE PARTY FOR DAVID CHELSEA'S 24x2!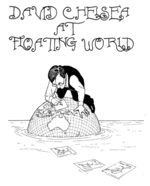 THURSDAY, JUNE 5, 2008
6-10 PM
FLOATING WORLD COMICS
David Chelsea will appear at Floating World Comics, in Portland's historic Chinatown district, celebrating the release of his book 24x2, published by Top Shelf Productions. 24x2 collects two 24-page stories, each created over the course of a 24-hour period!
The party will also celebrate the opening of a gallery show at Floating World, featuring the art of legendary alternative cartoonists Peter Bagge, J.R. Williams, and Mats!?. The show will run through June 30th.
David Chelsea is a Portland-based cartoonist and illustrator. His graphic novels David Chelsea in Love (1992) and Welcome to the Zone (1995) have earned him a cult following. His hybrid graphic novel / textbook Perspective! For Comic Book Artists (1997) has helped cartoonists create realistic worlds for over a decade. His illustrations for the "Modern Love" column greet readers of the New York Times every week.
But perhaps his most unique achievement is his history with the 24-hour comic book — a complete 24-page comic book story, created from start to finish in 24 hours. Since his first 24-hour comic experience in 2004, Chelsea has returned again and again to this comic-book crucible, completing his stunning TENTH 24-hour comic on April 5, 2008.
Now, Top Shelf Productions presents the cream of Chelsea's crop: two hand-picked 24-hour comics from the reigning champion of the form.
WHO: David Chelsea, Peter Bagge, J.R. Williams, Mats!?, and the public!
WHAT: Gallery show, opening reception, book release party for David Chelsea's 24x2
wWHEN: Thursday, June 5, 6-10PM
WHERE: Floating World Comics
20 NW 5th Ave #101
Portland, OR 97209
(503) 241-0227
• I recently picked up one of the coolest books EVER. Hats off to editor Charlie Kochman at Abrams for spearheading a stunning collection of the brilliant old-school Wacky Packages stickers. Featuring an interview with art spiegelman, who worked on these waaaaay back in the day, and an afterword by contributing artist Jay Lynch, this tight little tome showcases every single Wacky Packages bubblegum card of Series 1-7 back in the early 70s.
Holy crap, this is a seriously fun blast from the past. Highly recommended!!!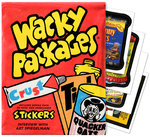 • Finally, i'm leaving for Montreal in just a few days (on route to MoCCA in New York City)... i'm hoping to post a list of items i'll be seeking out from the current Diamond Previews before i leave. There is a freaking boatload of great stuff coming out this Summer!
---
Mike Dawson's long-awaited 300-page graphic novel Freddie and Me is finally out. (Bloomsbury.) I was witness to early stages of this book, and i can't wait to read the entire thing.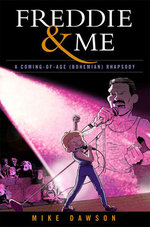 • More killer Michael Golden art.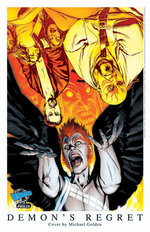 From the press release:
Philadelphia -- In celebration of the release of the new mini-series, "Demon's Regret," it's just been announced that a limited edition exclusive print will be offered at this years Wizard World Philly. Limited to only 150 copies on linen stock, signed and numbered! What's even more exciting is that the art is by non-other than cover artist Michael Golden, who will be making his first appearance at WWP!
• Nick Parker, editor of University of Alabama's Black Warrior Review is seeking submissions for robot-themed pieces anywhere between 4 and 8 pages long. "They do not have to be a sequential narrative. That is to say, we have published, and will again publish, single frames that have a story within them. Our magazine is a 6" x 9" book, and printed space on art pages is about 5" x 8". We are looking for black and white (and gray, naturally) submissions. For this feature we are looking for one, possibly two comics to go along with our other pieces, which includes art, poetry, nonfiction and fiction.
"As far as page rates go, we are a non-profit, so our payment to contributors is based upon an honorarium we get each year. As such, it is hard to nail down a firm number but, based upon years past and our increasing revenue, I would estimate that each contributor will get between $100 and $200. So, I would loosely peg the page rate at about $25 per page, with a limit of 8 pages.
"The magazine can be checked out here. Recent art and comic contributions have come from Maya Hayuk, Howie Tsui, Josh Frankel, and Jim Woodring."
---
May 24, 2008 / More →
I haven't heard from Staros in a few days, and was wondering where he was. Then i got an email informing me that he was on the set of The Surrogates film today, while authors Rob Venditti and Brett Weldele were off doing their interviews for the supplemental dvd extras. I am a little green right now, i must admit.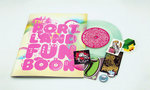 • PRESS RELEASE:
The Portland Funbook #3 needs YOU to make an awesome drawing or an awesome song. #3 will bring more music and more art than your eyeballs and earballs can handle! Be it obvious or obscure, we need submissions from all about Portland. This time the book will be an oversized 11"×17", the record 10", the glory immeasurable. And as with #1 and #2 all profits from the sale and release party will go to charity. The 3rd Portland Funbook will be the definitive regional activity/coloring book for next thousand years. Live your kindergarden dream!
For complete submission details download this pdf from Psilo Design.
If you don't know about The Portland Funbook you can download pdfs and music here.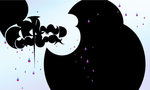 • Gregory Benton sent me a couple watercolors, done on holiday recently. Thanks, G.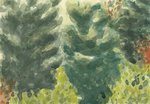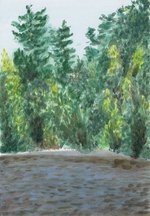 • Jeffrey Brown. A convention sketch for Joe Keatinge (Image Comics) at Emerald City Con. (Photo by Carlos Hernandez Fisher.) Then a Bighead/Batman commission. Cool. Cool. Cool.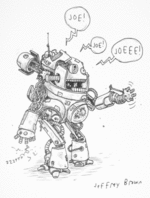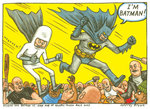 I'm off to the beach for the weekend. Fingers crossed for sunshine.
---
May 20, 2008 / More →
The world of comics lost a legendary champion today, when news broke that Rory Root died. I learned via Warren Ellis' email newsletter, who himself learned from Ed Brubaker. I'm pretty sucky at eulogies, but i can tell you that Rory was one of the coolest guys i've ever known in this biz, and his store Comic Relief has been one of the top five stores in North America for as long as i've been reading them.
Rory, i love you man and i'll miss you. Rest in peace, buddy.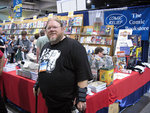 ---
May 15, 2008 / More →
Gee whiz, between Chris and myself, we've been representing Top Shelf across the country and around the world. First, in early April our ATL contingent did the FLUKE show in Athens, GA. The very next weekend Chris was pimping TSP at the mammoth New York Con. The week after that, Leigh and myself set up at Stumptown here in Portland. (Aided and abetted by new guy on the block Tim Sievert.) Chris then set sail for a comics festival in Sweden, got home, had one day off to check his 2,326 emails, then turned back around and right back across The Pond for the Bristol Con in England. At the same time, Leigh and myself were in Seattle for the Emerald City Con, along with Matt Kindt, Jeffrey Brown, and Andy Runton. Meanwhile, Chris left this morning to attend Editor's Day at SCAD (Savanna College of Art and Design).
Whew!!! Book Expo is in a week and a half (Staros will be flying solo for that one), then we'll be representing in force at MoCCA in two and a half weeks.
• So, yeah, Emerald City was great this year... big ups to Jim D. for pulling out all the stops, and making sure that the indy set wasn't entirely overshadowed by Will (STTNG) Wheaton, Apollo (BSG) Adama, three contestants from Stan Lee's So You Think You Want to be a Super-Hero?, and more big-name mainstream artists than you can shake a stick at. For the record, Will (Wesley Crusher) Wheaton is one helluva nice guy.
I scored some great loot. While i'm not a big back-issue bin flipper, i do like to check the magazine boxes and scored a great deal on three really old back issues of Comics Feature, two old issues of The Comics Journal, the very first issue of Amazing Heroes, and a sweet Wally Wood Treasury, all for a mere $20.
Fantagraphics got a big-ass pile of change from me (well, Eric did gimme a sweet discount!), since they had a plethora of amazing new books, including the new issue of The Comics Journal (Peanuts on the cover), Dash Shaw's MAMMOTH new tome Bottomless Belly Button, the revised and much better designed paperback edition of Patrick Rosenkranz's Rebel Visions: The Underground Comix Revolution, Craig Yoe's new ARF!, and an incredibly gorgeous new volume of Jules Feiffer strips called The Explainers. Good lord, these cats never take a break.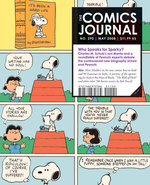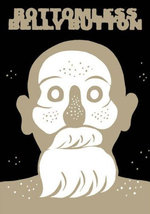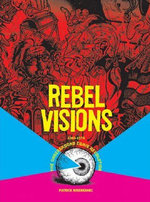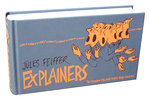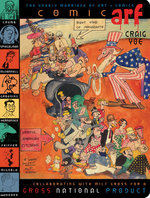 • How cool is THIS!
Small Press Spotlight on Andy Hartzell (Fox Bunny Funny) at the Cartoon Art Museum. Exhibition runs May 10 – August 10, 2008.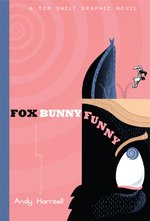 • Rising start Will Dinski is interviewed by Tom Spurgeon at Comics Reporter. I LOVE Will's comics. Seriously, this guy is the shit. We'll be seeing more of his work in the future. Check out his blog, baby! His recent book Beautiful, Cool, and Irreplaceable (picture below) is awesome! Buy it!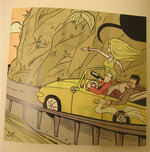 ---
ink-stud J.R. Williams has a wild as heck, day-glo web-comic up on his Flickr site called Felyna. Good, old-fashioned comics goodness.
Here's a pic of J.R. and table-mate Jim Blanchard at Stumptown last weekend. (Lifted from said Flickr site.)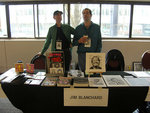 This is the piece i bought from him at the show... Metamorpho, baby!!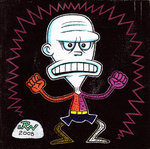 • Tender Loving Empire, the little boutique shop-that-could is celebrating their 1st Birthday!! And they're throwing a bash on May 11 at Berbatis, so if y'all aren't up in Seattle for the Emerald City Con, you should come out and rock the house. They also have a bitchin' new comic anthology out called Shitbeams on the Loose.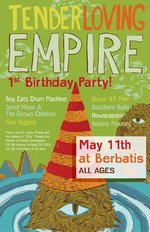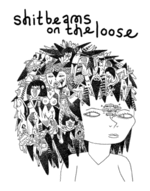 I really dig these kids at Tender Loving Empire, and their taste as a record label, screenprint shop, t-shirt maker, publisher is astounding.
• VERY lean month (of good stuff, that is) in Diamond Previews this month. The one book i'd like to point out is the new Meathaus S.O.S. anthology on page 328 of Previews. Farel Dalrymple had advance copies of this at Stumptown, and it's fucking gorgeous. Indy anthology lovers... TAKE NOTE!!
• This year the Eisner Awards are allowing On-Line Voting, and the ballots just went live. The registration process only took about a minute, and the voting another 2 or 3.
Just go to: www.eisnervote.com and follow the instructions. And go ahead and do it now, so you don't forget (though the deadline is June 13th).
And in case you're interested, we (Top Shelf!) got 3 nominations this year:
2008 Eisner Award Nominees:
Best Graphic Album-New: Essex County, vols. 1-2: Tales from the Farm/Ghost Stories, by Jeff Lemire
Best Graphic Album-Reprint: Super Spy, by Matt Kindt
Best Writer/Artist: Jeff Lemire, Essex County: Tales from the Farm/Ghost Stories
• Andy Runton made this fine Owly piece promoting this coming weekend's Emerald City Con up in Seattle. The guest list this year is swell, including our own afore-mentioned Andy Runton, as well as Jeffrey Brown and Matt Kindt. Come on out and say hello.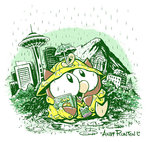 ---
May 1, 2008 / More →
Stumptown is come and gone once again, and continues to improve every year out. Kudos to Indigo, Cosmic Monkey, and the entire amazing force that organizes this show, which grows in stature each time out. The vibe was terrific and the venue fabulous.
Tim Sievert made it out from Minneapolis to represent at the Top Shelf table, while Liz Prince came out from Boston to promote her new Top Shelf book Delayed Replays. She had her own table and was selling some nifty new t-shirts. Hometown boy David Chelsea had his own table as well, and was pimping his hot-off-the-presses 24 x 2, which collects two of his ten 24-Comics efforts.
My old pal Garret Izumi was our neighbor (along with Scott Mills), and took these snaps. (This one at the table has Timothy on the left and me on the right.)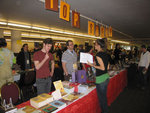 This one outside my favorite restaurant ever, Taqueria Nueve. Not only is the food incredible, but they make the best margarita in the cosmos. Better even than my own! (Gasp!)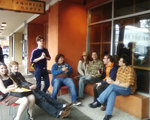 The Saturday night event at Cosmic Monkey was so freaking crowded, i literally couldn't make it ten feet into the large cavernous space. Hot, sweaty, and surrounded by comics. So i grabbed Timothy, and we headed to the Candlelight Room up by PSU downtown, and we danced our asses off to my new favorite local band, The Strangetones.
These cats rock so hard i can't stand it. Rootsy, roadhouse blues, and world-class musicians. Their act is tight as hell, Suburban Slim kicks out the jams like there's no tomorrow, and if you catch them on a good night, they might have the mondo-sexy Volcano Vixens doing their GoGo grooves alongside the band.
Flush with dough from the convention floor, i picked up their last two cds and i'm happy to report that they rock just as hard. Please, if you dig smokin' blues, listen to the samples on the website, and if you dig what you hear, pick up one or both of their recent albums, Crime-A-Billy and We're On Our Way.
• Ganges #2 is out, and while it lacks the emotional charge that author Kevin Huizenga's comics usually do, it's still a formidable comic, and as per usual, a triumph of formalism and comics mastery. The titular hero works at a dot.com company a decade ago, and he and his office drones addictively play violent user-to-user video games after hours. The set-up to the story is one of the most visually arresting sequences i've ever seen in comics, being a sort of psycho-spiritual video game battle. Again, i miss the usual human pathos that Kevin can bring to the plate, but this issue, like most of his work, sticks in my brain-pan long after i've finished it.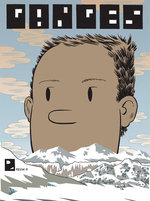 • Here's some teaser art for Jeff Lemire's forthcoming original graphic novel with Vertigo.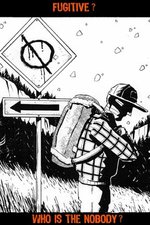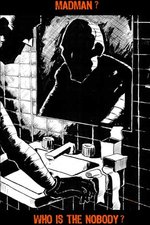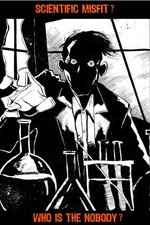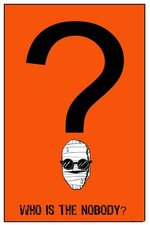 As described to me by Jeff:
Large Mouth, a tiny, isolated northern fishing town, didn't see much excitement. That is until an odd Stranger, wrapped completely in bandages, and wearing strange goggles, arrives in the sleepy town one day, taking up residence in the local motel.
Driven into a curious frenzy by the mysterious visitor, the townsfolk quickly learn the tragic story of his past, and of the terrible accident that left him horribly dis-figured and alone.
Eventually, Large Mouth welcomes the Stranger as one of their own, giving him the fresh start he never thought possible. But, as his story starts to unravel, they begin to question whether his bandages may hide more than just scars.
• From the Hickee Crew, superb artist Scott Campbell writes about upcoming events:
CUTE HUNTER. (Solo Show) Secret Headquarters in LA. Saturday, May 3rd. 8-11pm (Runs through May 29th)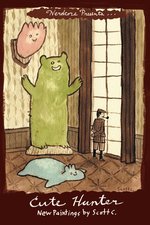 ONE TO GROW ON (Group Show) Gallery 1988 in LA. May 20 – June 1st. Opening reception May 20th.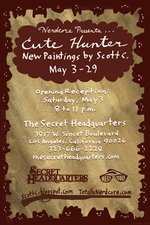 Scott will be posting paintings on his blog.
• Our submissions editor Claire sent this link my way. All i can say is WOW.
• My old buddy Brandon Huigens from Samurai Comics in Phoenix has a new comic available for your viewing pleasure at his MySpace page.
• James Kochalka is signing at Green Brain Comics in Dearborn, MI on Free Comic Book Day.
The Detroit paper Metro Times wrote an article about him, titled Manifest Cuteness, written by mini-comics legend Sean Bieri.
---