October 25, 2007
max estes is trying to get his fiancé over to America from her home in Norway, and is selling a bunch of new paintings to defray the big costs of doing so.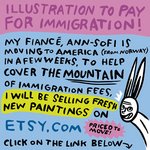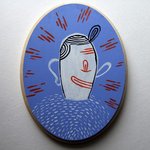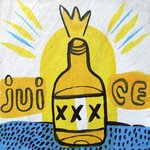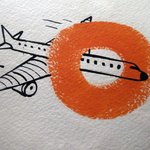 • Wow. I love it when one of our books gets the "I hate this book so much i'm going to devote three hours of my life and 20,000 words dissecting it" treatment. Fer fuck's sake, you could draw an entire mini-comic in the amount of time it took to write this vitriolic review. Someone named "Abhay" (does this guy/girl freelance for the Comics Journal?) over at The Savage Critic takes Jeremy Tinder's Cry Yourself To Sleep to task and all i can say is, i think someone has some Mommy/Daddy issues. I mean, i'm all for a good critical drubbing, provided it's actually, well, you know... critically minded. I almost never point out negative reviews of our books, but this is actually laughably funny. I think someone here needs to find a good therapist.
• He's a video blog featuring an interview with Jeffrey Brown at Bif! Bam! Pow! Wow!.
• More short video interviews over at Express, courtesy of Scott Rosenberg and Christopher Porter.
This one with Matt Kindt, and this one with Jeffrey Brown.
• Mike Bonanno was a guest of my pal Doug from Oni at my pre-Stumptown cocktail party, and he just sent me this great Flickr set of pics he took.
My god, how cute is my kid. That's him giving "respect knuckles." Chuck BB in the background. (Carter's favorite album right now, by the way, is Van Halen 1!! You should hear him sing "Jamie's Cryin'.")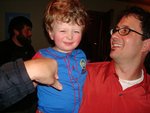 • Jesse Reklaw recently threw down with an amazing, dense mini-comic called Bluefuzz, and i'm here to tell you, this is some of Jesse's best work to date. The titular hero Bluefuzz's existential journey in 48 pages is a freewheeling beautiful ride. Featuring a small handful of full-color painted pages too.
I picked this up at Stumptown from the Sparkplug table. Sadly, i can't find any info online about this fine little comic.
• Tom Spurgeon interviews my old buddy, CBLDF Director Charles Brownstein at The Comics Reporter.
• JP Coovert gave me his new comic Adrift at SPX, and it's wonderful. My favorite book of his ever. Maybe autobiographical, maybe not; the narrative uses oceanic creature metaphors to beautiful effect. Well done, JP! It's not available yet at One Percent Press, but i presume it will be soon, and worth tracking down.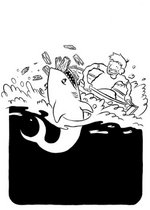 • One of my scores from TCAF in August is a mini-comics sketchbook by one Michael Cho, called Papercut. I'd never heard of this guy before nor had i seen his work, but mark my words people, we ALL will sooner than later. This guy is an AMAZING illustrator and cartoonist. (He drew THE most kick-ass Iron Man in my Avengers/Kirby's 4th World Sketchbook.) Check out his website and be prepared for some luscious art.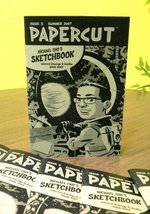 • Steve Lafler has a new online comic, called Diva Funnies. Yay!