happy happy holidays
December 13, 2007
How bat-shit nutty is THIS... Craig Thompson nominated for a Grammy Award!!
• Diana Schutz has me on her comp list, for which i'll owe her my second-born child. (Except that, i'll never have a second child...)
Anyway, this time i received the magnificent coffee table tome, The Art of Matt Wagner's Grendel.
I really can't think of an icon in the vast world of creator-owned characters, to have received such an impressive, deluxe treatment. Big ups to Matt, Diana, and designer Steve Birch on this expansive treasure trove.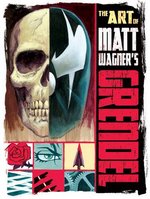 Between this, the Hellboy book (edited by Scott Allie), the Eisner Sketchbook (edited by Diana) and the Art of Bone (also edited by Diana), The Horse has produced arguably the most impressive line of creator-focused art books in the industry.
• RELEASE PARTY FOR WORLD WAR 3 ILLUSTRATED # 38: FACTS ON THE GROUND' ISSUE
Featuring multi-media presentations by: FLY, SETH TOBOCMAN, MAC McGILL, PETER KUPER, CHRISTOPHER CARDINALE.. NYC Cyclists Memorials, REBECCA MIGDAL, PENNY ALLEN
Friday December 14th, 7:30 pm: at the Time's Up ! space. 49 East Houston between Mott and Mulberry - Broadway-Lafayette Stop on B,D,F and V trains. Admission is free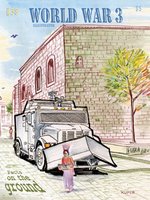 • John Porcellino continues to produce one of the longest running series in the world of alternative comics, with King-Cat #68. This comic is a pure artistic bravura performance. A diamond in the rough. A nugget of comics goodness that is perfectly priced as a stocking stuffer. Hint, hint. (Especially good for indoctrinating new comics readers into the fold.)
If you enjoy life's simple pleasures, and love naturalist writing or riveting first-person storytelling, then King-Cat is for you. John's delicate line and seemingly simplistic stylings, hide a deeply complex connection to the rhythms of life, nature, and the human condition.
There's more heart in John's hand-lettered introduction to this 68th issue, than in 98% of the naval-gazing auto-bio comics being cranked out in any given year. Browse his catalog and support this modern master.
John Porcellino is an American original, and his importance to the medium of comics is giant.
• Old Eugene buddy Matt Haley did this fab little ditty, riffing on the old Shaft poster, which is also up at the Wizard website.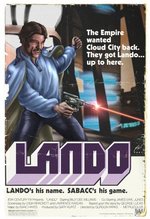 • If anyone ever questioned whether there were any great mainstream comics coming out anymore, they need look no further than Mark Millar and Bryan Hitch's in-your-face The Ultimates, the second oversized volume of which was released yesterday. Many people complain that this comic has strayed to far from the charming and harmless kiddie fare of yesteryear. That's it's too cynical and mean. Well in case you haven't noticed, the world is a cesspool right now, what with the polar ice-caps about to melt away, genocide, wars, and least but not least, the most corrupt administration the country has ever known.
I LOVED the first volume of this, and can't wait to dive into the finale. Moreover, Marvel is the undisputed KING of great hardcover treatments, chock full of extras and bonus goodies. Besides the requisite items like the covers from the floppies, there's a creator commentary, scripts, pencil art, how-to cover designs, and so much more. I'll be the first to admit that this is decidedly NOT for little kids, but if you have a friend who disses comics, but loves genre action films, James Bond, or action movies with lots of explosions, this will make them a believer. Seriously.
Here is an 8-PAGE! spread from the last issue. Feast your eyes on this, then go buy the book.


(To see a REALLY huge version of this, click HERE.)
• Why would i call this the most corrupt administration in American history. Well, i think Lloyd Dangle, creator of the smash-hit cartoon Troubletown, sums it up nicely.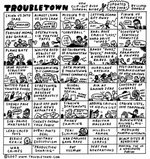 • James Kochalka has revamped the American Elf website, and now all the archives are free! From James' press release:
"In 1998 I began drawing a daily diary comic strip. (Every day I draw a little strip about something that happened to me that day.) In 2002 I began serializing the diary on my website, AmericanElf.com. On the website, only the most recent strip was available for free and to read the archives you had to subscribe for $1.95 a month. This did pretty well for me, bringing in about $600 a month, net. However... over the years I noticed my readership dropping lower and lower, even as the strip won industry award after industry award. (Three Ignatz awards and a Harvey award). My subscription base remained about the same, but less and less people were reading the strip, even as it became more critically acclaimed.
"I figure this was because a subscription based comic is a bit of an oddity in internet-land. Most web comics are free. Most people who came to my site were probably dumbfounded by the fact that I was asking for money to read the archives. Not to mention that my strip actually sort of sucks in small doses. It's not until you read many strips in a row that you start to understand how good it really is. But unless you were already a subscriber you couldn't read more than one strip at a time. So potential new readers who came to the site by word of mouth, or who followed links, probably turned away rather quickly.
"In the last few months, as the birth of our second child approached, I began to grow more and more restless about the status quo of my website. I didn't really want to give up the subscription money... as little as it is, every little bit helps when you're trying to scrape together a living as an indy cult cartoonist. But I desperately wanted more readers! So with the help of some of my readers and some of my webcomics friends I came up with a plan. Make the archives free, but offer bonus content for subscribers.
"And now here's the even better news. On Thanksgiving, our second son, Oliver Jonco Kochalka was born. Exactly two weeks later on the evening of Thursday, Dec 6, we launched the redesign of American Elf. The news of the change spread. My readership went from about 270 unique users on Wednesday... to about 200,000 or so on Friday. Page views were well in excess of 700,000!
"Life is good! A beautiful crazy baby, and people are actually reading my strip."
• Finally, here are some email holiday attachments i've received in years past:
Two from Ulf K.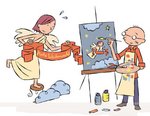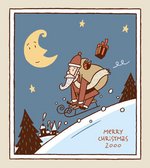 One from Gregory Benton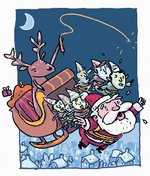 One from Chris Watson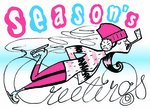 (I'll put some more up next time.)
• Oh yeah... in case no one noticed in the catalog section, here is the cover for Alex Robinson's next graphic novel, Too Cool To Be Forgotten, as designed by Merry Matt Kindt.