Christmas night is here...
December 26, 2007
I have to say, i really do love Christmas. It must have been my Mom who gave me the bug, but for a pagan/agnostic guy like myself, there's an almost magical something that hangs in the air, which no other Holiday does for me.
Here in Portland we had flurries of snow for a few hours this afternoon, but alas, none of it stuck to the ground. Hope all of you readers out there are enjoying this festive day.
• Some dude from Brisbane, Australia (where the gentleman raconteur Eddie Campbell also lives), who goes under the moniker Snoogans, has a bitching tattoo of and drawn by James Kochalka. Kick ass!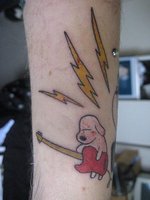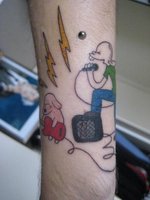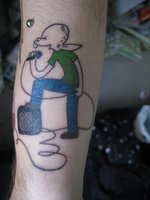 • January is Top Shelf Month at the Comic Book Bin! This is great news. So bookmark this page and head back there soon. They're also having some Top Shelf fun at their Facebook page. (Something this old man has never seen.)
• I love the back-matter in Ed Brubaker and Sean Phillips' brilliant series Criminal. (Along with Walking Dead, the ONLY comics i buy knowing that i'll also pick up the trade paperback later on down the road.)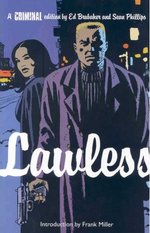 I haven't even read this second arch of the series yet, but i've devoured the stuff in the back, and on Ed's recommendation i picked up and watched Scott Frank's superb neo-noir, psychological thriller / bank-heist flick called The Lookout.
Starring Joseph Gordon-Levitt, in the follow-up film to his breakout roll in Brick, The Lookout hits all the right notes. It's criminal (no pun intended) that this film didn't make more of a splash upon its release. If you're looking for slam-bang action, stay away; but if you like excellent acting, taught scripts, and an engaging crime story, be advised to check this out. A great review can be read here at Dvd Talk.
• Finally, here is a new Christmas e-card from Gregory Benton, and the last of my archival Christmas jpegs from years past.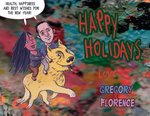 (Not exactly sure, but this looks like Joseph Lambert)