james kochalka superstar
January 19, 2008
...had a small role in this killer music video by a band called Scrabble. James wrote:
"Last time I was in San Francisco, I ended up drawing this diary comic strip about a guy I met. Well, it turned out he was in a rock band, and the rock band is pretty awesome and they made a video and now my diary strip is in the video. The song is "Emily, I" and the band is Scrabbel. Here's the video on YouTube."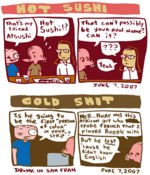 • More sweet art from Michael Golden. This is promoting the Phoenix Comic Con, January 25-27.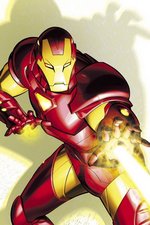 • An excellent review of Tom Hart's beautiful, understated masterpiece Banks/Eubanks can be read here at Comic Book Bin.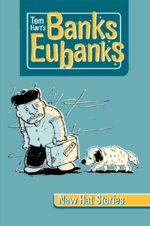 Tom is hands-down one of the single most under-rated North American cartoonists in our field. If you're not familiar with his work, then you've no right to call yourself anything close to being part of the comics cognoscenti.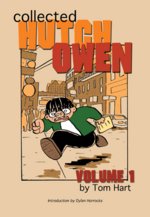 • From the desk of Comics Historian Craig Yoe:
"Starting Friday January 17 there will be a new feature on the Arf Lovers Blog...THE FLYING FLICK! Not only that, but this new weekly segment will be hosted by an exciting new superhero...THE FLYING FLICK! Every Friday there will be weird and wonderful flicks, i.e. incredible videos related to the history of comics and cartoons. And quirky and quickie flicks that are plain nutty FUN!
"What Doll Man is to Mondays, D.J. David B. is to Tuesdays and Wacky Wonder Woman is to Wednesday THE FLYING FLICK will be to Fridays!
"Marvel and DC are rumored to have a rule that the word "FLICK" can't be used in their comic book scripts. They're worried that it might be misread as a dirty word. I have no such morals or sense of responsibility. :)"