Holy crapola, Batman...
July 15, 2008
It's been years since i last updated here. My bad. Catching up.
• First, Slovenian-produced anthology Stripburger #47 arrived in my po box last week, and it's a beauty. While many of the essays are in the native language, the comics themselves are all in English, and they are ample. The whole affair kicks off with a stunning wraparoud cover and lead feature and interview with French cartoonist Matthias Lehmann. Other standouts include Filipe Abranches (Portugal), Marcelo D'Salete (Brazil), Bendik Kaltenborn (Norway)Thomas Vielle (France), Mawil (Germany), and Gunnar Lundkvist (Sweden).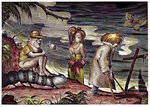 One of their best issues in a long while, this issue is really worth tracking down. Ostensibly Top Shelf is the North American distributor, but i just looked, and i don't see anything on our site. I'll look into this and get back.
• Merry Mike Dawson (Freddie and Me) sent me a link to a terrific new strip, title "Max, Get Out of My Room!" What happens when super-powered tween brothers get in a fight? Read on...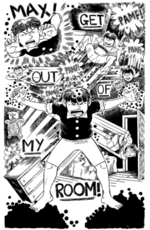 • Strange and Stranger: The World of Steve Ditko. Wow wow wow wow!!!! Author Blake Bell actually pitched this book to Top Shelf several years ago, and i just couldn't get Chris (Staros) interested in backing me in my desire to pick it up. I was bummed, but that is the nature of our partnership, so i let it go. Having ravenously devoured this book, and reading the author's notes on the evolution of it's development, this is probably a good thing. The content and narrative thrust changed radically. Moreover, the design by Fantagraphics designer Adam Grano is astonishing.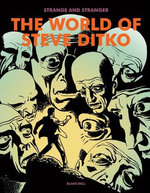 It's a wonderful companion volume to the recent Kirby! coffee-table art book. Except that where that book mostly regurgitated information about Kirby and his work that has been around for years, the wealth of information regarding Ditko's background and the analysis of his life's work, in Bell's book, make for an engaging and riveting read, covering ground virtually unknown heretofore. I want to pull it off the shelf and start reading it over again already.
I will state right now, that this book will easily end the calendar year 2008 in my Top Five books of the year, if not Number One. Very highly recommended.
• How cool is this cover art for our (as yet unannounced) one-shot by Top Shelf 2.0 contributor Brecht Evens. The book is titled Night Animals. More on this soon.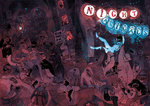 • Totally not comics, but incredibly cool. I was tipped off to an amazing video of (from the website) "world-renowned kayakers following the banks of Africa's White Nile River with one mission: to discover uncharted whitewater."
A spine-tingling short film, made by the writer of the article Aaron Retting, can be linked to at Flux magazine. (A student magazine of my alma mater, University of Oregon.)