June 22, 2008
June 14, 2008. Email from Jeff Lemire:
"Just got back from the Schuster awards ceremony, and I won Best Canadian Writer/Artist! It was the nights "big" end of the night award and I was up against Darwyn Cooke, Brian Lee O'Malley and Julie Doucet! It is a gorgeous award, and I'll likely get some print in the local newspapers on Monday. Anyways, I thanked all of you and gave my props to Top Shelf...so way to go team! See y'all soon."
Whoo hoo!
On Lemire's Shuster Award, good pal Gary Butler (Quill & Quire, Rue Morgue) said, "A well-deserved win for a brilliant talent." And the subject header for the same email read: The Lemire the Lemerrier. Ha! Love it! Thanks, G.!
• The new Strapazin arrived in the mail. Whoo hoo!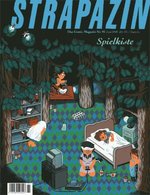 • Alex Robinson's new Too Cool to be Forgotten scores HIGH in New York Mag's "The Approval Matrix." In the "Brilliant/Lowbrow" category there is the cover of Too Cool!!! The text says: "Alex Robinson's endearingly uplifting graphic novel Too Cool to be Forgotten." He shoots, he scores!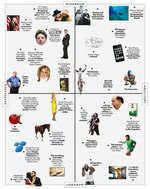 • Top Shelf alum Max Estes' online comic strip My Life as a Bunny is being published in Spain! Congrats, Max!
• Big props to Top Shelfers Matt Kindt, Jeff Lemire, and Christian Slade on their 2008 HARVEY AWARD NOMINATIONS!!!
SPECIAL AWARD FOR EXCELLENCE IN PRESENTATION
Super Spy, Matt Kindt
BEST COLORIST
Matt Kindt, Super Spy
BEST NEW TALENT
Jeff Lemire, Essex County
Christian Slade, Korgi #1: Sprouting Wings
• It's no secret i love Wizard mag, and they love us right back! The newest issue (#201) has FOUR Top Shelf plugs! Page 20 had Five Questions with Robert Venditti (for The Surrogates); Matt (Super Spy) Kindt shows up in the "Future Superstars" section on page 79; Alex Robinson's new Too Cool To Be Forgotten, on page 101, is a recommended Summer Read; and it's all good words about James Kochalka's Johnny Boo Volume 1 on page 106.