June 13, 2008
MoCCA kicked ass, like it always does, even though i came down with a cold, and it was as hot as sin in The City. After three nights in Montreal, living la Vida Loca with mon ami Patrick Jodoin, i stayed at Gregory Benton's swanky new studio loft on Flatbush in Brooklyn.
-Christine Norrie gave me three tiny little piece of printed ephemera that are just exquisite. They are garment tags, with subtle yellow, stamped text, and gorgeous illustrations by Christine printed in red ink. One each for bra, panties, and slip. The style reminds me of a classic line-art style circa 1965 fashion ads. (Or if memory serves, like the packaging that came with sew-your-own fashion patterns like my mom used to make.)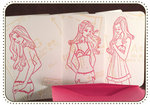 -Will Dinski continues to be a leader in the oft-ignored field of mini-comics, with two new books i was given: Errand Service, a re-packaged clever little ditty about the service-provider who does the minutiae of everyday life and so much more, as work for hire, and a super-mini held together by a metal fastener, called Shift. I'm going to keep singing this guy's praises until he becomes a household name, damnit all!!
-Lilli Carre gave me her exquisite new mini Dorado Park. Lilli is emerging into one of the next generation's brightest stars.
-Good friend Jose Villarrubia introduced me to two of his illustration students whose work literally boggles. Check this shit out!
Kali Ciesmier. Both do amazing work, and i'll be very surprised if i don't start seeing there work all over the place soon. Kali also handed me a delightful little mini-comics titled Paige Turner and the Midnight Curiosity, which amply displays here ability to tell a sequential narrative in pictures as well.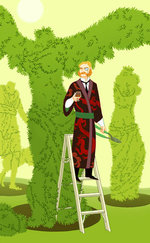 -On the way home (flying over the majestic Rocky Mountains) i had a chance to read How to Love, the new anthology by Israeli ink-studs, Actus. I've known all of them for upwards of a decade now, and have always been a fan, and with this latest, they continue to impress. Greg McElhatton has a review posted here at Read About Comics. This is a book you can order right here from yours truly, if your local retailer can't or won't stock it.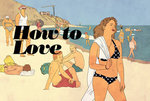 -Sam Henderson gave me the new Magic Whistle (Number 11), also which had me laughing out loud on the flight home. Thanks, Sam!!
-Picked up Danny Hellman's new anthology Typhon. Some great stuff can be found therein, including two strips by Gregory Benton, some nice new work by the likes of Dalton Webb, Pat Moriarity, Chris Cilla, Pshaw, Grant Reynolds, and geez, so many more. All wrapped up in a sweet cover by R. Sikoryak.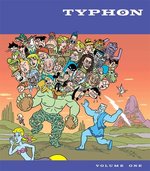 -I did get more stuff from MoCCA, but i left it in the hands of Rob Venditti, to ship back to me from Atlanta... stay tuned.
• Jeremy Eaton has a link to three and a half years of his weekly editorial cartoon, A Drawn Perspective. Great stuff!
• Top Shelf 2.0 contributor Lizz Lunney has a terrific new comic out titled I Love Dinosaurs and They Love Me.
• This is not about comics. Read on ONLY if the idea of Challenging the Militarization of US Energy Policy grabs your interest. Good stuff.