July 4, 2008
Ink-stud extraordinaire Steve Lafler writes:
"Just a heads up -- my new book TRANNY: Boys Will Be Girls is in the current Diamond Previews catalog on Page 330 (listed with Sparkplug Comic books). Now is the time to pester your favorite comics retailer to order the book!"
• Things i scored at MoCCA and am just now getting around to dive into:
Love/Pain by the artist named Ephameron, published by Bries. Not comics, but rather, wonderful and beautiful drawings, photos, portraits and what have you, in a terrific hardcover package. Sublime. The artist was actually working the Bries table (in place of our old pal Ria Schulpen, who wasn't there for the first time in many years), so i got a wonderful drawing inside as well.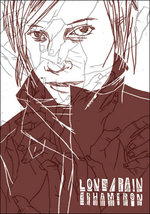 - Skyscrapers of the Midwest, collected hardcover, by Josh Cotter. Published by AdHouse.
Awesome. I have to admit that black humor in comics is pretty hit or miss for me. Some of the more misanthropic ones are just plain juvenile or creepy as fuck. On the other hand, in the hands of some — like Ivan Brunetti — self-loathing has never been more raging with humanity. Enlightenment through hitting rock bottom and rolling in the muck.
Josh Cotter is something different altogether. Dark as it gets, but the humor is wacky and dare i say, joyous in it's affection. I'm not sure what scares me more, Josh's comics themselves, or the fact that on the surface this guy seems like a "normal" human being, when clearly this is not the case. No matter, this book rocks. Many thanks to Chris Pitzer and Josh Cotter. I owe you one, kids.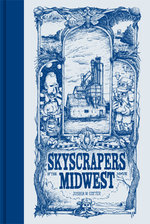 - While i was in Montreal on the way to New York, we stopped by a bitchin' store called Planète BD, which blew my mind. No other North American store has this much French Bandes Dessinee. (French comics, mostly as oversized albums, or new format graphic novels.)
Anyway, i picked up two volumes of a crime story called RG written by Pierre Dragon (who was a special agent himself, before becoming a writer) and drawn by the incredible Swiss inkstud Frederik Peeters. (Peeters is most known here for his book Blue Pills, published by Houghton Mifflin.)
GREAT looking stuff.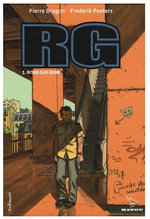 - And down the street (in Montreal) i picked up a gorgeous new Blutch graphic novel, C'était le BonheurC'était le Bonheur. Stunning comics. I'm reminded here of Jules Feiffer's older Village Voice strips stylistically. It's pretty depressing that no one's really made any inroads getting his material into print here in the U.S. Ah well, c'est la vie.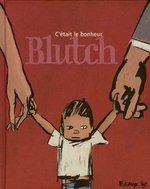 - Last BD i picked up was Daniel Blancou's delightful Le Roi de la Savane, a terrific athrpomorphic treat.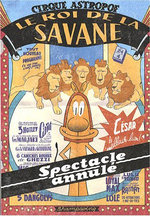 • Charles Hatfield and his cohort Craig at Though Balloonists give careful consideration of Eddie Campbell's Alec graphic novel, How to Be An Artist. Good reading to prepare the world for the mammoth all-in-one Top Shelf Complete Alec tome next year.