busy busy busy busy...
May 15, 2008
Gee whiz, between Chris and myself, we've been representing Top Shelf across the country and around the world. First, in early April our ATL contingent did the FLUKE show in Athens, GA. The very next weekend Chris was pimping TSP at the mammoth New York Con. The week after that, Leigh and myself set up at Stumptown here in Portland. (Aided and abetted by new guy on the block Tim Sievert.) Chris then set sail for a comics festival in Sweden, got home, had one day off to check his 2,326 emails, then turned back around and right back across The Pond for the Bristol Con in England. At the same time, Leigh and myself were in Seattle for the Emerald City Con, along with Matt Kindt, Jeffrey Brown, and Andy Runton. Meanwhile, Chris left this morning to attend Editor's Day at SCAD (Savanna College of Art and Design).
Whew!!! Book Expo is in a week and a half (Staros will be flying solo for that one), then we'll be representing in force at MoCCA in two and a half weeks.
• So, yeah, Emerald City was great this year... big ups to Jim D. for pulling out all the stops, and making sure that the indy set wasn't entirely overshadowed by Will (STTNG) Wheaton, Apollo (BSG) Adama, three contestants from Stan Lee's So You Think You Want to be a Super-Hero?, and more big-name mainstream artists than you can shake a stick at. For the record, Will (Wesley Crusher) Wheaton is one helluva nice guy.
I scored some great loot. While i'm not a big back-issue bin flipper, i do like to check the magazine boxes and scored a great deal on three really old back issues of Comics Feature, two old issues of The Comics Journal, the very first issue of Amazing Heroes, and a sweet Wally Wood Treasury, all for a mere $20.
Fantagraphics got a big-ass pile of change from me (well, Eric did gimme a sweet discount!), since they had a plethora of amazing new books, including the new issue of The Comics Journal (Peanuts on the cover), Dash Shaw's MAMMOTH new tome Bottomless Belly Button, the revised and much better designed paperback edition of Patrick Rosenkranz's Rebel Visions: The Underground Comix Revolution, Craig Yoe's new ARF!, and an incredibly gorgeous new volume of Jules Feiffer strips called The Explainers. Good lord, these cats never take a break.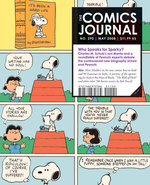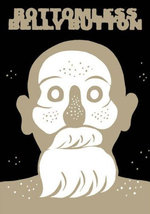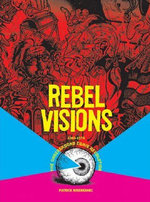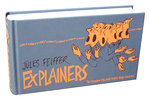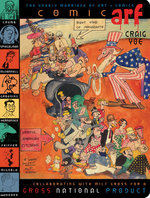 • How cool is THIS!
Small Press Spotlight on Andy Hartzell (Fox Bunny Funny) at the Cartoon Art Museum. Exhibition runs May 10 – August 10, 2008.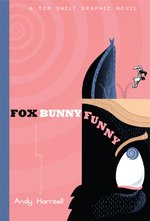 • Rising start Will Dinski is interviewed by Tom Spurgeon at Comics Reporter. I LOVE Will's comics. Seriously, this guy is the shit. We'll be seeing more of his work in the future. Check out his blog, baby! His recent book Beautiful, Cool, and Irreplaceable (picture below) is awesome! Buy it!