May 5, 2008
ink-stud J.R. Williams has a wild as heck, day-glo web-comic up on his Flickr site called Felyna. Good, old-fashioned comics goodness.
Here's a pic of J.R. and table-mate Jim Blanchard at Stumptown last weekend. (Lifted from said Flickr site.)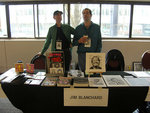 This is the piece i bought from him at the show... Metamorpho, baby!!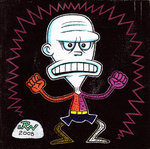 • Tender Loving Empire, the little boutique shop-that-could is celebrating their 1st Birthday!! And they're throwing a bash on May 11 at Berbatis, so if y'all aren't up in Seattle for the Emerald City Con, you should come out and rock the house. They also have a bitchin' new comic anthology out called Shitbeams on the Loose.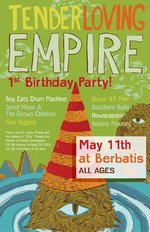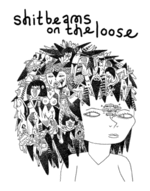 I really dig these kids at Tender Loving Empire, and their taste as a record label, screenprint shop, t-shirt maker, publisher is astounding.
• VERY lean month (of good stuff, that is) in Diamond Previews this month. The one book i'd like to point out is the new Meathaus S.O.S. anthology on page 328 of Previews. Farel Dalrymple had advance copies of this at Stumptown, and it's fucking gorgeous. Indy anthology lovers... TAKE NOTE!!
• This year the Eisner Awards are allowing On-Line Voting, and the ballots just went live. The registration process only took about a minute, and the voting another 2 or 3.
Just go to: www.eisnervote.com and follow the instructions. And go ahead and do it now, so you don't forget (though the deadline is June 13th).
And in case you're interested, we (Top Shelf!) got 3 nominations this year:
2008 Eisner Award Nominees:
Best Graphic Album-New: Essex County, vols. 1-2: Tales from the Farm/Ghost Stories, by Jeff Lemire
Best Graphic Album-Reprint: Super Spy, by Matt Kindt
Best Writer/Artist: Jeff Lemire, Essex County: Tales from the Farm/Ghost Stories
• Andy Runton made this fine Owly piece promoting this coming weekend's Emerald City Con up in Seattle. The guest list this year is swell, including our own afore-mentioned Andy Runton, as well as Jeffrey Brown and Matt Kindt. Come on out and say hello.