oh canada...
June 4, 2008
Off to Montreal to visit my friend Patrick — and also to flirt with the bevy of cute French-speaking girls — on route to New York for MoCCA. Y'all won't hear from me for at least a week (not uncommon, sadly), so i wanted to throw out my picks from the current Diamond Previews. (I think for items shipping in December.) In order of appearance:
DARK HORSE
Bernie Wrightson's Frankenstein (new hardcover edition!!)
Dean Motter's Mr. X Archives. Fun old stuff. Style over substance, but beautiful all the same. Come on... early Jaime Hernandez and Seth?
Hellboy Library Edition vol. 2. Volume one is drop dead gorgeous. These are as good as it gets.
DC COMICS
-DC Universe Illustrated by Neal Adams. His shit still rocks.
-Teen Titans Archives vol. 4. Part of my Holy Trinity. Starfire was as big a crush as any "real" girls up to that point in my teens. And probably as available to Mr. Nerd.
-Y: the Last Man Deluxe Edition vol. 1. I loved the first few trades, and if the package is as tight as the new Starman Deluxe books, i am all over this.
MARVEL
Criminal #6. As always.
Marvel Masterworks: Amazing Spider-man vol. 10. I know this is sacrilegious to many, but i'm actually a bigger fan of Romita's Spidey than Ditko. (Of course, Ditko is a god, but Romita's Mary Jane... are you KIDDING me?!!!)
Immortal Iron Fist tpb vol. 2 (The Brube, Fraction, etc.) The first volume in this series surprised me how much i enjoyed it.
BODEGA
- Dave K.'s Neverland. Almost everything Dave touches is gold. He's like the best teen drama tv show as imagined by John Porcellino.
DEVIL'S DUE
- Oh yeah!!! Jeffrey Brown's Incredible Chabge-Bots character "Balls" action figure!! I can't handle how cool this is... it actually TRANSFORMS!!
DRAWN & QUARTERLY
- Against Pain, by Ron Rege Jr. Another member of the circa mid-90s generation whose work is always worth reading.
FIRST SECOND
- Eddie Campbell's The Amazing Monsieur Leotard. Eddie makes comics. The world rejoices. 'Nuff said.
GEMSTONE
- EC Archives: Haunt of Fear vol. 1. The best reprint project going on currently, alongside Terry and the Pirates.
iDW
- Complete Dick Tracy vol. 5. Choice vintage comics. We truly are in a Golden Age of reprints.
ONI
Local hardcover edition. Brian Wood works magic on the page. And coupled with Ryan Kelly's insanely good art on this series, i've devoured every issue to date.
Love the Way You Love (Jamie Rich and Marc Ellerby). I've yet to read this, but i dig Jamie's stuff.
Sharknife vol. 2: Double Z. Corey Lewis' manic fucking madness. Over the top, ADD, and high octane.
VERTICAL INC
- Tezuka's Dororo vol. 3. Tezuka, duh...
And there's more in the book section, including a collection of Frazetta comics, a collection of Will Eisner's PS Magazine, and a series of toys of the old Rankin & Bass characters classic, Rudolph the Red-Nosed Reindeer. I showed this to Carter this last December, and he flipped his wig.
• Boo Ya! Charlito and Mr. Phil are hosting an Indie Spinner Rack party this Saturday night, ladies and gents. Yahoo! Me loves me a good party, and these cats are as cool as cucumbers.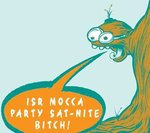 FREE DOOR PRIZES, DJ WACKY WACK, FREE LOVE & Perhaps Mr. Phil will take his shirt off!
Swing by the ISR booth to get your Raffle ticket NO CHARGE. FREE.
OFFICIAL IZZER MOCCA PARTY
Saturday June 7th
9pm START TIME....who knows how long.
BAR M-15!
• Pat Moriarity made this awesome poster for the Horror film Paper Dolls. It will be showing in Seattle for the STIFF Film Festival, Tuesday, June 10th. 8:00. Jewel Box Theater. Nice work, Pat!