May 29, 2008
Mike Dawson's long-awaited 300-page graphic novel Freddie and Me is finally out. (Bloomsbury.) I was witness to early stages of this book, and i can't wait to read the entire thing.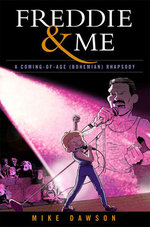 • More killer Michael Golden art.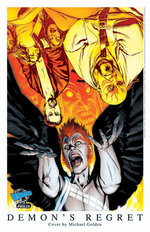 From the press release:
Philadelphia -- In celebration of the release of the new mini-series, "Demon's Regret," it's just been announced that a limited edition exclusive print will be offered at this years Wizard World Philly. Limited to only 150 copies on linen stock, signed and numbered! What's even more exciting is that the art is by non-other than cover artist Michael Golden, who will be making his first appearance at WWP!
• Nick Parker, editor of University of Alabama's Black Warrior Review is seeking submissions for robot-themed pieces anywhere between 4 and 8 pages long. "They do not have to be a sequential narrative. That is to say, we have published, and will again publish, single frames that have a story within them. Our magazine is a 6" x 9" book, and printed space on art pages is about 5" x 8". We are looking for black and white (and gray, naturally) submissions. For this feature we are looking for one, possibly two comics to go along with our other pieces, which includes art, poetry, nonfiction and fiction.
"As far as page rates go, we are a non-profit, so our payment to contributors is based upon an honorarium we get each year. As such, it is hard to nail down a firm number but, based upon years past and our increasing revenue, I would estimate that each contributor will get between $100 and $200. So, I would loosely peg the page rate at about $25 per page, with a limit of 8 pages.
"The magazine can be checked out here. Recent art and comic contributions have come from Maya Hayuk, Howie Tsui, Josh Frankel, and Jim Woodring."