December 28, 2010 / More →
I'm spent from Christmas, folks, but it was entirely worth it. I think i might be in the minority, but i LOVE the holidays. That said, i could live without the holiday hangovers... such is the bartender's prerogative.
• Meanwhile, feast on this truly awesome editorial illustration (and rough drafts) Jeffrey Brown made for an article in Filter magazine titled "Televisionaries." I grew up with a lot of this stuff, though sad to say i missed Pee Wee's Playhouse and Fraggle Rock.
---
December 24, 2010 / More →
Courtesy of me mate Ben Saunders.

• And from another British pal, the wonderfully talented Lizz Lunney.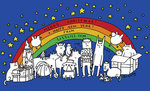 ---
As mentioned not too long ago, the great Jeffrey Brown will be part of a group exhibition in Chicago soon.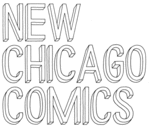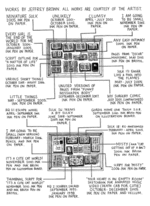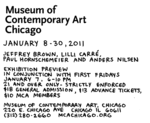 • And more fun stuff from the Center For Cartoon Studies. Art by CCS student Dakota McFadzean.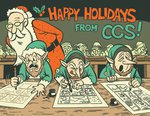 ---
December 21, 2010 / More →
Here's a smattering of holiday art i'm getting in my in-box. I love all three of these guys and their work.
From Gregory Benton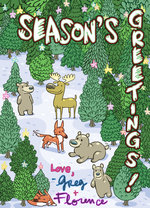 From Dean Haspiel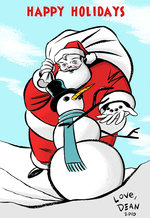 From David Chelsea


And in case you missed it, Max Estes' art for our own holiday greetings.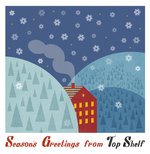 ---
December 16, 2010 / More →
Yikes! O.k. lots of fun stuff, so fasten your seatbelt....
• Hey, that's me!!
Doug Dorr interviewed me for his terrific Portland-centric blog called Portland Comics. I'm honored. Heck, look who i follow in the interviews! (The delightful Kelly Sue DeConnick and Sparkplug's Dylan Williams!)
• Max Estes says hello!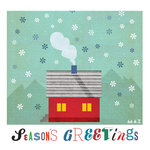 • So does Jed McGowen.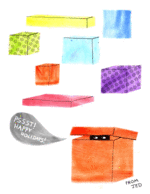 • Nate Powell is one busy motherf*cker!! He recently sent in this bit of juicy info:
"Hey y'all! Just letting you know that I illustrated an awesome book called EDIBLE SECRETS: A Food Tour of Classified US History by Michael Hoerger & Mia Partlow, which Microcosm Publishing just released. I'll send one to each of you... it is perfect highbrow bathroom reading. Here's a copy of the cover and a link, if you wanna put it up on the blog section or anything... thanks!"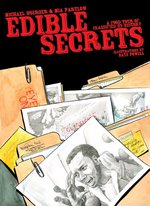 • I recently finished "mentoring" a student at the Center for Cartoon Studies named Pat Barrett. Just received an announcement for a new web comic he and two pals are doing, called Farmy Acres. It's an ambitious conceit, and worth a peek.
He writes:
"My buddies Dan McCool, Todd McArthur and I have started a new web comic. It's set on a farm in Kansas, 1962. Each of us draws a strip about one area of the farm. Our characters can move around from place to place, but we're stuck drawing the same location, which means story lines will wander from cartoonist to cartoonist. A new strip will be posted every Monday and Wednesday,"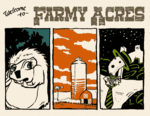 • Jeffrey Brown's work will be showing at the Museum of Contemporary Art in Chicago in January:
• Did i already run this Liar's Kiss poster? Sweet! (Coming in April.)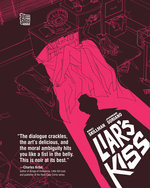 ---
the talented and fabulous Jeremy Eaton is having an online sale. His "cartoon jumbles" are some of the niftiest and loving tributes to our medium. Really wonderful stuff.
Here's what he has to say:
"I'm happy to announce this years Holiday Art Sale will run from Dec. 1 to Dec. 21, three full weeks during which time ALL of my original art available online will go for 60% off its listed price. If you come across a piece you are interested in, but aren't sure if it qualifies for the discount, simply let me know and I will verify that for you.
"Happy hunting! Enjoy the season!"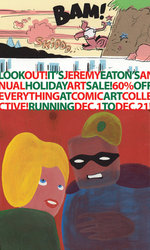 • Sean T. Collins and Matt Wiegle launch a dedicated Destructor website. Some of this originally ran in b&w on Top Shelf 2.0, but i'll be the first to say that the same material is given new life with Matt's gorgeous color palette. Great stuff!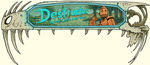 • My (awesome) intern Rachael has a sweet movie blog. Check it out.
---
November 28, 2010 / More →
I do love this period, after the food coma of Thanksgiving and before the crack of a New Year. Sure, crass consumerism is gross, but gimme the frosty mornings, the friends and family, the food, the decorations, the lights, and the spirit of giving. It's all too easy here in Portland, where we have, you know, seasons. I've spent Christmas in Arizona before, and while it has its own charms, i'll take a scarf & gloves over shorts & flip-flops any day.
In any case — before i cry tears of joy in my soy eggnog — and in the spirit of giving, let's turn our attention to our great amigo Steve Lafler, who is in midst of a Kickstarter campaign to get his sublime tome El Vocho into print, then into bookstores. This is the real deal, folks.
---
November 18, 2010 / More →
That's pretty damn cool. I love Spectrum! Congrats Eric!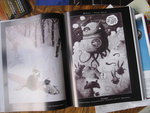 • Huff Po says Lost Girls is not filmable. I'd wager the author would concur. And how about a big ol' Happy Birthday Alan Moore!
• Oh man, Brian Warmoth spotlights one of the best new comics talent in years and years, the great cartoonist and swell guy, Joseph Lambert. I think as soon as Joe gets a substantial collection of his work in print between two covers (and/or a feature-length graphic novel), the world can't help but notice. Until then, enjoy this choice selection. (Thanks to The Comics Reporter for the heads-up.)


• Here's Nate Powell's rad painting for the forthcoming Any Empire graphic novel!!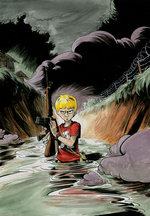 • Have you had "The Talk" with YOUR children?

---
November 13, 2010 / More →
busy busy busy here at Top Shelf PDX Headquarters gearing up for our 2011 schedule. Dag-busted-darnit, i'm gonna try and get more bitchin' developmental art, covers, and whatnot up on this blog. Starting now!, with a couple kick-ass cover sketches for Kagan McLeod's forthcoming Infinite Kung-Fu collection. Feast on these!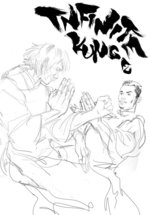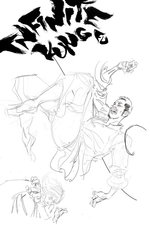 • GREAT photo set of Paul & Anina's annual Halloween party. I had such a good time, as always. Big thanks to Paul & Anina!! BTW, my get-up was inspired by the background hip-hop dancer in the recurring SNL skit What's Up With That? (I'm not sure who they had taking snaps throughout the party. Sorry.)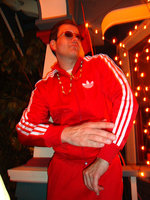 • So i'm currently in the process of organizing / purging my url bookmarks. (Egads, what a mammoth project.) In any case, i'm stumbling across lots of cool shit. Case in point; how rad is this piece of art, the header for the Belgian comics shop(?) Het Besloten Land. The art is by Randall C.


• Wow, i'm not a fan of "motion comics," but Daniel Kramer did a sweet number with Dean Haspiel's Billy Dogma story "Sex Planet."

Billy Dogma in "Sex Planet" from Daniel J. Kramer on Vimeo.
• Caryn Tate did this interview with the Nerdage blog over at The Oklahoman newspaper.
---
Hi folks, i do hope everyone out there had a swell Halloween. I know i did. Things have been busy for this bartender, as we gear up for our 2011 publishing schedule. Lots of good stuff coming down the pike, so stay tuned on that front.
• Top Shelf Five for Friday (from last week), courtesy Tom Spurgeon's Comics Reporter.
Big ups to everyone who chipped in!
• For everyone hounding me to join Facebook, claiming that one can set their own privacy standards? Suck on this.
"..affects tens of millions of Facebook app users, including people who set their profiles to Facebook's strictest privacy settings."
• Steve Lafler's band, Dick Nixon Experience, rocked the house last July at the El Vocho launch party, at the Mercury Cafe in SF.
• Akino Kondoh's animation, Ladybirds' Requiem digest version has been selected for top25!
YouTube Play: Live from the Guggenheim. A Biennial of Creative Video.
You can also watch all 25 videos on the YouTube Play Channel.
• Epic photo set of the Isotope: APE Aftermath Party. Pics by Dyami Serna. Have i mentioned how much i love that party? Oh, i have?...
• Cool stuff i scored at APE:
- Katy Wu's Tiger Bee. Wow! Absolutely lush and beautiful. Buy it!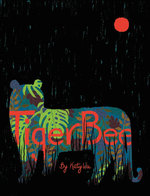 - Movies R Fun!, by Josh Cooley. Outstanding ode to great moments in film. I LOVE this book! Buy it!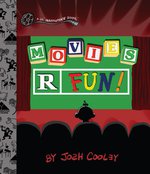 • Finally, here are some bitchin' covers and flap art for Jeffrey Brown's abandoned series Sulk. (Don't worry kids, he's got plenty of great comics up his sleeve still. Simmer down now!)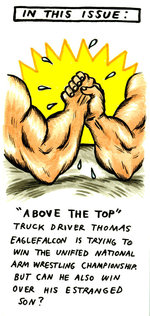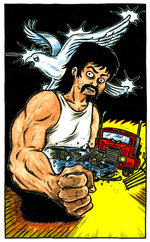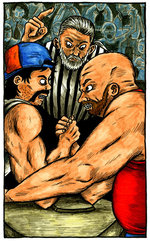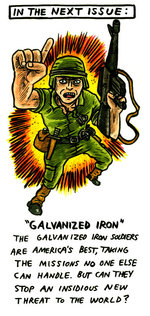 ---
Back from APE in beautiful San Francisco, yet another one come and gone. Great time as always. Stayed the first night in town with my old pal Wayne (Veeps) Shellabarger, geeking out on film, old comics, recently found sketchbooks, and talking too about the poster for our forthcoming Veeps movie. It's been too long crashing at Chez Wayne.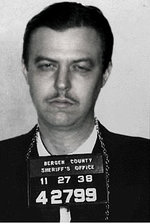 Got to spend time with another fine friend, Patrick Jodoin. We went out on Friday night and, as per usual, got a little tipsy. At the show, got to talk with lots of groovy folks: Deb Aoki, Renee French, Johnnie Arnold, Rich Koslowski, Scott Morse, Chris (AdHouse) Pitzer and his lovely wife Lisa, Dan (Slave Labor) Vado, Peggy (D&Q) Burns, Mike & Janice at the Fantagraphics booth, Tammy Stellanova, Josh Frankel, Robin (Inkstuds) McConnell, Jennifer de Guzman, François Vigneault, and gee, so many more.
Saturday night was, of course, my third or fourth guest bartending gig (The Top Shelf Happy Hour), for the APE Aftermath Party at Isotope Comics Lounge. And yet again, this bartender perhaps imbibed a little more than he should have... who am i to say? In any case, thanks to James, Kirsten (awesome margaritas!), Storm, Josh, and G.A. for yet another swell party.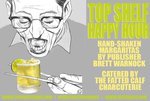 As everyone now knows, the winner of this year's Istope Award for Excellence in Mini-comics (for which i was a nominating judge) was The Possum and the Pepper Spray, by Pete Hodapp. Congrats Pete!
I must point out a few other standouts from the competition. No time to comment, other than these are all cartoonists i recommend that you check out.
Author / Mini-comic submitted for the Isotope Award:
Peter S. Conrad / Attempted Not Known #11
Box Brown / Everything Dies #4
A.M. Babakitis & C.M. Clarkson / The Crystalline Man
Jason Jihanian / Danger Country #1
Neil Brideau / Write Now!
Corinne Mucha / My Every Single Thought
Josh Frankel / Water Column #3
Sophie Yanow / VSNQST (which can be read here, on Top Shelf 2.0)
• Moving right along, coming in the Spring the world will be pummeled by more of those Incredible Change-Bots, courtesy of Jeffrey Brown. To whet your appetite, dear readers, chew on this goodness. Cover art for Incredible Change-Bots Two. The one on the end is actually the cover for the third book in the series, Incredible Change-Bots: Two Point Something Something. F*ck Yes!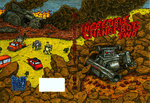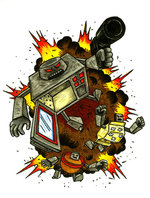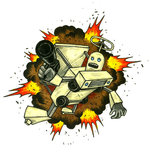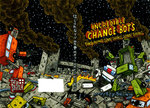 • I'm proofing the new edition of Alex Robinson's Tricked right now. Matt Kindt's new cover rocks. Here's a some sketch comps Matt did early on, and the final.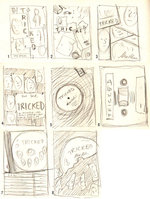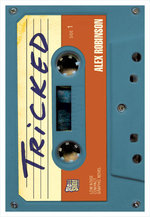 • Contribute to former Top Shelf intern, Hazel Newlevant's SADNESS ZINE!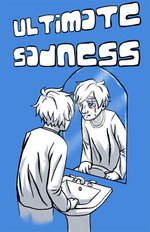 Hazel writes:
"I've decided to edit an anthology of SADNESS, and I'm hoping for artistic contributions from some of the lovely creative people I know. Be it genuinely sad, hilariously sad, or both; comics, drawings, photos, poetry, stories –– however you prefer to express your inner angst!
"Format: 5.5 x 8.5, black & white, 200dpi or higher for images. I have a scanner and tablet, so if you don't, I can scan and edit stuff for you. Text submissions, you can format or hand-write yourself, or I'd be happy to format them for you.
"What you get: At least one free copy! I don't know how successful this will be, but if it pays for itself and I'm able to do multiple printings, I will try to give you more. Also, your name and website or business information, the title of the piece, and the URL of any website/blog which you'd like me to include in the zine credits.."
Deadline: December 1st. Send it to: hazel@newlevant.com
---
October 14, 2010 / More →
• Our own Leigh Walton made it out to Nate Powell's wedding reception this last weekend. Here's what he had to say, and a picture of Leigh and Nate. Congrats Nate!
"Really fun!... Nate's mom was THRILLED to see me... had great food & drinks, and did a little dancing. When Nate's buddy who was in charge of music had a hard drive failure, I sort of had to come to the rescue and play DJ with my phone, but everybody seemed happy (except the kids who kept asking to hear Eminem)!... Then he & Rachel went to Mexico for a week."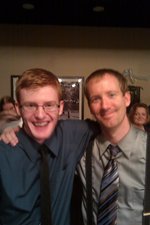 • Matt Kindt love going around... Matt Kindt is St. Louis' Best Cartoonist!
• Henry Chamberlain put together an amazing 24 Hour Comics Day to celebrate the annual event, with a mighty crew that included Jennifer Daydreamer, Henry Chamberlain, Randy Wood, Tom Dougherty, Eroyn Franklin, Stefan Gruber, David Lasky, Sean Robinson, among others.
• I sure do love Jack Black.

• Gorgeous animated short called "Indians." (From Cartoon Brew)...
"Colored pencils, cut-outs, and graphite pencil are eloquently blended in "Indians." The folk art mixed-media approach does a nice job of evoking warm autumnal feelings. It was made by Louise Cailliez at ESAAT, a French school in Roubaix." —Amid Amini

INDIANS from Louise Cailliez on Vimeo.
• I noticed something cool while flipping through the recent Diamond Previews, which was reinforced today at my LCS when i stumbled across the new issue of Wolverine (#2?)... long-time comics artist Jae Lee is banging out some incredible f*cking covers for Marvel these days! Now, i've been a fan of Lee's work going waaaay back to his run on Namor in the early 90s. But this recent series of covers are truly gorgeous. (Now that i'm paying attention, i'll be tracking these babies down. Wish i could have an art book of this stuff.)
---
October 2, 2010 / More →
APE is a mere two weeks ahead, and a nasty monster pile of, stuff, is trying to eat me alive. Yeesh. Constant Vigilance is indeed the price of my gig. Miscellaneous items to follow.
• Anthony Vukojevich, inspired by our pal Rob Goodin's Covered blog has started his own blog titled Repaneled.


• Gareth Brookes of Appalling Nonsense lets fly with one fucking hilarious mini-comic, Sherlock Holmes vs Skeletor! If one was so inclined (ahem!..), one could review pages, then order here.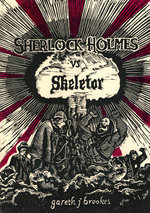 • Great news from François Vigneault!... a new series of Elfworld (fantasy anthology) comics is on the way, under his Family Style imprint!! Reinventing itself as a series of 36-page comics, the first new issue premiers at APE in just a couple weeks. I am stoked! Just check out this boss cover by Sammy Harkham.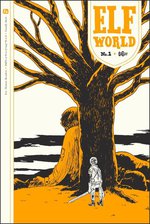 • Diana Thung put up a new comic on her website. Cute! [BTW. You people who don't know Diana's work -- her first book, Captain Long Ears is out from Slave Labor. Savvy readers will get this book either from their local retailer or from SLG. Diana pretty much kicks ass. Her comics have chutzpah. Her style and world-building is a tasty mix of early L'Association and Miyazaki. Need i say more? That's French and Japanese influences on an Aussie.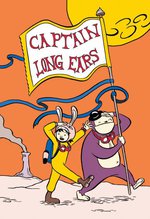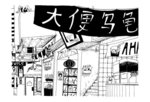 • Bwana Spoons gets a HUGE plug for his Star Wars toy paintings over at io9.
Chewi, baby!!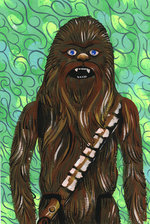 ---
September 23, 2010 / More →
pimping AX: Alternative Manga. This time in MPLS!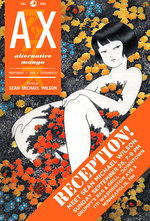 WHO: Open to the public
WHAT: Reception with Sean Michael Wilson, editor of AX: Alternative Manga (in stores this month from Top Shelf Productions)
IN CONNECTION WITH: The 10th annual "Schoolgirls and Mobilesuits: Culture and Creation in Manga and Anime" conference at the Minneapolis College of Art and Design
WHEN: Sunday, September 26 2010, 7-9 PM
WHERE: Grumpy's Bar & Grill - Downtown, 1111 Washington Ave S, Minneapolis, MN 55415
CONTACT: Michael Drivas at Big Brain Comics, 612-338-4390
or Leigh Walton at Top Shelf Productions, leigh@topshelfcomix.com
• Also, folks, make sure to support one bitchin' cartoonist, Jed McGowan, and pre-order his new graphic novel Lone Pine, available NOW in Diamond Previews. Order code: SEP10 0742. This puppy comes courtesy of our fine friends at AdHouse Books. I've read it. It's awesome. But it now!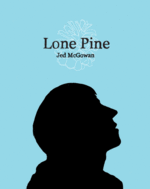 ---
September 21, 2010 / More →
Steve is one of not only my very best friends in comics, he's also one of the most under-the-radar, yet best storytellers in the biz. If you haven't read his Bughouse trilogy then you're missing some truly great comics. And his new book El Vocho is outstanding. Please do yourself a favor and buy his books!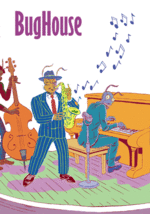 And now, as fate would have it, Steve is getting his due. First, listen in on Steve and Robin McConnell talk it up at the Inkstuds podcast. Fucking heady philosophical shit!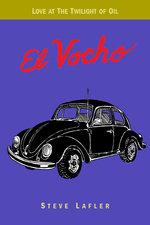 Then, get yer fill with part 1 of a career-spanning interview with Steve conducted by Rob Clough at The Comics Journal. The title is "Explaining Reality To Myself"... 'Nuff said!
---