oh man oh man oh man...
November 13, 2010
busy busy busy here at Top Shelf PDX Headquarters gearing up for our 2011 schedule. Dag-busted-darnit, i'm gonna try and get more bitchin' developmental art, covers, and whatnot up on this blog. Starting now!, with a couple kick-ass cover sketches for Kagan McLeod's forthcoming Infinite Kung-Fu collection. Feast on these!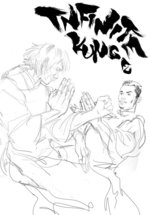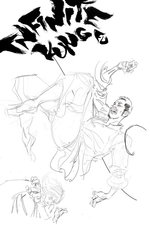 • GREAT photo set of Paul & Anina's annual Halloween party. I had such a good time, as always. Big thanks to Paul & Anina!! BTW, my get-up was inspired by the background hip-hop dancer in the recurring SNL skit What's Up With That? (I'm not sure who they had taking snaps throughout the party. Sorry.)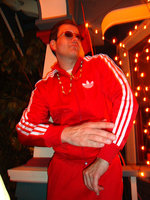 • So i'm currently in the process of organizing / purging my url bookmarks. (Egads, what a mammoth project.) In any case, i'm stumbling across lots of cool shit. Case in point; how rad is this piece of art, the header for the Belgian comics shop(?) Het Besloten Land. The art is by Randall C.


• Wow, i'm not a fan of "motion comics," but Daniel Kramer did a sweet number with Dean Haspiel's Billy Dogma story "Sex Planet."

Billy Dogma in "Sex Planet" from Daniel J. Kramer on Vimeo.
• Caryn Tate did this interview with the Nerdage blog over at The Oklahoman newspaper.