Dylan Williams is gone. I had a real good cry when i read the news a few hours ago, my 6-year old son Carter consoling me the while. Dylan's illness pretty much came up out of nowhere in the first place, at least for me. And now he's gone. We'd see each other several times a year, at parties, conventions, books stores, wherever — Portland's a small town — and while i'd heard he had some health issues, he himself certainly never let on about it or to what extent. I just participated on a comics panel with Dylan at the IPRC not long ago, and he was just as vital a comics intellect and crazy fanboy as ever. Part of the comics cognoscenti. I'd known Dylan since i began publishing; his activity in San Francisco with Puppy Toss was a huge influence on me, and was one of the catalysts that gave me the publishing bug. I featured some of his own comics in the Top Shelf anthology way back when. Wither Sparkplug, damnit? Shit crap damn. Dylan was a friend and a peer and he was one the good guys...
I'll miss you. I've no doubt you'll be kicking some ass wherever you are now...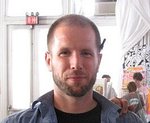 ---
September 8, 2011 / More →
That's right, kids, it's another one of our massive sales. Tom Spurgeon does a bang-up job succinctly explaining the Why we do these crazy sales at the Comics Reporter. Don't miss out.
• Jennifer Hayden is interviewed at Comics DC about her new book Underwire in advance of her appearance at SPX this weekend!
• Gregory Benton continues to produce more terrific sketchbook pages. Check them out at his Facebook page!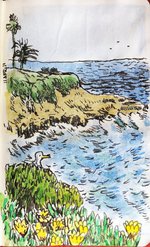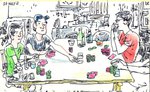 ---
September 6, 2011 / More →
Just got this newsletter info from Jennifer Hayden. Her work is outstanding, so listen up close now, y'hear!!
•••••••••••••••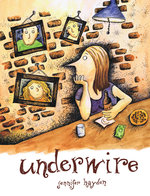 Hey Friends--
UNDERWIRE is here! No shit! 100 copies are sitting in my living room right now!
Top Shelf did a beautiful job publishing this baby--softcover with French flaps, and a gorgeous book and cover design by Chris Ross. It's eighty pages, with twenty-two of the webcomic strips, plus seventeen new pages of comix and art made exclusively for this book.
UNDERWIRE debuts at Small Press Expo this weekend, September 10 & 11, in Bethesda, Maryland. I'll be there all weekend, so swing on by the Top Shelf table, and I'll deface a copy for ya.
On Sunday, if you're looking for trouble, come listen to a panel I'll be speaking on at 3:00 p.m. called "Images of The Body". Moderator Craig Fischer will talk with Robyn Chapman (Hey 4-Eyes!, Make), Gabby Schulz (Monsters), and Jen Vaughn (Don't Hate, Menstruate! Heavy Flow), and me about "the ethics, erotics and extremes involved in representing the external experience of the body." Should be pretty graphic...
I'm also bringing along a new minicomic you can pick up if you're at the show-a collection of strips from my new webcomic S'CRAPBOOK.
If you can't make it to SPX, you can always order a copy of UNDERWIRE.
And if you want to read a nice review of UNDERWIRE, try this.
Thanks for all of your support over the years! And if I've got someone on this mailing list who is just dying to get off it, I completely sympathize--just shoot me an email and I'll remove you from the list...
And thank the Goddess for all the books!
Jennifer
---
August 27, 2011 / More →
Hey, i've been busy doing domestic stuff; sanded and oiled my back patio picnic table; painted the entirety of my kitchen and breakfast nook; and have been working my garden and cooking up a storm. (Besides which, Twitter and Facebook take "some" of the pressure off of me with this blog gig, though that's no excuse.)
Anyhoo, lots to catch up on...
A benefit sale is being held at Floating World here in Portland this coming Monday, the 29th and Tuesday, the 30th to offset Sparkplug Comics publishing magnate Dylan Williams' medical bills as he battles cancer. If you aren't in Portland, Tom Spurgeon has a call-to-arms on the Comics Reporter encouraging you to buy Sparkplug Comics directly from the source as a means of support.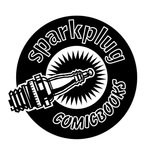 Floating World Comics is located in their (awesome new, spacious, light-filled) digs at 400 NW Couch, one block off Burnside at 4th & Couch. They are open from 11 a.m. - 7 p.m. every day.
• Check out this sweet art update by old Top Shelf-er Rick (Crust) Pinchera. But wait!... Rick just completed work illustrating the graphic for Top Shelf West's very first (15 years later) trade show banner display! I'll be debuting this at APE, so come on by and check it out in person!
Here for your edification are the work files that Rick sent my way as we worked together to find the final image. I have to say, it was huge fun working with Rick again on this as art director.











• From New Zealand's Ant Sang (whose Dharma Punks blew my mind years ago), comes his new graphic novel Shaolin Burning. Holy crap this looks awesome!
Here's the trailer.

• Former Top Shelf intern Andy Kettler has been one busy motherfucker, spending some time at SVA, and honing his wildly spectacular chops. Great shit, Andy!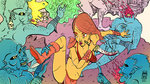 • Check this out! Now you can get the Top Shelf Kids Club Sampler for FREE on iBooks.
• Here's a trio of awesome Top Shelf reviews at The Daily Blam! Thanks to @nitamosquita for the heads-up on Twitter ; )
• The great Richmond Fontaine (lead by frontman Willy Vlautin) has this bitchin' scary new video out, promoting their awesome new record The High Country. It's directed by fellow Oregonian Gary Lundgren, who directed the excellent film Calvin Marshall a couple years ago. Coincidentally, my friend John Askew provided the music and score for Calvin Marshall, and produced The High Country. (And did the Blankets soundtrack several years back!)
• In non-comics news, you may have seen me Tweeting a lot about this Tar Sands bullshit, which the State Dept just told us is oh so fine and pretty for us all. Please, watch this, and you be the judge.

Tar Sands Action/ Josh Fox from JFOX on Vimeo.
• Also on the political front, let's review this guys' speeches from just a few short years ago. And imagine how much money we'd save as a nation if we could just kick our war habit; a nation that is threatening to end YOUR Social Security, Medicaid, and Medicare because we're supposedly so broke. I've been paying in for a loooong time... i just hope the return is there when and if i choose to retire. (Though if the hard-right freaks get their way, it won't be.)

• O.k. I'm out. Until next time, my friends. This bartender says don't drink and drive!
---
August 12, 2011 / More →
at Comics Alliance! Winner receives a copy of the book with an original sketch by Craig Thompson inside!! Contest runs until Tuesday, the 16th.
How cool is that?!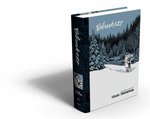 ---
James Kochalka will doing two appearances in Philadelphia on Labor Day weekend. Here's a poster Box Brown made for the event.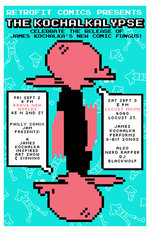 James also won the award for Best Cartoonist in Vermont, in the Seven Days paper.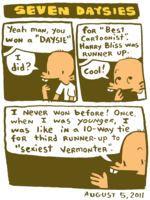 • Here's a clip of one of my favorite local bands. And even though the dumb-ass interviewer calls it surf music, they're pretty much a straight-up roadhouse style blues band. I was there (in fact, if you close you can see me when they pan the audience) and danced my butt off.
• Finally, i have to gibe some props to one of the most under-rated cartoonists working in comics today, my old pal Chris Cilla. I recently read his feature-length mind-fuck of a book, The Heavy Hand, published by Sparkplug Comics. To be honest, i'd be hard pressed to tell you "what it's about." Needless to say, it left a lingering impression on me. Weird is the best way to put it. And gorgeously drawn too. Heard it from Chris himself just today that Zak Sally's La Mano will be releasing a collection of Chris' long out of print mini-comics run called The Diplomat. If you like indy comics, you owe yourself to check out the fine work of Chris Cilla.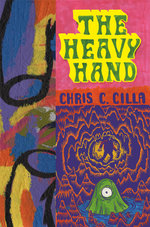 ---
August 4, 2011 / More →
blogging again!! (Thanks to Tom at The Comics Reporter for the heads up.)
Seriously comics-lovers, Eddie is one of the smartest, most erudite raconteurs about art, literature and comics that our beloved medium has. He's always worth reading.
And if you've never read his work (besides Shame On You!), we've got some gems right here for you.
Alec: The Years Have Pants.
This is arguably the most sublime autobiographical comics ever created.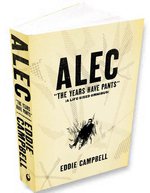 The Playwright. (With Daren White.)
Witty and poignent, with perhaps Eddie's best art to date.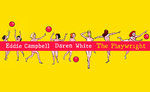 And of course, the inimitable From Hell. (With Alan Moore.)
Who the heck is Alan Moore, anyway. Of course, i kid... From Hell is without question one of the highest achievements in the history of comics. A transcendental masterpiece.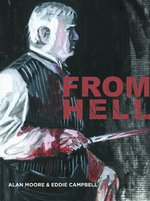 ---
August 1, 2011 / More →
and now, back to the day-to-day, Sigh...
This little blog update is all-Kochalka.
Here's the beautiful little piece James drew that was made into a bookplate give-away at ComicCon last weekend. His entire family was in attendance.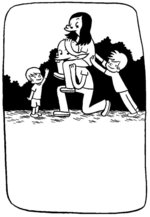 And here's a little number James dug up on Comic Art Fans. From a joint appearance with James and Craig Thompson at ComicCon in 2004, and drawn on the title page of the anthology they each appeared in, Happy Endings, edited by the great Diana Schutz.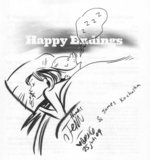 ---
July 27, 2011 / More →
has started a new art blog called The Daily Pocket Book on Facebook. I'm a huge admirer of Gregory's work, and it's awesome to see a place online where i can check his stuff out. Big ups, G!!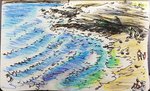 • David Walker and the guys at the Cort and Fatboy podcast spill some Top Shelf love!
---
July 25, 2011 / More →
is having a Kickstarter campaign for the new Superstitions issue of Crap Hound, and could use your support.
• Haven't had much time to read as of late, but of what i have read, here's what i can recommend:
-- The Death of Elijah Lovejoy, by Noah Van Sciver. A chapter that Noah excised from his forthcoming Abe Lincoln book. I can see why he cut it out in context of the larger narrative, but this is at the same time a terrific standalone story. [Read more here at Comix Talk.]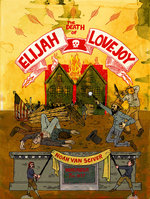 -- Goodness, by Mel Stringer. Sweet little mini with delicious pencil chops. Fine cartooning.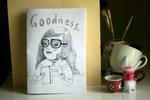 -- Papercutter #16. Edited by Greg Means, with contributions from Nate Beaty, Joey Allison Sayers, Liz Prince, and Alexis Frederick-Frost. Once again, my absolutely favorite anthology. This one's got a couple dark stories that really got under my skin.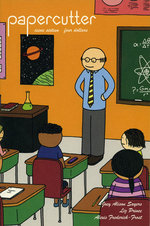 -- The wonderful Anne Koyama did a comics swap with me, and two books i finished were the anthology Root Rot, edited by Anne and Michael DeForge, and Cat Rackham Loses It!, by Steve Wolfhard. Both heaps of fun and candy for the eyes.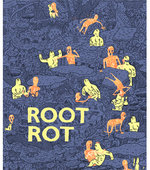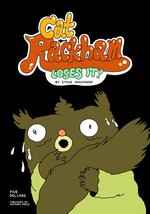 • Finally, there's Dan Clowes' recent Mister Wonderful. To be quite honest, Clowes is one of those creators who, to me seem preternaturally deft at the medium. A master if you would. And as such, there's this little itsy bitsy part of me who kind of wants to see a big fat turn drop one day, if only to show me that he's human. No such luck. Brilliant comics. (And sadly, as an absolute dork around girls i crush on myself, i can relate to the protagonist.) It's a quick read, but worth your time.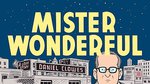 ---
July 21, 2011 / More →
and i'm not there! How weird. I've been in attendance 14 years in a row, as well as 91, 94, and 96. In any case, Top Shelf is there in full force, so make sure to swing by our booth and say hello to everyone there.
• Anyhoo, here's a terrific chalk-talk Nate Powell gave at Pulaski Tech College about comics storytelling. I love how much of a Michael Golden nerd Nate is. Good stuff!!

• And here's a new episode of Dusty McCord's Dumb Geeks. (Reminder, Dusty did our final edit of the Veeps movie, directed by me.

---
July 14, 2011 / More →
lots of cool stuff, so much to see and do...
Kagan Mcleod has crafted the most bitchin' comic book trailer i've ever laid eyes on, and everyone is (justifiably) raving about it.
• Wayne Shellabarger (Veeps co-author, with Bill Kelter) to a snap today at the Oakland Public Library. Some Matt Kindt love!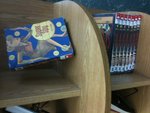 • Direct from the Brewmasters at Cartoon Brew, "Chief Serenbe" by Evan Curtis. This is wicked cool animation. I really dig the Kerouac reference. Truly outstanding.
"Cartoon Brew's Student Animation Festival continues today with the third film in our line-up: Chief Serenbe by Evan Curtis from the Savannah College of Art and Design. This stop motion short really stood out to us as we were watching the entries. The film isn't conventionally narrative, but engages the viewer by taking us into the world of a drifter. It is a surprisingly emotional piece of work and manages to create a distinctive sense of time and place. Curtis's cinematic approach and use of depth of field makes us forget the star of the film is just a small toy."
Chief Serenbe from Cartoon Brew on Vimeo.
• Wait... what?! Jennifer Hayden is making jewelry from her comics... she guessed it, a first for Top Shelf.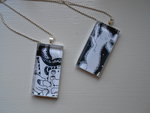 • Hey folks, our pal Conch over at KBOO's Words & Pictures program is airing his interview with Portlanders Jesse Reklaw and Lisa Magnum today (Thursday), two swell folks and part of the comics cognoscenti here in Portland.
"Thursday July 14th from 11:30 to noon, Words & Pictures welcomes local comics artist, publisher, and promoter Jesse Reklaw, creator of the long-running dream-chronicle strip Slow Wave. Jesse will be joined by Lisa Mangum, publisher and co-editor of Gazeta, the international comics anthology, and they'll talk about the new comics certificate program that they're launching this month at the Independent Publishing Resource Center.
"Words & Pictures airs the second Thursday of each month from 11:30am to noon (PDT) on KBOO Radio, 90.7fm. KBOO's real-time webstream via iTunes or Abacast. More info and links to recent Words & Pictures audio archives."
---
July 10, 2011 / More →
"Chips in Space," from my friend and old University of Oregon prof Ken O'Connell.
Ken writes, "It is based upon 512 chips of color. Each corner of the cube is a primary red, yellow and blue and cyan, magenta and yellow, and then black and white to form the eight corners.
"My friend, Terry Beyer, was a programmer in the computer science department and did all the programming on an Apple II computer."
Some great music, too.
---
July 3, 2011 / More →
over at Comic Book Resources.
• Greg Ruth rocks a sweet, FREE download called Logs I Have Known.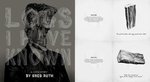 As a budding tree geek myself, as well as a big fan of Greg's awesome lush artwork, this is kind of blowing my mind.
• My pal Mike Baehr up at Fantagraphics sent me this screen-grab, from Conan O'Brian. He wrote, "Just caught this on my DVR. Every episode has a jokey episode title -- I don't know if this was a deliberate Kochalka reference, but it's pretty cool!"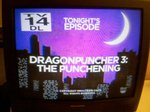 ---
June 30, 2011 / More →
a tres chic short film about him and his work. If you haven't read it yet, folks, Lucille is a wonderfully compelling and emotionally resonate graphic novel.
---