January 3, 2010 / More →
Here we are in 2010 (Happy New Year everyone), and our first book of the year is off to press. I'm talking none other than James Kochalka's wickedly funny collected SuperF*ckers. Due in March, this book will make you laugh so hard you'll spew milk out your nose if you're not careful. Make sure you're not eating Oreo cookies with that milk! The collected edition includes all four previously published issues of the series, PLUS the unpublished Jack Krak solo issue!
• Some fine holiday greetings i received in my in-box these last couple of weeks.
• A sneak peak at Mike Huddleston's stunning cover sketch for the upcoming Homeland Directive, written by Robert Venditti.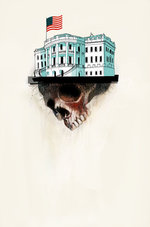 • Finally, read the recent King-Cat (#70) by the nothing less than sublimely talented John Porcellino today on the exercise bike, only to discover that this issue celebrates King-Cat's 20th Anniversary. Holy shit! Unbelievable. I did a little digging and found this recent article/interview with John at Newsarama. If you're unfamiliar with John's work and profess to love comics, then please check out and purchase some of his masterful work, either here at his own King-Cat website or from his collected editions publisher, our friends at Drawn & Quarterly.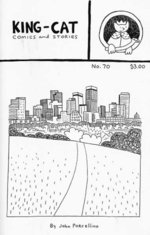 ---
Here is another one of those "whoa" moments. The Known Universe.
[Tuesday update: Gregory Benton writes in, "Wow. That video of the known universe was incredible! Thank you for that. Enjoy the vacation. Chill and reflect on the universe, and the duality of our cosmic insignificance & the majesty of life..."]
• Nate Powell provided three comic covers he did coming up: Papercutter #12 (with a story by Rachel Bormann and Nate) due out in March; We Will Bury You #2 by Brea and Zane Grant, due out in April on IDW; and Cometbus #53, written by the brilliant Aaron Cometbus, out now.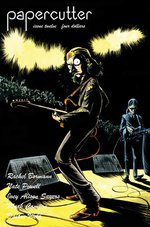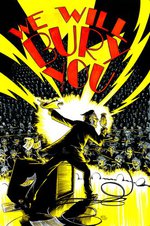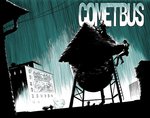 • Gregory Benton just finished up some drawings for a group show in the Philippines(!).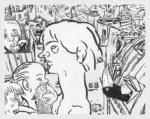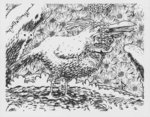 And here's the flyer for that show. (G. thinks it's by artist Louie Cordero.)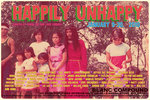 • My old University of Oregon professor and friend Ken O'Connell had a terrific write-up at Oregon Live a few weeks back, about his sketch journals, and is well worth a look.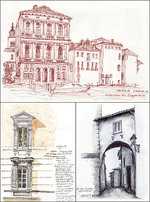 • And speaking of the University of Oregon (no, i'm not going to talk about the Ducks football team appearing in the Rose Bowl on New Years Day!), another professor, Ben Saunders, curated an orginal art comics show that is one for the ages. There is so much amazing work by so many masters of the form, that it staggers the mind. No lie, this rivals similar shows i've seen around the world, including Angouleme.
The name of the show is The Art of the Superhero, so don't expect otherwise. But heck, how can you argue with checking out the original art for AN ENTIRE ISSUE OF DITKO-DRAWN SPIDER-MAN!!
Learn more here. It runs through January 3rd.
Here is Ben himself talking it up.
• I love Naomi Klein. AND she's crazy smart!
"For Obama, No Opportunity Too Big To Blow"
• Here's a rough sketch for the forthcoming new Hutch Owen: Let's Get Serious! book (due in 2011), by the incomparable Tom Hart.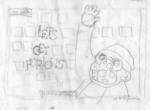 • A swanky holiday card from Jon Adams.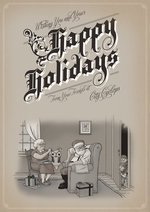 His Birth of Stan Lee postcard is one of the funniest things i've ever seen. Buy it here!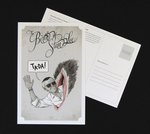 • Cover art for the Dutch edition of Second Thoughts, by Niklas Asker.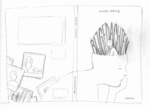 And check out this link at his blog, featuring art in a series called Things You See When You Close Your Eyes. Wow! Beautiful...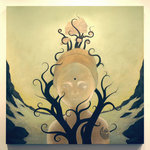 • O.k., kids, i'm outta here. Off to the coast for a wee little holiday break. Middle of know where. Mobile phone spotty. Peace. Brett
---
wow
• Eric Skillman's process on developing Eddie Campbell's Alec: The Years Have Pants cover. Oh, and here's his process for the forthcoming AX: Alternative Manga compendium.
And since we're at it, an earlier version of the cover for next Summer's The Playwright, by Daren White and Eddie Campbell.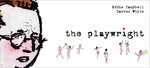 • A better link to video of James Kochalka singing iPod Operator.
• Some cover roughs by the incredible Mike Huddleston for the forthcoming Homeland Directive, drawn by Mike and written by Rob Venditti.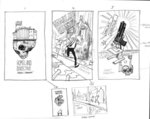 • Illustration stuff Matt Rota writes to mention he's working on a new website, and that in the meantime you can see new work posted on his blog. The guy is amazing.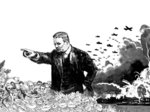 • Matt Taibbi literally just wrote about what's been stewing inside me for months now, in the new Rolling Stone:
Obama's Big Sellout
The president has packed his economic team with Wall Street insiders intent on turning the bailout into an all-out giveaway
There's a counter-point here at American Prospect arguing some details, which is a good thing to see, but i think misses the big picture.
---
• Jeff Lemire has revamped his website!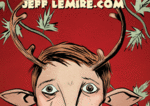 • Hot damn, we're almost ready to send James Kochalka's magnificent SuperF*ckers collected edition off to the printer. This sucker is gonna rock out with its cock out!!


• I just can't get over this awesome headline:
Barack Obama Names Alan Moore Official White House Biographer
• An interview with Staros and myself (from 2007), by Quinn Johnson, is running for the first time as a podcast. Check it out!
[Quinn Johnson is a freelance comics writer. His credits include 'Tales of the Ninja Turtles' and his own creation 'Elders of the RuneStone.' He is also one of the Pantyhose Ninjas that host the Darkhan City Awesome Comics Culture Podcast, and is known for his awkward dance moves.]
• So, all three readers out there know that i've been remiss staying consistent with updates on this blog as of late. I'm entertaining adding some guest-writers to the blog,if anyone out there has an ideas. Reviews, short interviews, essays, etc. Write me at: brett@topshelfcomix.com
• Friends of Top Shelf Carlos Hernandez Fisher and Andrea Warner were recently wed. Carlos took these awesome snaps while they were on in honeymoon in Spain.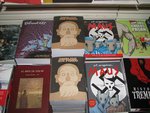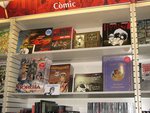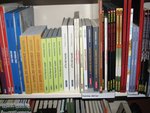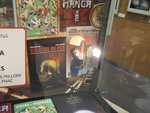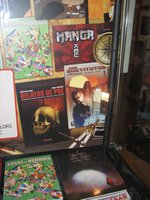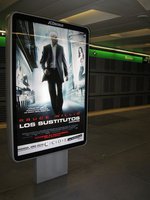 • And finally, just to tease Eddie Campbell fans, here's an early cover concept for his forthcoming book with Daren White, The Playwright. Art by Eddie, design by Eric Skillman.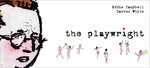 ---
Last couple of weeks have been busy busy busy for this bartender. My son, his mom, and myself all trekked to Disneyland and, of course, had a mind-blowing time. The only ride that freaked Carter out was Space Mountain. It was pitch black, fast, and jerky, and he said he'd "never ever ride that again." I do suspect though that had we taken him on some (relatively) mellower roller-coasters first, he'd have been o.k. Oh well. One superb lunch was spent with Chris' parents Mr. and Mrs. Staros, his new nephew troy, and his delightfully precocious niece Sophia. As these photos will attest, they got along smashingly, and are pretty damn cute. Carter was seriously smitten.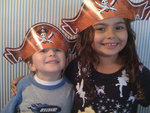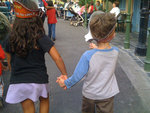 Here's Carter and Lisa on the classic tea-cup ride.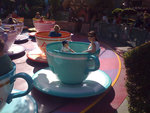 And here's a self-portrait of me geeking out at the Star Wars: Holiday to Endor simulator ride. I could do this every day of my life and never tire of it.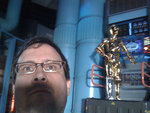 A very special weekend followed with a friend, and here i am busting my balls to catch up after a great deal of fun.
Many people can't really wrap their brains around this, but at this moment in mid-November, before Thanksgiving, i'm more or less freaking out over a giant workload for books scheduled to come out in March, April, and May. Yikes!
Moving right along:
• T. Edward Bak is coming into his own and has a new website. I really dig this guy and his work. Check it out!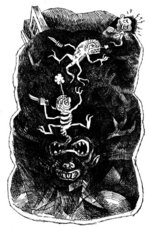 • Christopher Diaz sent me this Flickr video of James Kochalka performing at GRSF.
James Kochalka Super Star, baby!!
• This is why we hired Leigh Walton!
• Nice promo for the Brazilian edition of Box Office Poison!
• Matt Kindt makes another ridiculous "free art with purchase" offer!
"From now until December 11th for every 3 Story: The Secret History of the Giant Man book order I will make an original 5x7 ink and water color piece of art and include it for free with your book. So, if you already have a copy, order one for a gift and keep the art for yourself, or order the book for yourself and gift the art to a friend.
"The cut-off for orders will be December 11th so that I can guarantee delivery before December 25th. The quantity is limited to the first 300 orders (there are only 300 copies left).
"Help 3 Story sell out -- get the last of the 1st printing -- and get free art to go with it! Click here to get it."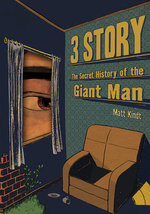 By the way, i read this on my Disneyland trip and it's outstanding. It's really really really awesome to see Matt kicking ass, and his star on the rise, after paying his dues for a long long time.
---
Scott Morse turned me onto this, and it's pretty much bending my brain.
This dovetails nicely with these incredible images from NASA's Hubble Telescope.
• Floating World Comics is hosting yet another bitchin' First Thursday event tomorrow, November 5th. This time around: NEGATIVE BULGE – ART & ZINES BY ISLANDS FOLD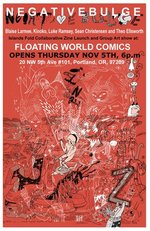 "Luke Ramsey came down for the Zine Symposium this past July to represent the Islands Fold art collective that he started in Pender Island, British Columbia. One night after the fest he was hanging out and participated in a drawing session with local artists: Blaise Larmee, Kinoko (from Seattle), Sean Christensen & Theo Ellsworth. Little did they know, the collaborative jam session would result in a zine of ultimate greatness, Negative Bulge! We are very pleased to present original art from the legendary jam session as well as the new zines from Islands fold."
WHO: Islands Fold, Blaise Larmee, Kinoko, Luke Ramsey, Sean Christensen & Theo Ellsworth
WHAT: Negative Bulge zine release + art exhibit
WHEN: Thursday, Nov. 5th, 6-10pm
WHERE: Floating World Comics, 20 NW 5th Ave #101
• James Kochalka has two Little Paintings gallery shows coming up.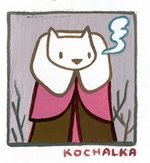 - Monastiraki Gallery in Montreal, opening Friday, November 6
- Giant Robot in San Francisco (GRSF), opening Saturday, November 14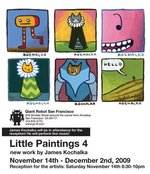 • Barack Obama Names Alan Moore Official White House Biographer!!
---
November 2, 2009 / More →
Here's a picture of my own little Superkid. He really loves superheroes. Go figure, right?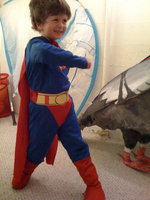 And here's me. Only one person all night knew who i was (Eddie Riggs, aka JAck Black from new video game Brutal Legend), but that's o.k., it was my best costume in years. Several girls were petting my hair and couldn't believe it wasn't real. And damn, if my scruffly face could manage it for real, i think i'd grow mutton chops in a heartbeat. (Note: that little belly you might see is a "prop." I wish.)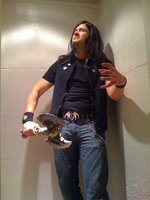 ---
October 30, 2009 / More →
but this short film by Sarah Morean at Daily Cross Hatch is pretty awesome. It shows me making a scratch margarita at the Isotope APE After party last weekend. Yummy...
hey, bartender! with Brett Warnock from Sarah Morean on Vimeo.
• Steve Lafler gets the Mixtape Treatment at Inkstuds!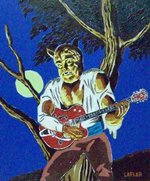 • Dean Haspiel serves up his Top 5 non-comics influences at Graphic NYC. Good stuff all.
• We asked James Kochalka to write a brief intro to his collected SuperF*ckers, which kicks off our 2010 schedule in the Spring. It's so fucking awesome i just wanted to run it here.


• I don't think Jeremy Eaton sleeps. Or else he's created a clone. He now has a new blog of, as he says "pop-infused psycho-babble," called Popular Madness.
"Popular Madness, appearing every Monday through Friday, will utilize a vast collection of old comic book panels, acting as springboards for my stream-of-consciousness contemplations, ruminations and cultural criticism – all spiked liberally with touchstones from our shared popular culture."
• My neighbor and friend Vanessa Veselka (who also has a cameo in my film Road To Insignificance) is serializing her novel Zazen on the Arthur Magazine website.
From Jay Babcock:
The Story: It's the very near-future, somewhere in the Pacific Northwest—or a neighborhood near you. 27-year-old Della Mylinek has suffered some kind of breakdown after failing to stop the construction of a local Wal-Mart. In an attempt to regain psychological, financial and emotional stability, she's moved in with her brother and his pregnant wife and taken a job waiting tables at a vegan restaurant. But her anger remains, and one thing leads to another…
"Zazen" Keywords: geology, veganism, the apocalypse, urban planning, yoga, sex parties, bombs, anarchism, aging new-left revolutionaries, strip malls, paleontology, dark hippies, transcendentalism, lavender hair dye.
The Author: Vanessa Veselka is a writer and musician living in Portland, Oregon. She has been, at various times, a teenage runaway, a sex-worker, a union organizer, a student of paleontology, an expatriate, an independent record label owner, a train-hopper, a waitress and a mother. Her work has appeared in Bust, Bitch, Maxmum Rock 'n' Roll, Yeti Magazine and Tin House. Zazen is her first novel.
---
October 23, 2009 / More →
Super amounts of fun were had, in spite of a low turnout.
Here's a swell Flickr set of the APE Aftermath Party at Isotope. Will Dinski won the award for Best Mini with his excellent, Covered in Confusion.
Sarah Morean at Daily Cross Hatch made a terrific short film of the event. (In addition to her chronicle of the entire weekend.)
• Speaking of APE, it was a pleasure (as always) to speak with the dynamic duo of Mark Todd and Esther Pearl Watson. I finally picked up Esther's massive Unloveable book. I'd previously only read a handful of the original mini-comics. In any case, the pair will each have a piece in a galley event tomorrow night: True Self, a group exhibition at Jonathan Levine Gallery in NY this Saturday, October 24th.
Esther Pearl Watson:
"Gene Watson Walked Home (with Dreams of Ion Force-Field Motors and Visions of the Future.")
Acrylic, enamel and glitter on panel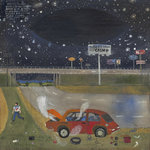 Mark todd:
"Civilizations Most Iconic Collective Wisdom."
Mixed media on panel. 12"x16"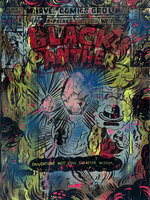 • Bill Kelter has a new piece up on the Veeps Blog!!
• Dodgem Logic, Alan Moore's new underground newspaper, sounds pretty rad. Here's an excellent short interview with Alan on the subject and other items at Mustard Magazine.
Kristi Turnquist profiles Ben Saunders and his Superhero exhibit at Jordan Schnitzer Museum of Art at my alma mater University of Oregon.
"Faster than a Speeding Bullet: The Art of the Superhero" runs through January 3rd.
• Jesse Reklaw's band Fun Yeti is playing here in Portland on Saturday, with:
The Tagalongs & the Punk Rock Collective
Tonic Lounge, 3100 NE Sandy Blvd.
Rock starts around 9pm, $5, 21 and over.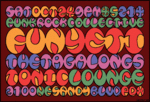 • Sweet! Mike Dawson and Chris Radtke's hilariously funny comic series Gabagool! is now entirely available online... for free! This shit is awesome. If Judd Apatow fucked Kevin Smith and their love-child made comics, this is what they would be like.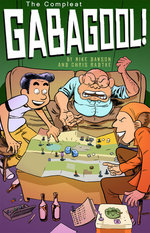 • Hells yeah... this might be the most anticipated comic i've been jonesin' for in the last decade. Now with a funky YouTube trailer! Afrodisiac In The House!
• And yet another ingenious short film, Principal Skeleton, drops from Graham Annable. Links to his other macabre short films abound. Every one of them a little gem
• Dame Darcy has some wicked cool dolls like this for sale online.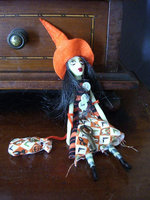 She's also playing a gig next week here in Portland.
10/29 /09 THURSDAY
DXD at the Woods
6637 Milwalkie Ave in PDX
Doors open at 8:00 $5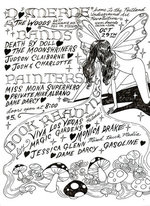 • Food for thought, from the great Greg Palast. On Health Care.
---
October 12, 2009 / More →
Top Shelfers Nate Powell, Grant Reynolds, and Jeremy Tinder will be on hand. Working the booth will be Leigh Walton and myself. And once again i'll be mixing cocktails at the Isotope Comics Lounge for APE Aftermath Party on Saturday night. I'm also one of the judges for the Seventh Annual Isotope Award for Excellence in Mini-Comics.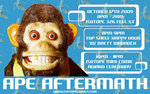 • Also at APE, i would highly recommend checking out the great R. Sikoryak's slideshow in support of the recently release Masterpiece Comics, from D&Q. And this ain't hyperbole, folks... the book is amazing.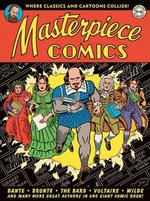 • Yet another APE attendee this year, Scott Campbell sent out his newsletter, and as per usual, the guy blows my mind. He'll be exhibiting with Double Fine Comics. Plus, Gallery Nucleus has released limited edition prints of the Ninja House from his HOME SLICE show back in the earlier part of this year.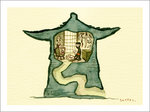 And finally, Mr. Campbell let it be known to me — a lifelong video-game non-layer, because of addictive personality traits — the release of THE video game which i fully intend to buy. Literally my first ever. Brutal Legend, with Jack Black, on which Scott has been working for five years, doing concept and production designs. Be still my beating metal-head heart.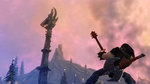 • Here is Jeffrey Brown's stellar Mixtape [with custom art] at Ink Studs.
• And speaking of ink-studs, Matt Rota has a new blog. This kid can flat out draw!! Here is a piece he did for the New York Times, on the Anniversary of the Tet Offensive.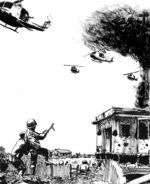 • Tim Sivert has some new pages posted for an upcoming issue of Intrepideers, a fantasy comic he's been cooking up with Brett Von Schlosser.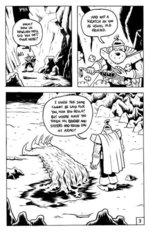 You can purchase the first two ass-kicking volumes here.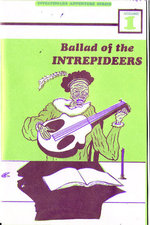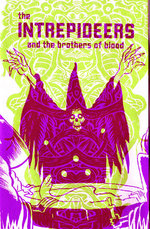 • Go Keith, go! Keith Olbermann's hour-long Special Comment on Health Care is must-see t.v. (Or streaming internet.)
---
October 3, 2009 / More →
First off was our trip to the red carpet outside El Capitan in Hollywood for the Surrogates premier. This was one of the most excellent nights of my entire life. Something i'll never forget. Also had a long overdue conversation with Top Shelf friend Louise Nemschoff. The premier was last Thursday night, and i had to wake up at 5:15 the next morning to get back home to Portland, where my collaborators (Mike Lay, Bill Kelter and Wayne Shellabarger) and myself spent three days doing pick-up shots for our own film, Road to Insignificance. This mockumentary is based on the actual book by Bill and Wayne, Veeps: Profiles in Insignificance. We also did some sound-recording, which was blast. And one of the voices was none less than Cherry Poppin' Daddies frontman Steve Perry! Cool.
(I will post my iPhone pics to our Flickr page asap.)
• Jeff Lemire is interviewed by our good friend Andrea Warner for Vancouver B.C.s Westender. And make sure to check out Jeff's blog where Blair Butler gives the collected Essex County serious props on an embedded Attack of the Show link.
Jeff is an invited guest at next weekend's Wordstock Literary Festival here in Portland, and will also have a signing at Floating World Comics Friday, the 9th, at 6:00 p.m.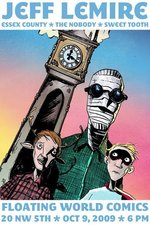 WHO: Jeff Lemire
WHAT: Artist reception and book signing
WHEN: Friday, Oct. 9th, 6-8pm
WHERE: Floating World Comics, 20 NW 5th Ave #101
• Inkstud Steve Lafler has self-published the excellent Self Employment for Bohemians. This is swell reading and well worth your time.
• Here's a pic of Jeffrey Brown and Noah Van Sciver at SPX. I missed the show this year for the first time since i started going in 1996 (except for the canceled 2001 show, of course)... For a slew of picture links check out the SPX Collected Memory section at The Comics Reporter. And speaking of Jeffrey, check out his blog, where he has a screen-grab of a recent episode of Heroes, featuring no less than his first graphic novel, Clumsy!!!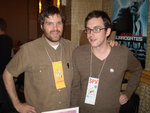 • Matt Kindt has updated his blog and has all manner of cool shit available, including this bitchin' Giant Man mini-comic Spy Capsule. Sweet! Click on the "shop" link, and it's all yours for a mere six bones.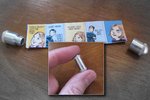 • Grant Reynolds and Jeremy Tinder are doing a show the weekend of APE at Giant Robot San Francisco, called CHIP BEEF, CHIPPED TOOTH. Ha! Grant will be on hand pimping his new Top Shelf comic called Comic Diorama.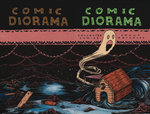 Chip Beef, Chipped Tooth
Drawings and Painting by Jeremy Tinder and Grant Reynolds
GRSF
622 Shrader St, San Francisco, CA 94117
6:30 PM, October 17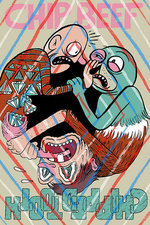 • Finally, here's what i'll be checking our from this month's Diamond Previews, for books scheduled to ship in a few months. (Which, i should add, on page 292 lists our new Jeffrey Brown documentary dvd Drawing Between the Lines, and James Kochalka's new cd James Kochalka Superstar: Digital Elf.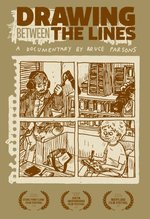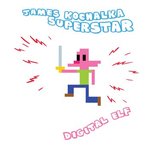 At the very very top of my wish list here is Brian Maruca and Jim Rugg's Afrodisiac HC. Much of this material has been sporadically published here and there. This is as close to a comic book equivalent as you can get to circa 1970s sexploitation / blacksploitation filmmaking. From AdHouse Books, i can pretty much guarantee this book will be in my short-list of favorite books from 2009. If you go NOW, AdHouse has a free PDF preview download, so check it out.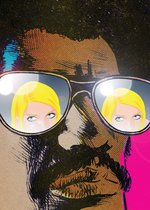 From Marvel Comics:
- Thor: Tales of Asgard, by Stan Lee and Jack Kirby. (I think i might be one of a mere handful who actually loved the modern coloring when i was looking at the floppies on the rack.)
From Viz Media:
- Vagabond (VizBig Edition) Volume 6, by Takehiko Inoue. These fat collections are getting me to pick up manga series' i wasn't about to buy in tiny and too-numerous editions before.
From Simon & Schuster:
- Mercury, by Hope Larson. I'll be honest, i much preferred her magic realism stuff with AdHouse (Salamander Dreams) and Oni (Gray Horses) way more than her more recent book Chiggers, but then again, i don't think i was the target audience for that book. Hopefully Mercury will see a return to form, and that she'll be allowed to utilize her incredible skills.
From iDW:
The Complete Milt Gross, edited by Craig Yoe. I can say with utter conviction that if Craig Yoe is involved, it will be worth checking out. And having read an older edition of Gross' He Done Her Wrong i'm sure to pick this up.
Winterworld, by Chuck Dixon and Jorge Zaffino. Again, to be frank, i think there's waaaaay too much lame material (especially from the 80s) being dug up for repackaging and reprinting in an already glutted industry, but i've always wanted to read this. Zaffino is a bitchin' artist, way underrated in North America.
From Drawn & Quarterly:
- The John Stanley Library: Thirteen Going On Eighteen. D&Q — along with Fantagraphics, Sunday Press, and iDW among others— has been releasing some long lost gems these last few years. I can't wait to put my hands on this!
From DC Comics:
Preacher Book 2 HC, by Garth Ennis and Steve Dillon. Ennis' masterpiece. 'Nuff said.
The Creeper, by Steve Ditko. Oh shit!! FINALLY (thanks in no small part to Blake Bell's excellent Strange and Stranger Ditko biography) we're seeing a resurgence of attention for Ditko on par with Kirby. This is some crazy mad work, folks.
From Dark Horse:
- Jet Scott, by Sheldon Stark and Jerry Robinson. Unfortunately Dark Horse has been a major disappointment with their treatment of archival materials. With the exception of their Harvey TPBs, Kubert's Tarzan, and the excellent Warren HCs, they seem to have decided that cheap and easy is their method of operation, yet they still charge a standard 50 bucks a pop for some of this. I don't mean too sound harsh, but their production on the Russ Manning Magnus Robot Fighter was atrocious. (I'd even sold some vintage back issues of these glorious comics, only to be horrified when the first "deluxe" HC rolled out.) Needless to say, with archival materials and Dark Horse, i play the wait-and-see game. Stay tuned, true believers.
---
September 21, 2009 / More →
Has it really been that long since the last blog post? O.k. here's a few nuggets for your perusal.
• A recent Jeff Lemire podcast interview rocks at Ink Studs.
• Check out Chris "Elio" Eliopoulos' awesome mini-comic Milky Way Shuffle. And if y'all haven't read his stellar strip "The Bravest Niño" at Top Shelf 2.0, then get to it!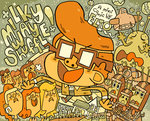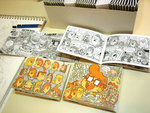 • Peter Kuper's new book Diario de Oaxaca is forthcoming from PM Press. Peter's travel diaries are stunning to behold. (And i'm not just saying that because we published his sublime monograph Speechless.) He's touring quite a bit in support of the book... learn more here.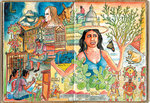 • Caryn A. Tate's Red Plains is a mainstay on Top Shelf 2.0. She's interviewed by Jason Sacks at Comics Bulletin. (Art by Larry Watts.)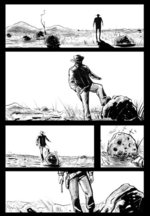 • Will Dinski has a new mini-comic available now, called Covered In Confusion. Hoo-eee, i can't wait to read this puppy.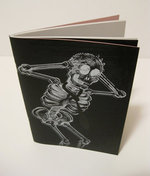 ---
No doubt Top Shelf's own Jeff Lemire is a rising star of the highest order, and to promote his new, high-profile series from Vertigo, Jeff has launched the Official Sweet Tooth Blog! Check it out!
Here's a bitchin' penciled page from the blog.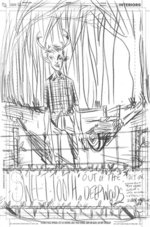 And if you haven't already (shame on you!) then you MUST read his epic Essex County Collected. This book is The Shit! (My powers of clairvoyance predict Eisner nomination for Best Collection of Previously Published Material.)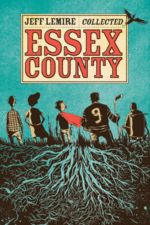 ---
September 10, 2009 / More →
Well Chicago was a real hoot this past weekend, as Chris and myself met to attend Jeffrey Brown's wedding reception. It was a treat to meet and enjoy fine conversation, food, and beverages with Jeffrey's parents, brothers, friends, and of course his lovely new wife Jennifer. (I only wish wee lad Oscar could have been there.) Cartoonist Paul Hornschemeier was on hand to give the groom a toast, and it must have been one of the funniest i've ever witnessed. If he weren't such an amazing cartoonist, i'd suggest he do some stand-up comedy.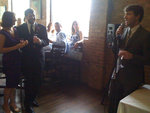 Also, the streets and billboards were littered with gigantic Surrogates images, and in fact, one could be seen out the window from the bar at the swanky restaurant Avec where Chris i had an amazing dinner. Thanks to Anders Nilsen's food writer wife Heather for the tip!
Here's Chris strolling through the restaurant after a sublime meal. Note the Matrix back wall, which is a lattice of empty backlit wine bottles.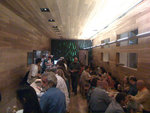 And here's the huge billboard we could see from the bar.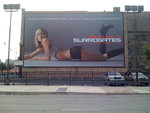 We got to see lots of our cartoonist friends over the weekend, including Aaron Renier, Jeremy Tinder and his girlie Rachel, Laura Park, and Grant Reynolds. One night these cats and a boatload of friends rented a private karaoke room, wherein in popped my karaoke virginity, feebly attempting renditions of the Stones' "Jumping Jack Flash," and Earth, Wind and Fire's "September." (Which coincidentally was on the very first record album i ever bought with my own dough.) These kids were on FIRE i tell you! Here is Grant (on the right) getting the fuck down.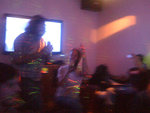 Finally, Chris and myself spent the entire last day sequestered in the hotel restaurant plotting and planning out the 2010 publishing schedule. This is no easy task i might add. Even in "good" years this takes loads of deliberation as we try to navigate the murky and unstable waters of small press publishing. But in a totally shit economy, even two or three consecutive bad months could potentially cause serious blows to the our company. All in all, i think we'll have some great stuff coming out. More later.
• My pals at Tender Loving Empire here in Portland have some great things happening. Here's some art to feast on and a url link you can follow to learn more.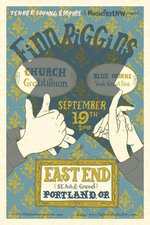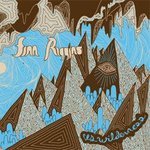 • Shannon O'Leary is working on a new comics anthology called The Big Feminist BUT, and was recently interviewed in Bitch mag!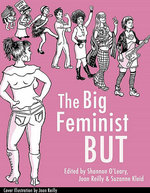 ---
September 2, 2009 / More →
This Friday, September 4th.
Le Merde, Itokin Park, Tim Biskup, Scrappers, Martin Ontiveros, Uglydolls, and Bwana Spoons
Original paintings, Exclusive GH Toy Release, Customized Figures, Laughter, Sugar, Sweet Titties, The Meaning of Life, and more…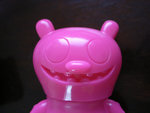 ---