September 14, 2010 / More →
I hope you people perusing our site are taking advantage of the incredible deals we have right now. So much good stuff for oh-so-little. And heads-up — the more you buy, the better the deal, as our shipping costs in general are growing all the time. So our flat-rate really works best when the dollar amount of your purchase goes up. Just sayin'.
• Max Estes's Autumn greeting.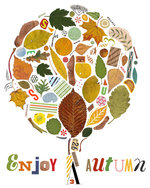 • Folks, Rob Vollmar needs your help getting his terrific book, Inanna's Tears, into print. ASAP.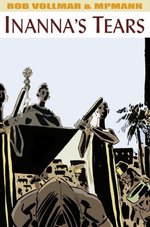 • John Weeks writes in from Cambodia:
"It may not have been the smartest choice, but I've busted out with print copies of QuickDraw #6. Available at bookshops only in Cambodia (for now), in both Khmer and English versions. (Shipping is more expensive than printing!) I've been in Cambodia for 10 years and wanted to have something tangible to show for it, both for the expats and locals."
Here's pics from his launch party, as well as a link to a comics/ animation themed issue of Asia LIFE magazine.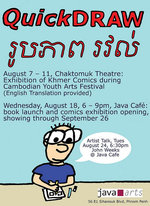 • Wow!... awesome interview with the great Alan Moore, at Bleeding Cool.
• There's been a Robert Boyd sighting! Believe it! And he's pimping James Kochalka's work, no less, in an essay calling out the "fine art" world ignoring comics as a legitimate medium. (Still.) Good to see Robert writing still at his blog The Great God Pan is Dead.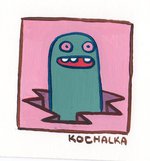 • Our pal Eric Skillman spearheaded one of the single coolest projects EVER for his job at Criterion. A batch of faux movie posters for the All Tomorrow's Parties music and film fest last weekend in Monticello, NY. So much great pieces, including work by Top Shelf alumni Wayne Shellabarger, Matt Kindt, Rob Goodin, and Scott Morse.
Here's Wayne's, for the Monkies movie Head.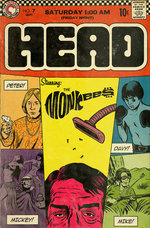 • And speaking of designer extraordinaire Eric Skillman, feast on this awesome post he made of his process for designing the cover for Daren White and Eddie Campbell's fine The Playwright. Choice work, Eric!
Here's an earlier version.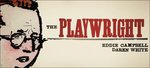 • Finally, thank you David Chelsea for your splendid take on Wonder Woman!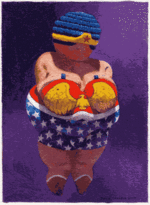 ---
It's time again for the epic, astounding, transformative, delicious and delightful 2010 Isotope Award for Excellence in Mini-Comics. Submissions will be accepted until October 1st at midnight.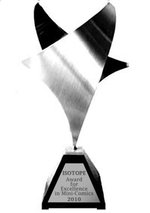 Take it away James: "It's my favorite time of year, when we get an opportunity to help spotlight a creator who is toiling in the underground making something wonderful," said Sime, "I consider whoever wins this award to be the comic industry's Miss America for the year, and it's my job to get their work out there to the comics press and reviewers. And I'm proud to say that often winning this award has helped these folks get noticed and published by some of the best publishers in the industry. So don't be shy... I know that many of you out there are hand-crafting some mini-comics brilliance, let us help share that work with the world!"
The Isotope Award for Excellence in Mini-Comics has helped bring attention to the likes of Joshua W. Cotter, 2004's winner who has just had a new printing of his brilliant SKYSCRAPERS OF THE MIDWEST from AdHouse Books, and 2006's winner Danica Novgorodoff who now has two amazing graphic novels out from First Second Books, including SLOW STORM and REFRESH, REFRESH. And the timing couldn't be more perfect, last year's winner Will Dinski was quickly scooped up by Top Shelf and his new original graphic novel FINGERPRINTS goes on sale this September 15th.
The five comic professionals who will serve as this year's Isotope Award judges include:
Jann Jones - Former Editor at DC Comics and Viz Media. The driving force behind some of the best all-ages comics of the 21st century, including BILLY BATSON & THE MAGIC OF SHAZAM and TINY TITANS.
Brett Warnock (HEY, THAT'S ME!) - Co-publisher and art director of Top Shelf Productions. Last year Brett secretly used his judging of the Isotope Award as an opportunity to scout new talent... and we don't mind if does it again this year!
Ed Luce - Author, artist of the brilliant WUVABLE OAF series. His "Scott Pilgrim of Gay Comics" is our absolute favorite self-published book right now. Read more about it atwww.wuvableoaf.com.
Kirsten Baldock - The Isotope's Special Projects Director. Kirsten is also a Librarian, bartender, and the author of the SMOKE AND GUNS graphic novel with Fabio Moon.
James Sime - Proprietor of Isotope - the comic book lounge in San Francisco.
To enter this competition, simply send five copies of your mini-comic to Isotope's address (326 Fell St. San Francisco, CA 94102) before the October 1st deadline. The award will be given out at the grand ceremony during APE AFTERMATH at the Isotope in conjunction with San Francisco's ALTERNATIVE PRESS EXPO. Because of the nature of this award, the winner will be contacted in advance and must be present at the Isotope at 9 PM on Saturday, October 16th for the award presentation ceremony.
For more information contact the Isotope at (415) 621-6543 or at isotopeaward@gmail.com
• Whitney Matheson's Pop Candy collected some pics from Read Comics in Public Day. Good stuff... and Top Shelf is represented by James Kochalka's Johnny Boo and Jeffrey Brown's Undeleted Scenes.
• Here's a great little number edited by our old pal Kike Benlloch.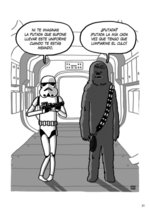 • Robin McConnell interviews Steve (El Vocho) Lafler at Inkstuds.
• Just read James Sturm's Market Day. Outstanding! James is nothing less than a master comics storyteller. If you like good comics, this is a must-read graphic novel. Trust me. If you can't find it at your local comics store, they suck. Ask them to stock it. If they won't, then head over to the D&Q website and buy it from the source. They even have a preview posted here for your edification! How nice is that?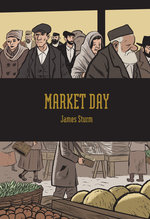 • Finally, i received Lloyd (Troubletown) Dangle's newsletter, and it seems he's now in the "Visual Recording" business. I'll tell ya, kids, if anyone's qualified to do this, it's Lloyd. So ifs ya gots the need, he's the man ta call.
"My new thing is making real-time visuals for companies and organizations to aid in their planning, brainstorming, and decision making. It's called graphic recording.
"If you're interested, here's an article about graphic recording from Harvard Business Review.
"I'm looking for some client juju. If you are a facilitator, meeting planner, organizational guru, or someone who could benefit from visuals to aid your problem solving, I'm your man. And please think of me if you know somebody like that and can throw me a referral!"
Check out this sweet example he did for the Passion Fish Sustainable Seafood conference earlier this summer in San Diego.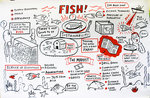 ---
August 30, 2010 / More →
Sorry for the long wait, true believers! (Don't sue me, Stan!) Just back from Minneapolis for the new indy comics show MIX. [Minneapolis Indie Expo.] Simply put, i had an amazing time. Big ups to organizers Sarah Morean and Andy Krueger for a very fine debut. They have a swell slideshow on their homepage (embedded below); which also has pictures of the book signing with Will Dinski, Aaron Renier, and Zak Sally at the astounding Big Brain Comics (run by the affable Michael Drivas).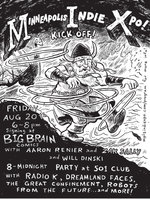 There was a massive local comics contingent at this show, including: Will Dinski, Kevin Cannon, Tim Sievert, Vincent (King Mini) Stall, Lars Martinson, Tom Kaczynski, Sam Hiti, Zak Sally, Brett Von Schlosser, Tyler Page, Reynold Kissling and a bunch of the students i saw at MCAD as well. Special thanks to Barbara Schulz for bringing me to MCAD, and to Ursula Murray Husted... thanks for the ride! . People, i don't know if you're seeing a pattern here, but this is one helluva scene!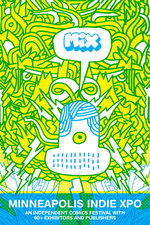 Also in from out of town were Aaron Renier, pimping his brand new (and incredible) book, The Unsinkable Walker Bean, Jeremy Tinder, comics legend John (King Cat) Porcellino and Noah Van Sciver. Nice to meet Noah! Jon (True Swamp) Lewis and Karen Sneider had a table. (I picked up Karen's Gags For Kids mini-comic, and i love it!) JP Coovert and some CCS kids were out. This place even had vegan donuts, courtesy of The Donut Cooperative!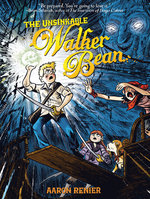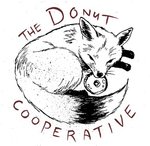 Dylan (Sparkplug) Williams and BT Livermore made it out from Portland. I partied with boss Brian Heater from Daily Cross Hatch! Brian's got lots of coverage from MIX at the site, don't miss it! His recap is excellent.
Here's a couple pictures of Michael Drivas as we rode bikes across the mighty Mississippi River! I was riding one of their new Nice Ride 3-speed bikes. Pay with a credit card, and i rode ALL around the city, picking up and dropping off bikes all over, for about $5 a day. It's no wonder MPLS recent usurped Portland in the ongoing Best Bike Cities contest. What a super cool piece of city planning that works.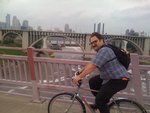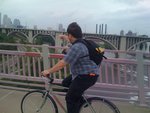 Here's Tim Sievert, Tom K., and Aaron Renier looking for trouble!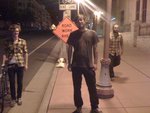 I also ate at some VERY good sustainable eateries all weekend. In uptown i had an unbelievable avocado sandwich at Tao Natural and Organic Foods Cafe. The next day i had a great burger at Common Roots Cafe. And then on the last night, i fabulous veggie sandwich at Brasa. All places had a good vibe too.
And finally, ultra-mega thanks to Sarah Morean and Will Dinski for making, hands-down, THE coolest signage Top Shelf has ever had. Feast your eyes, folks. (Note: these hand-made letters are at least 12" tall!)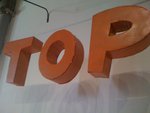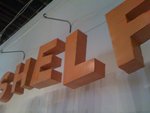 • An important announcement from Jack Crack. (Adults ONLY!)

• Our friend Myla Goldberg has a spiffy new website. She's a terrific writer — in fact, let's let her tell you all about it:
"After years of dedicated Luddism, I have made a decisive step into the late-twentieth century with a spiffy new website, www.mylagoldberg.com, which tells you all about my soon-to-be-released novel, the old books, the upcoming tour, and other tidbits intended to be amusing.
"Not only that, but I now also have a public Facebook page, which I believe brings my technological savvy to roughly 2004. Visit me there at www.facebook.com/MylaGoldberg, where you can say that you 'like' it, and we can 'talk' to each other on the 'wall.'"
• The fine folks at Blank Slate sent me Mawil's newest English-language release, Sparky O'Hare: Master Electrician. This is some super fun comics, about a diminutive little rabbit who's very presence seems to fritz out any gadget he's near. And true to Mawil form, the girls in the office where Sparky works are entirely sexy and cute. Mawil is a cartoonist who is woefully under-appreciated in North America, so do your part, read his work, and spread the word. Also worth note is his Top Shelf book Beach Safari.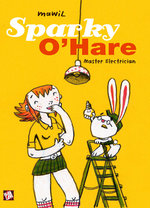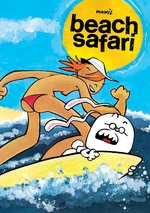 ---
Will Dinski "leaves his fingerprints" all over his exclusive interview at Things From Another World!


Here's a bitchin' print Will made with Aesthetic Apparatus to promote his new book.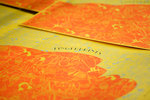 ---
Oregon Cartoon Institute collaborated with filmmaker Karl Lind and Crumb scholars Patrick Rosenkranz and Charles Boucher to create this guide to R. Crumb's Oregon influences. We're calling this installment Carl Barks + Basil Wolverton = Genius R. Crumb.
---
July 31, 2010 / More →
Good Comics for Kids does James Kochalka at ComicCon.

---
July 29, 2010 / More →
ComicCon is now again in the review mirror. This year, for whatever reason, i was really zen the whole trip, after a depressing Thursday. (Staying mostly sober might have had something to do with this.) In any case, i had a great time.
We had a boatload of peeps at our booth. And it was hoppin' all weekend.
Matt Kindt pressing flesh. (And two con sketches.)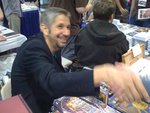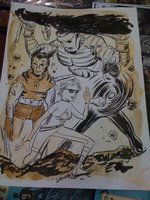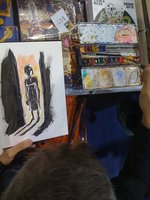 Jeffrey Brown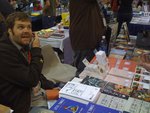 Nate Powell, pimping last year's Eisner Winning Swallow Me Whole.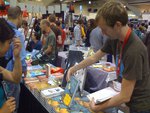 James Kochalka Superstar! (With Kathyrn and Stuart Immonen in the background.)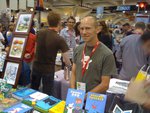 Surrogates team Brett Weldele and Rob Venditti.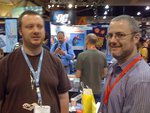 Sean Michael Wilson selling a copy of AX to Maeby (Alia Shawkat) from Arrested Development.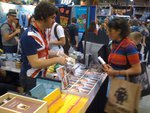 • Here's me and some droid friend of R2D2. (Who IS this green R2 unit?)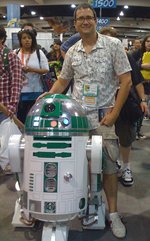 • James Kochalka made it back to ComicCon! Here are his fabulous American Elf strips from the show.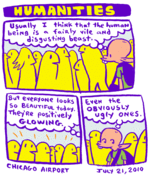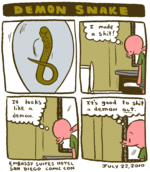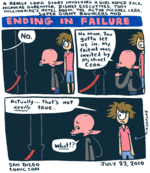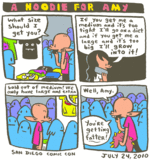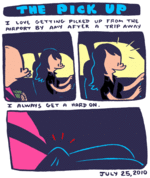 And with release of his SuperF*ckers collected edition, i thought this would be a great time to trot out the Super Awesome theme song video.
We're always in our clubhouse getting high
SuperF*ckers!
Everybody wishes we would die
SuperF*ckers!
Here we come
like a bomb
everybody run and hide!
Our dicks are stuck in the Playstation 3
SuperF*ckers!
Everybody wishes they could be
SuperF*ckers!
Here we come
like a bomb
Everybody f*ckin' run and hide!
• Henry Chamberlain posted two video blogs on Top Shelf at San Diego for CNN. (Thanks, Henry!)
• Talked with Emily Brundige, who turned me on to her terrific student short film, Pubertina.
Pubertina from Emily Brundige on Vimeo.
• Jim Demonakos (he of Emerald City) gave me the new Kirby Krackle cd... yet more fabulous nerd pop-rock, sporting another sweet cover by the great Jim Mahfood.
[Debut disc.]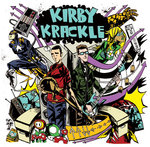 [New disc.]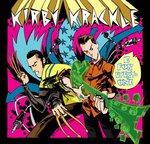 Dig on their music vid for "On and On."

• Speaking of Jim Mahfood, here's some snaps i took at the live art party at Soda Bar, sponsored by Things From Another World and Nerd City, featuring the work of Jim, Scott Morse, Mike Huddleston, Ray Fawkes, King Gun, Jason Shawn Alexander, and some really cute talented girl they didn't list in the press kit.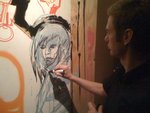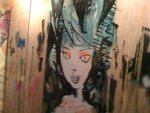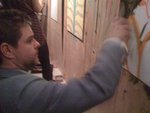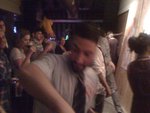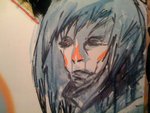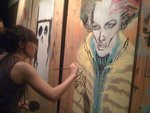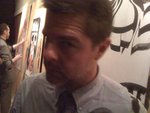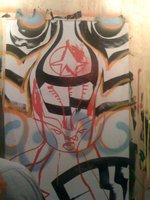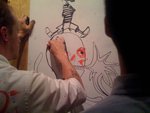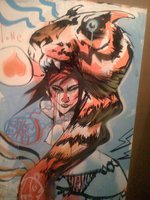 • Here's a beautiful site — the keg room at The Yard House at 4th and Broadway. Mmmm... beer....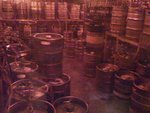 • And finally, the last people standing in our neck of the woods on the floor, were the always delightful Mike & Janice of Fantagraphics.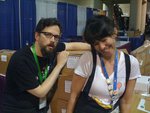 ---
July 20, 2010 / More →
The geeks are armoring up their stormtrooper costumes, and studio execs are praying for successful sneak-peak rollouts for their next bloated blockbusters. Hard to believe, but this will be this bartender's 16th ComicCon!! Oh, how the time flies. And moving right along...
• Max Estes sent this Summer greeting around. I really dig this.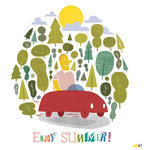 • James Kochalka has a new t-shirt coming out with this sweet Johnny Boo image.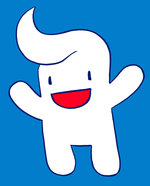 • Drew Landry brought a tear to my eye with his plea to yet another fucking commission regarding the Gulf Spill. Spread this around folks. This guy is my new hero.

• Finally, before i continuing preparations for San Diego, here is a short piece by a Brazilian cartoonist named Rodrigodraw, who generously invited me as a guest to the comics and animation festival in late October he organizes called Animaserra, just outside of Rio de Janeiro. Besides all of this (organizing a show and writing and drawing comics), he is a university professor as well.
---
July 13, 2010 / More →
Buenos noches, mi amigos! This just in...
Steve Lafler, mastermind behind the mind-bending Bughouse Trilogy, will be right here in Portland this Thursday, signing copies of his swingin' new graphic novel El Vocho, at Reading Frenzy. The fiesta starts at 7:00. Steve lives in Oaxaca, Mexico, so his visits here are rare.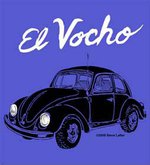 Reading Frenzy
921 SW Oak St.
Portland OR 97205
---
If anyone is in Santa Cruz, this Saturday, July 10th, Johnnie Arnold will be celebrating the release of BB Wolf and the Three LPs (written by Johnnie and drawn by Rich Koslowski) with a book signing and party at: Comicopolis, 829 Front St., from 4-8 pm. Free food, drink, and entertainment for all! In addition to the book, we will be debuting the CD, BB Wolf and The Howlers, The Lost Recordings. Deluxe BB Wolf coasters and shot glasses will also be available for sale.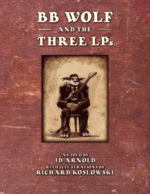 • Top Shelf alum Steve Lafler is coming back to America (from Oaxaca, Mexico) to do two new book release events, promoting his incredible new book El Vocho.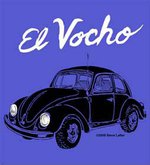 Steve writes:
First, I'll be at Reading Frenzy, 921 SW Oak St. in Portland, Oregon on Thursday, July 15th at 7 p.m.
One week later on Thursday July 22, I'll be in San Francisco at the Mercury Cafe, 201 Octavia St. at 7:30 p.m.
I'll be signing books and showing some of the original art from El Vocho too.
I'll also be performing a short stack of my Oaxacabilly tunes (Oaxaca + Rockabilly) -- this graphic novel emerged in conjunction with a bunch of country punk hillbilly music, so it makes sense to present it all together!
Yup, I've gone all cow punk with a motley crew of expats down south of the border, and I can tell you it's just as much fun as slingin' ink.
If you can't make it, you can purchase a copy of El Vocho here for $12.00 plus postage.
One of the tunes is the them song for El Vocho, entitled "Ballad of the Bug" -- give it a listen!
This version was produced and recorded by Bill Stair, one of my music making friends in Oaxaca.
• Finally, i'm off to catch the rest of the World Cup semi-final between Germany and Spain. My pal Gregory Benton is responsible for this "footbal" enthusiasm, and even my 5-year old son is into it. If anyone can make a dvd of the final for me, i'd be much appreciative, as i'll have to miss it. In any case, here's one of the many pieces Gregory has been sending me in his drunken World Cup-fever emails.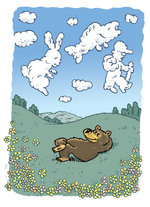 ---
June 28, 2010 / More →
Will Dinski's disturbing tale of the depraved depths people will go for perceived beauty, Fingerprints, is inching closer to a comics shelf near you. This is not only a great read, but one incredibly designed jewel of a book to hold in your hands. (So put THAT in your iPad and smoke it!)
Here are some of Will's developmental cover thumbnails for your enjoyment.






• Ed Piskor, hard at work on his excellent magnum opus Wizzywig, has written an excellent essay called "The Art Of Cause and Effect In A Solitary Comic Panel," which is super insightful. Nicely done, Ed.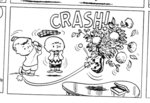 ---
June 24, 2010 / More →
but these images arrived in my inbox, and they are spectacular. If you speak French, then you can read up as well.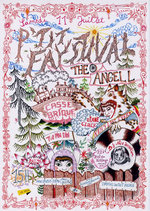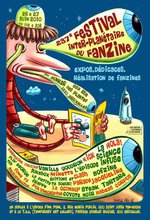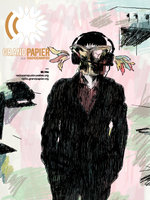 • Eddie Campbell waxes philosophical at TJC...
• Sketchbook art by Gregory Benton.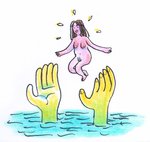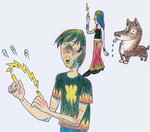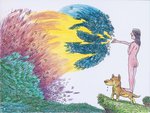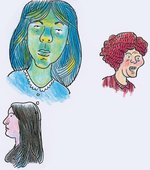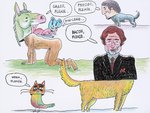 • A new issue of Stripburger is out. This is one bitchin' cover, eh? Unfortunately, i'm not sure how to get this.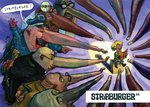 ---
June 16, 2010 / More →
Mike Dawson sent me issue 4 of his hilarious mini-comic series Troop 142, an ensemble piece about a Boy Scout Summer Camp. I'm really loving this. Mike's ear for dialog is right up there with our own astounding Alex Robinson, and his situations are so relatable, every issue i read takes me back in time to my own sad-sack youth, and the cast of characters that included. Ass-hole adult, bent on forcing his will on fellow adults and kids alike. Check. Wussie adult, willing to acquiesce and look like a tool. Check. Misfit kids ranging from dick-head bullies, fat nerds (that was me), and all stripes in between. Check. Crazy side characters, like the camp nurse. Check.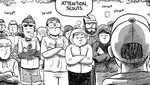 Do yourself a favor and check it out at Mike's website.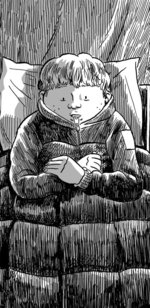 And speaking of Mike Dawson and Alex Robinson, their bitchin' blog The Ink Panthers reaches episode 50, this time out featuring a 2-part interview with (i think recent Portland transplant?) Matt Fraction, whose Invincible Iron Man is required reading for fanboys like myself.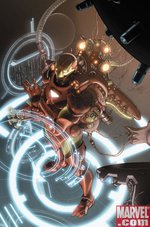 ---
June 13, 2010 / More →
Portland has been raining non-stop for weeks. Thank the gods, the sun is finally back. After i post this update, i'm off for a bike ride.
Otherwise, it's relatively quiet around here. I feel like i'm in the eye of the hurricane, and this is merely the calm before the storm. Better button down the hatches...
• Wow. This is a really solid essay on why Jeffrey Brown's comics are so great.
• I picked up a few items of note recently, that are pretty sweet.
Greendale (based on Neil Young's multi-media story). I haven't read this yet, and to be honest, i wasn't that interested in it as first, if only because i'm always suspect of adaptations. Then i read a few stellar reviews of the book, and considered the pedigree behind it; one Josh Dysart, a truly terrific writer and a heck of a nice guy; one Cliff Chiang, an absolutely amazing artist; and one Dave Stewart, certainly in the upper echelon of comics colorists. This is one gorgeous book, and i can't wait to find some time and dive in.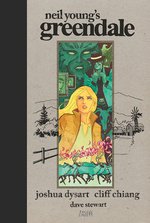 The Invincible Gene Colan. Unlike most comic artist biographies, this came out from Marvel itself. Being shrink-wrapped and at standard comic size, i figured it would kind of suck, so i passed. Curiosity got the better of me, however, and after begging my local retailer to let me peek inside, i must say i'm floored by the quality of its contents. Chock full of Gene's mind-boggling and surreal art, this choice little hardcover delivers. If you're not familiar with this legendary creator's work, here's a terrific introduction.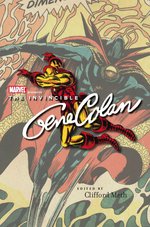 And finally, the recently released James Bama Sketchbook, from Flesk Publications. Zowie! I was super impressed with the monograph the mighty John Flesk published a couple years back, and i've come to trust his publishing instincts. Mostly comprising "unfinished" sketches and color studies, the book is a veritable gold-mine of luscious art. Seek this out.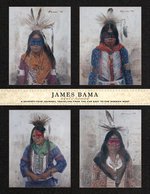 • The music geek in me should point out the staggeringly awesome documentary i saw last night, called Rush: Beyond the Lighted Stage. Whether or not you like this band (and i certainly do), the doc is a genuine inspiration, and a beacon for artists of all strips working in any medium, to first and foremost, be true to yourself and your art.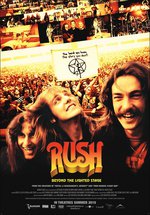 ---
May 31, 2010 / More →
Hanging out with my son Carter. Couple items of note.
• Top Shelf alum Tom (Hutch Owen) Hart writes in:
I'm teaching two classes this summer at the School of Visual Arts in New York City:
First, a solo class called Comics Storytelling. Tuesday nights. This class will be about finding your voice, about following, focusing and articulating your idea in comics. I bring in tons of work to pour over, we begin with a number of quick exercises to get us going, then work on longer projects towards the goal of a single large-scale piece. It's always a good class. Usually I teach a separate Monday class, this summer I'm taking Matt Madden's Tuesday night slot.
Next is the SUMMER INDEPENDENT STUDY SEMINAR that I am co-teaching with Matt Madden. This class, always a great success for students, helps self-motivated students develop and finalize their longer projects. We meet on three Saturdays over three months to critique, outline plans and discuss ideas and options for our stories. Matt and I give small lectures.
• Former intern and current Top Shelf Submissions Editor Claire Siepser writes:
As some of you know, I have spent the past few months oil painting insects with single haired brushes onto wooden spools and making paper in which I have embedded insects then drawn upon to place the insects
in places such as a frog's stomach.
I have joint-show opening June 4th (First Friday)
Clawhammer & Clothespin
7:00 - 9:00 pm
SE 3611 Division
Portland.
Official Press Release. NEW WORK BY CLAIRE SIEPSER: "INSPECTIONS OF MINUTIA"
SHEDDING NEW LIGHT ON INSECTS AND THINGS OFTEN UNSEEN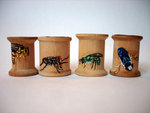 PORTLAND, OREGON—Claire Siepser grew up on a horse farm collecting every creepy-crawly she could get her hands on. Years later, after forgetting her unwieldy obsession with insects, Claire Siepser found herself with a bunch of wooden spools. Combining her love of nature and concern for the environment she started by painting a single silk worm on a silk spool—exploring the relationship between the man-made and the natural world. Suddenly noticing insects that she hadn't noticed since childhood she painted more and more of this unseen world. Then she started embedding insects into handmade paper. Since paper is a man-made object made from plants, it was only natural that she combined this newly rediscovered fascination with insects with her love of papermaking. After drawing on the paper to place the embedded insects inside frogs stomachs or caught in spider webs, she decided to exhibit all this new work on insects together.
Her work opens on First Friday June 4th at the new vintage boutique and gallery Clawhammer & Clothespin and will be displayed until July. The 67 spools will be hung side by side to allow the viewer access to all sides of the insects along with simulating the flight of many of these creatures. The work invites the viewer to relive the fascination with insects that most people had in childhood and have since lost to the detriment of the environment in which we live. It is rooted in such work as that of Cornelia Herman-Honegger, Kiki Smith, and the tradition of cabinets of curiosities.
---