just back from some camping...
August 1, 2011
and now, back to the day-to-day, Sigh...
This little blog update is all-Kochalka.
Here's the beautiful little piece James drew that was made into a bookplate give-away at ComicCon last weekend. His entire family was in attendance.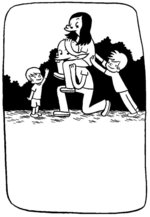 And here's a little number James dug up on Comic Art Fans. From a joint appearance with James and Craig Thompson at ComicCon in 2004, and drawn on the title page of the anthology they each appeared in, Happy Endings, edited by the great Diana Schutz.