August 8, 2011
James Kochalka will doing two appearances in Philadelphia on Labor Day weekend. Here's a poster Box Brown made for the event.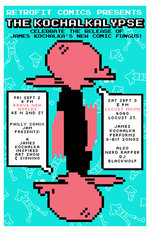 James also won the award for Best Cartoonist in Vermont, in the Seven Days paper.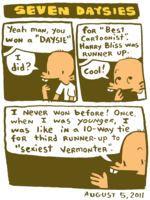 • Here's a clip of one of my favorite local bands. And even though the dumb-ass interviewer calls it surf music, they're pretty much a straight-up roadhouse style blues band. I was there (in fact, if you close you can see me when they pan the audience) and danced my butt off.
• Finally, i have to gibe some props to one of the most under-rated cartoonists working in comics today, my old pal Chris Cilla. I recently read his feature-length mind-fuck of a book, The Heavy Hand, published by Sparkplug Comics. To be honest, i'd be hard pressed to tell you "what it's about." Needless to say, it left a lingering impression on me. Weird is the best way to put it. And gorgeously drawn too. Heard it from Chris himself just today that Zak Sally's La Mano will be releasing a collection of Chris' long out of print mini-comics run called The Diplomat. If you like indy comics, you owe yourself to check out the fine work of Chris Cilla.