Nate Powell is doing a big solid for Steve Niles and his family, who recently suffered a flood in their home, sans flood insurance, by offering up proceeds from his original art sales this week in support. Check out more here on his blog.
Also, big ups to Rich Koslowski and his delightful daughter for manning the Top Shelf booth at APE this weekend in San Francisco. I've been attending that show since APE II in 1994 when Dan Vado was running it out of San Jose, and had to miss this year because of a family affair.
---
This weekend is the Rose City Comic Con here in Portland. And what do ya know, but Mark Russell and Shannon Wheeler have another event in support of their book God is Disappointed in You. This time at Floating World Comics! Here's the Facebook invite.
Mark and Shannon both took lots of photos, and Mark did a nice write-up on the Powell's event from Sunday night:
"On Sunday, Mark Russell and Shannon Wheeler were on hand at Powell's City of Books in Portland to promote their new book, God Is Disappointed in You. Rather than do a straightforward reading, though (which nobody really likes, anyway), Mark showed an animated video about Original Sin (which is fruit theft, in case you were wondering) and performed a slide show squeezing the entire Bible down into fifteen minutes, with musical breaks by "King" David Lindenbaum (seen here in costume) and the 'Leles (seen here in ukeleles). Meanwhile, Shannon was busy drawing portraits of people in the audience. Whether it was a personal portrait drawn by an award-winning artist, or a free fortune cookie, everyone left with something. Mark and Shannon will next be performing their weird biblical slide show at the Wordstock Convention on Saturday, 10/5 at 1pm."
---
September 13, 2013 / More →
God is Disappointed in You authors Mark Russell and Shannon Wheeler will be on hand this Sunday night at Powell's downtown store here in Portland. 7:30 p.m. Come say hello, and pray that you're on the correct side of the conversation. (Who wants to burn in Hell right?)
Here's Mark and Shannon Talking Comics with Tim (O'Shea)!
One more time, Mark and Kalah Allan's terrific God trailer.

And some review sound bites for your reading pleasure:
"I chuckled at God Is Disappointed in You before I even cracked it open…."
—Bob Duggan, Big Think
"...educational, utterly hilarious, and wholly engaging. Mark Russell and Shannon Wheeler have crafted a book you won't be able to put down. Unless you're a zealot…then you're going to throw the thing across the room."
—Chris Delloiacono, The Trades
"This is so funny I have been crying with laughter."
—Stephen L. Holland, Page 45
"Stripped of its arcane language and interminable passages, every book of the Bible is condensed down to its core message, in no more than a few pages each...often shocking, sometimes blasphemous, but always funny with a huge heart. This is Sunday School for the information age."
—Brett Schenker, Graphic Policy
"[Writer] Mark Russell and [artist] Shannon Wheeler take 'The Good Book' and turn it into, well, a good book."
—Joedward Lewis, Geeks Unleashed
"With its near-constant commentary on economic inequality and the plight of the poor in the face of an oppressive upper class, God Is Disappointed in You is certainly timely, with lessons that feel more relevant today that at any other time in recent memory... The Bible itself may be timeless, but, with its playful ribbing and wit, God Is Disappointed in You is most certainly a book made for this moment."
—Brian Martin, Culture Mass
"Mark Russell reimagines Isaiah as a motivational speaker, Elisha as a marriage counselor, and God as a scrapbooker… Shannon Wheeler's cartoons stand on their own, taking familiar bits from the Bible and stirring them up with equal doses of pop culture, humor, and irreverence. God Is Disappointed in You accomplishes an impressive goal: it takes the holy book—as inscrutable and culturally significant as it is—and makes it readable."
—Rebecca Kelley, The Rumpus
"Using numerous formats for this presentation, from Psalms presented as a Greatest Hits compilation to Revelations annotated with common theories as to the prophetic representations, God Is Disappointed in You is a wonderful path through an often unapproachable text… Illustrator Shannon Wheeler's New Yorker-esque cartoons are great touchpoints used with care to either enhance the ongoing story or to view a story through a different lens. Sometimes surreal but always amusing, Wheeler applies a matching sardonic wit to his keep pace with the author."
—Jenny Christopher Randle, New York Journal of Books
"There are pop culture references scattered throughout God Is Disappointed in You... Historical epics flowing with sex and violence didn't originate with Game of Thrones, as any of the raw, shocking, and downright strange events of the Old Testament show, and the sheer diversity that the Bible contains is more than enough material for some rib tickling productions, as can be seen in a handful of early episodes of The Simpsons."
—Kris Bather, Broken Frontier
---
This is a really really rad book trailer for Mark (@Manruss) Russell's book (featuring terrific cartoons by Shannon Wheeler, @MuchCoffee), God is Disappointed in You! I do believe this was made with the assistance of our old friend Kalah Allen!

---
---
August 21, 2013 / More →
Here is a ComicCon report by Rich Koslowski's very cool daughter Stella. It's pretty awesome. Oh, and she's an amazing artist in her own right.
---
August 4, 2013 / More →
Good news from our pal Conch at Portland's community radio station KBOO:
This Thursday morning (August 8th) from 11:30 to noon, Words & Pictures welcomes guests Mark Russell and Shannon Wheeler to the airwaves. The two of them have just released God Is Disappointed In You, a less-than-canonical romp through their favorite Bible stories, with words by Mark and cartoons by Shannon.
Words & Pictures airs the second Thursday of each month from 11:30am to noon (PDT) on KBOO Radio, 90.7fm. KBOO's real-time webstream is available at http://kboo.fm/listen via iTunes or Abacast, and on mobile devices through the TuneIn app. More info and links to recent Words & Pictures audio archives can be found at http://kboo.fm/WordsandPictures
[Bartender's note. As i prepared this blog update, the KBOO website was not responding. Apologies.]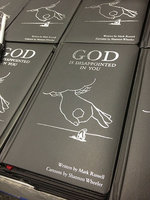 ---
August 1, 2013 / More →
Check out this sweet cover art for the new issue of WW2, by Peter Kuper!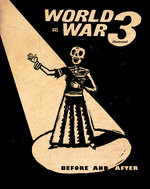 By Peter Kuper (after French illustrator Roland Topor).
---
July 26, 2013 / More →
• These are some of the kindest words i've ever read about Top Shelf, the Little Comics Company that Could.
"I like Top Shelf for a lot of reasons. They've taught me about great creators like Jennifer Daydreamer, Jeff Lemire and Nicholas Mahler. They have become the big grand daddy of alternative comics and they were one of the first indy comics houses to dive fully and enthusiastically into digital comics."
• Bleeding Cool has some nice things to say about our digital program too…
"Top Shelf seems to be charging ahead and embracing digital is clearly going to be a major addition to their reputation globally. The move to digital has already resulted in some suprising new talent, looks, and themes to build on Top Shelf's achievements as they take their place not just as a founder, but a contemporary player in the expanding indie and small press market."
Big big props to our Director of Digital Programming Chris Ross!
• CBR's Jonah Weiland (from The Boat) also wrote to me that he posted the following on his Facebook account. (I'm not on Facebook, hence the copy & paste job.)
"In 1991 I dropped out of college after pursuing a political science degree. In 1995 I started Jonah Weiland's Crappy Comic Book Links page. In May of 1996 I launched the Unofficial Kingdom Come Web page. In 1997 the two were merged to become Comic Book Resources. In 2013 I interviewed an American Legend and personal hero, Congressman John Lewis. I hoped I'd meet the Congressman one day, but never thought it would be as the owner of a comic book site. Life can surprise the hell out of you.
"It was such an honor to meet the Congressman today. Talking with him, Andrew (Aydin) and Nate (Powell) is the high point of this convention for me. Thank you so much for facilitating that."
• CNN

• More March Love. Robot 6, on Congressman Lewis at ComicCon. "...come on, photos of Lewis meeting Neil deGrasse Tysonand Lou Ferrigno? Everybody else, just pack it up."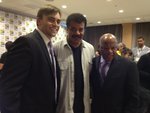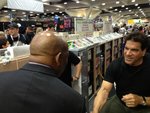 ---
In case you didn't know, ComicCon is in full swing. And while your humble bartender won't be serving drinks there this year, you can still mosey up to our booth and chat with any number of our swell staff and cartoonists. Did you hear that no less than Congressman John Lewis is there? That is amazing. (Also, Andrew Aydin, Jeffrey Brown, Rob Harrell, Mark Russell and Shannon Wheeler, Zander Cannon, and wow, lots more.)
We've also got a big digital comics sale happening too! If you prefer the glow of your screen to the smell of ink, there's loads of killer comics to choose from.
In amongst the deals to be had, is the debut of Chris Sheridan's wicked cool The Motorcycle Samurai, which starts serialization now! This is almost more fun than should be allowed.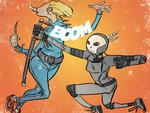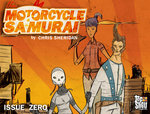 • Exploring A Crisis Of Faith With Confessional Comics. Jody Arlington reflects on Jeffrey Brown's new memoir A Matter of Life, at NPR.
And here's Jeffrey talking with Jason Heller at A.V. Club.
"...Did I mention that Brown's work is hilarious? That you will smile and laugh throughout? That you'll be inspired by the Brown family's goodness and gentle relationship with each other and the world? Reading this is a joy. Rereading it is, too."
• March keeps getting the big props. Here's a real nice one from no less than Publishers Weekly.
"Superbly told history."
• Tim Sievert rocks a bad-ass Prince Valiant!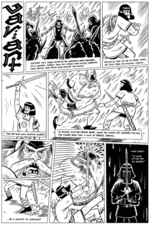 • Ace storyteller Jeff Lemire has scored two Harvey Award nominations this year, for his stellar graphic novel Underwater Welder. Too freaking cool, and well deserved.
• Matt Bors talks with CNN about his book, Life Begins at Incorporation.
---
Leigh informed me that apparently, the Martin Luther King and The Montgomery Story comic book is indeed available in print, here. Not sure if this is accurate, so i'll have to give it a shot myself!
Here's Andrew, Nate and Rep Lewis talking at Book Expo.

And here's some video from ALA (the American Library Association).





---
Long overdue blog post.
• Pete Sickman-Garner rocks a new website for his sick and brilliant Hey, Mister comics! We're gonna be releasing some new Hey, Mister material as part of our digital initiative soon, so keep your eyes peeled.
Pete also has a new Hey, Mister strip, titled "Pissed Christ," up at Trip City... Blasphemy!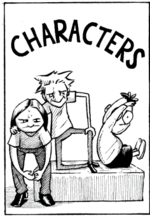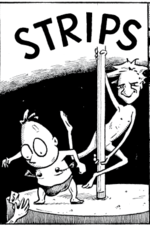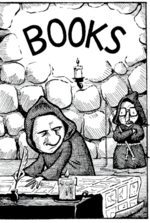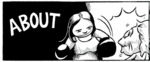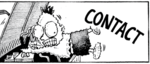 • Nate Powell and Andrew Aydin (co-creators, with Congressman John Lewis, of March) appeared on a panel, Visualizing Peace: Graphic Art and Social Change, held at Johns Hopkins' prestigious Paul H. Nitze School of Advanced International Studies. Thanks to Fantastic Forum for the coverage.
I love this video with Rep. Lewis and Andrew!

And boy howdy, would i love to get my hands on one of these original MLK comic books, out of print since it's original publication in 1958!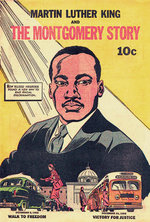 ---
June 3, 2013 / More →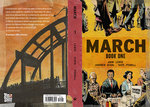 Diamond Previews rocks a killer interview with Rep. John Lewis, Andrew Aydin, and Nate Powell on their collaboration on the upcoming graphic novel March!
Also, check out Chris Ross's Twitter account and check out his process blog, working with Nate on developing the cover.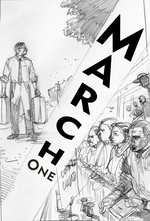 ---
May 22, 2013 / More →
In the Fall term of 2012 i began my first teaching gig at PNCA (Pacific Northwest College of Art) here in Portland, OR. I'm teaching it again for the current Spring term. The class is more or less a broad comics course — part of the non-credited Continuing Education program at the school — geared to towards newcomers to the medium, and how they might conceive, execute, rollout, and promote their work.
I wasn't sure what to expect when i first started. How could i? Not only have i never taught before (outside of tipsy barroom banter), i haven't taken any school courses myself in a very long time. The class size for both terms has been relatively small, and frankly, that puts me at ease. I'm not certain how i would need to alter my teaching style and the actual nature of the course itself if i had to accommodate a larger class. The smaller, more informal structure works to my own and the students' advantage, insomuch as i'm able to work directly with the students in helping them determine their goals, as well as actually making those goals come to fruition. The smaller class size also creates a tangible camaraderie amongst the students which further allows for peer-to-peer feedback and assistance.
Over the weekend of June 21-23 i will be co-hosting, alongside Ryan Alexander-Tanner a weekend long Graphic Novel Intensive workshop. Here's what we came up with for a description:
"Graphic Novel Intensive at Pacific Northwest College of Art, Portland, Oregon, Jun 21, 2013 - Jun 23, 2013. Join our 7th Annual Intensive Workshop and let us assist you in making your comic book aspirations a reality. Create a blueprint with clear, achievable goals for moving forward in your career, whether your interests are in self-publishing original narratives or doing collaborative work-for-hire.
"Ryan Alexander-Tanner, artist/writer of To Teach, in-house illustrator for Dave's Killer Bread, and Brett Warnock, Publisher at Top Shelf Productions, lead the Intensive, now in its seventh year. Guest presenters include Matt Bors, Kelly Sue DeConnick, Matt Fraction, Jöelle Jones and Katie Lane."
If you're new to the medium and/or aspire to learn more about the industry and create your own comics, this is a terrific opportunity to do so.
And here's the poster (rough & final) that Ryan made for the event: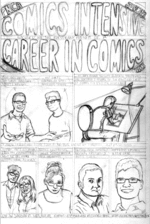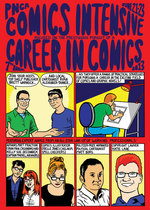 ---
April 14, 2013 / More →
Yeah, that's right... James is all over the place. I'm most excited about James coming to Portland in the next couple weeks as a guest of the Stumptown Comics Fest. (He's even going to do a mini workshop & reading with my son's 2nd grade class! Yay!)
There's two new episodes of SuperF*ckers! at Cartoon Hangover.
If you've never read the comics the cartoon are based on — and you don't offend easily — there is no better time that the present to rectify the matter. Buy the collected edition pronto!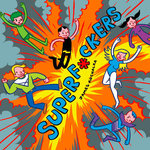 • Here's a link to James' most recent miniature paintings at a recent Giant Robot show had called 'Facial Recognition' (with Matt Furie and Mark Todd).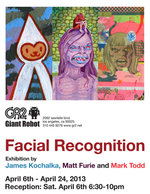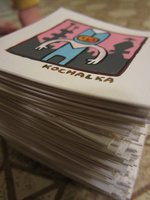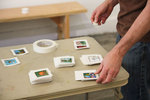 ---