and now even more on Lucille!...
July 3, 2011
over at Comic Book Resources.
• Greg Ruth rocks a sweet, FREE download called Logs I Have Known.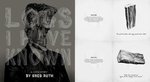 As a budding tree geek myself, as well as a big fan of Greg's awesome lush artwork, this is kind of blowing my mind.
• My pal Mike Baehr up at Fantagraphics sent me this screen-grab, from Conan O'Brian. He wrote, "Just caught this on my DVR. Every episode has a jokey episode title -- I don't know if this was a deliberate Kochalka reference, but it's pretty cool!"