busy busy busy...
July 14, 2011
lots of cool stuff, so much to see and do...
Kagan Mcleod has crafted the most bitchin' comic book trailer i've ever laid eyes on, and everyone is (justifiably) raving about it.
• Wayne Shellabarger (Veeps co-author, with Bill Kelter) to a snap today at the Oakland Public Library. Some Matt Kindt love!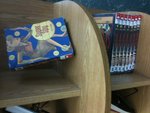 • Direct from the Brewmasters at Cartoon Brew, "Chief Serenbe" by Evan Curtis. This is wicked cool animation. I really dig the Kerouac reference. Truly outstanding.
"Cartoon Brew's Student Animation Festival continues today with the third film in our line-up: Chief Serenbe by Evan Curtis from the Savannah College of Art and Design. This stop motion short really stood out to us as we were watching the entries. The film isn't conventionally narrative, but engages the viewer by taking us into the world of a drifter. It is a surprisingly emotional piece of work and manages to create a distinctive sense of time and place. Curtis's cinematic approach and use of depth of field makes us forget the star of the film is just a small toy."
Chief Serenbe from Cartoon Brew on Vimeo.
• Wait... what?! Jennifer Hayden is making jewelry from her comics... she guessed it, a first for Top Shelf.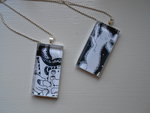 • Hey folks, our pal Conch over at KBOO's Words & Pictures program is airing his interview with Portlanders Jesse Reklaw and Lisa Magnum today (Thursday), two swell folks and part of the comics cognoscenti here in Portland.
"Thursday July 14th from 11:30 to noon, Words & Pictures welcomes local comics artist, publisher, and promoter Jesse Reklaw, creator of the long-running dream-chronicle strip Slow Wave. Jesse will be joined by Lisa Mangum, publisher and co-editor of Gazeta, the international comics anthology, and they'll talk about the new comics certificate program that they're launching this month at the Independent Publishing Resource Center.
"Words & Pictures airs the second Thursday of each month from 11:30am to noon (PDT) on KBOO Radio, 90.7fm. KBOO's real-time webstream via iTunes or Abacast. More info and links to recent Words & Pictures audio archives."