jennifer hayden jennifer hayden jennifer hayden!!!
September 6, 2011
Just got this newsletter info from Jennifer Hayden. Her work is outstanding, so listen up close now, y'hear!!
•••••••••••••••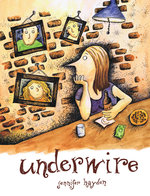 Hey Friends--
UNDERWIRE is here! No shit! 100 copies are sitting in my living room right now!
Top Shelf did a beautiful job publishing this baby--softcover with French flaps, and a gorgeous book and cover design by Chris Ross. It's eighty pages, with twenty-two of the webcomic strips, plus seventeen new pages of comix and art made exclusively for this book.
UNDERWIRE debuts at Small Press Expo this weekend, September 10 & 11, in Bethesda, Maryland. I'll be there all weekend, so swing on by the Top Shelf table, and I'll deface a copy for ya.
On Sunday, if you're looking for trouble, come listen to a panel I'll be speaking on at 3:00 p.m. called "Images of The Body". Moderator Craig Fischer will talk with Robyn Chapman (Hey 4-Eyes!, Make), Gabby Schulz (Monsters), and Jen Vaughn (Don't Hate, Menstruate! Heavy Flow), and me about "the ethics, erotics and extremes involved in representing the external experience of the body." Should be pretty graphic...
I'm also bringing along a new minicomic you can pick up if you're at the show-a collection of strips from my new webcomic S'CRAPBOOK.
If you can't make it to SPX, you can always order a copy of UNDERWIRE.
And if you want to read a nice review of UNDERWIRE, try this.
Thanks for all of your support over the years! And if I've got someone on this mailing list who is just dying to get off it, I completely sympathize--just shoot me an email and I'll remove you from the list...
And thank the Goddess for all the books!
Jennifer