YIKES!... two weeks since my last update...
August 27, 2011
Hey, i've been busy doing domestic stuff; sanded and oiled my back patio picnic table; painted the entirety of my kitchen and breakfast nook; and have been working my garden and cooking up a storm. (Besides which, Twitter and Facebook take "some" of the pressure off of me with this blog gig, though that's no excuse.)
Anyhoo, lots to catch up on...
A benefit sale is being held at Floating World here in Portland this coming Monday, the 29th and Tuesday, the 30th to offset Sparkplug Comics publishing magnate Dylan Williams' medical bills as he battles cancer. If you aren't in Portland, Tom Spurgeon has a call-to-arms on the Comics Reporter encouraging you to buy Sparkplug Comics directly from the source as a means of support.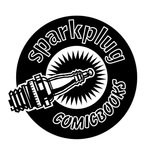 Floating World Comics is located in their (awesome new, spacious, light-filled) digs at 400 NW Couch, one block off Burnside at 4th & Couch. They are open from 11 a.m. - 7 p.m. every day.
• Check out this sweet art update by old Top Shelf-er Rick (Crust) Pinchera. But wait!... Rick just completed work illustrating the graphic for Top Shelf West's very first (15 years later) trade show banner display! I'll be debuting this at APE, so come on by and check it out in person!
Here for your edification are the work files that Rick sent my way as we worked together to find the final image. I have to say, it was huge fun working with Rick again on this as art director.











• From New Zealand's Ant Sang (whose Dharma Punks blew my mind years ago), comes his new graphic novel Shaolin Burning. Holy crap this looks awesome!
Here's the trailer.

• Former Top Shelf intern Andy Kettler has been one busy motherfucker, spending some time at SVA, and honing his wildly spectacular chops. Great shit, Andy!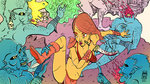 • Check this out! Now you can get the Top Shelf Kids Club Sampler for FREE on iBooks.
• Here's a trio of awesome Top Shelf reviews at The Daily Blam! Thanks to @nitamosquita for the heads-up on Twitter ; )
• The great Richmond Fontaine (lead by frontman Willy Vlautin) has this bitchin' scary new video out, promoting their awesome new record The High Country. It's directed by fellow Oregonian Gary Lundgren, who directed the excellent film Calvin Marshall a couple years ago. Coincidentally, my friend John Askew provided the music and score for Calvin Marshall, and produced The High Country. (And did the Blankets soundtrack several years back!)
• In non-comics news, you may have seen me Tweeting a lot about this Tar Sands bullshit, which the State Dept just told us is oh so fine and pretty for us all. Please, watch this, and you be the judge.

Tar Sands Action/ Josh Fox from JFOX on Vimeo.
• Also on the political front, let's review this guys' speeches from just a few short years ago. And imagine how much money we'd save as a nation if we could just kick our war habit; a nation that is threatening to end YOUR Social Security, Medicaid, and Medicare because we're supposedly so broke. I've been paying in for a loooong time... i just hope the return is there when and if i choose to retire. (Though if the hard-right freaks get their way, it won't be.)

• O.k. I'm out. Until next time, my friends. This bartender says don't drink and drive!