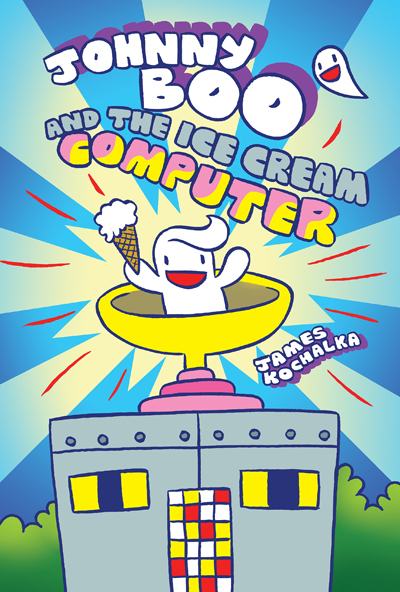 Johnny Boo (Book 8): Johnny Boo and the Ice Cream Computer
ISBN 978-1-60309-435-1 - Diamond: FEB180484
Winner of the Eisner Award — Best Publication for Early Readers!
Featured on the 2019 Texas Little Maverick Graphic Novel Reading List!
"Fun for kids of all ages. It's AWESOME!" — DJ Lance Rock, host of Nick Jr's Yo Gabba Gabba!
"Perfect for beginning readers." — Publishers Weekly
"Johnny Boo is sweet without being sugary and comfortably familiar yet fresh on every page. All in all, Kochalka's light touch has created the quintessential small gem." — School Library Journal
Johnny Boo creates an incredible Ice Cream Computer that can turn anything into delicious ice cream. Old toys that you don't want to play with anymore? Ice cream! Clods of dirt and grass? Ice cream! It works great… until Squiggle decides to turn himself into ice cream! Then: Johnny Boo time travels to the future, where the Mean Little Boy tries to add him to his butterfly collection. Can Squiggle save the day, or will everyone get turned into ice cream?? -- a 40-page, full-color hardcover graphic novel, 6" x 9"
Reviews
---
Related Titles
Mobile Site Go to Full Site
Top Shelf Productions® and the
Top Shelf logo are registered trademarks of
Top Shelf Productions, Inc. All rights reserved.