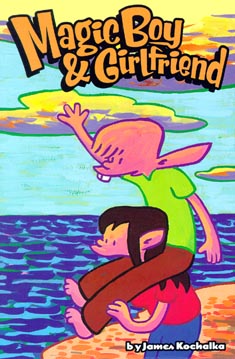 Magic Boy and Girlfriend
ISBN 1-891830-03-1 - 144 pages
The comics that made the man a legend. That's right, collected for the first time ever are the greatest hits from the seminal mini-comic James Kochalka Superstar; all of which are now rare and out-of-print. James' comics have appeared virtually everywhere in the alternative comix scene, and this collection showcases a remarkable progression in comics craft by one of today's most unique American cartoonists. ... What!? Does someone here have a problem with "craft"?
---
Related Titles
Mobile Site Go to Full Site
Top Shelf Productions® and the
Top Shelf logo are registered trademarks of
Top Shelf Productions, Inc. All rights reserved.