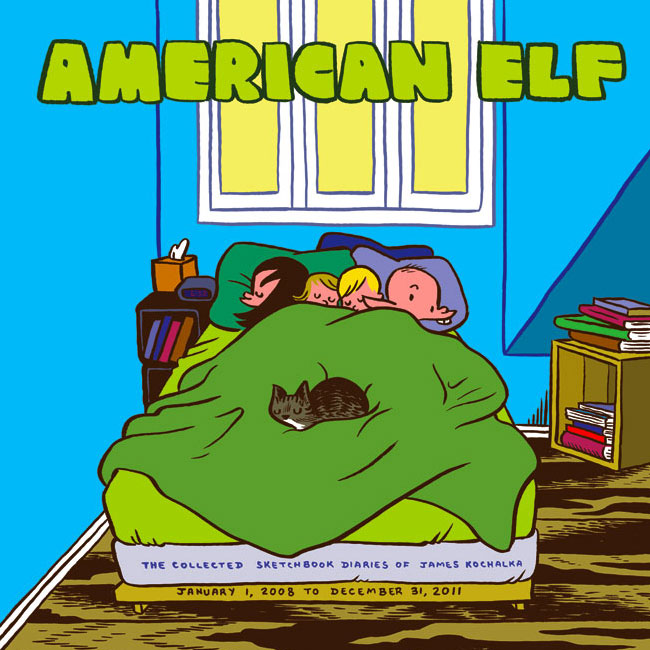 "What makes American Elf so good is that it's incredibly personal and it runs the full spectrum from super-sickening sweetness to gut-wrenching terror and sorrow. It's a funny and powerful window into a real person's mind." --Tony Millionaire
"Extremely good stuff... Not just because Kochalka remains the cheery, sentimental, earthy, creatively goofy guy -- who yet confesses his doubts, regrets, anger, fearfulness, bad dreams, and booboos -- that he has always been, but also because his family... grows more fascinating every day." -- Booklist (starred review)
It's the long-awaited return of James Kochalka's massively influential and deceptively ambitious autobiography, American Elf. Every day of his life is captured in a single comic strip, sometimes profound and sometimes silly, but always full of the earnest Kochalka passion that led Hi-Fructose to call him "an unrelenting force, sure to solve the oncoming energy crisis," and earned him the title of Cartoonist Laureate of Vermont. And it's only gotten better over time!
In this collection, spanning the years 2008-2011, James becomes Cartoonist Laureate, celebrates American Elf's 10th year, pitches a TV show to Hollywood, releases a GameBoy album, travels to France, creates his own video game, considers quitting the strip, plays everything from Lego Star Wars to Skyrim, digs deeper into his psyche, and kind of causes himself to have a nervous breakdown. Meanwhile Eli starts elementary school and starts a band, Oliver learns to walk and talk (and sing), James & Amy celebrate 15 years of marriage, and the family adopts a new cat, Nooko!
-- a 384-page black & white graphic novel, 8.5" x 8.5"
Reviews
---
Related Titles