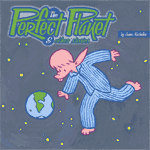 The Perfect Planet
ISBN 978-1-891830-08-2 - 208 pages, Diamond: STAR12465
The Village Voice calls him "Primitive, childlike and profane," and Pulse Magazine calls him a "Peculiar comic genius." Whatever you call James Kochalka, it's obvious that he's a superstar on the rise. Even while he's developing animated cartoons for Nickelodeon, and recording CDs with his band, he still manages to be one of the most unique and prolific American cartoonists. "The Perfect Planet," clocking in at 208 pages, represents James' largest graphic novel to date. Including the Ignatz Award winning story, "The Perfect Planet" as well as two brand new stories, "Nonironic Futuropolis," and "Frog & Fly."
---
Related Titles
Mobile Site Go to Full Site
Top Shelf Productions® and the
Top Shelf logo are registered trademarks of
Top Shelf Productions, Inc. All rights reserved.