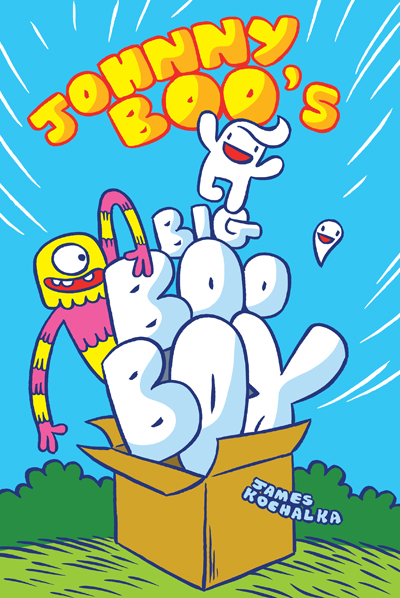 Johnny Boo's Big Boo Box (Slipcase Set of Books 1-5)
ISBN 978-1-60309-385-9 - Diamond: JAN16-0451
Johnny Boo is the best little ghost in the whole world, because he has Boo Power. This means that he can go "BOO" really loudly! His pet ghost named Squiggle has Squiggle Power, which means that he can fly and do really fast loop-the-loops. Together they have the world's greatest ghost adventures! And now, for the first time, the first five books of the full-color, all-ages hit series are collected into one handsome slipcase edition: JOHNNY BOO'S BIG BOO BOX!
Collecting Johnny Boo's first five fan-favorite adventures:
Johnny Boo: The Best Little Ghost in the World
Johnny Boo: Twinkle Power
Johnny Boo and the Happy Apples
Johnny Boo and the Mean Little Boy, and
Johnny Boo Does Something!
-- Slipcase set of Johnny Boo (Books One thru Five)
-- FIVE 40-page full-color hardcover graphic novels, 6" x 9" each
-- SLIPCASE DIMENSIONS: 6.5" x 9.5" x 2"
IN PRINT! (PUBLISHED APRIL 2016)
---
Related Titles
Mobile Site Go to Full Site
Top Shelf Productions® and the
Top Shelf logo are registered trademarks of
Top Shelf Productions, Inc. All rights reserved.