he does the things a spider can...
July 19, 2007
• O.k. so i saw Spider-Man 3 a couple nights ago, and while i seem to be bucking the trend here, i'm going to come out and say that i LOVED it!! I won't argue about some of the details that were critically reviewed … where DID the Venom alien come from?; the Flint Marko character could have used more devolpment; yeah, "dark" Peter Parker was pretty freaking dorky; maybe there were too many storylines... But i feel that the genius of Sam Raimi and the heart of the story were right in harmony with my own personal Spider-Man. Slice out the song & dance routine (even though the story WAS being told marvelously here), and you've got one hell of a kick-ass action flick.
And i'm a guy no less, who always HATED Venom. It was so way far after my time. (Same with Big Wheels AND Transformers.) But as a vehicle to bring out the Dark Side of the Force in Petey, it served its purpose deftly.
So sue me! Viva Spidey!!
• James Kochalka:
"Here's some paintings I did while I was at Monhegan Island in Maine. You can't go anywhere without running into someone doing 'plein air' painting, so I joined in the fun. It's been an artist's colony for over a century I believe, and most of the important early american landscape painters worked there."
Beautiful work, James!
• My good friend Steve Ryan did the color painting of Alex Robinson's cover drawing for his forthcoming fantasy book, Lower Regions. Steve has been featured now in four issues of Heavy Metal, and i KNEW he'd be perfect for this gig. My inner fanboy is absolutely in love with this artwork!

• Jason Little and Myla Goldberg have made an addition to the family, along with little Zelie... introducing Kestrel Xesca Goldberg Little.
• The Spurge interviews Graham Annabel at The Comics Reporter. Good stuff.
• Sarah Morean reviews Jeremy Tinder's new mini-comic at The Daily Cross-Hatch.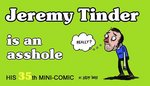 • The new Funbook is ready! The release party will be the 8th of August at Holocene. Show Me the Pink is headlining (their last show ever!). Old Growth, Here Comes a Big Black Cloud, and Mustaphamond will also be playing. There will be giant posters to color with crayons galore. It will be also serve as a fundraiser for the genocide intervention fund.
The Portland Funbook #2 is 80 pages of coloring & activities from over 60 of Portland's best artists. Each issue will contain: an 80 page book with contributions from 60+ local artists, a 7" vinyl record with 12 one-minute songs from local musicians, 4 stickers, 1 temporary tattoo, and two 1" buttons and. Each book costs $5. $1 from each purchase will go to The Genocide Intervention Network.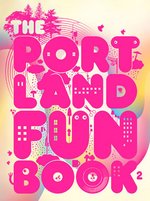 • Finally, though i simply don't have the time to give these a proper review, the following new books in the collection come highly recommended.
The Rise and Fall of Yip the Wonder Dog, by Andy (Fox Bunny Funny) Hartzell. I found this at local comics & coffee shop Guapo. It's a delightful, wordless mini-comic with a tasty screenprinted cover, and published by Global Hobo.
Breaking Up, illustrated by Christine Norrie. Admittedly, i've yet to read this book yet (written by Aimee Friedman, published by the Scholastic imprint Graphix), but Christine's artwork is literally stunning! Wow. In the league of today's best female cartoonists, like Carla Speed McNeil and Colleen Coover, Christine is really really really one to watch.
Strapazin #87. The new issue of the brilliant Swiss comics magazine Strapazin arrived in my po box last week. I'd give my left pinky finger for this to be released (in English) to a wider North American audience. if you've ever wondered what the rest of the world's comics look like at their best, look no further than this.
The Chronicles of Conan volume 12. To a 14 year old, wimpy-assed Brett, coming off of his "fat" years, discovering first the pulpy paperbacks and then the Marvel comics featuring Conan the Barbarian, this escapist fantasy was a salve on my tender ego. Dark Horse has been reprinting the entire Marvel run, beginning with the early Barry Windsor-Smith issues, and up through the brilliant John Buscema stuff. For my tastes, Buscema is as much THE Conan artist as Frazetta. His work on this title was sublime. And with this 12th volume, they bring my nostalgic run to a close, since after the epic Belit: Queen of the Black Coast saga, the comic's quality control quickly plummeted. But holy shit, these 12 books Dark Horse has done are sweet. The coloring is as good as it gets, and as far as i'm concerned (no offense to any of the creators involved), the new Conan comics don't hold a candle to this stuff. Thanks to Jeremy Barlow at Dark Horse for hooking me up.
The Art of BONE. Wow. Wow. Wow. Wow. I really didn't imagine that the "art of" book for Bone would be anything special. Especially help up to the incredible Art of Hellboy and Art of Will Eisner books, also helmed by Diana Schutz (and designed by Cary Grazzini) at Dark Horse. I was so wrong. This is a masterpiece edition, and the perfect coda to the sweeping saga of Bone. Simply outstanding. Diana, i really owe you one.