September 24, 2007
John Weeks sent out an email update for his excellent site Comics Lifestyle. I notice he's done a fine revamp of said site as well. I really dig this vintage-style header!


• Bill Barnes and Gene Ambaum of the wildly successful library-based comic strip Unshelved, have served up anouther fine comics-review of Alex Robinson's Box Office Poison. Thanks for the props, guys.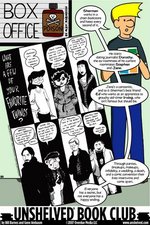 • Kevin Moore is back on the editorial cartoon bandwagon with his strip called In Contempt, and man he's funny as shit! Welcome back to the political fold, Kevin!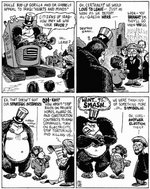 • Jen Contino interviewed Alex Robinson back on teh 17th at The Pulse, regarding his new comic Lower Regions. Check it out.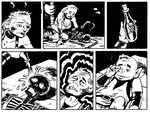 • Matt Kindt has a new blog and a newly designed Super Spy page as well. The man is a fucking genius!!!
• Issue #3 of C'est Bon is out (sporting a cover by the great great James Jean), and this humble Eurocentric anthology continues to impress. A vital new voice in international comics available to the North American audience, on the same level as the likes of Papercutter, Mome, and You Ain't No Dancer. Highly recommended.
• Tom Hart is at it again:
"I've teamed up with the terrific folks at The Panelist, a website about investing ethically, to start a new weekly strip, The Money Warrior!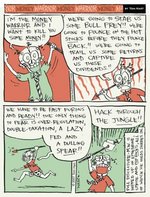 "The Money Warrior's on the hunt! He's current, direct, ruthless and primal! The Money Warrior wants to kill you some money!
You can keep up by checking www.thepanelist.com or www.themoneywarrior.com once a week.
"The Money Warrior started as a bit of a parody of Jim Cramer of Mad Money, and in fact I created the first iteration for my Metro strips. But those strips reminded me that in the end, I dislike parody and that I'd rather invent my own creations, something new from a starting point of parody. The folks at the Panelist recognized a similar traveler in the Money Warrior, and asked for more."
•Â I've been cleaning up my desktop and archiving lots of "stuff" lately. Some great offbeat/rare art most of which were jpeg email attachments, which i plan to slowly start running here at Hey Bartender!.
Here are two stunning cover paintings that Scott Morse created for a book he may or may not do some day for us called Lyrical Whales. I'm keeping my fingers crossed.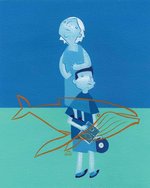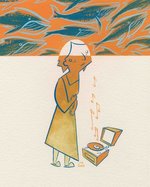 And here's a nifty coaster design by Max Estes.