blogblogblog
August 30, 2007
My friend Gary Butler who writes the comics column Blood in Four Colors for the horror magazine Rue Morgue) wrote this to me last week regarding Matt Kindt's new book Super Spy:
"Good god, man, what a masterpiece. I already sensed the absolute brilliance of a writer/artist at the top of his game when I read (and loved) the advance pdf version but !!WOW!! what a difference a physical book makes. The hell with espionage…Super Spy is quite simply a note-perfect argument for why print must not die.
"To the story/art: I reread the book last night (first 'physical' reading, though) and ONCE AGAIN tonight. This has shit-all to do with our friendship…this is about top-level comics that demand extra attention without draping themselves in pretentiousness.
"No doubt, I didn't 'get' the whole story on the first read (well, nor the second; I ain't as sharp as I once was, and I've probably been pistol-whipped a few times more than I care to admit), but the best part about Super Spy is that Klindt neither wants nor NEEDS readers to 'get' it completely on the first pass. Other (lesser) creators brimming in pretense want (in fact NEED) the same thing, but it's all about self-validation for them, which is the wrong reason, even if it's subconscious. Klindt wants…yes, NEEDS…nothing more than for the reader to have as much fun as he's having; what a saint.
"As to my point about the 'physical': RAMMED home within the first few pages, the minute the 'distress' treatment kicked in. Sure, it was there on the pdf, but there's no comparison. What a superb idea, making each individual reader feel a part of the spy network by putting pages-that-have-been-through-hell in their hands. They must know someone connected to get so far! Seriously: a beyond-effective, subtle touch.
"Where does this book need to get reviewed in order to be considered Eisner-worthy? (Don't tell me them judges make up their minds sans media credit.) You should targeting the big guns with this one, because the second read made me realize that it wasn't just brilliant fun…it was just brilliant."
• Dave K has some new comics up on his website. Please note the new URL:
www.davekiersh.com
• From Fantagraphics:
Friday (Aug. 31) from 6:00 to 8:00 PM at Fantagraphics Bookstore & Gallery in welcoming two of the country's most celebrated cartoonists: Kim Deitch and Megan Kelso.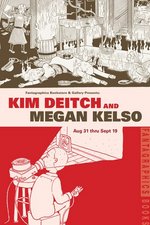 • James Kochalka's book, Squirrelly Gray, was just released by Random House. He made an animated "trailer" for the book, with his own voice doing the narration and voices. (And a little piece of instrumental music from his old rock opera Carrot Boy the Beautiful as the background music.)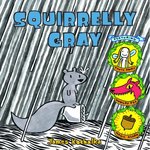 • Jason Hall has some new books from Dark Horse to pimp, Clone Wars Adventures Vol. 10 and Hellboy Animated Vol. 3: The Menagerie.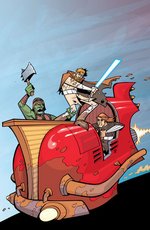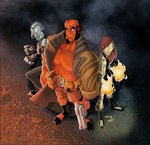 •Â Finally, you saw them here first, the next two covers in Christian Slade's gorgeous Korgi series.