one year later...
August 25, 2007
• Oh, and did i mention how much TCAF rocks the f*cking house! I met so many cool people, partied my ass off, and had a successful business trip. Kudos to ALL involved, especially superman Chris Butcher, who makes it all happen. I met J Bone, Michael Cho (Holy Mary Jesus Buddha this guy can draw like a MoFo), Willow Dawson (see below), volunteer Caryle (hit by a car while riding his bike during the convention), who ended up being something of an assistant throughout the weekend, and girl-duo supreme Amanda & Victoria, two hilarious volunteers who had me in tears. So much more... great dinners with Jeffrey Brown and Jeff Lemire and Jeff's delightful wife, much late-nite geeking out on super-heroes and music and politics and scotch with my pal Gary Butler. Besides dropping some of the weekend's take at The Beguling (the best comics shop i've ever been to) i also checked out a pretty new store called The Labyrinth (on Mike Huddleston's recommendation), which specializes in books on Animation, Illustration, Anime Art, Graffiti, Life Drawing, Sketchbooks, French Bandes Dessine, Concept Art, etc... fine shop. Good stuff, and they have a blog too. Who else did i talk with over the weekend?... Jim Rugg, Paul Gravett, Dan & Katie from Green Brain Comics and so many more.
I still had unread piles of comics, mini-comics and graphic novels from San Diego before i left for Toronto and now i'm treading water while my basement office fills with yet-to-read books. Yeesh. (Content for future blog updates, i suppose, eh?)
• Met a guy there named Aaron Navrady who did this fabulous hockey page.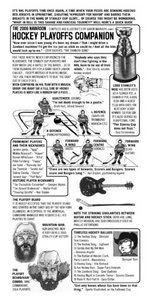 • Also met Willow Dawson, who gave me the Find Of The Show for me. It's a small, folded, painted full-color booklet, and it's a gem. Really really wonderful work, and an big empowerment ride for girls.
• Meanwhile, there's yet more new comics on our website, this one by Felix Tannenbaum. Check it out.
• Top Shelf alum Max Estes has a new online daily strip, called My Life as a Bunny. It's beautiful and fun. Also worth a look.


• Another Top Shelf alum, Josue Menjivar has a new book out, Everyday Things. You can learn more about it at his website, Fresh Brewed Illustration.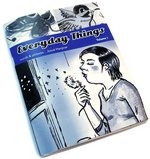 • And yet another Top Shelf alum, Josh Simmons has an art show coming up at David Youngblood's tiny but tight gallery, The Pony Club.
"STEAK & BEER: 10 Years of Comics, Paintings, Music and Porn by Josh Simmons
The Pony Club Gallery is proud to present a retrospective of comics and art from alternative cartoonist and journeyman, though currently Portland based, Josh Simmons. While comic centric, the show includes paintings, photography and video ranging from the viciously satirical to the embarrassingly autobiographical to the sickening pornographic and to the gut-fuckingly hilarious. Starting 10 years ago with the early, long out of print mini-comics, Lick and Twitch-Happy. Traveling on, to the Top Self publications Cirkus New Orleans and the mini-series Happy, which documents his time performing with a sex circus, the End Of The World Cirkus/Know Nothing Family Zirkus Sideshow. And onto the current horror graphic novella, House, published by the prestigious Fantagraphics Books. Dotted throughout with a smattering of his cartoons-fucking-flesh-people from the ten-issue photo comic, All About Fucking and the bootleg Batman comic, which DC Comics would most likely never care to see the light of day. Drawings and comic pages will hang side by side with other works that reflect the artist's life during his many travels and experiences."
First Thursday, September 6, 2007 6:00-10:00pm. Pony Club. 625 NW Everett St #105. Portland, OR 97209. (503) 334-7658. The show runs through October 2, 2007.
• Joe Keatinge from Image scored me a most excellent and unexpected book, called Intersections, that may have slipped under the radar. It's a back & forth jam book by Duncan Fegredo and Sean Philips, two MASTERS in contemporary comics. A visual and conceptual tour de force.
• Hey, Bartender reader Domen Finzar from Slovenia sent me this fun link; an ongoing project featuring alternative cartoonists doing interpretations of Spider-Man. He's looking for contributions folks.
• David Yurkovich has created a great new web-page for Death by Chocolate.
•Â Finally, here's some miscellaneous images i've had on queue to post.
Old Man Briefcase, by Tom K. (Who i also chatted up at TCAF, in addition to his table-mate, the affable Jon Lewis.) Tom graciously gifted this original art to me, after i'd been drooling over it back during APE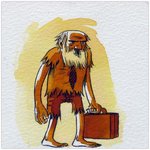 Wolverine, also by Tom K. (So cool!)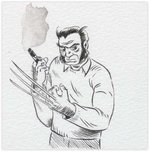 Bunny Shaker by Jeremy Tinder. A spot illustration made for a small cocktail party i hosted when he was in town for his show at Floating World.