so much to do so little time...
October 8, 2007
THINGS I LIKED RECENTLY:
• The MAD War on Bush. A collection of strips from the last several years of the worst presidency in the history of the USA. VERY funny stuff. I laughed and i cried too, because some of the mock-able shenanigans of the administration are more frightening than funny. Picked this up at Samurai Comics in Phoenix when i was down there visiting family this last week.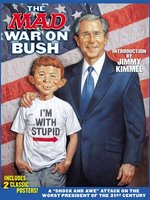 • Pinwheel, by Mike Bertino. Given to me at the Stumptown Comics Fest last weekend by my pals at Tender Loving Empire, this little comic is a formal tour-de-force, and oh so good. Mike was doing mini-comics way back in the day (most notably his ambitious 4-issue mini-series Trigger), then sort of disappeared to go to school. Well now he's back, and the world is a better place for it. Worth tracking down. It's a little spendy at $10 plus shipping, but it's got a trick screenprinted cover and is limited to 250 copies.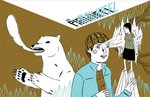 Mike's website is also chock full of tasty art.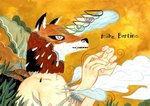 • Tripwire Annual 2007. This reboot follows a four year hiatus, and it's excellent. The previous run was really hit or miss, leaning more often towards the miss side for my tastes. The new ish is a huge leap forward, and if it wasn't for the weak comics section near the back, would be one of my favorites of the year. The bitchin' Hellboy cover by Duncan Fegredo is almost worth the cover price alone.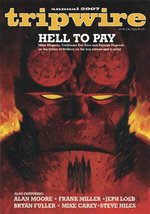 • Comic Foundry #1. Love it! Love it! Love it! I've raved about this many times in the past. Three words. Buy. This. Magazine.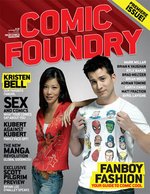 • I wrote before how much i loved the art of Laura Park with her comic Do Not Disturb My Waking Dream. Well, since i gave my copy to Gregory Benton for letting me crash it his pad during MoCCA, i finally finagled a swap with Laura for a new copy of my own. I read it. Fucking amazing! Arguably my favorite new indy cartoonist to come along in ages.
Laura, do you wanna do a book together?
• Speaking of Stumptown... this was yet another year besting the previous one. I dig the new location and hope it stays. Had fun. But i still can't believe that a town that is arguably the freaking MECCA for comics in North America doesn't burn down the house with rockin' success. What gives? I had way more business at my table at TCAF in Toronto several weeks ago.
Still, BIG BIG props to all involved. It was a breeze to work, the staff and volunteers were great. This was really the first year that gave me hope that this will eventual evolve into a real and truly vital comics show.
Michael Ring of the excellent retail store Bridge City Comics took this snap. God i look like a dork. (It only makes sense.)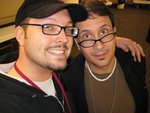 •Â So i did a HUGE music purge recently (loading lots and lots of partial albums into my iTunes), and picked up some new records in trade, all recommended. Four On The Floor, by Juliette Lewis & The Licks; Revival, by John Fogerty; Magic, by Bruce Springsteen; Sounds of Mass Destruction, by Annie Lennox; and a nice (used) reissue, Jimmy & Wes: the Dynamic Duo, by Jimmy Smith and Wes Montgomery on Verve Records. It's amazing to think of the cumulative music making experience behind Annie, Bruce, and John. What, a century and a half almost? Three people. And they're still kicking out killer new projects. I picked up the Juliette Lewis one on a hunch, having seen and liked her on the tube on stuff like VH1's I Love the 70's show and whatnot. I'm glad i did. It rocks seriously hard! The band is tight and Juliette is on fire. Pure power pop at its finest.
• Meanwhile, here's a series of drawings my a very short-lived intern i had this Summer named Andy Kettler. The kid can draw! This was a series of rounds of drafts he did for a poster i'm going to have another intern poster around Portland.